It was not a fight, per se, but at the same time, it was not a peaceful week in Parliament. It's not what was said, but rather what wasn't.
Lower House Speaker Win Myint on Wednesday rejected a proposal by a lawmaker from the Arakan National Party that sought to bring up for discussion recent hostilities in Arakan State, where some 2,000 civilians have been displaced by a conflict pitting the Arakan Army against government troops. At its core, it was a proposal that was about consideration of a humanitarian aid package for the displaced.
The speaker objected, at least in part, because he saw the proposal as having been politicized by an addendum to the aid pitch that sought to bring the Arakan Army into talks with the government and military to end the fighting.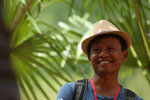 The Arakan Army was formed in 2009 in northern Kachin State's Laiza, the headquarters of the Kachin Independence Army (KIA). Far from their declared homeland, troops from the Arakan Army eventually returned to western Arakan State, an unsettling development for the Burma Army, which for years did not face any kind of formidable ethnic armed opposition in the region.
They have just such a foe now.
In the Upper House a week earlier, the ANP fared only slightly better: A proposal brought by the party was opened to discussion by the upper chamber's speaker, but the outcome was hardly more encouraging, with the proposal "documented" but stronger action deferred.
No aid package considered, and no word from lawmakers on whether a majority agreed with the proposal's contention that a Burma Army-initiated cessation of hostilities was in order, and that the Arakan Army should be brought into the peace process.
In merely putting the proposal on record, Upper House Speaker Mahn Win Khaing Than told lawmakers that the National League for Democracy (NLD) administration had made clear that it would spearhead an inclusive peace process in the months to come, apparently rendering any further parliamentary input unnecessary.
The Arakanese are just one ethnic minority group in Burma, though they are numerically the largest represented in Parliament, and still their legislative initiatives this month were largely failures. How then might smaller ethnic political parties, perhaps the Ta'ang National Party or the Shan Nationalities League for Democracy (SNLD), feel about prospects for conflict in their respective constituencies (no hypothetical; a present day reality) getting attention in the legislature?
At this juncture in Burma, with no civilian control of the military, ultimately whether there is peace or war in Arakan State will be determined by the men with guns. But that does not mean the men and women with a voice and a vote in Parliament should not have the opportunity to debate the matter—in particular when it includes consideration of government-funded humanitarian aid for people displaced by the conflict.
In short, this week was not a good week for national reconciliation, that broad and somewhat abstract concept that, fundamentally, is about overcoming decades of mistrust between the Burman majority and the country's ethnic minorities.
The new government, which worked hard to dispel notions that it was a "Burman party" during the election campaign season, made a point to field ethnic minority candidates and pledged to make national reconciliation among Burma's many diverse peoples, and peace, top priorities.
"Only if you have faith in us and give us a chance to do it," she told a voter in war-torn Kachin State, when asked about the party's plans for peace. "Without being the government, we aren't able to bring peace. That's the reality."
Another reality: You are now "the government" and call the shots in Parliament with commanding majorities in both houses, and as such have an obligation to make good on that pledge.
ANP lawmakers were not the only ethnic parliamentarians put off by the Lower House speaker's conduct this week.
"It is sad for her," said Lower House lawmaker Mai Win Htoo of the Ta'ang National Party, referring to ANP lawmaker Khin Saw Wai's failed proposal. "Of course, this issue should be discussed as soon as possible."
Mai Win Htoo represents Namhsan Township in northern Shan State, an area predominantly inhabited by the ethnic Palaung, or Ta'ang, that has also been wracked by conflict in recent years. He said his party was of the opinion that it was "not yet the right time" to bring up that conflict in Parliament, citing two fears: that any discussion in Naypyidaw might trigger renewed hostilities, and that a failure to achieve a parliamentary resolution of the conflict would discourage the party's lawmakers and their constituents.
"Our ethnic political parties have little power in Parliament, but we need to figure out how we could unify and have greater power," he said.
Sai Thiha Kyaw, Lower House parliamentarian for the SNLD, acknowledged that Win Myint was exercising the power vested in the speakership, but said this week's rejection of the ANP proposal might lead ethnic political parties to look beyond the walls of Parliament to address concerns facing their constituents.
"If ethnic issues cannot be discussed in Parliament, then there will be many questions to come over this, or we even have to think a lot about whether we are able to rely on Parliament to solve problems in our constituencies," he said.
Many ethnic minorities on Nov. 8 voted with the expectation that the NLD would be the best-positioned party to bring peace to war-torn frontier regions. After the events of this week in Parliament, they may well be rethinking that supposition.
Lawi Weng is The Irrawaddy's senior conflict reporter.