Australian Foreign Minister Bob Carr departed for a three-day visit to Burma on Tuesday "to assess what more Australia, as a neighboring country, can do to support reform efforts in Myanmar."
Before leaving Australia, Senator Carr said he will press Burma's quasi-civilian administration for a transition to a democratic government.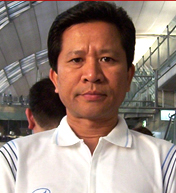 Carr also told Radio Australia's Asia Pacific Program it will be important to make the point that genuine democratic government does not have parliamentary seats reserved for the military. But can he really press Burma on democratic plans?
Carr's trip is the third by an Australian foreign minister since Alexander Downer visited Burma in 2002. Carr's predecessor Kevin Rudd also visited Burma in June 2011. We expected that their visits could help improve dire human rights situation in Burma, but it was not the case. Carr has to now prove that he can make a difference.
Downer tried to convince the military junta to respect human rights and bring about political reform by spending millions of dollars on humanitarian training for army officers. But he failed and ended up with imposing visa restrictions and targeted financial sanctions on 418 individuals including senior junta figures, their associates and supporters in October 2007.
Rudd expanded this sanctions list to 463 individuals the following October in response to continued human rights abuses, but significantly increased humanitarian aid to Burma in the areas of education, health and enhancing livelihoods later to persuade the regime to respect personal liberty and take reform initiatives. He failed too.
A few months after a quasi-civilian government assumed power from the junta in March 2011, Rudd visited Burma and vocally supported some of the changes being made. He also removed 71 Burmese figures—including former junta ministers and deputy ministers—from the sanctions list in January 2012. But human rights abuses were not stopped and hostilities against civilians continue.
To make matters far worse, Carr decided in March to remove 262 individuals from the financial and visa ban lists (from 392 to 130) amid ongoing military hostilities and serious human rights abuses in ethnic areas, which forced over 75,000 civilians in Kachin State alone to flee their villages and face a humanitarian crisis in the jungle.
At the same time, Australia also abandoned its unofficial policy that discouraged trade with Burma due to the military-dominated nation's horrific human rights record and lack of the rule of law. But today, Carr officially encourages investment in Burma and will use his visit to promote the interests of Australian businesses.
"We have already recognized reform by easing sanctions on Burma and normalizing our approach to trade and investment," said Carr recently. "But there is more we can do, including through expanding our development assistance to help ensure reforms are sustained."
We agree that Australia should provide more humanitarian aid for education and improving the livelihoods of the Burmese people. We agree that sanctions must be lifted step-by-step and trade and investments with Burma encouraged only when the Burmese regime heeds Australia's call.
Like the US, EU and Canada, Australia has been calling for the release of all political prisoners, the cessation of human rights abuses and the beginning of an inclusive dialogue towards national reconciliation. Downer and Rudd have visited Burma in the past but failed to convince successive regimes to heed the Australian call. Now it is Carr's turn to reiterate the message.
Before assessing what more Australia can do to support reform efforts in Burma, Carr must be aware of the real political and socio-economic situation on the ground and what the people of Burma really want.
Until today, more than 500 political prisoners remain behind bars. Serious human rights abuses continue unabated. Military hostilities against ethnic civilians are going on. The vast majority of investment is being made in industries that exploit Burma's unique natural resources. They cause systematic human rights violations and loss of livelihoods, as well as forcing people from their homes.
Given the situation, now is not the time for being too optimistic about changes in Burma. It is neither the time for rushing to do business there nor easing more sanctions prematurely.
In fact, it is the time to seriously address key issues such as human rights, political prisoners, internal peace, the rule of law and the Constitution—thus effectively utilizing Australia's sanctions, influence and aid to win improvements to the country's dire humanitarian situation and press for further reforms. Otherwise, Carr cannot successfully push Burma on democratic plans.
Dr Myint Cho is director of the Sydney-based Burma Office and has been working for the promotion of democracy and human rights in Burma since 1984. The views he expresses here are his own and do not necessarily reflect those of The Irrawaddy.