At least 15 Myanmar junta personnel including a junta-appointed administrator were killed in the last three days as People's Defense Force groups (PDFs) continued to attack regime targets across the country.
Incidents were reported in Sagaing, Tanintharyi and Bago regions.
The Irrawaddy has collected the following reports of significant attacks from PDFs.
Some military casualties could not be independently verified.
Military units ambushed in Sagaing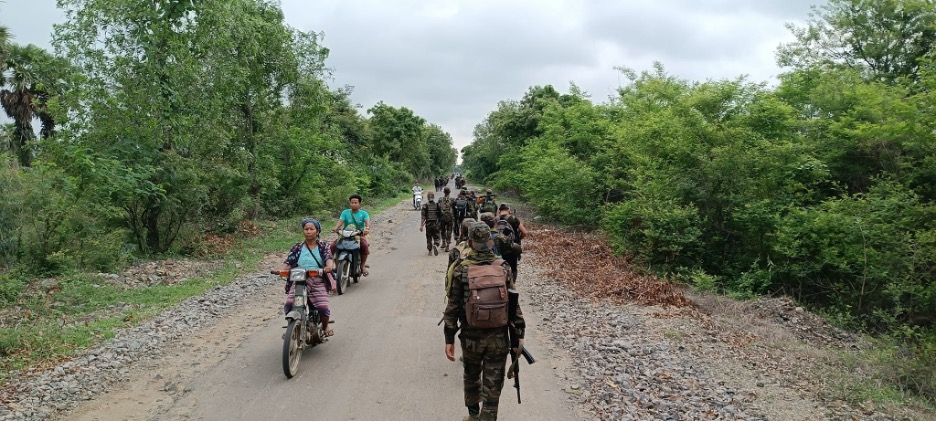 At least two regime soldiers were killed and many injured in Pale Township, Sagaing Region on Tuesday when several resistance groups ambushed a junta unit including pro-regime Pyu Saw Htee militia members from a military base in pro-military In Ma Htee Village, said Southern Yesagyo PDF from Magwe Region, which joined the attack.
The military unit was ambushed while returning to its base after looting nearby Ingyin Su Village. The unit was transporting 18 bullock carts' worth of loot stolen from civilian residents of Ingyin Su, the resistance group said.
On Tuesday, many resistance groups also attacked a military unit of 80 troops from Pale town who were heading to Ingyin Su Village, said Column 3 of the All Burma Students' Democratic Front (ABSDF), which joined the attack. Military casualties were unknown.
Junta base bombed in Sagaing
Civilian's Defense and Security Organization of Myaung conducts a recent anti-regime drone strike in Sagaing Region. / CDSOM
Civilian's Defense and Security Organization of Myaung (CDSOM) claimed to have killed seven soldiers and injured five others as it and 13 other resistance groups jointly used three improvised remote-controlled airplanes to drop six bombs on a military base in Chaung-U Township, Sagaing Region on Monday.
Three drone bombs directly hit regime targets.
Military flotilla ambushed in Sagaing  
Resistance forces attack a military flotilla in Kani Township, Sagaing Region on Monday. / MUGF
Monywa Underground Guerrilla Force (MUGF) said it coordinated with other resistance groups to ambush a military flotilla of three barges and a military gunboat traveling from Monywa to Kani Township, Sagaing Region along the Chindwin River on Monday.
The flotilla was transporting reinforcements and rations. There were resistance casualties in the clash, but military casualties were unknown.
Military checkpoint attacked again in Tanintharyi
At least two regime troops were killed in Dawei Township, Tanintharyi Region on Monday when four local resistance groups used sniper rifles, M79 grenade launchers and 80-mm mortar rounds to attack the Pha Yar Mae military checkpoint near Maung Mal Shaung Village, said Dawei Guerilla Revolutionary Force (DGRF), which joined the attacked.
The attack followed a Sept. 7 raid on the checkpoint by resistance groups that killed two soldiers.  The checkpoint has been facing frequent attacks.
Junta-appointed administrator killed in Bago
The resistance group Thayawady Galon Force said it shot dead junta-appointed female ward administrator Daw Theint Theint Lwin in Thonze Town in Thayawady District, Bago Region on Monday.
She was appointed as the ward administrator after her predecessor Tun Tun was killed by the resistance group last November.
Daw Theint Theint Lwin was a member of the military-backed Union Solidarity and Development Party and reportedly urged the military to stage a coup after the party was defeated in the 2020 general election.
Clash erupts in Bago
At least three regime forces were killed and five injured during a shootout in Gyobingauk Township, Bago Region on Sunday when local PDF groups attacked a military unit of 50 troops inspecting civilians between two villages, said Bago Region PDF.