At least 23 Myanmar junta troops were killed in the last four days as People's Defense Force groups (PDFs) and ethnic armed organizations (EAOs) stepped up attacks on regime targets across the country.
In one case, three soldiers defected to a resistance group in Kachin State.
Incidents were reported in Sagaing, Magwe and Bago regions and Kachin and Karen states.
The Irrawaddy has collected the following reports of significant attacks from PDFs and EAOs.
Some military casualty figures could not be independently verified.
Junta base raided in Bago
The Defense Ministry of the civilian National Unity Government (NUG) said its armed wing, the People's Defense Force (PDF), and the Karen National Liberation Army (KNLA) raided a military base in Lat Pan Village in Waw Township, Bago Region on Saturday.
During the raid, drones were also used to drop bombs on the military base. Two soldiers were killed and three others injured amid no resistance casualties.
Junta base seized, burned in Bago
Tharyarwaddy District PDF Battalion 3802, the armed wing of the NUG, said it managed to occupy and burn down a military base on the Bago Yoma mountain range in Minhla Township, Bago Region during a raid on Saturday night.
Forest officers, police and soldiers were stationed at the base, but they all abandoned it during the resistance raid. The junta base was notorious for extorting civilians and for allowing illegal logging by taking bribes.
Junta General Administration Office bombed in Sagaing
Joint resistance groups during a recent drone strike operation on regime forces in Budalin Town. / Chindwin Brothers
Chindwin Brothers said it and eight resistance groups used makeshift remote-controlled airplanes to drop bombs on regime forces stationed at the township General Administration Department office and fire station in Budalin Town, Sagaing Region last Friday and Saturday.
Military casualties were unknown.
Clashes break out in Sagaing's Shwebo Township

Joint resistance forces engage in a recent clash with regime forces in Shwebo Township. / Black Wolf Army
At least four soldiers were injured in Shwebo Township, Sagaing Region as the resistance group Black Wolf Army and another PDF group attacked a military unit for two days on Sept. 7 and 8, the PDF groups said.
Military convoy hit by mines in Sagaing
The resistance group Fight for Freedom said it triggered land mines to ambush a military convoy of 100 troops on the Sagaing-Shwebo road in Sagaing Township, Sagaing Region on Saturday, damaging two vehicles.
Miliary casualties were unknown. The convoy was transporting junta troops who raided villages in northern Sagaing Township between Sept. 3 and 8. During their raid, the soldiers committed war crimes including looting and burning houses, attacking villages, arbitrarily killing civilians and using villager detainees as human shields, the resistance group said.
Junta soldiers killed in drone strikes in Sagaing
Regime forces are bombed by a drone in Wetlet Township on Saturday. / EGF
At least seven soldiers were killed and some others injured in Wetlet Township, Sagaing Region on Saturday when five resistance groups used drones to drop bombs on regime sentries near a railway station, said Eagle Guerrilla Force, which took part in the attack.
Regime forces killed in urban attacks in Magwe
Resistance forces raid regime forces at the township General Administrative Department Office in Yesagyo town on Saturday night. / MBT
At least two soldiers were killed and three others injured in Yesagyo Township, Magwe Region on Saturday night when Myingyan Black Tiger and another local resistance group conducted a surprise attack on regime forces stationed at the junta-run township General Administration Department office in the center of Yesagyo town, the resistance groups said.
Junta bases raided in Karen  
At least eight regime forces were killed and eight others suffered injuries in Papun Township, Karen State last Thursday when Brigade 5 of the Karen National Liberation Army (KNLA), the armed wing of the Karen National Union (KNU), raided four junta outposts in a single day, said KNU's Mutraw District.
The next day, the junta conducted air strikes on a village in the area, destroying a house and killing some livestock belonging to civilians.
Three junta soldiers defect in Kachin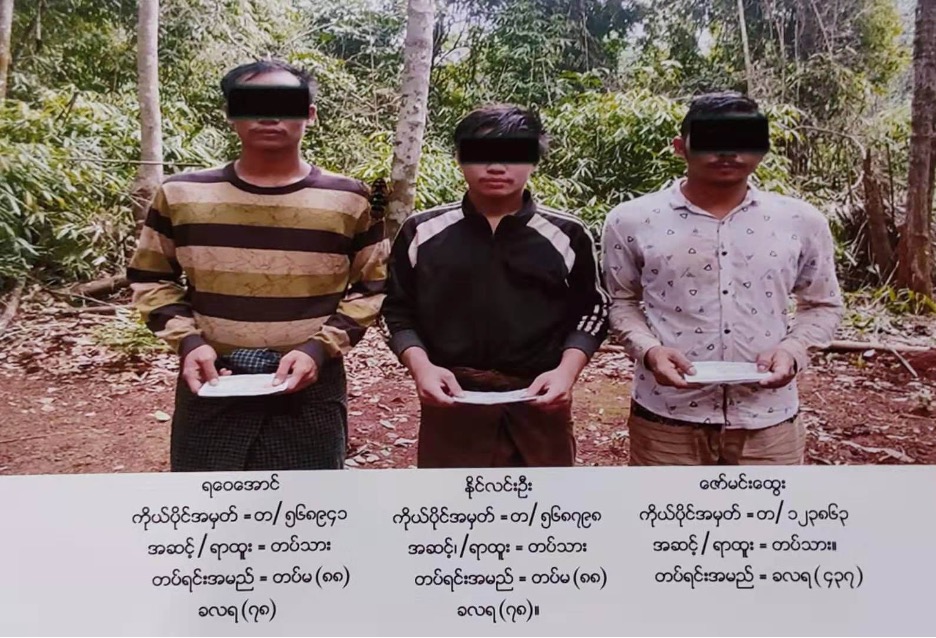 Myo Hla PDF, which forms Battalion 5 of the Kachin Independence Army (KIA) based in Shwegu Township, Kachin State, on Saturday said three junta troops under the military's Division 88 defected to the nationwide Civil Disobedience Movement (CDM).