At least 28 Myanmar junta troops including a junta-appointed administrator were killed in the last four days as People's Defense Force groups (PDFs) and an ethnic armed organization (EAO) continued to attack regime targets across the country.
In one case, a military vehicle was hit by remotely triggered land mines at the World Heritage site Bagan in Mandalay Region.
Incidents were reported in Mandalay, Sagaing, Magwe and Tanintharyi regions and Karen State.
The Irrawaddy has collected the following reports of significant attacks from the PDFs and the EAO.
Some military casualty figures could not be independently verified.
Military vehicle hit by blast at World Heritage site Bagan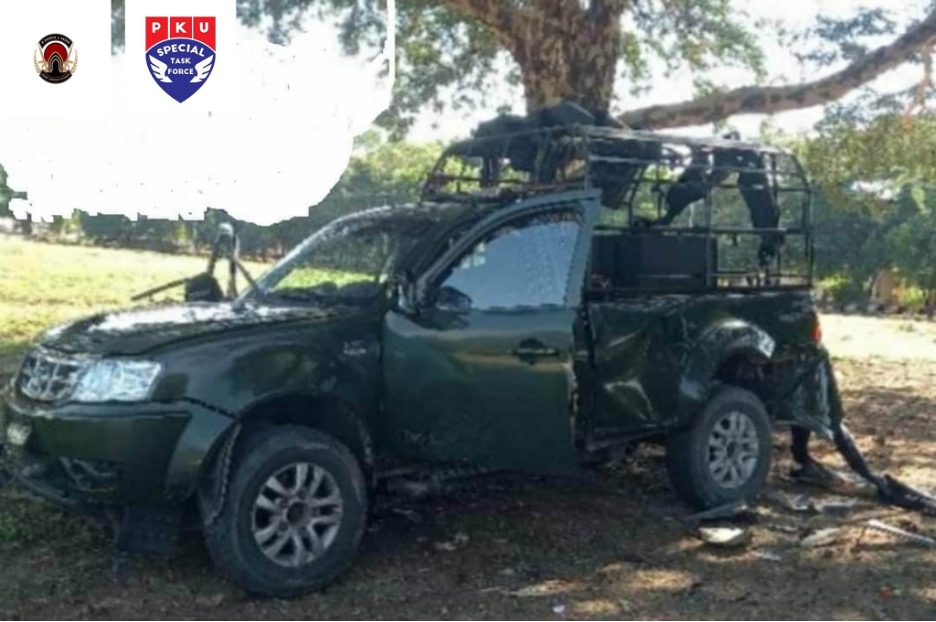 Three regime forces were killed and five others injured in Nyaung-U Township, Mandalay Region on Monday when Bagan-Nyaung U Special Task Force and Pakokku Special Task Force used remotely detonated mines to ambush a military vehicle at the World Heritage site Bagan, according to the resistance groups.
The vehicle was attacked while patrolling in the area as part of a security operation for a junta-organized sports tournament on a local football pitch.
Military base known for extorting civilians attacked in Sagaing

Joint resistance forces clash with troops from a junta base on the Monywa-Mandalay highway in Myinmu Township on Monday. / CDSOM
The Civilian Defense and Security Organization of Myaung (CDSOM) said it and six other resistance groups attacked a military base on the Monywa-Mandalay Highway in Myinmu Township, Sagaing Region on Monday evening.
During the raid, three drones were used to drop four bombs on the junta base. Junta forces responded with both heavy explosives and firearms. Many junta forces are thought to have been killed or injured in the raid.
The junta base is notorious for torturing and extorting civilians using the highway.
Junta forces bombed by drones in Sagaing
Unicorn Guerilla Force said it and five other resistance groups used drones to drop bombs on a unit from Military Tank Battalion 6005 stationed in two villages in Sagaing Township, Sagaing Region on Saturday.
Military casualties were unknown.
Military flotilla ambushed in Sagaing

Resistance forces during an ambush of a military flotilla in Salingyi Township on Saturday. / Hero Fighter
At least 10 regime forces were killed in Salingyi Township, Sagaing Region on Saturday when resistance groups ambushed a military flotilla of eight vessels and three gunboats on the Chindwin River, said Myanmar Royal Dragon Army (MRDA), which joined the attacks.
The flotilla was transporting rations and ammunition from Magwe to Sagaing Region.
Another five resistance groups later ambushed the same flotilla in Salingyi Township, killing four more soldiers, said the Hero Fighter group, which was involved in the ambush.
Three junta soldiers killed in mine ambush in Sagaing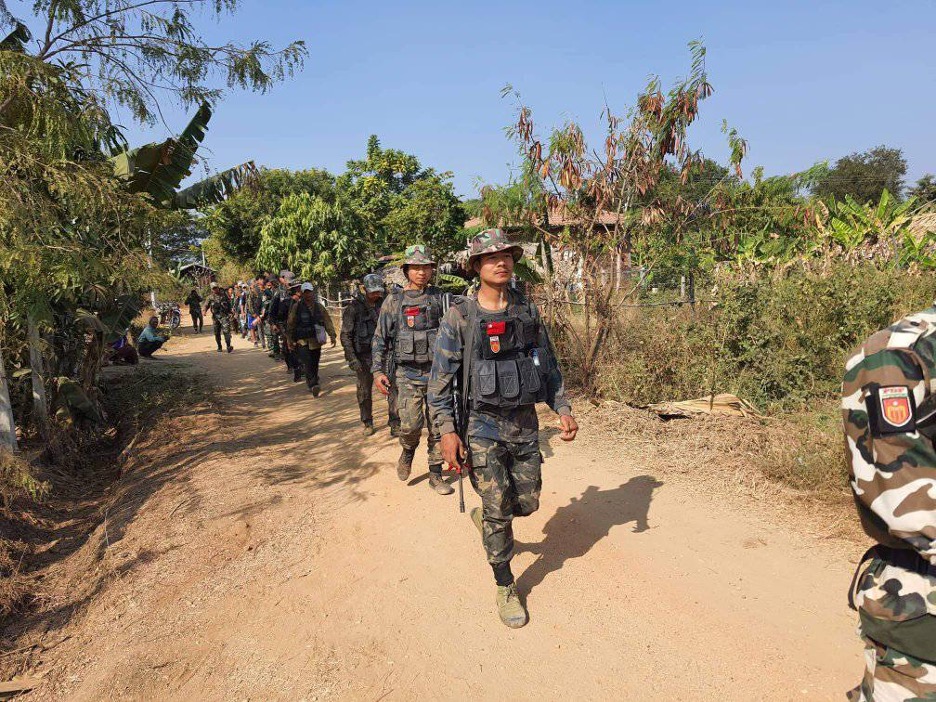 M7 People's Defense Army said it and two other PDF groups killed three soldiers when they triggered land mines to ambush a military unit near a village in Pale Township, Sagaing Region on Tuesday. Another soldier suffered injuries.
Regime forces bombed in Sagaing

A drone drops bombs on regime targets at a monastery in Yinmabin Township on Monday. / ULF
Some regime forces are thought to have been killed or injured in Yinmabin Township, Sagaing Region on Monday when Union Liberation Front conducted drone strikes against a military unit stationed at a monastery in Kyauk Kone Village, the resistance group said.
Previously, the junta unit was stationed in a log yard in the township and stole many logs belonging to civilians.
Clashes break out in Karen
Brigade 5 of the Karen National Liberation Army (KNLA), the armed wing of the Karen National Union (KNU), said it killed at least four regime forces in four clashes with regime forces in Hpapun District on Sunday.
Junta-appointed village administrator killed in Tanintharyi
Guerilla Dawei said it and another local resistance group killed U San Shwe, the junta-appointed administrator of San Hlan Village in Launglon Township, Tanintharyi Region, on Monday.
The victim was shot dead while returning home from the Launglon Township Police station in the town. The administrator was an armed militia member who would accompany junta units as a guide when they raided villages. He also collected taxes from boats for regime forces.
The victim failed to comply with repeated warnings from local resistance groups urging him to stop working for the junta, said Guerilla Dawei.
Military vehicle ambushed in Magwe

Resistance forces attack a military vehicle from close range in Myaing Township on Sunday. / Myaing Garuda PDF
At least three regime forces were confirmed killed in Myaing Township, Magwe Region on Sunday when four resistance groups attacked at close range a military vehicle carrying 30 regime forces on a road, said Myaing Garuda PDF, which coordinated the attack.