At least 50 Myanmar junta forces as well as 15 resistance fighters were killed in the last three days as People's Defense Force groups (PDFs) and ethnic armed organizations (EAOs) stepped up attacks on regime targets across the country.
In one case, 13 ethnic Chin resistance fighters were killed during failed offensives against junta bases in the mountaintop town of Chin State on Monday.
Incidents were reported in Chin and Shan states and Magwe and Sagaing regions.
The Irrawaddy has collected the following reports of significant attacks from PDFs and EAOs.
Some military casualty figures could not be independently verified.
Clashes intensify in northern Shan State
A junta fighter jet attacks TNLA troops in Muse Township on Tuesday. / Shan News
Clashes between regime forces and the Ta'ang National Liberation Army (TNLA) intensified in Muse Township, northern Shan State on Tuesday after the junta conducted artillery and air strikes on TNLA bases as well as residential areas in the township, according to reports from local media.
The TNLA said heavy clashes lasted the whole day near the Myanmar-China border on Monday when five military columns attempted to raid the group's areas in Muse Township.
Details on casualties were not available for either side.
Heavy clashes erupt in mountaintop town in Chin
At least 13 ethnic Chin resistance fighters were killed and more than 10 injured in the mountaintop town of Thantlang in Chin State on Monday when four Chinland Defense Groups including the Chin National Army (CNA), the armed wing of the Chin National Front (CNF), attempted to occupy four junta bases, including a strategic hilltop base, in and around the town.
To protect its bases, the junta conducted air strikes while artillery units from nearby Hakha town bombarded the resistance forces.
In the clashes, around 30 junta troops were reportedly killed and dozens injured.
Military checkpoint bombed in Magwe

Resistance forces conduct drone strikes on a military checkpoint in Pakokku Township on Monday. / RDF
Royal Defense Force said it and two other resistance groups used improvised remoted-controlled planes to drop 10 bombs on a military checkpoint on the Pakokku-Myaing road in In Pin Village in Pakokku Township, Magwe Region on Monday.
Military casualties were unknown. The regime forces responded by indiscriminately firing both heavy explosives and firearms.
Police outpost attacked in Magwe
Joint resistance forces during an attack on Kaing Taw Ma police station in Myaing Township on Sunday / Young Force
A resistance fighter was killed during a clash with regime forces in Myaing Township, Magwe Region on Sunday when several PDF groups from Pakokku and Myaing townships jointly raided the Kaing Taw Ma police station, where police and regime soldiers are stationed, said Young Force, which joined the raid.
Military casualties were unknown.
Junta vehicles ambushed with land mines in Magwe
At least three junta police officers were killed in Pakokku Township, Magwe Region on Tuesday when Young Force and other resistance groups triggered land mines to ambush a police vehicle on the Pakokku-Yesagyo road, the PDF group said.
On Monday, the group also ambushed a military vehicle using land mines triggered from locations outside Pakokku town, killing two soldiers.
Two junta forces killed by resistance snipers in Magwe
Myaing PDF claimed to have killed Police Captain Zaw Min Tun in Myaing Township, Magwe Region on Tuesday morning when its resistance sniper forces attacked a military checkpoint at the west entrance of Myaing town.
An army sergeant was killed in the evening when the sniper groups continued to fire on regime forces at the same checkpoint.
Junta suffers casualties in clash in Magwe's Gangaw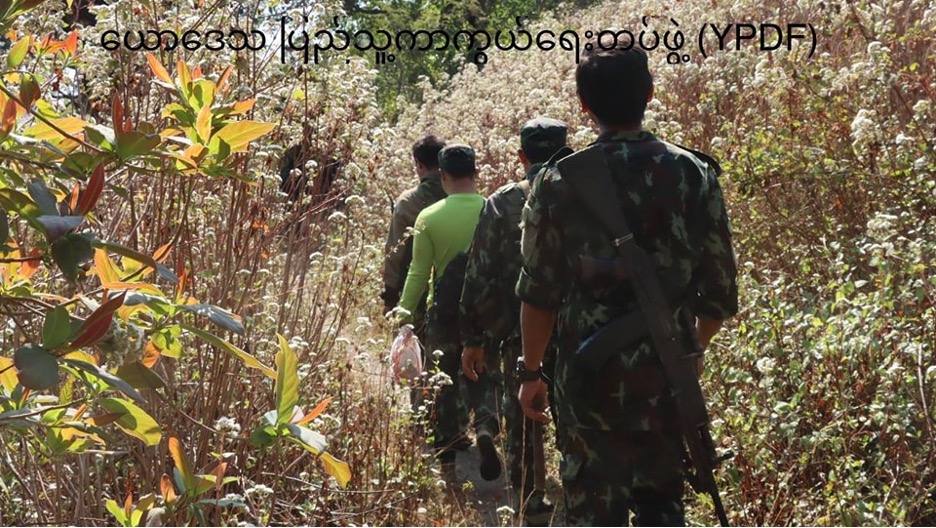 At least three regime forces were killed and five injured in Gangaw Township, Magwe Region on Sunday when three local resistance groups including Chin groups clashed with a military unit including pro-junta Pyu Saw Htee militia members who were raiding and looting villages, said Yaw PDF, which coordinated the attack.
A resistance fighter suffered injuries in the clash.
Two regime forces killed in urban attack in Magwe
Oppressed People's Revolutionary Force claimed to have killed two regime forces when one of its fighters threw a grenade into a junta bunker at a military checkpoint at an entrance of Natmauk town, Magwe Region on Tuesday evening.
Clashes rage for two days in upper Sagaing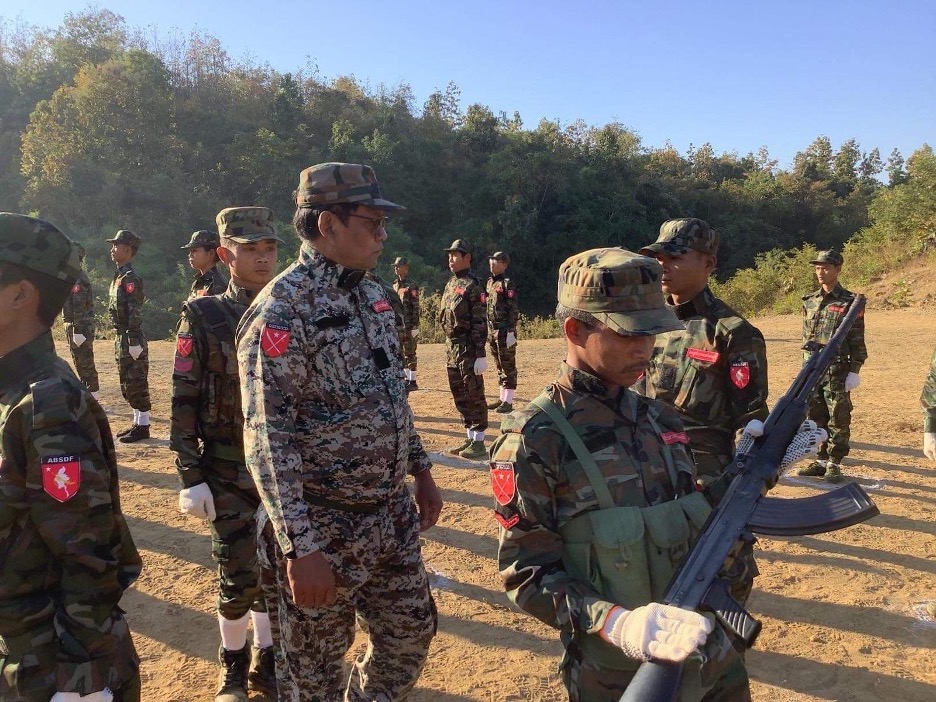 At least eight regime forces as well as a resistance fighter were killed in Indaw Township, Sagaing Region on Sunday and Monday when the All Burma Students' Democratic Front (ABSDF) clashed with a military unit of 60 troops in the Maw Take area in the west of the township for two days, said Indaw Revolution, a local revolutionary media outlet.
Junta sentries bombed by resistance drones in Sagaing
A resistance drone drops bombs on junta sentries at the Military Tank Battalion in Sagaing Township on Tuesday.
Unicorn Guerrilla Forces said it and four other PDF used drones to drop seven bombs on junta sentries at the entrance gate of a military tank battalion in Ohn Taw Village in Sagaing Township, Sagaing Region on Tuesday.
Military casualties were not yet known. After being bombed, the regime forces responded indiscriminately with 40-mm explosives and firearms.