YANGON — Three suspects linked to last month's record drug haul in Malaysia are on the run from Myanmar police and another four are in custody in Yangon, the Ministry of Home Affairs announced Wednesday night.
The huge shipment of methamphetamine and heroin worth USD18 million was seized in Malaysia's Port Klang on May 22 after being shipped from Myanmar Industrial Port (MIP). Customs officers stationed at MIP are supposed to screen every single container that leaves the port.
The ministry said it had confiscated at least 18 billion kyats worth of movable and immovable assets at properties belonging to six suspects. The assets are believed to have been paid for using the proceeds from drug trafficking. These include bank accounts and jewelry. The ministry said it had seized property worth an estimated 7 billion kyats from Haj Yassin; more than 8 billion kyats from Qin Jiamu, 45 (also known as Jia Wei or Hnin Oo Lwin), who owns houses in Shan State's capital Taunggyi and Tachileik Township, a notorious drug zone; about 2.7 billion kyats from Dawei Gyi (aka Aung Lwin); about 500 million kyats from Hussein, 44 (aka Mohammed Hussein); 400 million kyats from Zeyar Hein, a brother-in-law of Haj Yassin; and 50 million kyats from customs clearance agent U Min Naing.
The seventh trafficking suspect, according to the ministry statement, is Ahko Gyi, who is at large and believed to be living in Malaysia.
Police opened cases against all the suspects under the Anti-Money Laundering (AML) Law of Myanmar. The Home Affairs Ministry also released short profiles of suspect Qin Jiamu, who holds a Myanmar national identity card and is of mixed Li Shaw and Chinese descent; and Hussein. It urged the public to inform the police if they have any information about the suspects' whereabouts.
The Irrawaddy has learned that suspects Min Naing, Haj Yassin and Dawei Gyi are friends on Facebook. Dawei Gyi, who is believed to be using Facebook under an assumed name (which is on Haj Yassin's "Friends" list) posted a profile picture in November 2015 that appears to show the three men in Macau. Dawei Gyi is shown in the center. Facebook user records of Dawei Gyi indicates that he travels frequently around Myanmar, Thailand, Malaysia and China.
Some Dawei residents told The Irrawaddy that locals mostly know Dawei Gyi as U Pyin Poe, which means "ant" in the Dawei language. They confirmed that the photos collected by The Irrawaddy were correct. According to them, U Pyin Poe's family was very poor but rapidly became wealthy after he returned from Malaysia to set up a hotel business in the town, where he currently operates the Bungaloa Resort on Maungmakan Beach.
A Dawei resident said, "Many Dawei locals are surprised at how quickly U Pyin Poe has become wealthy."
Police said in a statement that they have arrested four suspects in separate locations in Myanmar. U Min Naing, a prominent Customs clearance servicing agent and owner of Nice Guy Clearance Agency, was detained some time prior to the June 6 arrest of Haj Yassin (aka Maung Maung) in Mandalay Division. Zeyar Hein, the brother-in-law of Haj Yassin and operator of a store in Malaysia, was detained by police on June 9 as he returned to Yangon to extend his passport.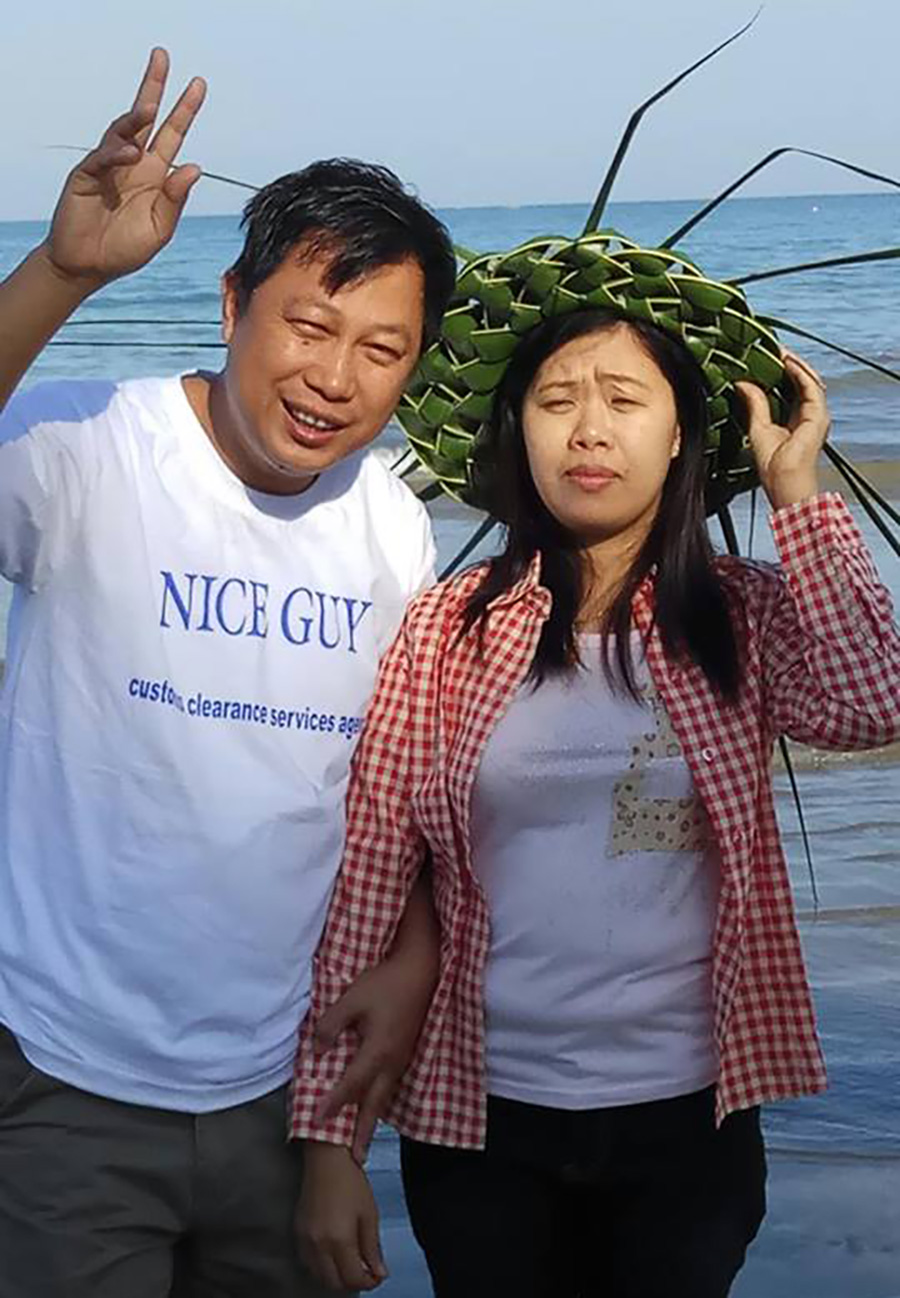 Haj Yassin and Zeyar Hein confessed to police their involvement in a narcotics trafficking scheme along with three accomplices. A few days later, on June 20, police apprehended Dawei Gyi (aka Aung Lwin) at the Ma Hlwa Taung border checkpoint in Tanitharyi Division with 10 grams of crystal methamphetamine, or "ice", at his house in Dawei Township. Aung Lwin admitted to police that he was once jailed for drug smuggling in Malaysia. Some local publications reported the arrest of Aung Lwin, a well-known businessman, but the police statement did not contain much information on his background.
Aung Lwin told police that Haj Yassin, Zeyar Hein, Qin Jiamu and Ahko Gyi (aka Ka Tone) shipped the narcotics disguised as tea to Malaysia with the help of customs agent U Min Naing. Haj Yassin also confessed to police that tons drugs were transported in various cars from Tachileik, Shan State resident Qin Jiamu to the Nice Guy purified water factory in Hlegu Township on the outskirts of Yangon. The factory is owned by Min Naing's wife Daw Thida Moe, who also serves as director of U Kaung Trading Company located in downtown Kyauktada Township.
Hussein allegedly carried the drugs in a Bongo Box car from the water factory to a warehouse in lower Pazundaung owned by Haj Yassin. After that, Customs agent U Min Naing expedited the paperwork and clearance process and organized a shipping service for Haj Yassin. The Irrawaddy has learned that U Kaung Trading Co. and Nice Guy Clearance Agency belong to U Min Naing's family. While they come from different religious backgrounds (Buddhist and Muslim, respectively) U Min Naing and Haj Yassin have a close relationship, even commenting on each other's Facebook accounts periodically since 2015.
According to Customs procedures, all trading companies must complete a significant amount of documentation relating to the screening process. This includes an export declaration form, and getting step-by-step approval from both Customs and the Myanmar Port Authority (MPA)'s Shipping Agency Department (SAD). Official SAD documents seen by The Irrawaddy last week indicate that U Kaung Trading Co. acted as the shipping agent for Haj Yassin. U Kaung Trading Co. managing director U Aung Soe Moe even signed the shipping instruction letter. It remains unclear whether police have also detained U Aung Soe Moe or if he is on the run.
Even after the shipper successfully clears the documentation process with the Customs agent, the container is still subject to a physical check including an X-ray scan at the port. This applies to all shippers who receive a yellow or red channel designation under the Myanmar Automated Cargo System (MACCS)'s automatic assignment system. Shippers who are designated to the green channel are exempt from an X-ray scan. The Customs Department has not officially revealed whether U Kaung Trading's container went through an X-ray channel or the green channel, and has not identified which Customs officers were on duty at Myanmar Industrial Port during the Water Festival period, when the shipment left the port.
The Home Affairs Ministry's latest statement did not elaborate on how the suspect successfully got the items through an X-ray scan. Some Customs agents explained that there are a couple of possible loopholes that would allow someone to escape an X-ray, including bribing officers to turn a blind eye. On three separate occasions The Irrawaddy sought an interview appointment with relevant Customs officials, but the requests were denied. Customs officials suggested writing an official letter to the department's director general on Wednesday.
The Irrawaddy visited Seik Kan Myo Ma police station on Wednesday and saw suspect U Min Naing in custody alone but was not allowed to speak with his family members or defense lawyer. A police officer on duty there said that Haj Yassin and his brother-in-law Zeyar Hein are being held at an undisclosed location for questioning and that a court hearing would be held next week. In previous statements, police said they had opened multiple charges against the suspects under the Anti-Narcotics Law that could carry the death penalty or an unlimited term of imprisonment.