YANGON — Myanmar's State Counselor Daw Aung San Suu Kyi condemned any human rights violations and unlawful violence in Rakhine State and said she was "concerned" about the hundreds of thousands of Muslims fleeing across the border to Bangladesh in a diplomatic address in the capital Naypyitaw on Tuesday.
"We are committed to the restoration of peace and stability and rule of law throughout the state," she told the gathering of foreign diplomats, UN officials, representatives of Myanmar's ministries, and local and international journalists.
She called on the international community to assist in investigating the latest crisis in Rakhine, saying: "We want to find out why this exodus is happening. We would like to talk to those who have fled as well as those who have stayed." She explained that 50 percent of Muslim villages remained intact.
It was her first public address since violence flared again in Rakhine when Muslim militant group the Arakan Rohingya Salvation Army (ARSA) attacked 30 police posts on Aug. 25—killing 13 members of government security forces.
Subsequent clashes and Myanmar Army-led security operations have left hundreds dead and hundreds of thousands displaced, including an estimated 410,000 self-identifying Rohingya Muslims who have fled to Bangladesh with reports of killings, rape, and destruction of property by government forces.
The State Counselor acknowledged there had been "allegations and counter-allegations" of human rights abuses, but said she would not comment as she wanted to bring understanding and harmony rather than more conflict.
Action would be taken against anyone, regardless of race, religion, or political standpoint, who violated human rights in Myanmar, she said.
"We would like to bring an end to the suffering of our peoples as quickly as possible," she said, and claimed there had been no armed violence or security operations since Sept. 5.
Myanmar was ready, she said, to begin the verification process of refugees in Bangladesh and invite them back to to the country "at any time," in line with the 1993 agreement between the two countries.
Self-identifying Rohingya Muslims—referred to as "Bengali" by the government and others to infer they are interlopers from Bangladesh—are denied citizenship, freedom of movement, and access to healthcare and education despite many of them having lived in the country for generations.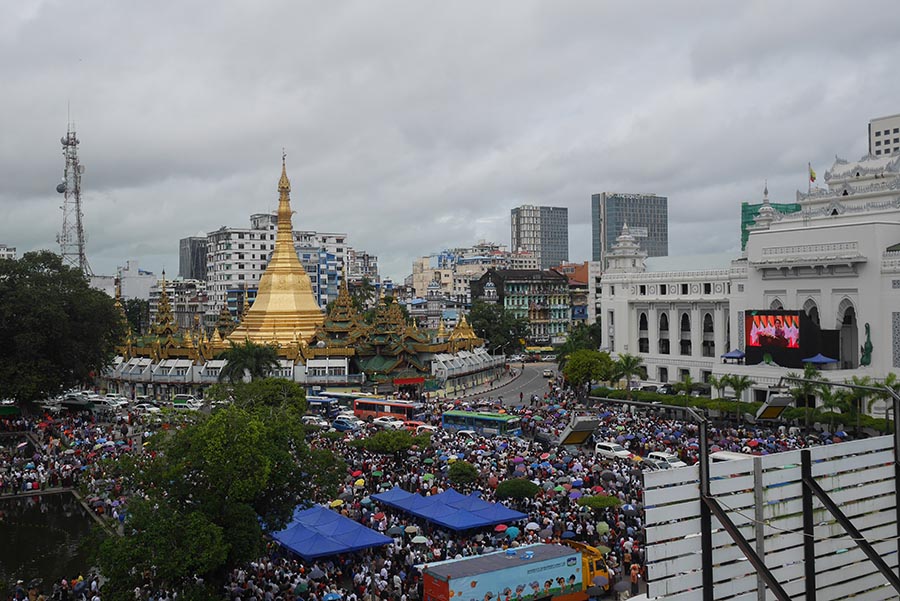 'Open Door'
Daw Aung San Suu Kyi said there was an "open door" and invited diplomats and officials to visit troubled areas of the country and called for them help find innovative, and "even daring solutions" to conflict in Rakhine.
Describing Myanmar as a "young and fragile democracy facing many problems," she stressed the importance of support from the UN and the international community and said she did not fear international scrutiny.
Myanmar has consistently blocked a UN fact-finding mission mandated with investigating allegations of human rights abuses in military operations sparked by ARSA attacks in October 2016.
The UN has denounced in strong terms the recent bout of violence, with UN High Commissioner for Human Rights Zeid Ra'ad al-Hussein labeling security operations in Rakhine State "a textbook example of ethnic cleansing."
Ahead of the UN General Assembly in New York this week, the US, Britain, Australia, and France have all called for the end of military operations and for civilians to be allowed to return home, though China defended Myanmar's actions.
Daw Aung San Suu Kyi had been scheduled to attend the UN General Assembly in New York this week but sent Vice-President U Henry Van Thio instead so she could concentrate on domestic issues.
She asked all international "friends" to help Muslim leaders to convince Rakhine State Muslims to enroll in the government's controversial national verification process, as the community has "nothing to lose."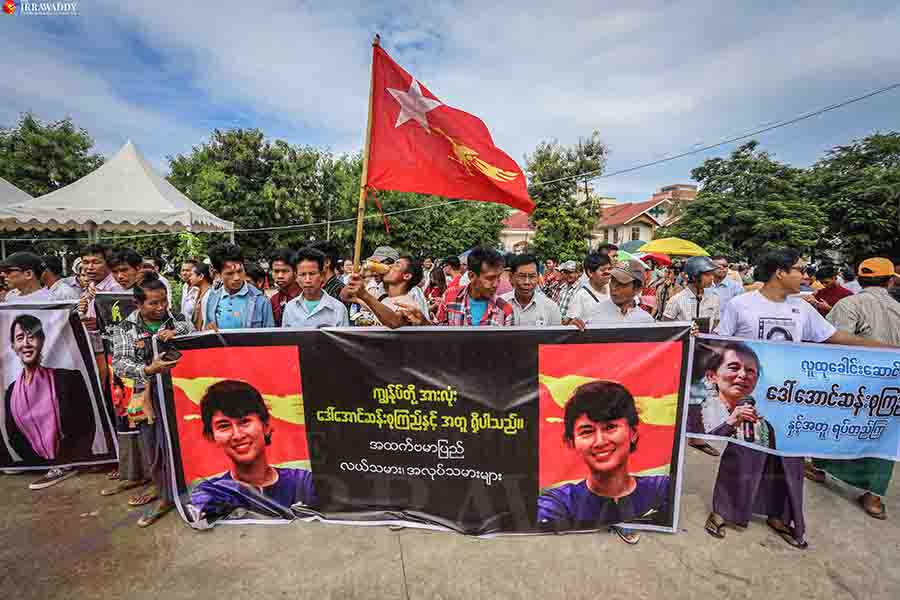 'Mother Suu'
Large television screens were set up in more than 20 big towns and cities across the country including in Sagaing Region's Monywa, Magwe Region's Pakokku, Shan State's Taunggyi and Irrawaddy Region's Pathein.
Hundreds of people gathered outside City Hall in downtown Yangon to watch a live stream of the diplomatic address.
As the State Counselor spoke in English, members of the crowd who spoke to The Irrawaddy said they didn't understand her whole speech but that it was important for them to show solidarity with her.
The heart of the city was filled with people holding posters and banners saying "We Stand with Daw Aung San Suu Kyi." The crowd sang Myanmar's national anthem after her 30-minute speech.
Twenty-one-year-old Ma Su Taryar Lin told The Irrawaddy she took leave from work to show solidarity with the State Counselor, referring to her as "Mother Daw Aung San Suu Kyi."
"She needed to say something to the world," she said.
Attendee U Kyaw Win said all Myanmar citizens were responsible for showing support for Daw Aung San Suu Kyi, and rejected international criticism of the leader.
The 68-year-old from Hlegu Township had been waiting for the speech since 8.30 a.m and said "as a leader, she knows best what to do and understands how to solve this issue."
More than 5,000 locals gathered at Manawyaman grounds in Mandalay to watch the speech, including Mandalay Chief Minister U Zaw Myint Maung and dozens of Buddhist Monks.
Beauty salon owner Ma Saw Myat Thu, who came to the grounds to hand out drinking water, said: "We can watch Mother Suu's speech at home, but to show solidarity with her to the world, we came here."
U Thein Myint, who can understand English, said he was satisfied with Daw Aung San Suu Kyi speaking in English as she was addressing the world and believed she will explain her speech in Burmese at a later stage.
Additional reporting by Kyaw Phyo Tha, Tin Htet Paing in Yangon and Zarni Mann in Mandalay.