YANGON — When an Indian friend recommended an Indian restaurant in town, it didn't take me long to make a plan to go to the restaurant and try the foods. Going there, I had a lot of expectations but when I arrived in front of the shop all I saw was a small restaurant empty of customers and I started having major doubts about my friend's advice.
The restaurant, called 'Rani Indian Cuisine', is located on the ground floor of the new Golden View Tower, near Kandawgyi Park's Karaweik entrance.
The staff warmly welcomed my friend and I into the shop where we were also greeted by the owner. The restaurant is small and clean with just a few tables. Some framed photos decorating the walls seemed a bit out of context for the style of this restaurant.
Honestly, I don't know much about Indian cuisine as this city doesn't have a lot of upscale Indian restaurants compared to others like European, Italian, Chinese and Thai restaurants.
My friend and I decided to choose a variety of dishes and also asked for recommendations from the staff. The owner, a friendly young lady, recommended the plain roti (1,000 kyats), jeera rice (2,500 kyats), chicken masala (5,000 kyats), dal tadka (3,500 kyats) and mutton rogan josh (6,000 kyats) after discussing our preferences with us.
While waiting for the food, we had a short conversation with the owner who explained that Rani Cuisine focuses on north Indian cuisine. She emphasized that they use traditional north Indian cooking methods, introducing dishes such as tandoori chicken and palak paneer to Yangon's foodies.
"The food styles of northern and southern India are different. Most of the people from northern India eat a lot of bread like naan and roti with their curries. Only a few people eat rice with curry and our shop is focusing more on a northern Indian style of cuisine," said Ma Zarchi Mon, the owner of Rani Cuisine who has a mix of Myanmar and Nepali heritage.
She added, "Customers can get a real experience of northern-style Indian food at our shop, but we do serve rice for some general curries."
Most of their customers are expats from India who live in Myanmar for business matters. Hotel guests from nearby areas also come to the restaurant a lot.
"We don't use a lot of masala, dried herbs or color powder. We prepare the food like it's homemade because our foreign customers also miss their home and homemade curries," she said.
After 20 minutes, the dishes were served one by one. The strong smell of Indian cooking came to my nose.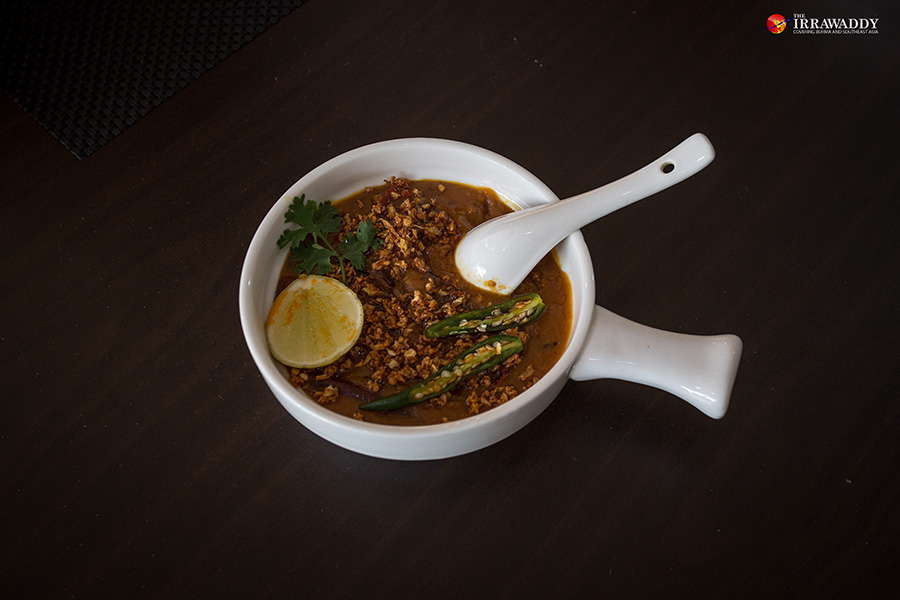 The plain baked roti includes three rolls and is made with wholegrain, the chicken masala and mutton rogan josh dishes are a red color, and the dal tadka is yellowish. The dishes are served in small portions and come with mint chutney.
It was a kind of Indian food tour starting with roti eaten with dal tadka and rogan josh. Spoons and forks were provided but the roti is supposed to scoop up the curry and be eaten with your fingers.
The rogan josh was thick, a little salty and sour with a tomato flavor. It was an aromatic dish and the mutton meat was really tender.
The chicken masala is a common curry for Indian people and the meat was soft while the taste was a bit sour and spicy. If you don't like masala flavors, it is recommended not to try this one because the smell is strong and my friend couldn't eat it.
The dal tadka was my favorite dish at the restaurant. It is effectively a bean soup cooked with Indian flare. Pigeon beans are used in this dish and it is thick with a good smell. It tastes perfect with roti as well as rice.
After having the meals, I regretted my negative first impression. Though the restaurant is not huge, nor very pretty and was rather empty when we visited, the taste of the food was really good and reasonably priced.