YANGON—Police have filed lawsuits against well-known democracy activist Ma Nilar Thein and four youth activists under four articles of the Penal Code over their support for a group of students who were jailed for criticizing the military in a satirical performance.
Police from Yangon's Botahtaung Township opened the cases against Ma Nilar Thein, Ko Nan Lin, Ko Naing Ko Thu, Ko Min Han Htet and Shar Yamone under articles 114, 186, 332 and 353 on Tuesday for allegedly abetting an offense, as well as obstructing and causing hurt and assault to deter police officers from discharging their duties.
The offenses carry possible sentences ranging from three months to three years in prison, as well as fines.
At a court hearing for the jailed students, who belong to the Peacock Generation thangyat troupe, in Botahtaung Township on Monday, scuffles broke out between police and supporters of the students—including the five who have now been sued—as police attempted to bundle them inside the courtroom upon their arrival. When asked by their supporters why they had arrived at the court late, the detainees said it was because the police had used force against them while handcuffing them, slowing the process down. Thangyat is a traditional Myanmar performance art that often involves political satire.
Two detained troupe members shouted from the police van taking them back to prison that police told them the military had pressured police to handcuff them for their court appearance. They were not handcuffed at a previous court hearing.
Military spokesperson Brigadier General Zaw Min Tun denied the troupe members' claim.
"We can't intervene in the police force's rules and regulations… We have not put any pressure on police or on the judiciary in this case. Whether or not handcuffs are used depends on police regulations," he said.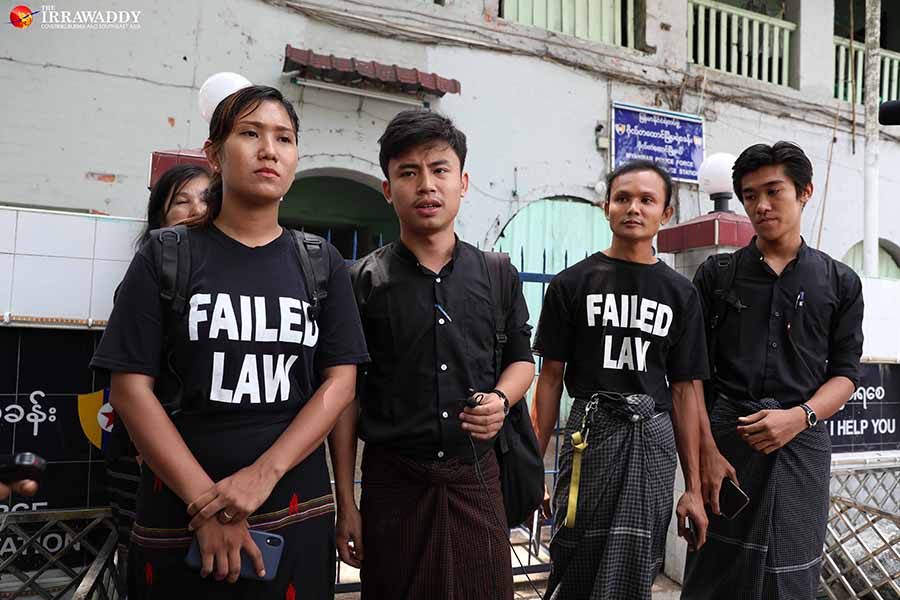 The military sued seven Peacock Generation members under the Penal Code's Article 505(a) and the Telecommunications Law's Article 66(d) over performances criticizing the military's role in politics.
Late Tuesday night, Ma Nilar Thein, who is also a member of the 88 Generation Peace and Open Society, was briefly detained by police for questioning.
She wrote in a Facebook post that the police came to her house and knocked on her door at around 10:15 p.m. Police also searched the homes of two of the other accused, Ko Min Han Htet and Shar Yamone, last night.
Former political prisoners and political activists denounced Tuesday night's detentions.
"It seems the same as the arrests [of political dissidents] under the former military regimes—late at night without a warrant," said Ko Mya Aye, a leading member of the 88 Generation group.
Regarding the slew of recent cases opened by the military against its critics, he said the military shouldn't be so sensitive to criticism, saying it would only increase misunderstanding of the institution.
Since last month, senior military officials have opened cases against several perceived critics including a human rights activist, a prominent filmmaker, local media outlets and satirical performers.
You may also like these stories:
Four Arrested in Malaysia Suspected of Plotting Ramadan Attacks
Ta'ang Rape Victim Claims Attackers Army Soldiers
Vietnam to Mobilize Military in Fight Against African Swine Fever
Civilians Suffer Landmine Injuries in N. Rakhine