YANGON — The Ministry of Home Affairs yesterday accused the Arakan Army (AA) of the Jan. 30 murder of a former township official in Rakhine State in retaliation for his role in blocking events to mark the anniversary of the fall of the Arakan kingdom some 200 years ago.
Bo Bo Min Theik, a former official of Mrauk-U Township, was stabbed to death in Rakhine's Ponnagyun Township while returning to the state capital Sittwe from Mrauk-U, where he had been summoned for questioning over a police crackdown on a Jan. 16 protest there that left seven civilians dead. He was serving in Mrauk-U at the time of the protest, which was sparked by the government's decision to block the anniversary events, but transferred to Sittwe a few days later over concern for his safety.
On Jan. 31, police arrested four suspect — U Kyaw Myint and his son Ko Min Than Htay, wife Daw Kyi Kyi Win, and daughter-in-law Ma Khin Zar Hlaing — in Yangon and opened a case against them for homicide, abetting and causing grievous harm.
Police were led to the family by the number plate on the car in which Bo Bo Min Theik's body was found. They say the plate had previously been on a car belonging to U Kyaw Myint, a former administrator of Rakhine State's Tain Nyo village. Two vehicles belonging to the family and 75 million kyats ($56,476) were also confiscated.
In a statement released late Monday, the Home Affairs Ministry said U Kyaw Myint had confessed to conspiring in the official's murder. It said he had discussed plans to kill Bo Bo Min Theik with AA recruiter Ko Latt and three others — Sapaing, Zaw Myo Aung and Myo Chit Aung — on Jan. 25 in retaliation for the blocked anniversary events.
The next day, U Kyaw Myint called Bo Bo Min Theik, whom he had known for many years, to offer him a ride from Mrauk-U back to Sittwe. Bo Bo Min Theik accepted. On Jan. 27, however, U Kyaw Myint called him back to say he would be travelling to Yangon the next day and that Myo Chit Aung would drive him to Sittwe instead. Sapaing and Zaw Myo would join them to help carry his belongings, including his luggage and documents.
While U Kyaw Myint was driving to Yangon with his wife, Ko Latt reportedly called to tell him the car they would be using had no number plate. U Kyaw Myint suggested they use the plate on an unregistered car he owned in Tain Nyo village, which they did.
On Jan. 30, as Bo Bo Min Theik was heading back to Sittwe with the three men, they tried to seize his mobile phone and the vehicle overturned in the ensuing struggle. According to the ministry statement, Sapaing and Zaw Myo Aung then stabbed Bo Bo Min Theik to death.
The three men remain at large.
The statement also said that U Kyaw Myint and his son had been moving illicit drugs from Shan State to Rakhine for several years. It said they smuggled 4.4 million methamphetamine pills into Rakhine's Maungdaw District in 2016 and 2017 at a profit of almost 400 million kyats ($299,000) and confessed to buying M-16 assault rifle and pistols and several magazines and rounds to supply the AA. It added that U Kyaw Myint had kept one of the pistols.
When The Irrawaddy visited the police station Monday evening in Thanlyin Township, where U Kyaw Myint and his wife and daughter-in-law were arrested at a local Arakanese Buddhist nunnery, a police constable confirmed that a case had been opened against the father and son for the unlawful possession of a handgun.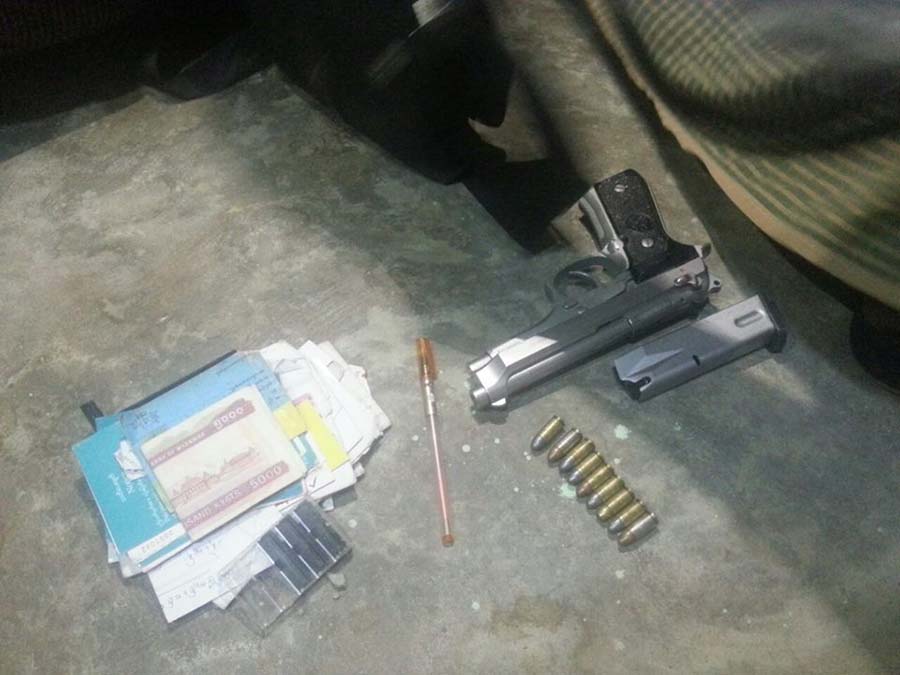 The constable, who spoke on condition of anonymity because the case had not yet reached court, said police found the Italian-made 9mm pistol on Feb. 1 at the nunnery, where the suspects said they had hidden it. He said the wife and daughter-in-law had been released.
Residents of the nunnery, on the outskirts of Thamalone village, told The Irrawaddy that authorities had instructed them not to speak to journalists. One of the nuns, who asked to remain anonymous, said U Kyaw Myint arrived at the nunnery on Jan. 30 with his wife and daughter-in-law at about 3 p.m. and that several dozen police raided the facility a few hours later.
"We were very scared of them because we had never experienced something like that before," she said.
On Friday, Rakhine State Secretary U Tin Maung Swe said the government provides civil servants with a car but Bo Bo Min Theik had decided to accept a ride from his friend.
"Mrauk-U is not a war-torn zone like Maungdaw region and it was his personal choice to take the ride," he said.
AA officials could not be reached for comment on the group's alleged involvement in the murder.
Following the police crackdown in Mrauk-U, the AA issued a statement threatening to take "serious retaliatory measures against the culprits" including Rakhine State government officials and members of the security forces involved in the killings.