More than 70 civilians, including wounded villagers and some resistance fighters, were trapped on Thursday in a village in Sagaing Region after the Myanmar military launched airstrikes.
At around 2pm on Thursday afternoon, military regime MI-35 helicopter gunships launched a surprise attack on a crowd gathered in Yin Paung Taing Village in the south of Sagaing's Yinmabin Township. The villagers were preparing a meal for several dozen fighters from local People's Defense Forces (PDF).
Another junta helicopter made three flights to airlift around 60 regime troops to surround the village, which has some 700 houses and is home to around 3,000 people.
The airstrikes came 15 minutes after the PDF fighters arrived in the village, Ko Bala of local resistance group Young Ranger Force told The Irrawaddy on Friday.
Ko Bala said that two junta gunships attacked the village for up to 45 minutes using machine guns and rockets.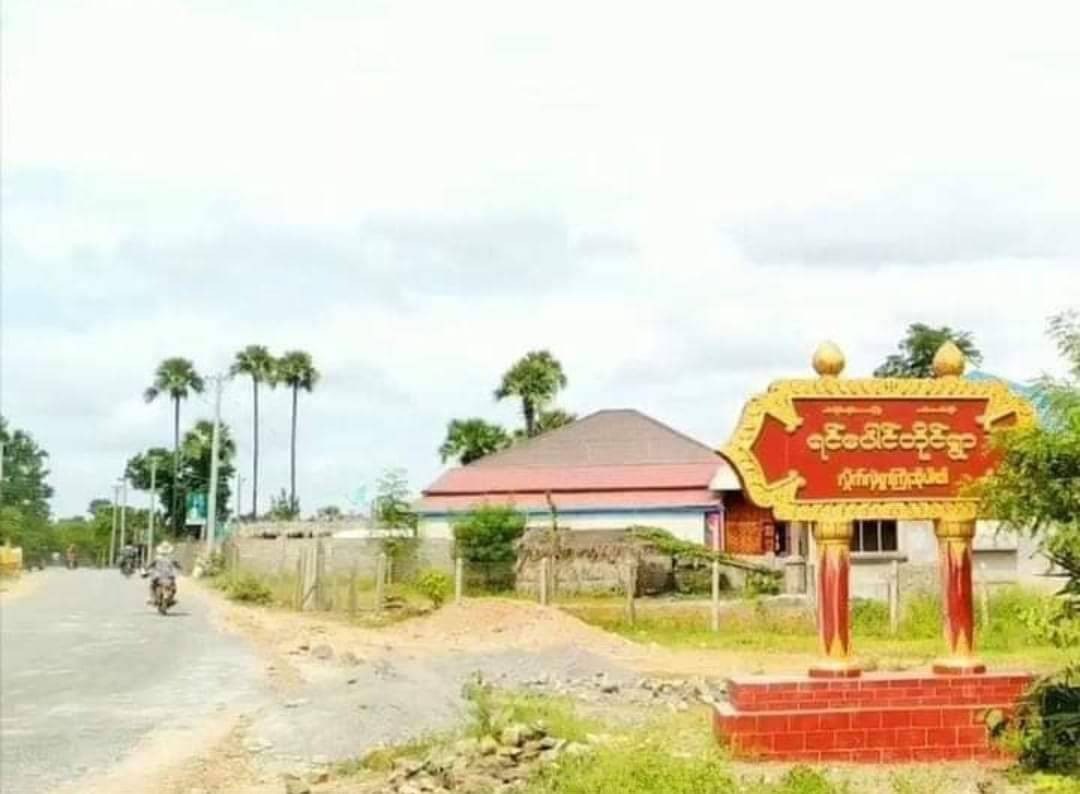 Some 20 people including senior citizens, youths and PDF fighters were wounded by the airstrikes. Another 15 injured people managed to flee the village, including a teashop owner and his daughter who suffered wounds to their heads and bodies, according to Young Ranger Force.
However, another 50-odd people including children and elderly people are hiding in their homes and remain trapped in the village.
After the two junta gunships returned to their base, another MI-35 helicopter continued to attack the village and nearby area for several minutes, according to local residents.
Most of the PDF fighters managed to escape late at night after a firefight with the regime troops surrounding the village.
Currently, 7,000 to 8,000 people from Yin Paung Taing Village and six nearby villages have fled their homes out of fear of potential airstrikes and regime raids.
As of Friday, junta soldiers are still deployed in Yin Paung Taing and the condition of the trapped villagers is unknown.
On Friday, the pro-regime Telegram social media channel Fifty Two News reported that seven PDF members were killed in the raid, and that weapons and ammunitions, including some made by the Kachin Independence Army, were seized by regime forces.
Resistance fighter Ko Bala said that civilians in Sagaing are now living in fear due to the mounting number of indiscriminate junta airstrikes. Previously, locals were able to get advance warning from PDFs of regime soldiers traveling through their areas by foot and had been able to avoid them.
"We don't know when the junta airstrikes will happen, so we can't prevent them [junta gunships] making raids," said Ko Bala.
He added: "The Myanmar junta doesn't care about rules and regulations, no matter that they prohibit the use of airstrikes on civilian targets. We need weapons that can prevent the regime airstrikes."
In early August, 10 villagers were killed by helicopter gunships and regime soldiers during a raid on Latpankyin Village in Sagaing's Myinmu Township.
The military regime has been conducting airstrikes on both civilian targets and resistance forces in Chin, Kachin, Shan, Kayah, Mon and Karen States and Magwe and Sagaing regions.
On Wednesday night, thousands of residents from four villages in Sagaing's Depayin Township were forced to flee their homes when a detachment of 150 junta troops headed to raid the villages, according to a Depayin assistance group for internally displaced people.
During previous raids, the detachment killed villagers, burned down houses and destroyed people's property, the Depayin assistance group said.
Amid near-daily attacks from PDFs and ethnic armed organizations, regime forces across the country have relentlessly committed atrocities including the arbitrary killings of civilians, extrajudicial killings of resistance detainees, burning people alive, using civilians as human shields, air and artillery strikes on residential areas, looting and burning houses and acts of sexual violence.