YANGON — Ma Hla Hla Phyu was shocked to learn of her big sister's arrest on May 23 at a government checkpoint in the Taungup Mountains of Rakhine State on the road to Yangon.
Ma Hla Hla Phyu, 19, and her sister Ma Hla Phyu, 26, also known as Ma Raw Mie, are victims of the communal riots that pitted some of Rakhine State's Buddhist and Muslim communities against one another in 2012. It its wake, authorities evicted at least 2,000 Muslims from several quarters of southern Rakhine's Kyaukphyu town on the grounds of preventing further violence.
Ma Raw Mie had passed the government's high school matriculation exam in Kyaukphyu the year before, but the riots put her hopes and dreams of a brighter future on pause as the family of five was shipped off to a camp for internally displaced people (IDPs) on Kyaukphyu's outskirts along with hundreds of others.
She started teaching at a school inside the Kyauktalone IDP camp that serves some 300 students. She also held a National Verification Card (NVC) for non-citizens, introduced by the previous government to replace the so-called white cards. So, having never been to Yangon, she decided to visit the country's bustling commercial capital on May 23 without telling the rest of her family.
Taungup Township police officer Major Ko Ko Oo confirmed that Ma Raw Mie was arrested the same day and soon sentenced by the local court to a year in prison with hard labor for violating Article 6 (c) of the 1949 Immigration Act for possessing someone else's National Registration Card (NRC), also known as a pink card. He declined to provide details and referred additional questions to the police station, where officers refused to comment.
The court proceedings took only two days and Ma Raw Mie was given no chance to find a lawyer. According to the police report, she tried to cross into Bago Region with the NRC of an Arakanese woman from Ramree Township, Ma Khin Moe Moe Win.
Ma Hla Hla Phyu told The Irrawaddy that authorities transferred her sister to Thandwe prison on Friday. She questioned the severity of the sentence. In 2016 a Chinese national was arrested in Mandalay for possessing a fake identity card and only fined 100,000 kyats ($73.80).
"I don't know what's going on there because we had no idea about her trip. We want to visit her and hear her explanation," she said.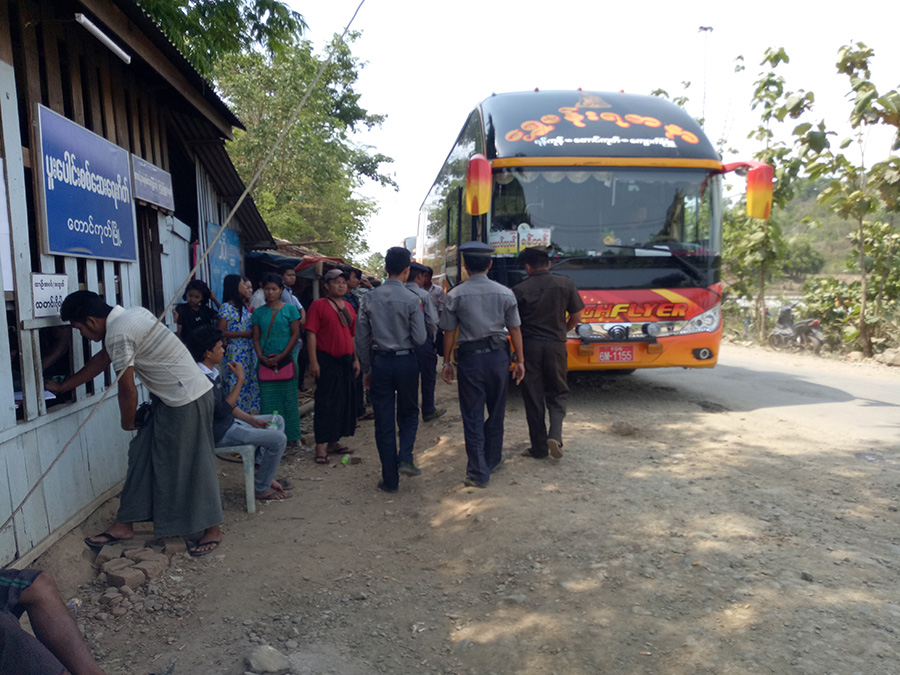 Form (4)
But the chances that the sisters will get to meet are low, considering how difficult it is for Muslims in Rakhine to travel, even with an NVC. Displaced Muslims in the state must secure a travel permit from the Immigration Department for any trip either in or outside of Rakhine. Securing a permit can take a week or more.
"We can't go anywhere without Form (4), even in Rakhine," said U Maung Ni, a resident of the Kyauktalone IDP camp.
Most Rohingya Muslims reject the NVC even though the government regularly promotes its supposed advantages.
Some 700,000 mostly Rohingya have fled Rakhine for neighboring Bangladesh since attacks on security posts there in late August by the Arakan Rohingya Salvation Army (ARSA) triggered a military crackdown mired by widespread reports of arson, rape and arbitrary killings by Myanmar's security forces. The UN has accused the military of ethnic cleansing and called on the government to accept a "credible independent investigation."
In April, following a trip to the refugee camps in Bangladesh, Social Welfare Minister U Win Myat Aye said NVC holders could fill out Form (4) and secure citizenship within five months, depending on approval from the relevant government departments. The NVC does not guarantee citizenship on its own.
Immigration rules stipulate that NVC holders must use Form (4) to apply for travel permits and to access health or education services. Those who secure the travel permits cannot stay outside of Rakhine State for more than 45 days and must inform authorities of when they leave and return 24 hours in advance.
The form was created during the rule of the State Peace and Development Council under military dictator U Than Shwe and deliberately targets Muslims travelling from Rakhine to Yangon. Even former lawmaker U Shwe Maung, who ran in the 2010 elections as a candidate for the military-backed Union Solidarity and Development Party and now lives in asylum in the US, had to use the form to travel.
Broken Promises
Ma Raw Mie had applied for a travel permit several times in 2017 and 2018 but was always refused.
U Phyu Chay, who heads the Kyauktalone IDP camp's management committee, said at least 50 NVC holders applied for travel permits in 2017 and that not one has heard back from the Immigration Department.
"Whenever we asked immigration officers, they always said they were waiting for approval from above. Then it always disappears into the air. We don't exactly understand the meaning of 'from above,'" he said.
U Maung Ni said some of the rejected applicants had even included recommendation letters from doctors. He said immigration officials in Kyaukphyu had forwarded the applications for travel to Yangon to the state capital, Sittwe, from where they were sent on to Naypyitaw and Yangon.
Despite the social welfare minister's claim that NVC holders who fill out Form (4) were eligible for citizenship within five months, more than 600 Muslims in the Kyauktalone IDP camp with NVCs since 2015 have yet to secure citizenship.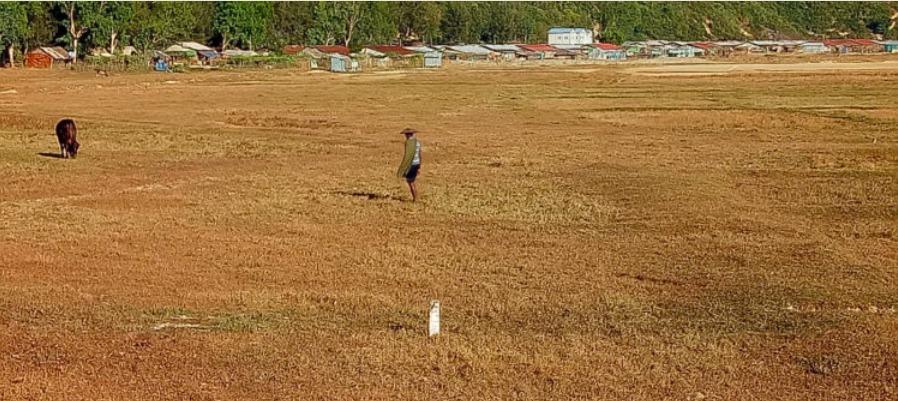 U Phyu Chay said he has had many private meetings about the displaced Muslims in Rakhine with Union ministers from both the previous and current government.
"They gave me words behind closed doors about the NVC. You know, even Union ministers are cheating us," the camp manager said. "U Win Myat Aye also made verbal promises in several private meetings with us. But we were dreaming their words. Both the previous immigration minister, U Khin Ye, and U Win Myat Aye are the same; they never kept their word. It's all lies."
He said authorities had granted travel permits to some recent applicants but revoked them after learning that the population of the IDP camp had shrunk significantly because many residents who had already traveled to Yangon never returned. The camp was home to some 2,000 people in early 2013 but now houses only half that. Some Muslims say the government should go after those who have violated the terms of their travel permits rather than punish new applicants in their stead.
The NVCs, U Phyu Chay said, are "just for show. What a dirty game! I am totally disappointed in their behavior."
Presidential Pardon
Ma Raw Mie is not the only Muslim to be jailed for traveling without the requisite documentation. On Sunday, President U Win Myint pardoned 58 Rohingya refugees who had crossed into Myanmar illegally while returning from Bangladesh. Cases against four other arrested Rohingya were dropped.
According to a statement from the State Counselor's office, the 58 had already served some prison time. It added that authorities would not prosecute any returnees unless they were suspected of having participated in the ARSA attacks in August, during which nearly a dozen security personnel were killed.
U Phyu Chay said that if the government can pardon people who enter the country illegally it ought to pardon Ma Raw Mie, and take into consideration her volunteer work at the government-recognized school in the Kyauktalone IDP camp. Some Buddhist activists have even joined a "Free Ma Hla Phyu" campaign on Facebook.
"I would like to ask our president to please pardon my sister," said Ma Hla Hla Phyu.