Japanese beverage giant Kirin plans to dissolve by next month its joint venture with the Myanmar military, Myanmar Brewery, whose profits plunged by almost 50 percent on-year in the third quarter, its financial results for the period show.
The collapse in sales at the brewer follows a boycott by anti-junta protesters of military-linked products, which is part of a campaign to sever the coup leaders' financial lifelines. Products like Myanmar Brewery's Myanmar Beer can no longer be found on store shelves due to the boycott.
Kirin said in its presentation of the third quarter report on Tuesday that "we are aware that we must dissolve the joint ventures as soon as possible. We are preparing to take action by the end of this year, including legal action, and we are considering all possible measures to dissolve the JV."
Kirin owns 51 percent of Myanmar Brewery, with military-owned conglomerate Myanma Economic Holdings Public Co. Ltd. (MEHL) holding the rest.
In its Q3 2021 financial report, Kirin said Myanmar's beer market had shrunk, with sales volumes hit by the spread of COVID-19, the "political upheaval" and supply chain disruptions.
Compared to the same period last year, Myanmar Brewery's sales volume was down over 30 percent.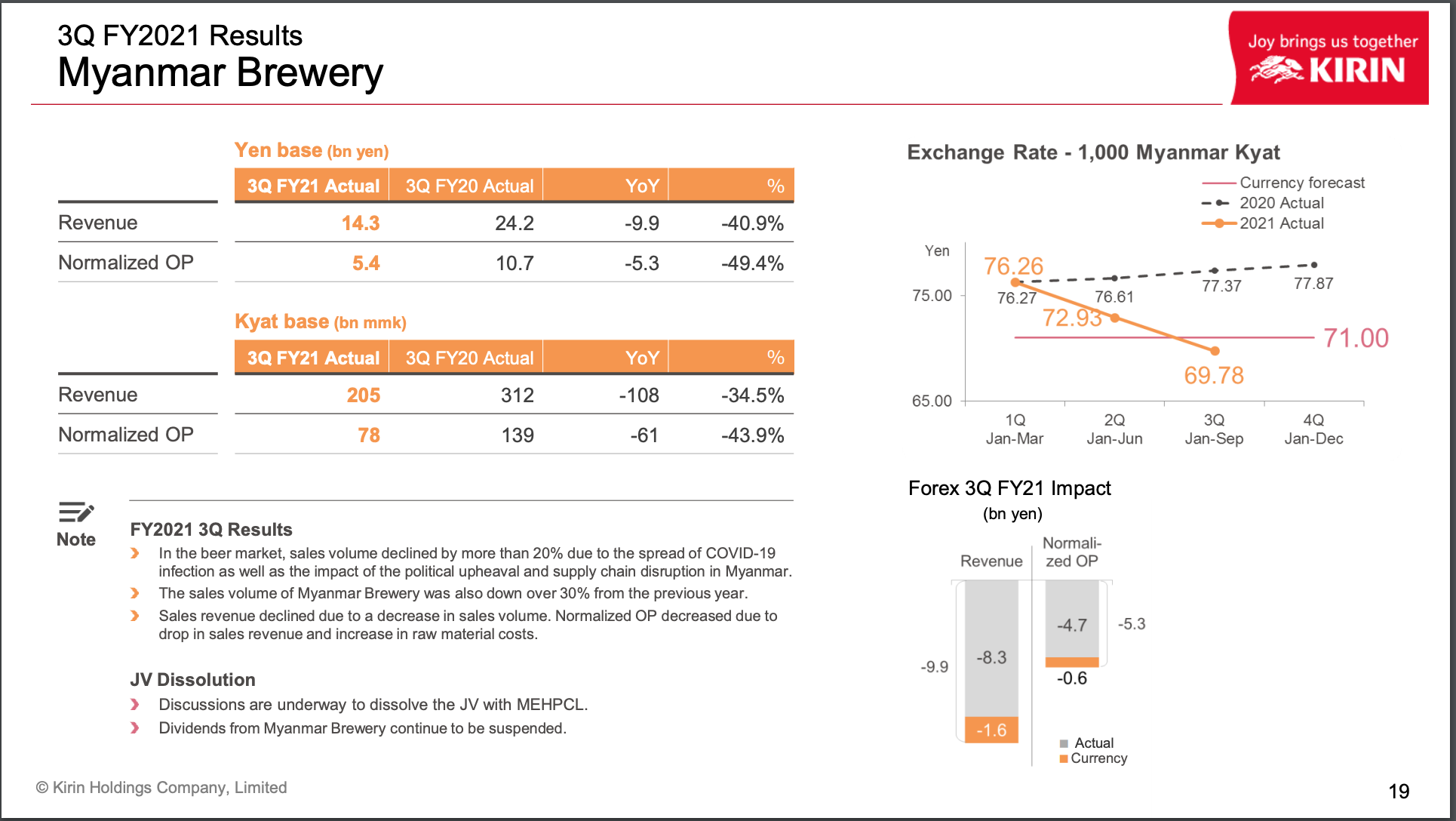 Normalized operating profit was down 49.4 percent year-on-year "due to lower sales volume and increased raw material cost, among others."
Kirin downplayed quarter-on-quarter improvements at Myanmar Brewery this fiscal year, saying that given the risks facing the firm's operations, it was "better to have a flat view."
Improvements in most of its overseas markets could not offset the decline in its domestic and Myanmar operations, the Japanese firm said.
Following the Feb. 1 coup, Kirin announced that it was ending its joint-venture partnership with MEHL, citing its deep concerns over the actions of the military, which it said run counter to the company's standards and human rights policy.
But 10 months later, Kirin said discussions on dissolving the partnership with MEHL are still underway.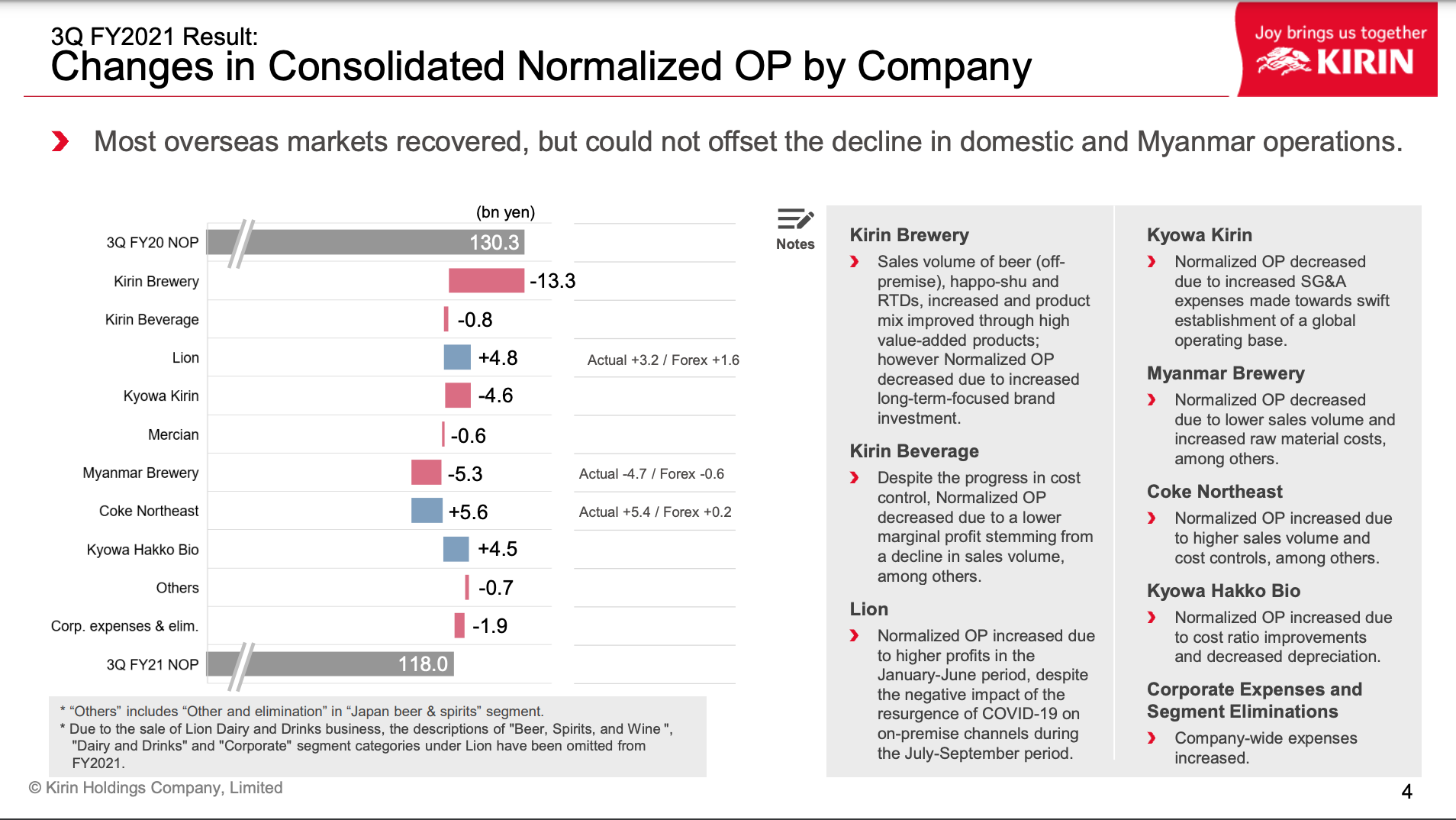 Human rights group Justice for Myanmar (JFM) said the financial results in the report provide clear evidence that the mass boycott of military-linked products by Myanmar consumers is working, by directly impacting the flow of money into the pockets of the coup leaders.
JFM demanded that Kirin immediately stop the Myanmar Brewery operation and its JV with MEHL and provide transparency on how it intends to end the business operation.
Kirin earlier faced international condemnation for its partnership with Myanmar's military amid accusations of genocide against the Rohingya in western Myanmar. Last year, Kirin hired Deloitte Tohmatsu Financial Advisory to conduct an independent review of the financial and governance structures of MEHL. However, its probe into MEHL's military connections ended inconclusively because access to information was denied.
Nonetheless, Kirin stopped making dividend payments to the military-owned company last November.
"The dividends from Myanmar Brewery continue to be suspended," it said on Tuesday.
Kirin's Myanmar business recorded operating profit of US$115 million (161.84 billion kyats) in 2019, according to the company.

You may also like these stories:
Myanmar Junta Sentences Detained US Journalist to 11 Years in Prison
Myanmar Junta Loses 1,300 Soldiers Killed Over Last Month: NUG
Myanmar's Civilian Government Blacklists Junta Conglomerates