RANGOON — The wife of a local journalist said that he has been detained by the Burma Army while reporting in Mon State on the  recent fighting between government forces and Karen rebels. She alleged that he has been custody of the army for several weeks and called for his immediate release.
Than Dar, 46, said Aung Kyaw Naing, a 49-year-old freelance journalist from Rangoon and the father of her daughter, had last been seen several weeks ago in Mon State's Kyaikmayaw Township after returning from an area under the control of Democratic Karen Benevolent Army (DKBA).
The Karen rebels were involved in heavy fighting with the Burma Army in the region in southeastern Burma at the time.
Than Dar said local authorities, police and soldiers of Light Infantry Battalion 208, based in Kyaikmayaw, had apprehended the journalist in the town in late September or early October, and he had not been heard of since.
"I am very worried about whether my husband is still alive or not," she said during a press conference held in Rangoon on Tuesday afternoon, where she was being supported by human rights activists. "They [the army] should show him in public."
Mon State Border Affairs Minister Htay Myint Aung told The Irrawaddy that the police had apprehended Aung Kyaw Naing and then handed him over to local army commanders. "That's all I know about that story, he is being detained at the base of battalion 208," he said.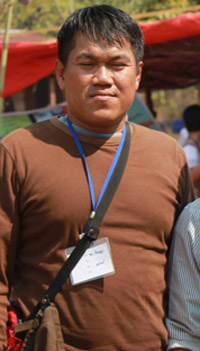 Than Dar said a police corporal at Kyaikmayaw Police Station had told her privately that he had seen Aung Kyaw Naing in custody of the army, and that he appeared to have been beaten.
She said she visited the battalion 208 base with the help of the Mon National Party, where an army captain claimed his men had detained the journalist and then handed him over to the Border Affairs Ministry. A recent visit to the military's Southeastern Command in Moulmein had neither helped to clarify the situation.
Aung Kyaw Naing was based in the Thai border town of Mae Sot and focused on ethnic issues in the Burma-Thailand border region; his work has reportedly appeared in different local media, including daily newspaper The Voice.
Than Dar said she filed a report for a missing person and a complaint of possible kidnapping at the Kyaikmayaw Police Station on Sunday, adding that according to Burmese law no person can be held in custody for more than 24 days.