YANGON – Misinformation regarding the crisis in Rakhine State has attracted widespread criticism after being published in local and international media.
Singapore-based Channel News Asia (CNA) published a subtitled video report on Sept. 19 that quoted refugees on the Bangladesh border as saying, "Aung San Suu Kyi gave that commitment [a diplomatic briefing] before. She came to our village and gave a speech [in northern Rakhine]. After she left, the same things happened."
Viewers pointed out that Myanmar State Counselor Daw Aung San Suu Kyi had not traveled to northern Rakhine State since the National League for Democracy assumed office in 2016. She went to southern Rakhine State once in 2015 during the election campaign.
On Wednesday, Myanmar President Office's spokesman U Zaw Htay wrote a post on Facebook and tagged CNA's Myanmar correspondent May Wong. It read, "I really don't know when our State Counsellor went to their village and how she met those people in Rakhine State. Kindly let me know please!"
On Thursday, the report was removed from CNA's website.
Facebook user Khin Myat Thet commented under U Zaw Htay's post, "CNA deleted the video!! But the lie that they purported has still been circling."
The same day, Al Jazeera ran a story with the headline "Traitor: Rohingya refugees react to Suu Kyi's speech," which quoted refugees saying, "Suu Kyi is a traitor. A majority of the Rohingya voted for her party, the National League for Democracy (NLD) […] But once she won, she joined hands with the army-backed party [the USDP] and forgot about us. I lost everything. What's the meaning of returning back? Suu Kyi's a traitor, we can't rely on her words."
Many of the self-identifying Rohingya were disenfranchised in the 2015 election as they are not recognized as citizens but as interlopers from Bangladesh.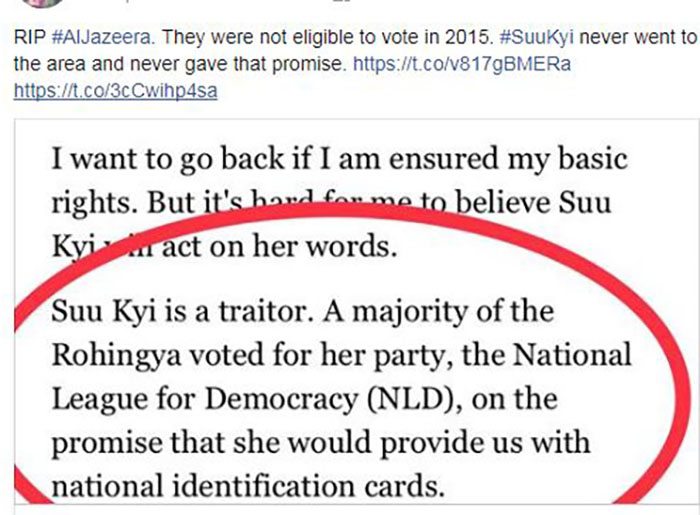 The Muslims from Rakhine State were favored to vote in 2010 as they possessed white cards but these were revoked by former President U Thein Sein's administration when the national verification project was introduced in early 2014.
On September 18, Reuters published an exclusive story titled "'We will kill you all' – Rohingya villagers in Myanmar beg for safe passage" with a misleading photo that was taken by the same agency on the Bangladesh border.
The picture shows a man holding a machete and attempting to fight someone. It was taken by a Reuters photographer on Sept. 17 when a fire broke out during the distribution of bananas in a Rohingya refugee camp in Cox's Bazar, Bangladesh.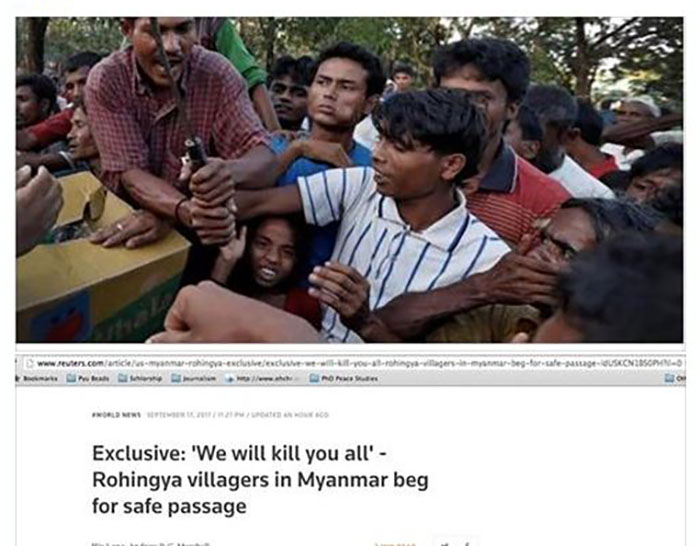 The picture attracted complaints on social media from people who claimed that it misrepresented the situation and the story. Reuters correspondent Andrew Marshall replied to a comment and stated that there was no intention to mislead and that he had asked editors to change the photo.
Other media agencies did not release apology letters until later. CNA's Myanmar correspondent declined to comment for this story.
Myanmar Press Council member U Myint Kyaw said a journalist must confirm whether a source's claims are truthful and that it reporters fail to search for information from various organizations, they would be reporting with bias and violating the ethics of journalism.
"Inaccurate news hurts the credibility of the media," said U Myint Kyaw.
Veteran journalist Daw Aye Aye Win, an award-winning former correspondent for Associated Press (AP), corroborated the statement of press council member U Myint Kyaw and criticized that releasing articles that have not been properly fact checked lack journalistic responsibility, referring to CNA's report.
Daw Aye Aye Win added that even if organizations are incorrect, they need to quickly issue corrections so these mistakes are not repeated as truth.
Press council member U Myint Kyaw recommended that the readers continue fact-checking and commenting on articles they believe include inaccurate information.
"Organizations need to admit their mistakes honestly, in order to maintain trust. Simply removing reports is dishonest and violates journalism ethics," said U Myint Kyaw.
On September 7, one of leading local newspapers Eleven Media published an article with photos that claimed to show Muslims setting fire to their own houses. These photos went viral on social media. Netizens later pointed out inconsistencies in religious dress and others recognized some of the people pictured in the images as Hindus who were sheltering in Maungdaw.
One person who spread these misleading photos was President's Office spokesman U Zaw Htay. He shared the images on Twitter and Facebook and wrote: "Bengalis setting fire to their own homes."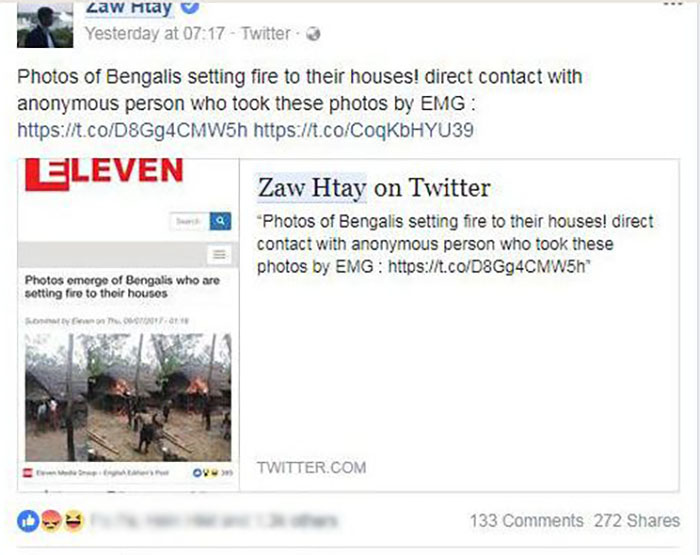 When the truth was revealed, he deleted the photos and posted that the government was going to investigate the controversial photos.
Eleven Media published a piece the following day stating that the government was going to investigate the case but did not issue an apology or correction under the article.