Police in the northern Thai border town of Mae Sai have seized thousands of rounds of ammunition and over 100 grenades thought to be headed for Tachileik, the Myanmar town opposite Mae Sai.
On March 28, police and Thai military found 6,000 rounds of 5.56 mm ammunition for M16 assault rifles and 52 K75 anti-personnel grenades, according to the Thai newspaper Matichon.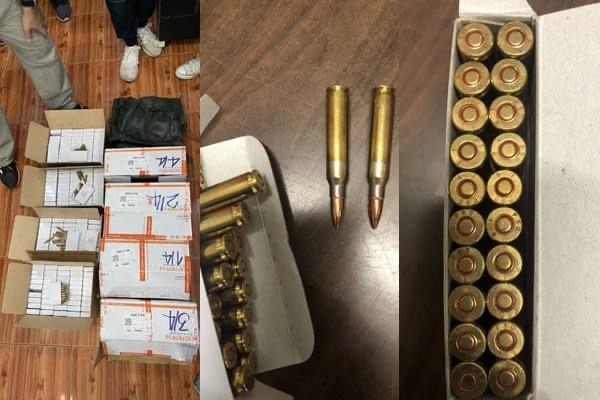 It was reported that the Mae Sai police were alerted by a courier company after their Mae Sai shop received four suspicious boxes from Thailand's Chon Buri Province. Workers at the shop questioned why the boxes were so heavy and called the police to investigate them.
The following day the police were also alerted to check four more boxes intended for delivery to Myanmar. Police found another 15 K-75 grenades in each box, 60 in total.
Thai newspapers reported that the total seizure amounted to 6,000 rounds of ammunition for M16 and M4- series assault rifles and 112 K75 anti-personnel grenades.
Security officials in Thailand presume that all were bound for Tachileik in Myanmar.
The grenades were made in South Korea, according to Thai army sources in Chiang Rai. All the ammunition and grenades are thought to have been imported from abroad.
Several Thai people, including the driver of the van that transported the boxes to Mae Sai, are now under investigation.
You may also like these stories:
Pathein Teenager Shot Dead by Myanmar Military Regime
Simultaneous Blazes at Two Myanmar Military-Owned Malls Raise Suspicions of Regime Plot
Myanmar Doctor Condemns Security Forces Attack on Yangon Hospital