YANGON — When talking about Myanmar's modernist painters, Sein Myint (Shwe Chi Doe) cannot be left out. He is praised by his contemporaries as an authority on Myanmar culture and folk art.
"The main difference [between Sein Myint and other Myanmar traditional artists] is his hands-on experience," said Tampawadi U Win Maung, a distinguished scholar of Myanmar culture.
"He traveled to many rural villages in search of folk culture and customs to be showcased at a rural art exhibition in 1992, giving him first-hand experience of how looms are set up, how peanuts are ground for oil, and more," he said.
Born in Sagaing and having grown up in Mandalay, Sein Myint was an apprentice to modernists Paw Oo Thet and Win Pe.
"I never wanted to draw conventional art. I was only interested in modern art, ever since I was young," Sein Myint said.
His first show was a group exhibition in 1970 with renowned Myanmar modernists including U Kin Maung (Bank), Paw Oo Thet, Kin Maung Yin, Win Pe, and others.
Sein Myint also accompanied renowned scholars and historians such as U Maung Maung Tin, Dr. Khin Maung Nyunt, U Aye Myint, Ko Pinna (Amarapura), Saw Mon Nyin, and U Win Maung (Tampawadi) on their archeological trips.
"I have had both strong modern and traditional nats (spirits) beside me," said Sein Myint.
Sein Myint was born into a family of traders. Thanks to this, he traveled extensively around the country, which gave him an opportunity to learn about rural life and customs – including pagoda festivals, nat festivals, marionette shows, caneball, ancient monasteries and more. All of this served as a rich source of material for his art.
"I know the ratios of traditional monastic buildings in my mind like a student knows his lessons by heart," said Sein Myint, speaking of the benefits of his travels.
Since 1985, Sein Myint has also been in the business of making tapestries depicting Myanmar folk culture.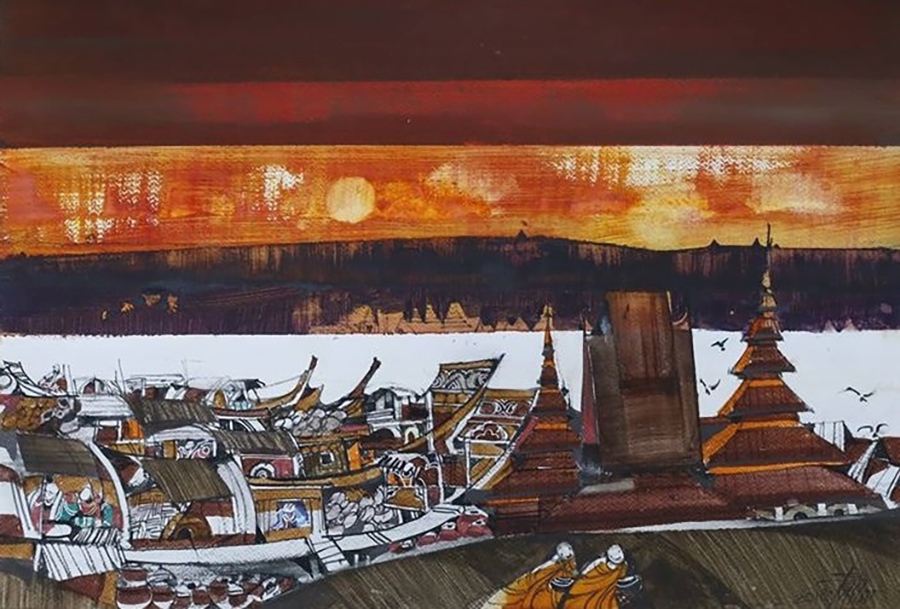 In 1989-1990, his tapestry embodying traditional Myanmar art was selected to grace the walls of the main chamber of the United Nations Headquarters Building in New York.
At the request of military leaders, he also created tapestries to be hung at government offices and presented to leaders of foreign countries.
In 1995, he was appointed by the government as an expert and consultant on traditional Myanmar folk arts. He conducted research with other scholars on rural folk arts in Mandalay, Sagaing and Magwe.
"He has sound knowledge of Myanmar traditional culture and knows Myanmar traditional designs by heart. I notice liberty and breadth in his paintings. And he is also a researcher of Myanmar art, said modernist Win Pe, who is one of Sein Myint's mentors.
Directly appointed by General Tin Oo, the Secretary-2 of the military regime who died in a helicopter crash in 2001, Sein Myint in 1993 became a joint secretary of the Mandalay chapter of the Union Solidarity and Development Association (USDA), a proxy civil society association of the junta.
"I'm not interested in politics. I worked as a trader my whole life. But I can't help drawing. I worked at the USDA office during the day, and drew at night," Sein Myint said.
"One of the advantages [of working at the USDA office] was that there were no blackouts there," Sein Myint recalled, as the electricity supply was inconsistent in many areas at the time.
"And I could make several foreign visits," said Sein Myint. It was quite difficult to travel to foreign countries while the country was under military rule, partly because applying for a passport was difficult and partly because of the cost of airfare.
Sein Myint traveled to the Honolulu, London, South Africa, Yugoslavia and other ASEAN countries under cultural exchange programs and organized exhibitions and lectures on traditional Myanmar tapestries.
He began to focus more on art in 2010, as he did not join the USDA, which transformed itself into a political party to contest the general elections that year.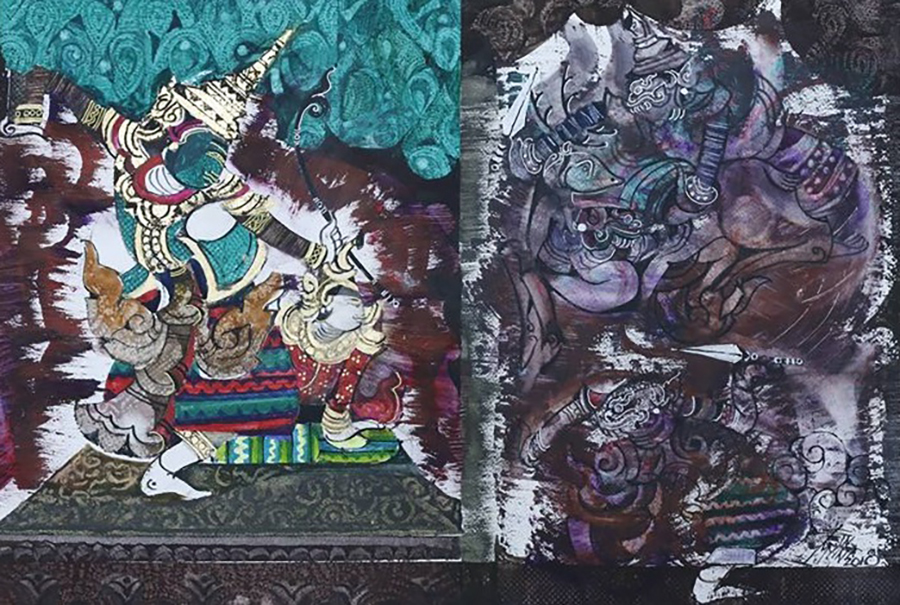 Spirit in Colors, a series depicting Myanmar traditional nats exhibited in 2008, became a milestone in his artistic career. The series was the result of his painstaking research into the history of nats, nat songs and the life of mediums known as nat kadaw in Burmese.
Other artists have also created nat paintings, but Sein Myint's works are distinguished in terms of color and style, said Tampawadi U Win Maung.
"Artists have their own styles. But not all of them are enchanting to audiences. U Sein Myint succeeds in both," he said.
Sein Myint is also a collector of Myanmar antiques and has a private art museum at his house in Mandalay.
"His works better reflect Myanmar culture than those of other artists," said Tampawadi U Win Maung.
Sein Myint now creates Myanmar traditional paintings according to his own will. "Now I'm drawing zodiac signs. I researched zodiac signs of Western countries in comparison to the astrological chart of Asian countries. And I also included the names of Myanmar months [on the lunar calendar] and Burmese zodiac animal signs in my paintings," said the 73-year-old artist.
"He draws the things that we see and hear every day in his own style. His works are a combination of liberty and expertise," said Ko Pyae Wai, owner of Nawaday Tharlar Art Gallery.