YANGON – At least 90 percent of the Rohingya population of conflict-torn northern Rakhine State has fled to neighboring Bangladesh in the wake of the government's clearance operations following Muslim militant attacks last year, according to The Irrawaddy's calculations based on government and INGOs' statistics.
Following the attacks in August, majority-Muslim Maungdaw and Buthidaung townships, as well as nearby Rathedaung township, all in northern Rakhine State, saw an exodus of Rohingya to refugee camps in the neighboring country. Rohingya in the camps have recounted arbitrary killings, rapes and arson by Myanmar security forces.
The Irrawaddy analyzed recent updated regional statistics reports from the General Administrative Department for the three townships. The reports are dated October 2017. The GAD is under the military-controlled Ministry of Home Affairs.
Along with the GAD reports, The Irrawaddy's tally also takes into account figures on the number of Rohingya in Bangladeshi camps collected by the United Nations Office for the Coordination of Humanitarian Affairs. OCHA said that between Aug. 25 and Jan. 27, 688,000 new arrivals were registered.
Only 79,000 Rohingya remain
The GAD reports on Maungdaw, Buthidaung and Rathedaung put the total Rohingya population before the latest crisis at 767,038. A senior official from Maungdaw District's General Administration Department told The Irrawaddy that the statistics were collected in 2016. The official spoke on condition of anonymity as he was not authorized to talk to the media. (Maungdaw District comprises Maungdaw and Buthidaung townships.)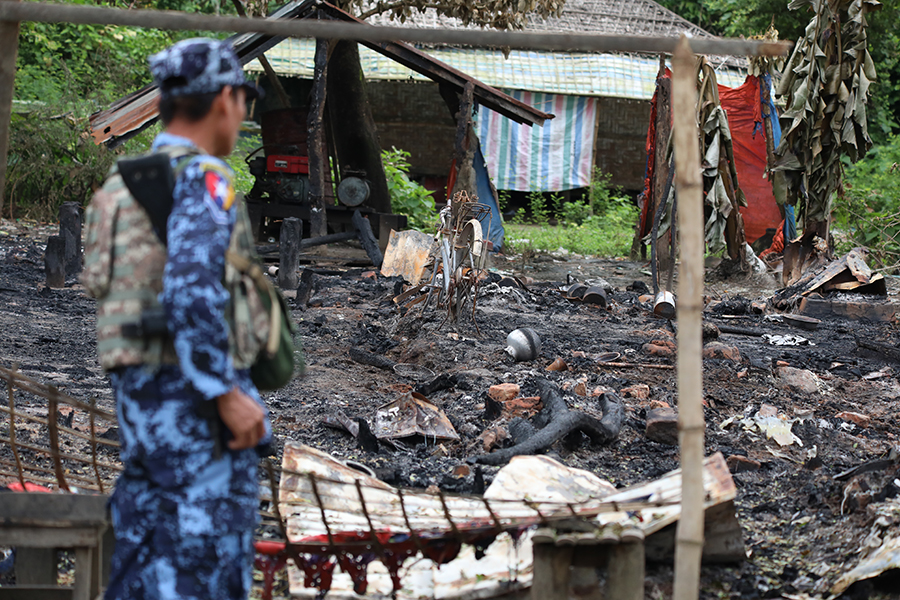 A comparison of the GAD's population figures with OCHA's camp registration numbers shows that around 90 percent of the Rohingya population fled into Bangladesh and merely 10 percent (79,038) remained in the three townships in western Myanmar. That 90 percent does not include people who died, went missing or were arrested.
While the reports were dated October 2017, they do not include figures on people with internally displaced person (IDP) status, Rohingya fatalities, Hindu or Rakhine victims, or damage caused by both military and security officials. The Myanmar Army, or Tatmadaw, announced on Aug. 31 that it had killed 370 suspected militants of the Arakan Rohingya Salvation Army.
According to the GAD's numbers, Rohingya accounted for 93 percent of the Maungdaw population, and 84 percent in Buthidaung. The number was significantly lower in Rathedaung Township, at just 6 percent.
Muslim militants' attacks also displaced nearly 30,000 non-Muslims in Maungdaw district — mainly from the Mro, Thet and Daingnet Arakanese sub-ethnic groups, as well as Hindus. However, the majority of the displaced non-Muslims including Buddhists have already arrived back in Maungdaw, while hundreds of Hindu IDPs await government resettlement.
To get a clearer idea of the population ratios of Rakhine, Rohingya and Hindu groups before Aug. 25, see the following infographic pie chart created by The Irrawaddy, accompanied by footage of the exodus originally posted on OCHA's website.
See the total population of each town by clicking on the appropriate color in the following infographic:
Emotive terms avoided
Neither of the terms "Bengali" or "Rohingya" are used in the GAD reports. Nor is there any mention of the "Muslim community from Rakhine State", the term coined by Daw Aung San Suu Kyi when she requested that the U.S. Embassy refrain from applying the controversial term "Rohingya" in 2016. In line with her instruction, the final report issued by the Kofi Annan-led Advisory Commission on Rakhine State avoided using the emotive term.
In place of any of the above terms, the GAD report simply says "foreigner" or "Bangladeshi", implying that they are illegal immigrants from Bangladesh. GAD officials from Maungdaw and Buthidaung confirmed that the term "Bangladeshi" in the reports refers to the Rohingya.
It's not clear whether Daw Aung San Suu Kyi sent an internal memo to ministries instructing them to use the term "Muslims in Rakhine State" instead of "Bengali" and "Rohingya".
The GAD report also avoids mention of burned Rakhine and Hindu villages. The Irrawaddy witnessed some burned sites at Buddhist villages like Khone Daing and a village from Kha Maung Seik village tract while accompanying a tour of Maungdaw for foreign diplomats in October 2017.
The GAD reports do not clearly mention the number of Rakhine or Muslim villages in each township. They only list the total number of villages. According to GAD officials from Maungdaw and Buthidaung, Maungdaw comprises 364 villages, of which 272 are Muslim (or 74 percent of the villages in Maungdaw). Nearly 70 villages were spared arson attacks after the months-long clearance operations by government security forces, they said.
Buthidaung comprises 339 villages, including 173 Rohingya villages, or 51 percent. A senior GAD officer in Buthidaung said 30 of the township's 173 villages were burned to the ground. He requested anonymity due to the sensitivity of the issue.
Rathedaung region is dominated by ethnic Rakhine; it had just 22 Muslim villages before the conflict. Rohingya sources said that only two or three villages remain intact; the rest were completely torched. See specific village numbers by clicking on the different colored areas of the graphic.
Mosques reduced to rubble
Maungdaw Township had 836 Muslim religious buildings but it's unclear whether GAD included both madrassas and mosques in this figure. On the other hand, there are 84 Buddhist monasteries, and 61 pagodas and temples.
The GAD reports state that there were 442 Muslim religious buildings in Buthidaung and 87 in Rathedaung, while the number of Buddhist monasteries is nearly 400, plus 110 stupas and temples in the two townships. The Hindu community has a mere 17 temples in Maungdaw district, which also houses one Christian church.
Some religious buildings of both the Rakhine and Rohingya communities were destroyed in 2017, but this is ignored in the report. But U Khin Maung Than, the chairman of the Arakan National Party's Maungdaw Chapter, told The Irrawaddy that a Buddhist monastic school with hundreds of students in Nantha Taung Village and a pagoda in Shwe Yinaye village in Maungdaw were burned by Rohingya militants. The Irrawaddy was unable to reach Maungdaw district administrative official U Ye Htut for comment on Thursday.
A Muslim civil servant from Buthidaung Township told The Irrawaddy that at least 20 mosques have been demolished since late 2017. A senior Buthidaung Township official said, "They were probably destroyed during the [August-December] conflicts. As far as I know there have been no new incidents in the area."
Buthidaung resident U Tun Thar (name changed for his safety) told The Irrawaddy that every single Muslim village has at least one mosque or place of worship.
Contradicting the GAD official's claim that there have been no new incidents, U Tun Thar alleged that in early February, five decades-old mosques in abandoned villages in Taung Bazar, located near a border police outpost, had been torn down by local Buddhist mobs and looters. He said another one in Ale Chaung village, which was recently designated as the site of a new border police regimental base, was also destroyed by residents of neighboring villages.
Displaced Rohingya Adul Wahid (not his real name) from Rathedaung Township said that the century-old Zay Di Pyin mosque was also completely pulled down by locals. The Irrawaddy independently verified this during a visit there last December.
Adul Wahid recently heard that two mosques in Oo Daung and Myin Hlut villages in southern Maungdaw were also bulldozed very recently. A Buddhist relief worker who has close ties with the government's resettlement program there told The Irrawaddy on condition of anonymity that the rest of the Muslim villages in southern Maungdaw were bulldozed between January and early February.
He recounted that Muslim villages that had been situated along the highway between downtown Maungdaw and Taung Pyo Letwei in northern Maungdaw had been cleared out.  He estimated that at least two-thirds of the Muslim villages had disappeared. See details below.
Burned-out sites flattened
When The Irrawaddy visited last December, most of the villages in southern Maungdaw and some in northern Maungdaw remained as burned-out sites. The smoldering remains of one of the biggest Muslim enclaves, Myo Thu Gyi, which previously had a population of about 8,600 living in 1,230 houses, had already been bulldozed, as had the Ka Nyin Tan Muslim quarter.
At that time, locals told The Irrawaddy that heavy machinery such as bulldozers, dump trucks and steamrollers had been hired by the local authorities. On Friday, Human Rights Watch (HRW) issued an urgent release regarding government mass demolitions in northern Rakhine. Its satellite images showed that at least 55 Rohingya villages partially destroyed by arson since Aug. 25, 2017 have subsequently been bulldozed.
HRW's Asia director Brad Adams was quoted in a statement as saying, "Bulldozing these areas threatens to erase both the memory and the legal claims of the Rohingya who lived there."
The statement agrees with the facts cited above by Abdu Wahid. Myin Hlut village tract was partially burned in the late 2017 attacks, but was bulldozed between January and Feb. 13.
On Dec. 1, 2017, the government's information committee announced that houses had been built in over 20 villages across the state in an effort managed by the Union Enterprise for Humanitarian Assistance, Resettlement and Development (UEHRD), led by Dr. Win Myat Aye. He told Agence-France Presse a couple of weeks ago that the bulldozing of burned sites was part of a plan to rebuild villages.
He was quoted in an AFP report as saying, "When [the refugees] come back they can live in their place of origin or nearest to their place of origin."
HRW urged the UN Security Council and international aid agencies to demand the government immediately stop the demolition projects, saying the sites should be preserved until a UN fact-finding mission is granted permission to enter the area.
Adams said, "Deliberately demolishing villages to destroy evidence of grave crimes is obstruction of justice."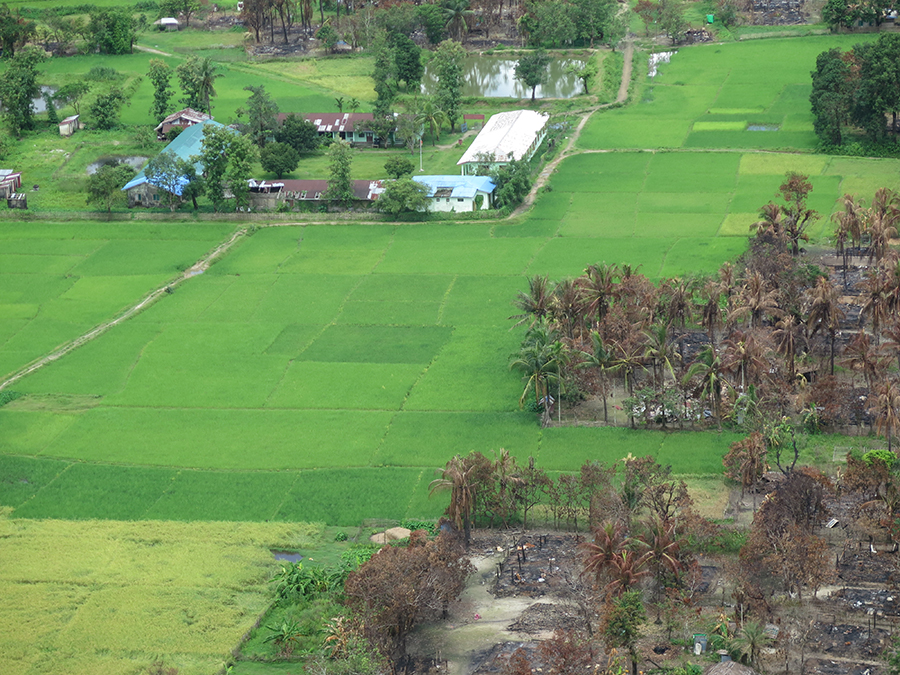 Distrust grows on both sides
During a trip by Home Affairs Minister Lt.-Gen Kyaw Swe to Bangladesh last week, the Bangladeshi government handed him a list of 8,032 returnees. Myanmar officials have been scrutinizing the profiles of refugees to screen for anyone involved in ARSA's serial attacks.
Meanwhile the flight of the Rohingya from rural areas of Buthidaung and Rathedaung continues. According to the Ministry of Home Affairs' updated headcount of new arrivals at the Gawdu Thara shore in southern Maungdaw Township, at least 3,206 people fled between the beginning of January and Feb. 21, and 804 new arrivals were encamped near the seaside.
Although the Rohingya exodus continues, some Muslims are determined to stay in abandoned villages. Abdul Wahid is one of them. He has been sheltering in Du Oo Thay Ma village of Buthidaung Township — after his home was set on fire by Rakhine vigilantes — in the hope of being granted access to a government rehabilitation project.
He said, "We are not traitors and have been faithfully living in Rathedaung for generations. We are keen to go back to our native place."
He and 160 others have been struggling to survive in Du Oo Thay Ma village, which once comprised 700 homes but from where nearly 400 households joined the exodus in recent months. Displaced Rohingya from Rathedung Township are currently occupying some of the homes. According to Abdul Wahid, they have received food only twice in six months, once from the ICRC and once from local authorities.
He has requested rations from Buthidaung Township authorities but the response was vague; they said the social welfare process is directly handled by UEHRD. He demanded the authorities look beyond the refugee repatriation process and not ignore the daily needs of IDPs who remain in Myanmar.
Although police have not banned Rohingya from entering forests, Rohingya fear surprise arrests should Arakanese villagers complain or supply false information to the police about seeing ARSA members in the forest.
"We don't have any problem with them so far. We just want to go and find food to survive but they [Rakhine villagers] might misunderstand. Thus we decided to avoid hunting and searching food in the forest. It's too risky."
He said that even if they were able to cut bamboo and firewood and collect seasonal fruits and vegetables, and fish in nearby waterways and creeks, there is no market to sell goods.
"We are in a very difficult situation here. Could you tell the authorities please?" Abdul Wahid requested.