YANGON — The recent rape and murder of a 26-year-old woman in Yangon has raised security concerns among the city's female population.
Police arrested a taxi driver, Myo Zaw Oo, who confessed to the brutal crime, on Jan. 24, three days after the body was found.
Ma Shwe Yi Win, a deputy supervisor at the Health Ministry's Food and Drug Administration Department, went missing at about 7:30 on the night of Jan. 20 on her way home to Dagon Township after doing some shopping at the Hleden Center in downtown Yangon.
The journey should take less than 30 minutes. But when Ma Shwe Yi Win failed to make it home later that night, her family reported her missing. The next morning police found her half-naked body lying near a sports field beside Nga Moe Yeik creek in North Dagon Township.
The police statement says the young woman had gotten into Myo Zaw Oo's taxi. It says the two began to argue when the driver asked for a higher fare and that Myo Zaw Oo then choked his passenger and stabbed her in the throat with a screwdriver.
When Ma Shwe Yi Win lost consciousness, the statement says, Myo Zaw Oo drove her to North Dagon, where he raped her near the sports field. He then took her belongings, including a platinum necklace, earrings and a phone, and left her body.
Police arrested Myo Zaw Oo three days later at a mobile phone shop in Mingalar Taung Nyunt Township, where he had gone to install new software on the stolen phone.
News of the rape and murder has heightened fears that the city's streets are not safe.
"I couldn't even sleep when I heard about that," said Ma Thuzar, 30.
She takes a taxi to work and back every day, preferring that to the public buses, on which sexual assault is a common occurrence.
"Now I don't feel safe in a taxi either," she said.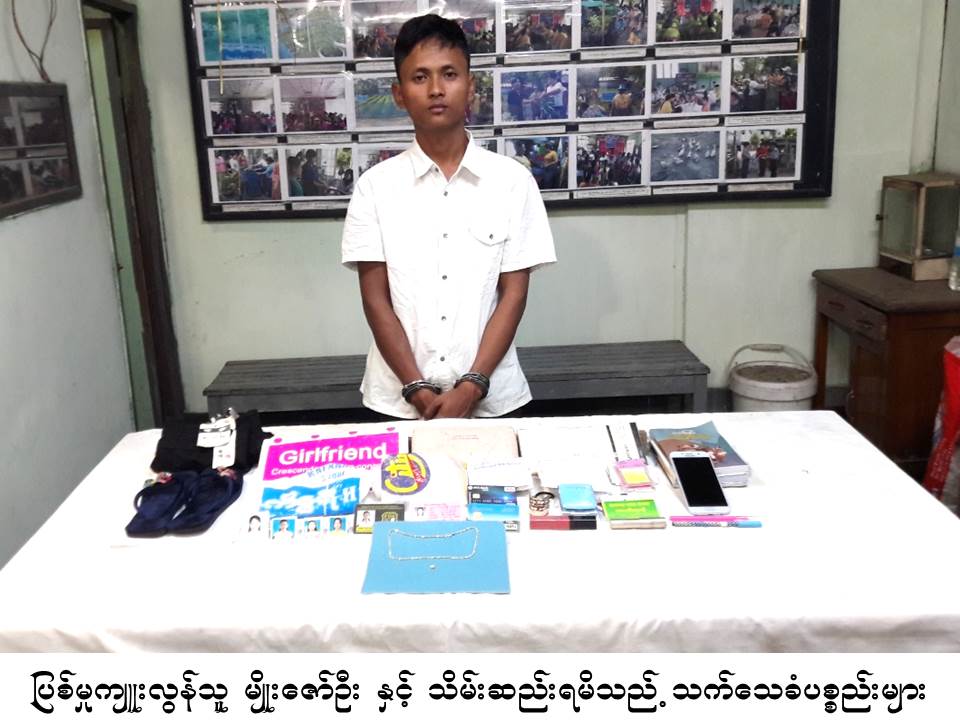 While cases of sexual harassment and abuse, from persistent catcalls and unwanted touching to assault, are nothing new in the country's most populous city, reports of rape are on the rise. They were also the most common major crime recorded in Yangon in 2016 and 2017.
Rape cases accounted for 229 of 469 major crimes recorded in 2016, and for 270 of 478 major crimes in 2017.
"Before, I wasn't afraid to work until late and go home around 9 or 9:30 p.m. But now I try to go home early," said pharmacist Ma Zin Hline, 31.
Many women, who make up a growing share of the commercial capital's workforce, are sharing their feelings of insecurity, including walking down the street in the evening and taking a bus or taxi at night.
Ma Wint Thu, who trains women on leadership in Yangon, said she worries that the fear of being a victim might limit the mobility and education of women.
"More parents will be concerned about their daughters' safety as the reports of rape are on the rise," she said.
Making cities safe
Ma Wint Thu said she feels unsafe walking home from the bus stop in South Dagon Township because there are no streetlights. She urged authorities to add more lights and relocate some bus stops that are currently far from residential areas.
Ma Hla Hla Yee, co-founder and director of Legal Clinic Myanmar, which provides free legal aid to mostly women and children, said the recent rape and murder highlighted the need to make cities safer for women.
She said Yangon's shortage of streetlights and many dark patches give perpetrators an opportunity to commit their crimes, especially now that more and more women are working and heading home at night.
While police patrols and CCTV cameras are important, she said, taxis should also have to display the driver's information more visibly.
The Yangon Region Transport Authority said it would enforce existing regulations on taxis plying the city's streets and, starting next month, will conduct spot checks in collaboration with the police.
The authority also announced plans to remove window shades, stickers and advertising on taxies that can obscure the view inside by Feb. 1.
But the two women's rights advocates stressed that imposing the rule of law was most important. And like many others, Ma Hla Hla Yee is calling for the death penalty for rapists.
"There can be only the death sentence for such a cruel crime," she said.