PATHEIN, Ayeyarwady Region—Police have arrested a staff member at a prison in Ayeyarwady Region who attempted to smuggle drugs into the prison inside his velvet flip-flops on Monday evening.
Aung Paing Phyo, 20, who worked as a lower-ranking custodial staff member at Myaungmya Prison, was arrested after 244 methamphetamine tablets and 0.1 gram of crystal methamphetamine, known as ice, were found hidden in his velvet flip-flops.
"As Aung Paing Phyo came for the night shift, prison authorities inspected him at the prison entrance and found drugs hidden in a plastic pipe taped to the flip-flops he was wearing," Police Lieutenant Colonel Tun Shwe, spokesman for the regional police, told The Irrawaddy. "Prison authorities informed the police and we arrested him."
Aung Paing Phyo said that he was paid 100,000 kyats (US$73.19) by former prison staff member Thant Zin Aung, who also lives in Myaungmya Township, to smuggle drugs for inmate Tin Ko Ko, age 35. Police have arrested Thant Zin Aung and seized 190 yaba tablets from his house.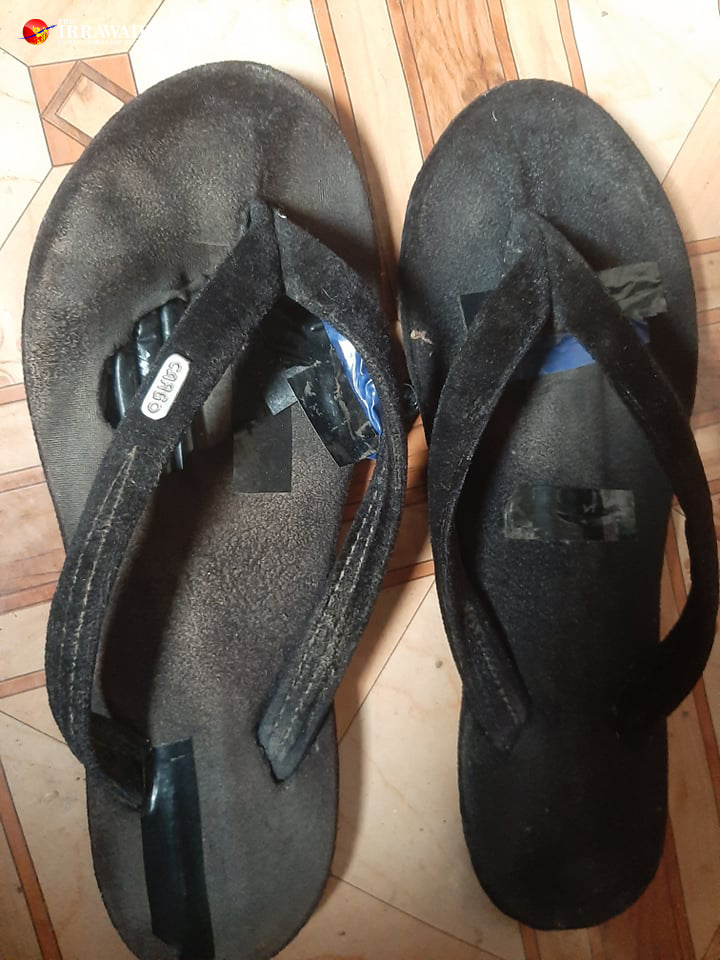 "Normally prisons have tight security," said Myaungmya resident U Shwe Hmaing. "Prison is the place where offenders are punished, it should not be a place where offenders can use drugs safely. The government urgently needs to address this problem."
Police have opened cases against the two prison staff members and the inmate under Sections 19 (a) and 21 of the Narcotic Drugs and Psychotropic Substances Law. If convicted, the three face 10 years to life in prison.
In November 2018, an assistant prison supervisor at Myaungmya Prison attempted to smuggle over 2,200 yaba tablets for an inmate. Authorities took legal action against the two under the Narcotic Drugs and Psychotropic Substances Law.
Between November 2018 and June 2020, there were four cases of attempted drug smuggling at Myaungmya, according to Ayeyarwady Region police. In these cases, drugs have been hidden in food and other things sent to inmates by their relatives. In one case, drugs passed through security checks undetected and were only seized from an inmate after they were inside the prison.
Translated from Burmese by Thet Ko Ko.
You may also like these stories:
Locals Claim Myanmar Military Kills Civilian, Injures Two as Fighting Intensifies in Shan State
Wa State Hands Drug Suspect and Meth Bust to Myanmar Authorities
Myanmar Police Make Asia's Biggest-Ever Drugs Bust in Shan State