World Lethwei Championship | March 3
The main event features one of Burma's strongest boxers, Tun Tun Min, against England's Nicholas Carter. In another fight, Tuu Tuu will spar against an Australian fighter. For those left wanting more, there are an additional eight bouts to watch. Tickets range from 10,000-300,000 kyats.
March 3, 6:00 pm. Mingalardon Event Zone, Mingalardon Tsp. Tickets are available by calling 09-779100100, 09-775100100 Door To Door Service, Flash Courier 09-777714090.

International Classical Guitar Festival | March 3 – 4
Burma's first international classical guitar festival will feature performances by international classical guitarists, talks on classical guitars, plus exciting competitions. Admission is free, but registration is required here.
March 3-4, 6:00 pm. Rose Garden Hotel, Upper Pansodan Road. Tel: 09-43181103, 09-454500 445.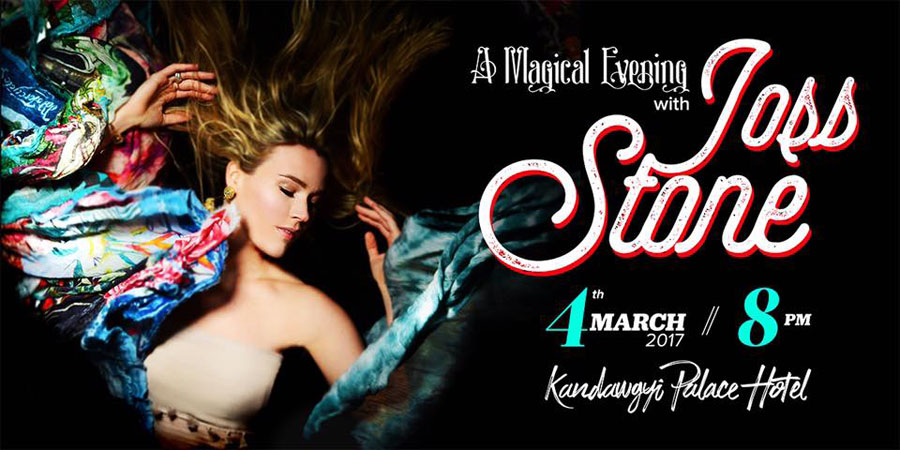 A Magical Evening with Joss Stone | March 4
Grammy award-winning English singer and songwriter, Joss Stone, will be performing in Rangoon as part of her charitable "Total World Tour." Tickets can be purchased from www.shop.com.mm. Limited seats only. General admission costs 35,000 kyats while VIP tickets are 65,000 kyats.
March 4, 8:00 pm. Kandawgyi Palace Hotel, Kan Yeik Tha Road. Tel: 09-970140004, 09-970160006.

9th Rangoon Photo Festival | March 3 – 19
Come discover and get a tour of breathtaking portraits of Myanmar: from James Henry Green's ethnic portraits from the 1920s, to fashion shots of Rangoon in the 1970s by Bellay Studio or the collection of Lukas Birk, to the exceptional work of Günter Pfannmüller in the 1980s. The World Press Photos from 2016 will also be on display at Maha Bandoola Park.
March 3-19. Institute Francais de Birmanie, Maha Bandoola Park

My Yangon, My Home | Feb. 25 – March 12
The second run of this art and heritage festival will take place at public sites around Rangoon from February 25 to March 12, as a celebration of Rangoon's culture through events and exhibitions throughout the city.
Feb. 25 – March. 12. Public places around Rangoon.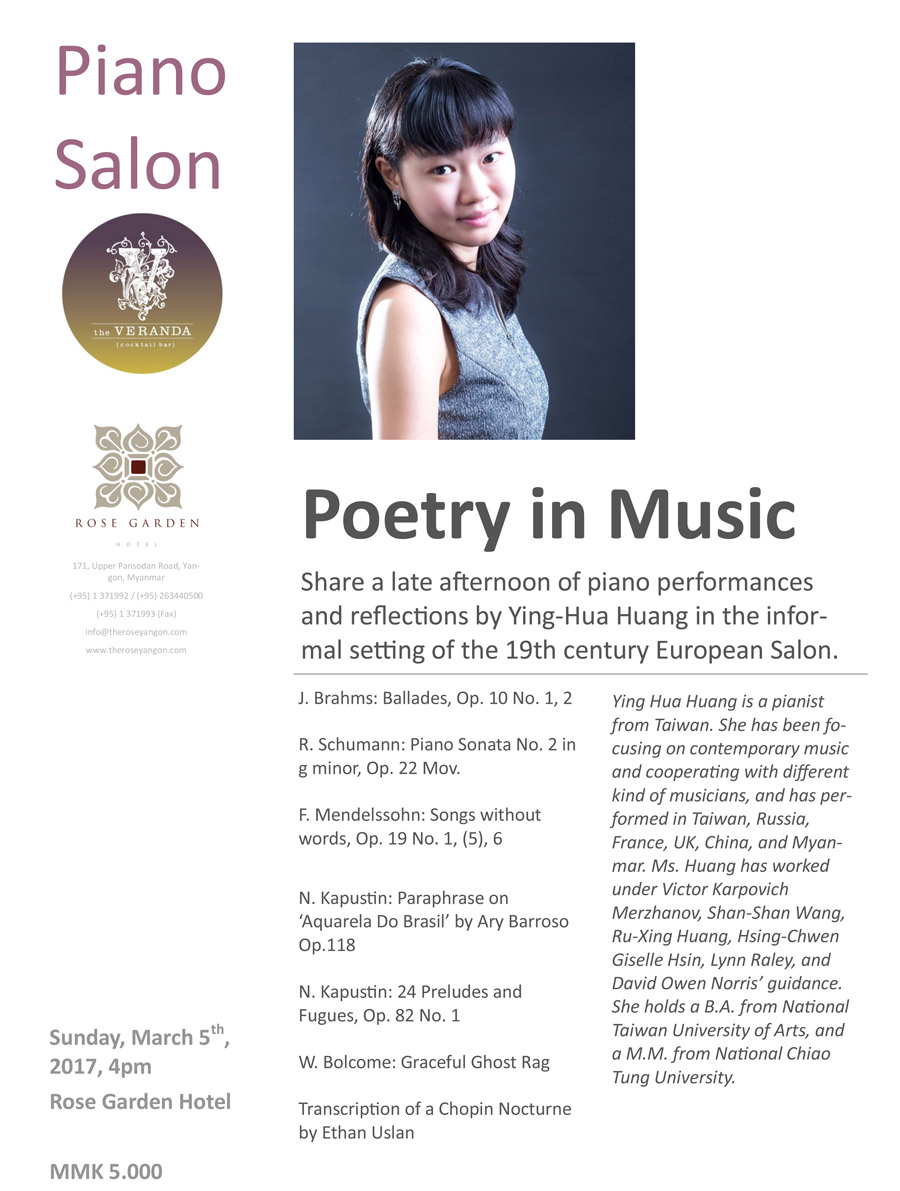 Piano Salon | March 5
Share a late afternoon of piano performances and reflections by Taiwanese pianist Ying-Hua Huang. Her focus is on contemporary music and cooperation with different types of musicians, and has performed in Taiwan, Russia, France, the UK, and China.
March 5, 4:00 pm – 6:00 pm. Rose Garden Hotel, Upper Pansodan Road.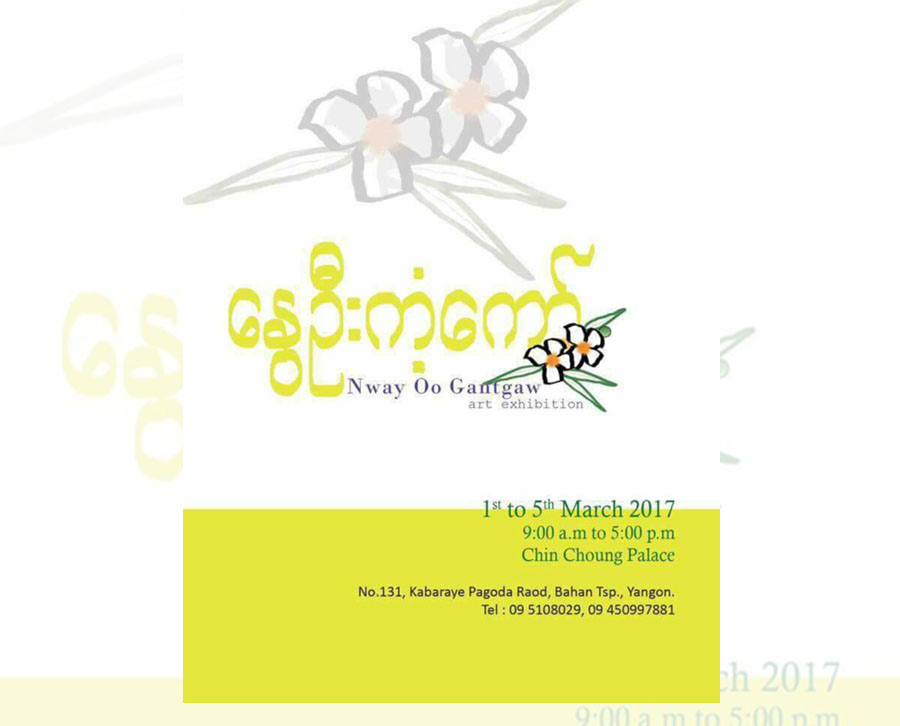 Nway Oo Gantgaw | March 1 – 5
A group exhibition of 24 artists will showcase around 100 paintings depicting Gangaw flowers. Twenty-five percent of the proceeds will be donated to Khin Hnin Kyi Thar's individual philanthropist network.
March 1 – 5. Chin Choung Palace, Kabar Aye Pagoda Road, Bahan Tsp.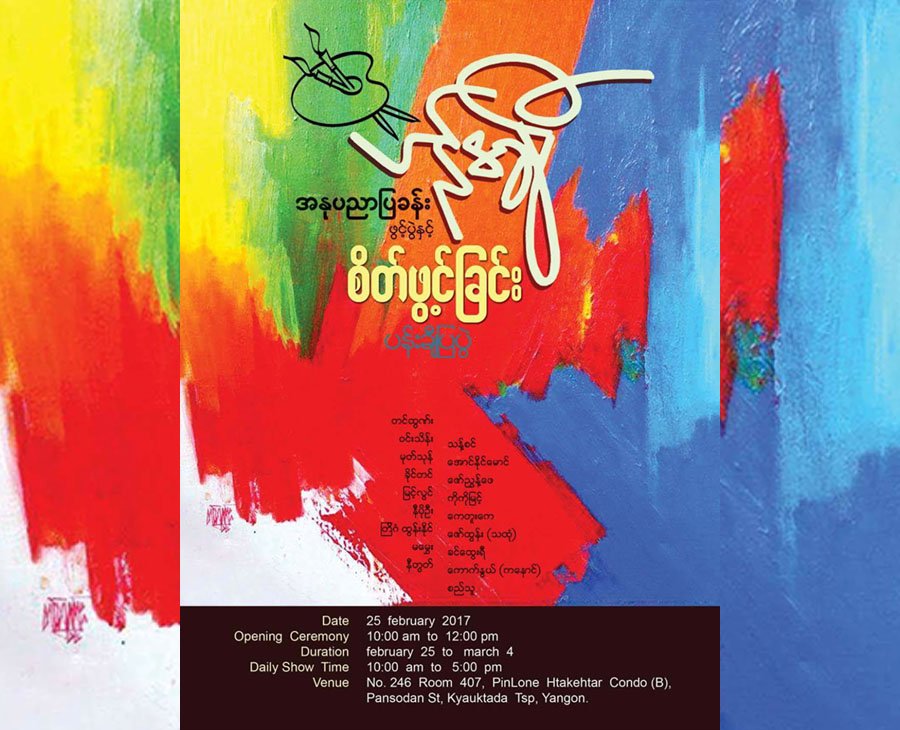 New Gallery | Feb. 25 – March 4
A new gallery will open in downtown Rangoon where 18 artists will showcase around 50 works of different mediums.
Feb. 25 – March 4. Seventh Floor, Pinlong Htaik Hta Condo, Pansodan Road.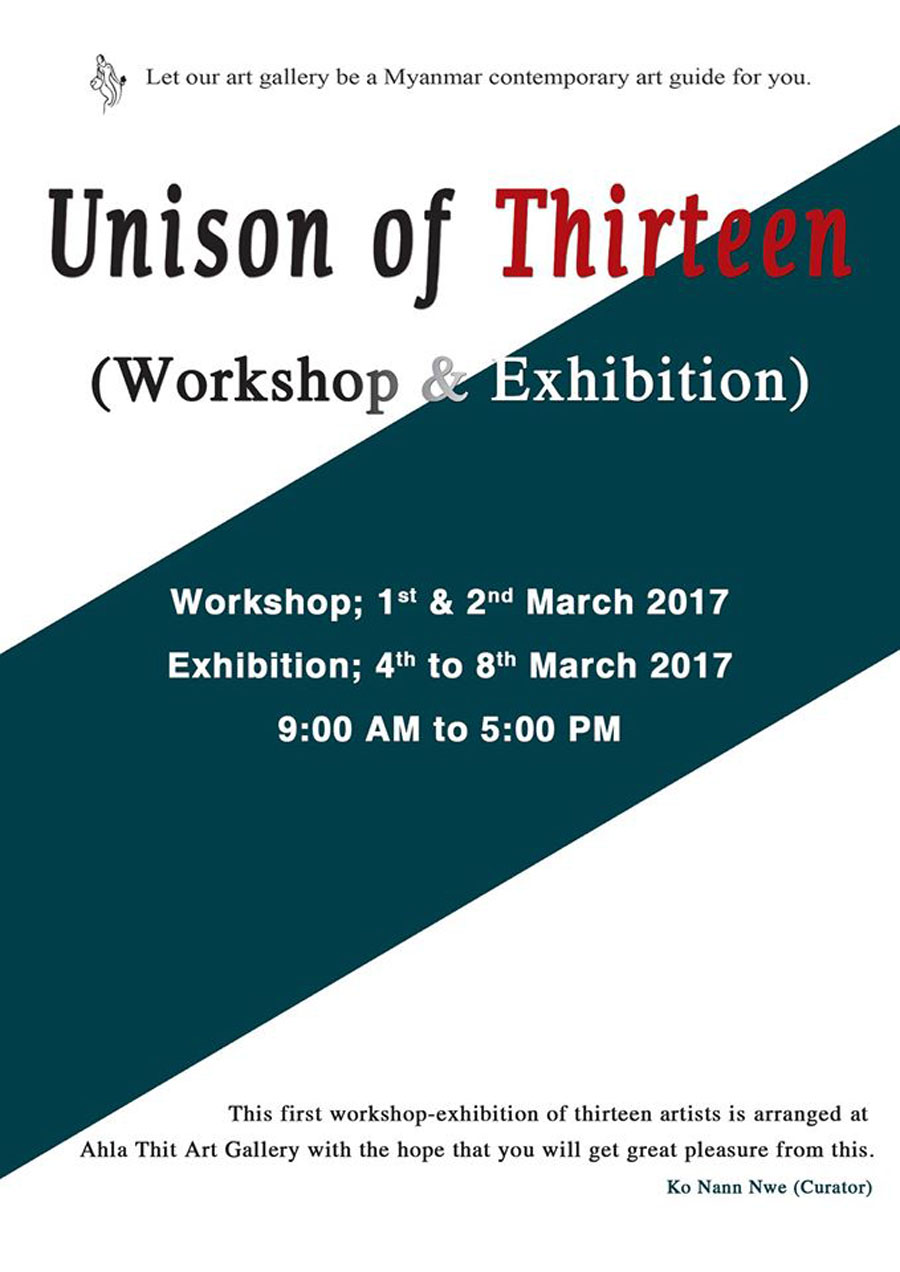 Unison of Thirteen | March 1 – 8
Thirteen artists will hold a workshop on art and painting from March 1-2, and exhibit their works from March. 4-8.
March 1-8. Ahla Thit Art Gallery, No. 17, University Avenue Road, Bahan Tsp. Tel: 09-31035920.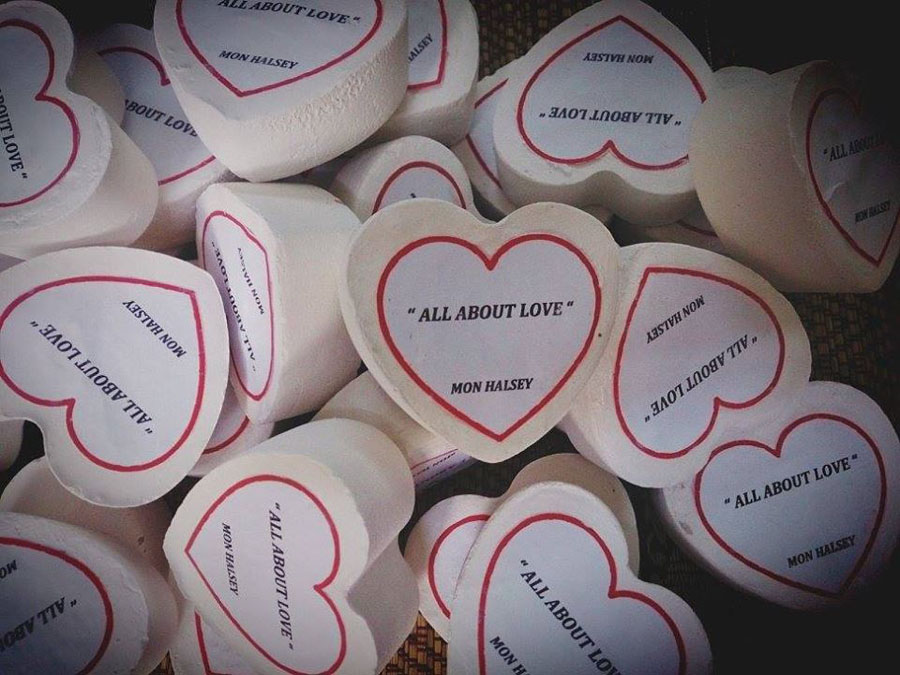 All about Love | March 4 – 5
Mon Halsey, originally Myat Thiri Kyaw, is the host of The Green Corner, an MITV program that educates viewers on uses for recycled materials. In her third solo exhibition "All about Love," she calls for greener living.
March 4-5. Yangon Gallery, People's Park.