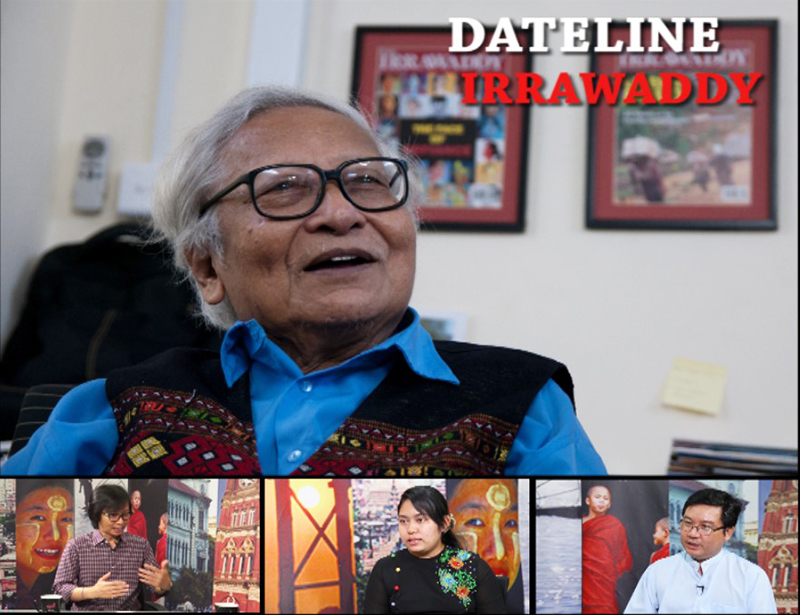 On this week's Dateline Irrawaddy, the panel reflects on the life and legacy of Win Tin, the late journalist, co-founder of the National League for Democracy and a former political prisoner. Win Tin passed away on April 21, 2014, just over one year ago.
Kyaw Zwa Moe: Today marks the one year anniversary of the death of U Win Tin, a journalist, co-founder of the National League for Democracy (NLD) and a long-serving political prisoner. We will be discussing the activities and performance of U Win Tin in pro-democracy in Burma's movements. Ma Phyu Phyu Thin and Ko Moe Zaw Oo will join me for the discussion. Ma Phyu Phyu Thin worked with U Win Tin in the political field, and Ko Moe Zaw Oo is member of the NLD who spent four years in prison with U Win Tin. I'm Kyaw Zwa Moe, English editor of The Irrawaddy Magazine.
Ma Phyu Phyu Thin, you worked continuously with U Win Tin, especially after his release, in politics. Myanmar [Burmese] people, especially those who love and fight for democracy, will never forget Uncle U Win Tin. Would you briefly tell us what type of person he was?
Phyu Phyu Thin: I became close with Uncle [U Win Tin] after he was released from prison. He had no personal greed, but he yearned for democracy, the country and the people. He was always thinking of the interests of the country and people, and even while he was eating and sleeping he was always thinking about how to fight the military autocracy of the country.
KZM: You joined Uncle U Win Tin in boycotting the 2010 election. Do you recall any memorable experiences working with him?
PPT: In 2010, we were going through perhaps the hardest time in our country's politics. The people's leader, Daw Aung San Suu Kyi, was under house arrest and our party was lacking in leadership. We did not know whether or not to contest the 2010 election or to boycott it. Then Uncle U Win Tin was released, and under his leadership we opposed the election. Everyone knows why we opposed the election. We did it under the instructions of Uncle U Win Tin.
KZM: Ko Moe Zaw, you served with Uncle U Win Tin in Insein Prison.
Moe Zaw Oo: Yes, on the third floor of Insein Prison.
KZM: When was that and what were his political views at that time?
MZO: He was always politically active, and was always interested in politics. He tried to gather political news and information and have discussions based on collected facts, and he shared his views. Once imprisoned, political prisoners tend to feel downhearted, dejected and they waver. Uncle U Win Tin encouraged political prisoners to remain politically aware and active so that they wuoldn't feel so. He discussed political matters and helped commemorate anniversaries of political events. Amid troubles, he would recount the life of a political prisoner who died in prison. Political prisoners would sit together and hold discussions around him. Later, we coordinated a lot of activities in prison. Our best known activity was when we submitted a report on human rights violations in Burma's prisons to the United Nations Secretary General under the leadership of Uncle U Win Tin.
KZM: It is illegal to do that while in prison, correct?
MZO: We could get away with such activities. We could do so thanks to his mettle and leadership, and his ability to motivate others, all due to his devotion to politics.
KZM: He was handed further penalties for submitting the report. How many years was he sentenced to prison in total?
MZO: He was sentenced to 21 years in prison in total.
KZM: Ma Phyu Phyu Thin, as I interviewed him [in late 2013], I noticed that he resolutely opposed those who oppress. He used harsh words to show his opposition against repressive regimes. For example, in talking about U Ne Win's government, he used words such as "highly poisonous" to describe the regime. In 2010, he boycotted the election, but then in 2012, he supported it when the NLD decided to contest the by-election. What made him change his mind?
PPT: I remember that he totally objected to the NLD contesting the 2012 by-election. He did not want the NLD to contest the election. He expressed his objection in interviews with both local and international news agencies. Around that time, we formed a central committee to determine whether or not to contest the by-election. On the day the central committee was to make a decision, he still expressed his objection before entering the meeting room. He changed his views when the assembly decided to contest the 2012 by-election by general consensus, and he explained to us why he did so.
He said that in a democracy, you can disagree and have a right to openly express your views. But when a decision is made by the majority, you have to follow that decision. Immediately after the meeting, he said that he would take the lead role in ensuring a victory for NLD. We, the younger members of the NLD, could learn a lot from this. He taught us that we should speak up openly. This is the legacy he had left behind for our democratic system. He set an example that we should speak up. We have learned a lot.
KZM: Among pro-democracy forces and almost throughout the entire country, U Win Tin was second to none in the fight for democracy. He worked continuously with Daw Aung San Suu Kyi. What are Daw Aung San Suu Kyi's views about him?
PPT: After his death, his opinions were presented weekly in the D-Wave Journal. Most party members read them with great interest. Daw Aung San Suu Kyi told us that she now had two responsibilities— her original responsibility and Uncle U Win Tin's responsibility. So this shows that he greatly contributed to our party and to Daw Aung San Suu Kyi's views, and that he was a tower of strength for the party.
KZM: When he was alive, he was outspoken on behalf of the entire country. During our interview, he was outspoken in criticizing the Myanmar government. He remarked that while we were still in the tunnel, we could see the light. He always told me that though the situation was a little bit better than in the time of military regime, we needed to break through. I no longer hear such words after his death. What has the country lost in politics along with the loss of U Win Tin?
MZW: The significant thing about Uncle U Win Tin is that originally he was a journalist, and he switched to politics in 1988. He entered politics, having determined to take political responsibility. But in fact he had the characteristic traits of a journalist. He was outspoken in expressing his views. In journalism, there is a saying that facts are secret but opinion is free. It means that we can express our opinions freely, but facts can't be wrong. He was outspoken and never restrained by the thought that he might offend someone. He always spoke his mind and what he believed in. He did so in prison, for which he had to serve for even longer periods. He continued to speak after he was released. A politician has to practice restraint depending on the situation. He has to adjust his tone depending on the person to whom he is talking.
KZM: Politicians have to take the political climate into consideration before they speak?
MZW: He didn't care about those things. He spoke about what he saw and what he believed. I feel that we have lost someone who can outspokenly and rightly criticize problems and point out truths.
KZM: What did you see from his interactions with others that were politically or socially insightful?
PPT: Some say that his words were harsh. But then I hear, since his death, that those who said such things have begun to accept that he was right. He may be quite harsh, but I believe that his harsh words originated from his goodwill for the country. That's why authorities have acknowledged him after his death. His harsh words reflected his deep desire for the country to be on a par with others and to enjoy equal human rights. He was always thinking of politics even in his sleep and meal time. He never thought about himself, but always thinking about how to develop this country and how he could fight the regime to the best of his ability. He had goodwill and loving-kindness toward the country. He always advised that life is something about sharing and urged us, until his last breath, to try to share with others. We could learn a lot both politically and socially from him.
KZM: He was quite a humane person. He had a policy called Suu-Parliament-Dialogue. Could you explain what this means?
MZW: This policy came into reality in 1993, when US Congressman Bill Richardson came and visited Uncle U Win Tin. When asked about his political views, he spoke of this Suu-Parliament-Dialogue policy. He said that Daw Aung San Suu Kyi and political prisoners must be released, then a Parliament must be convened with lawmakers who won in 1990 election, then national reconciliation talks must be held. He held this view throughout his prison life. I reckon that his view remains relevant now because there are still political prisoners. There should not be political prisoners now. The Parliament has been established but it has yet to become one that truly represents the people. And again we need a meaningful dialogue which can solve the problems of the country rather than the one which is just for making news in the media. So his views, which he expressed at that time and until his death, are still practical now, I think.
KZM: Ma Phyi Phyu Thin, Ko Moe Zaw, we have to wait and see to what extent the policies and objectives of Uncle U Win Tin will be implemented, although we have not seen them so far. Thank you so much for your discussion.
Editor's note: The subtitles for this week's Dateline Irrawaddy video contain an error of translation. The phrase "facts are secret but opinion is free" should read, "facts are sacred but opinion is free." We apologize for any misunderstanding.