CHIANG MAI, Thailand – Works by 18 established and emerging artists from Southeast Asia offering their personal experiences of global migration, notions of identity and ongoing humanitarian crises in Myanmar are on currently on display in a group exhibition in Chiang Mai, northern Thailand.
The contemporary art exhibition "Diaspora: Exit, Exile, Exodus of Southeast Asia" is open to the public at the MAIIAM Contemporary Art Museum in Chiang Mai from March 4 until Oct. 1. It includes works in a range of media, including paintings, paper cut-outs, other visual arts and mixed-media installations.
Artists from Myanmar, Thailand, Cambodia, Laos, Vietnam, the Philippines, Indonesia, Japan and Australia are participating.
At the opening of the exhibition on March 3, panel discussions were held in which the artists shared their experiences and thoughts. The discussion was led by exhibition curator Lorendana Pazzini-Paracciani, a writer and lecturer in contemporary Southeast Asian art.
Unrecorded moments of conflict
Artist Sawangwongse Yawnghwe — grandson of Myanmar's first president, Sao Shwe Thaik —portrays the conflicts in Myanmar's ethnic areas in a section of the exhibition comprising four elements:
"War Zone in Kachin State and Northern Shan State" comprises two paintings from "Missing Archives", the artist's ongoing series dealing with what he describes as unrecorded moments of the ongoing war in northeast Burma.
The second element, the painting "Shan State Army" (2017), depicts his imagined impression of the ethnic Army as it existed in 1964.
The third and largest painting is "Peace Industrial Complex ll" (2017). Sawangwongse Yawnghwe explained that the title refers to "the network of resource and financial flows among individuals, governments, corporations, organizations and institutions engaged in peace building within Burma."
"A Spirit Vitrines (Memoirs of a Shan Exile)" is the fourth piece. According to the artist, it is "an installation of small figurines titled 'A Spirit Vitrine'. I have created hundreds of small figurines as magical amulets to be carried on the body for luck during crossings, arranged in a long procession."
He explained to The Irrawaddy that "The amulets, although used to protect [during] crossings, are arranged by myself as a representation of the crossing itself, resembling the hundreds of sights in our near history, of haggard refugees, walking in lines along the sides of highways; harassed, sometimes shot or beaten, as they walk in tired straggled lines to uncertain posts."
Sawangwongse Yawnghwe was forced into exile from his home with his father Chao Tzang Yawnghwe (or Euguen Thaik) at the age of 1, almost a decade after the 1962 military coup. He lived in Chiang Mai, Thailand, before migrating to Canada at the age of 12.
His art works are rooted in personal experiences and spotlight the ongoing humanitarian crises in Myanmar. Through his work he advocates for the recognition of minority groups' identities.
During the panel discussion, he shared memories of his early childhood as a descendent of a Shan Saopha (ruler) who was ousted by the Burmese military dictatorship in 1962, and of his father. "In my case, as an immigrant, one is shamed by poverty, by the traumatized father and mother. … Our roots are ripped out… the place I left is no longer the same and I am no longer the same," he told the audience.
When Aung San Suu Kyi's National League for Democracy won the election in 2015, he said, he was "happy to come back to the country." But since the military continues to stand alongside the government, "We do not trust them; we continue to be persecuted."
He added that "Aung San Suu Kyi does not represent the ethnic minorities of Burma; in her they have no voice. Aung San Suu Kyi has proved herself to be a bad leader."
During the panel's discussion, he highlighted the government's oppression of journalists and the plight of "over 600,000 Rohingya" sheltering in Bangladesh, referring to the displaced Muslim populations of northern Rakhine State who have sought refuge over the border, following the Arakan Rohingya Salvation Army's attack on 30 security posts in Aug. 25 and the subsequent clearance operations by the Myanmar military, or Tatmadaw.
He urged an end to the military's persecution of and human rights violations against ethnic minorities and called for the public to devote themselves to "giving witness" so that responsibility for these actions is taken. He urged the public to continue doing so "until the genocide in Myanmar stops."
Sawangwongse Yawnghwe also discussed his Yawnghwe Office in Exile, which works with young people in Myanmar and consciously addresses politically contentious historical events through visual exploration.
"The country today is fraught with contradictions," he told The Irrawaddy. "Still known by both its historical and revisionist names [Burma and Myanmar], this state's leaders are following other neo-authoritarian Asian regimes by professing a modernist perspective toward the future while repressing awareness of the past. This strategy draws on the logic that economic growth and rising living standards will absolve the leadership of responsibility for decades of repression, corruption and economic stagnation. Such progress is unlikely to be achieved without broader national engagement and cooperation, yet this seems untenable until historical injustices are addressed."
Interactive installation
The show also features works by Myanmar visual artist and filmmaker The Maw Naing, whose installation made from 25 colorful nets titled "The In and Out of Thin Layers" is displayed in the main hall of the museum.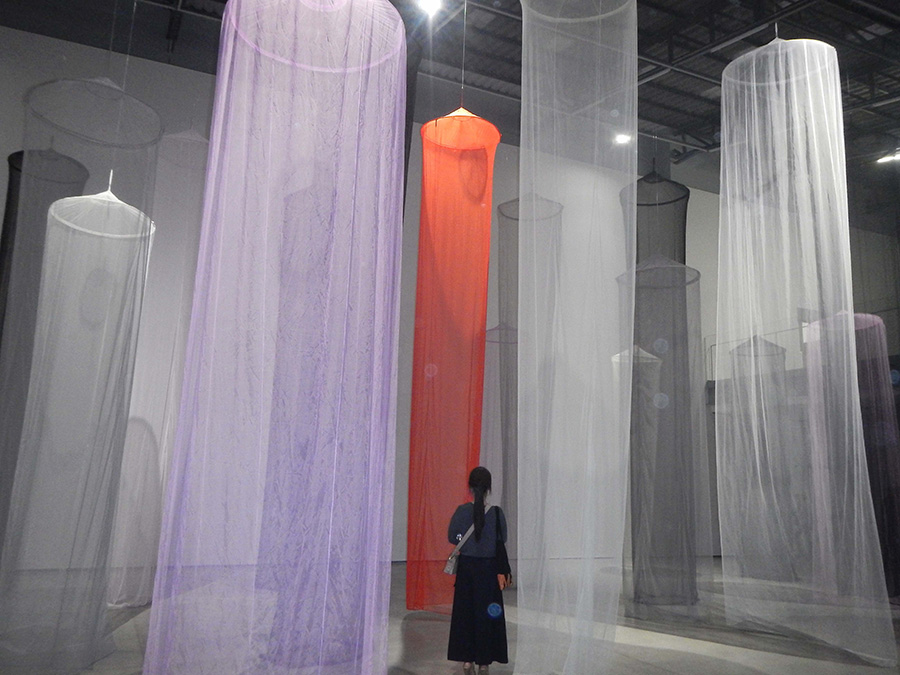 The Maw Naing told The Irrawaddy he wanted viewers to be able to participate in his artwork; to touch it, to feel it and to interact with his installations of mosquito nets, which are in colors of white, pink, black, grey, and red.
"I want people to feel and interact [with the art], because we did not have such experiences while the people of Burma were always neglected under the military leadership."
He developed the original concept for a work using nets in 2006, but was not able to exhibit his art under Myanmar's then-ruling junta. But he managed to use the idea in his 2014 film "The Monk", which incorporated meditative practice in the nets and has been shown at international film festivals.
The artist said previous audiences had discussed the way the nets present a sense of spirituality and search for self. He also said he plans to expand the piece to include 50-60 nets.
The Chiang Mai exhibition follows a showing of The Maw Naing's installation in Sweden in September 2016. It has not yet been shown in Myanmar, but the artist said he "would try [to produce a] show in Myanmar in the future."