As people turn to social media to connect with friends, family and the world during the coronavirus pandemic, some waste hours and hours while others stay productive as they stay at home. In Myanmar, people from the movie, music, arts and other industries are pushing one another to use the extra time to boost their self-worth keep up their craft—posting creative challenges asking users to make a "one minute film" or perform a freestyle rap related to coronavirus, and supporting one another through isolation.
According to Ko Thaid Dhi, a filmmaker and organizer of well-known local film festival Wathann, all this free time offers a chance to improve ourselves and boost our self-worth.
The Wathann Film Festival team recently organized an online collective animation project with a large group of animators, each of whom contributed about 18 drawings to create a short, 1:20 animated video. The video is now uploaded on the Wathann Film Festival Facebook page.
"That was our first online project. Another one is hosting the 'One Minute Film Challenge'," said Ko Thaid Dhi.
Anyone interested in filmmaking can join the challenge to put together an original one-minute video. So far, the project has gathered about 100 films on Facebook.
"Most of the filmmakers are freelancers and don't have any income during this time, so they might feel down sometimes. We don't want them to be like that and want them to do some creative challenges and this is fun," Ko Thaid Dhi said.
He says he thinks spending too much time on social media isn't good and he has to remind himself that it's a waste of time.
"I stopped using it after reading the news or talking with people. I watch more movies, read more books and some classic literature related to movies, aiming to improve myself. Before the virus outbreak, we didn't have free time because we were in a cycle between making films, doing workshops, film festivals and other work. Now, we have plenty of time and it's time to boost our skills," he said.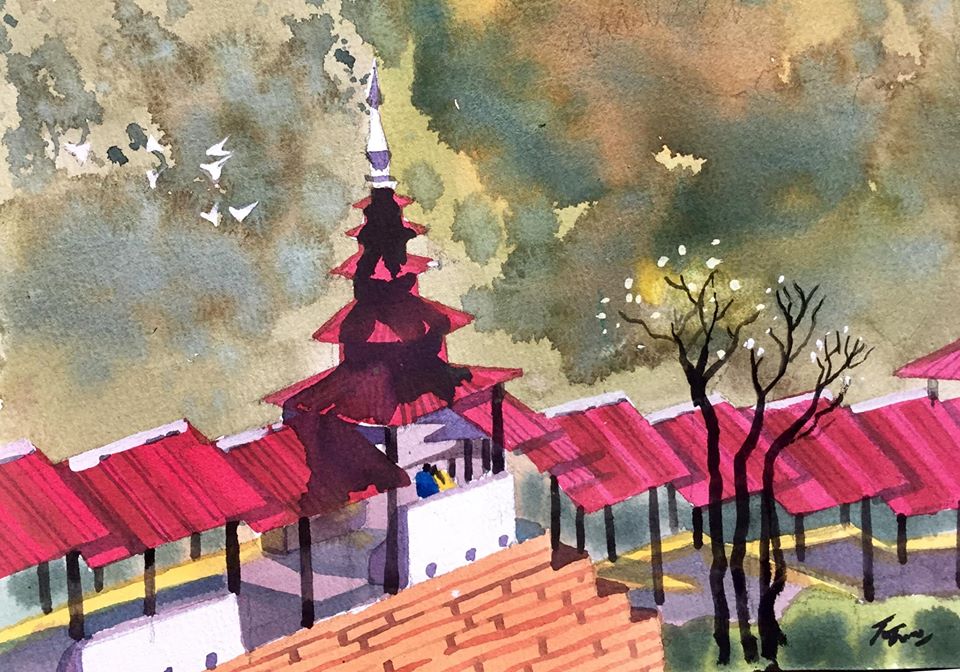 Wathann Film Festival is already in the works for October, the festival's tenth anniversary and the 100-year anniversary of Myanmar's film industry, though the team says the plans will depend on the virus situation.
"We hope this will end soon. If not, we have to change the plan, for an online festival or something like that," Ko Thaid Dhi said.
The Wathann YouTube channel has shorts and documentary films that have screened at the festival since 2011.
Artist Ko Sid has been painting a lot during this stay-at-home period, spending his free time to stay productive much like Ko Thaid Dhi.
"At first, I felt suffocated. As you know, people from Yangon live in small apartments. So, we see the same things, the same wall every day. About 20 days later, I realized that I can't change this situation and that feeling frustrated about not doing anything is not the right response. Then, I got an idea and started drawing house and apartment paintings," said Ko Sid.
So far, he's produced 12 paintings for the series, using acrylic on canvas in a variety of colors, and uploaded them to his Facebook to share with friends.
Ko Sid said he thought that as a painter, he would be better off in isolation than other people because an artist can just draw at home during the outbreak.
"But this is totally wrong for me. I can't get any new ideas because I feel frustrated and suffocated in this small room," Ko Sid said. "Now I paint only buildings and houses. I forget the unpleasant things while drawing and I finished many paintings within a few weeks."
"I'm just trying to communicate with people, and I admit the role of social media role is still important. It's like a window to the world. We can get updates on news and chat with friends and can support each other," he said.
Ko Sid said he thought staying at home offers a chance to do something good for our self-worth. He plans to display his stay-at-home collection as an exhibition after the coronavirus outbreak.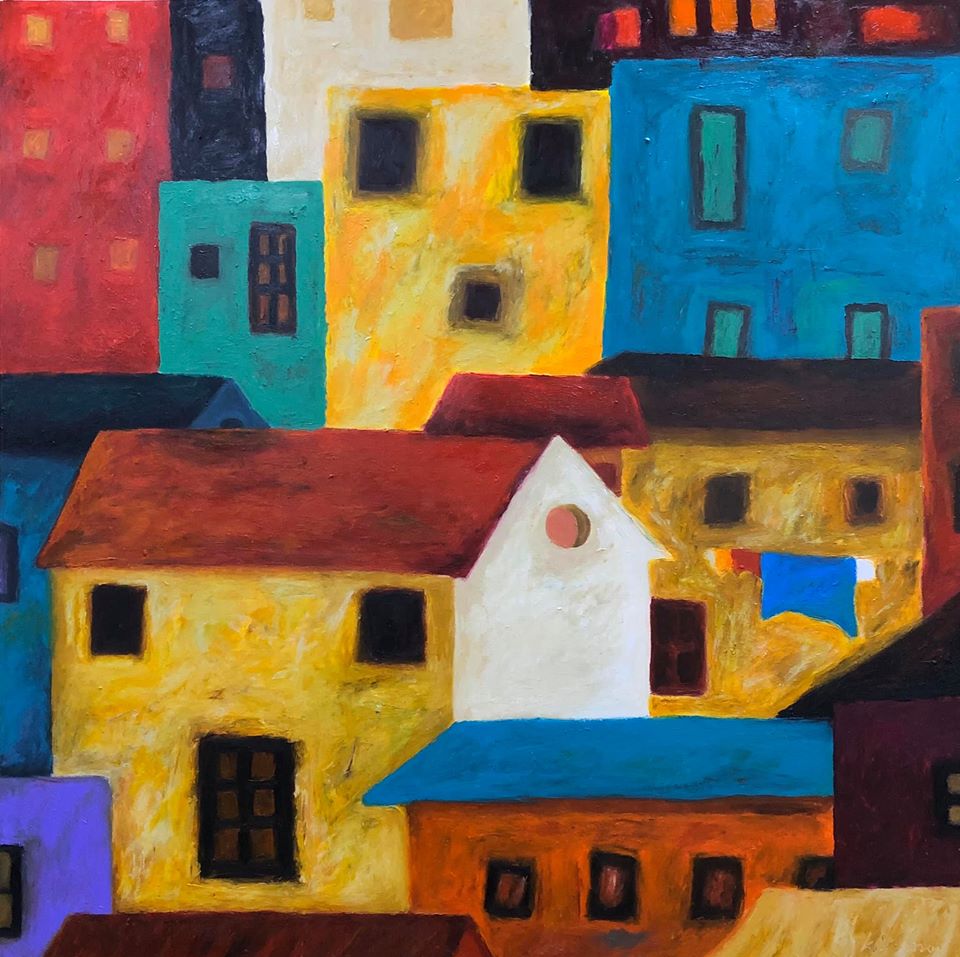 Another artist, Totty Swe, is using his free time to draw and paint more while staying at home in Mandalay.
"I'm an at-home person and I draw when I have free time. So, with the printing business closed for now, I have more free time and I've done more paintings," said artist Totty Swe.
When he's not in the mood to draw, he reads the news and uploads his paintings on social media.
"I don't like spending much time on Facebook, but it's still necessary," he said.
As he has uploaded his paintings, people have asked to purchase some of them after the coronavirus outbreak calms down.
"I still have some income through social media, but have to wait until the end of this pandemic [to get paid]," Totty Swe said.
For non-artists like Ma Myat Hsu Kay Khine, 27 years old, the extra free time is still a chance to make new connections around reading books and watching movies.
"I'm an introvert, so this staying at home period is not very hard for me. I bought a lot of physical books to read before but I was busy with work and left them unread. It's chance to finish them all. Now, Wun Zinn [a Myanmar ebook app] has given away about 200 books through free access, and there are a lot of good books included," she said.
Whenever she finishes a book, Ma Myat Hsu Kay Khine writes a small description and review of the book on her Facebook.
"It's just for memories. If someone notices my little description and gets interested to read that book, it's also a good thing," she added.
But Ma Myat Hsu Kay Khine doesn't like spending time on social media. She uses social media like anyone else and her work is related to digital services, but now she spends less time on it than before.
"Now I'm busy with work from home and I don't have much time to read books and watch movies. I don't have time to be frustrated about being stuck at home, but I do miss travelling."
You may also like these stories:
Reading Myanmar—'Miss Burma' and the Liberal Conscience
Singaporean and Myanmar Artists Blend Photos and Poetry at 'Tempo(rary)'