YANGON — The International Watercolor Festival (IWF) opened in Myanmar for the first time on Tuesday with works by more than 100 artists on show.
The International Watercolor Society (IWS) has been bringing the festival to countries across Africa, Asia and Europe over the past few years to promote art, watercolor and peace.
"We hope to create a strong friendship between international artists and artists from Myanmar through this festival, and we have a chance to study other artists' pieces," artist and IWS Myanmar head Min Wai Aung said at the opening event at Yangon's Strand Hotel.
The four-day festival, "Peaceful Golden Heritage," features hundreds of works by artists from the IWS's 93 member countries.
At the opening, some 90 artists painted a 63-meter-long canvas together before the audience, filling it mostly with landscapes rendered in their own personal styles. Among the most eye-catching was an image of Yangon's Maha Bandula Park by local artists Arkar Myo, Aung Htet Min and Ye Yint Myint Naing.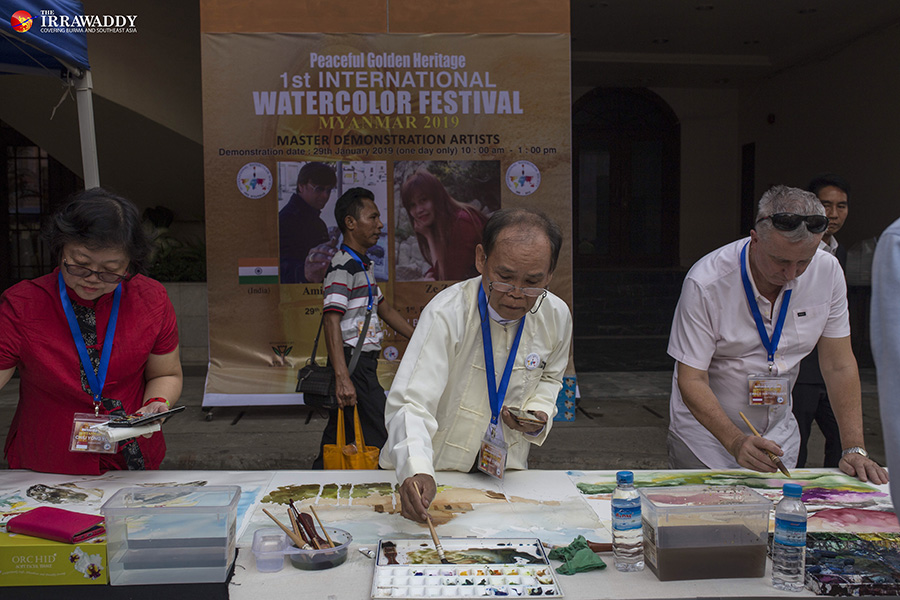 "The three of us just talked about doing this live painting together and it came out very well," said Arkar Myo.
"This live painting activity is always included in every IWF," said Aung Htet Min. "I had a new experience. All of us painting together at this one place made me feel like we are connected, and that's really exciting and fun."
"I'm also excited and happy at the same time," Arkar Myo added. "We can watch other international artists closely as they paint. And we put more effort into creating a good piece of work because people were watching."
Aung Htet Min said the festival would also help artists from other countries learn more about Myanmar and its people.
"We can exchange art with other countries," he said. "This is a big opportunity for the watercolor artists because this is the first international-standard watercolor festival in Myanmar."
Festival participants left for Mandalay Region on Wednesday to draw and paint around the ancient ruins of Bagan and rolling hills of Popa.
"This is my first visit to Myanmar and this country is really beautiful. I'm so happy to come here with this festival," said Hong Shan, from Hong Kong.
"The art industry in Myanmar is bigger than other Asian city like [in] Korea. I'm so glad for that, and I saw a lot of great artists during this event. I hope to see some of them at the other IWFs as well."
The public can view the paintings at the Strand Hotel Ballroom from 9 a.m. to 6 p.m. daily until Friday.