Arts
Artist Responds to Disaster with Love
Myat Kyawt's 'Great Love Line' exhibition will be on display through Friday at OK Art Gallery at Aung San Stadium in Yangon.
By Wei Yan Aung 8 March 2018
A Myanmar artist is concerned for the world. There have been deadly shootings at schools in the United States. Extremists have executed reporters.  Around the world, there are wars, natural disasters and epidemics. And Myanmar is no exception. There is considerable uncertainty about its political transition.
"Faced with all this, I've thought about how I can respond as an artist, what artistic creation I can make. I decided to create works about peace and love. I drew families, symbols of peace, and Nobel peace laurates," said Myat Kyawt.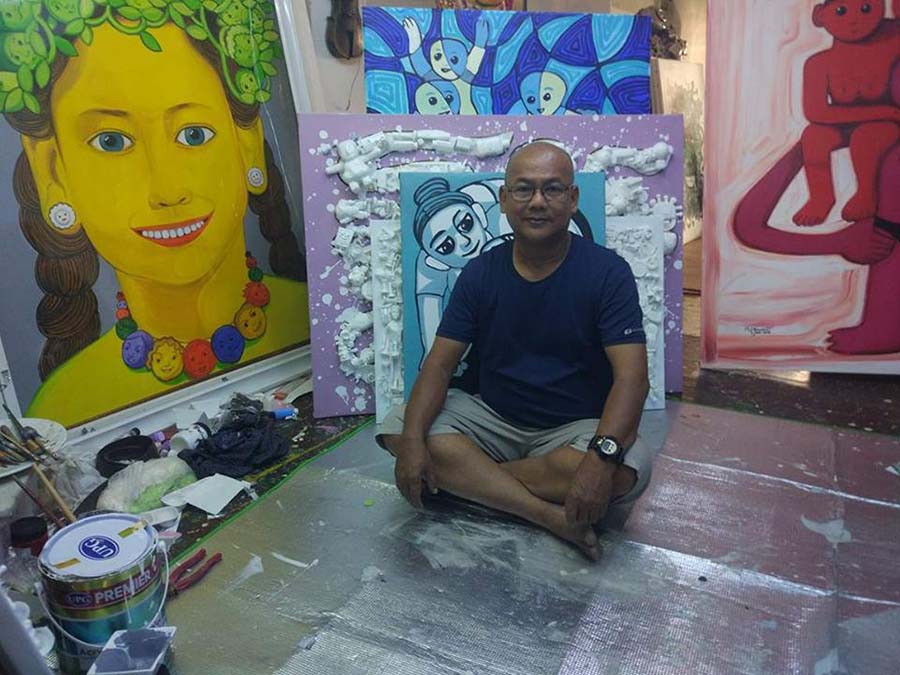 His paintings depict toy doves, happy families and children playing. There is also an installation about families. In one piece, a mother helps her toddler walk.
"The new government came to power with love. It even created opportunities for its enemies. It carried out a revolution with love and created change for more than 50 million people. I have dedicated my work to these causes," said Myat Kyawt.
Myat Kyawt has been making art for decades, but he never seems to run out of new ideas and ways to approach his craft. He is never satisfied with simply creating new things, and has continuously created performance art depicting love and unity.
In one of his performances, he carried a painting into crowds. "This is what I call brining art to the people. Children, grandmas, and women liked it very much," said Myat Kyawt.
His exhibition 'Great Love Line' will be on display through Friday at OK Art Gallery at Aung San Stadium (North Wing) in Yangon.
There will be a total of 30 pictures, 15 paintings, four installations, as well as a performance at the exhibition. Myat Kyawt has so far organized 15 solo shows and dozens of group exhibitions at home and abroad.
He has won awards and his paintings have been collected by museums in Germany, New Zealand and Singapore.
"Art can by one way or another affect the human race. Art is to me the virtue of serving the interests of mankind," said Myat Kyawt.