2018 saw Myanmar feature prominently in global headlines, as the international standing of its two most powerful figures, de facto national leader State Counselor Daw Aung San Suu Kyi and military commander-in-chief Senior General Min Aung Hlaing, plummeted in the aftermath of late 2017's Rohingya exodus to Bangladesh. Progress on the transition to democracy remained painfully slow, with the Army chief reiterating the military's claim to a political role and some observers believing that the peace process in particular has stalled, despite the holding of a third session of the 21st-Century Panglong Peace Conference in July and agreements being reached with some armed groups late in the year. Fighting between the military and ethnic armed groups—and between some ethnic groups—remained heavy in the north and west, particularly in Rakhine and Shan states.
This was not the only arena in which the government's performance left key groups of society disappointed in 2018; media and freedom of expression advocates openly wondered if the previous military-led administration was more open to a free press, after a court jailed two local Reuters reporters on charges—widely perceived as trumped up—of violating national security. In the clearest evidence that the public's patience with the ruling party is wearing thin, the National League for Democracy suffered a surprise setback in November's by-election, which saw ethnic parties make gains, posing a strategic challenge to the NLD as it gears up for the 2020 general election.
More positively, a new president confounded expectations, shedding his predecessor's ceremonial approach to tackle corruption, drugs and official mismanagement with an apparent sincerity that has put him at odds with several chief ministers around the country. And the government has moved quickly—too quickly for some—to court Asian investment, particularly from China, as the West withdraws in reaction to the Rakhine crisis, with limited economic reforms being introduced and entrepreneurship beginning to pick up.
Importantly, a handful of Myanmar's many tireless human rights defenders, particularly those working on behalf of women and girls, received international recognition throughout the year, though the jailing of activists in Kachin for staging peaceful anti-war protests in April demonstrated that the environment for activists remains a treacherous one.
State Counselor and Military Chief — at Odds with Global Opinion, and Each Other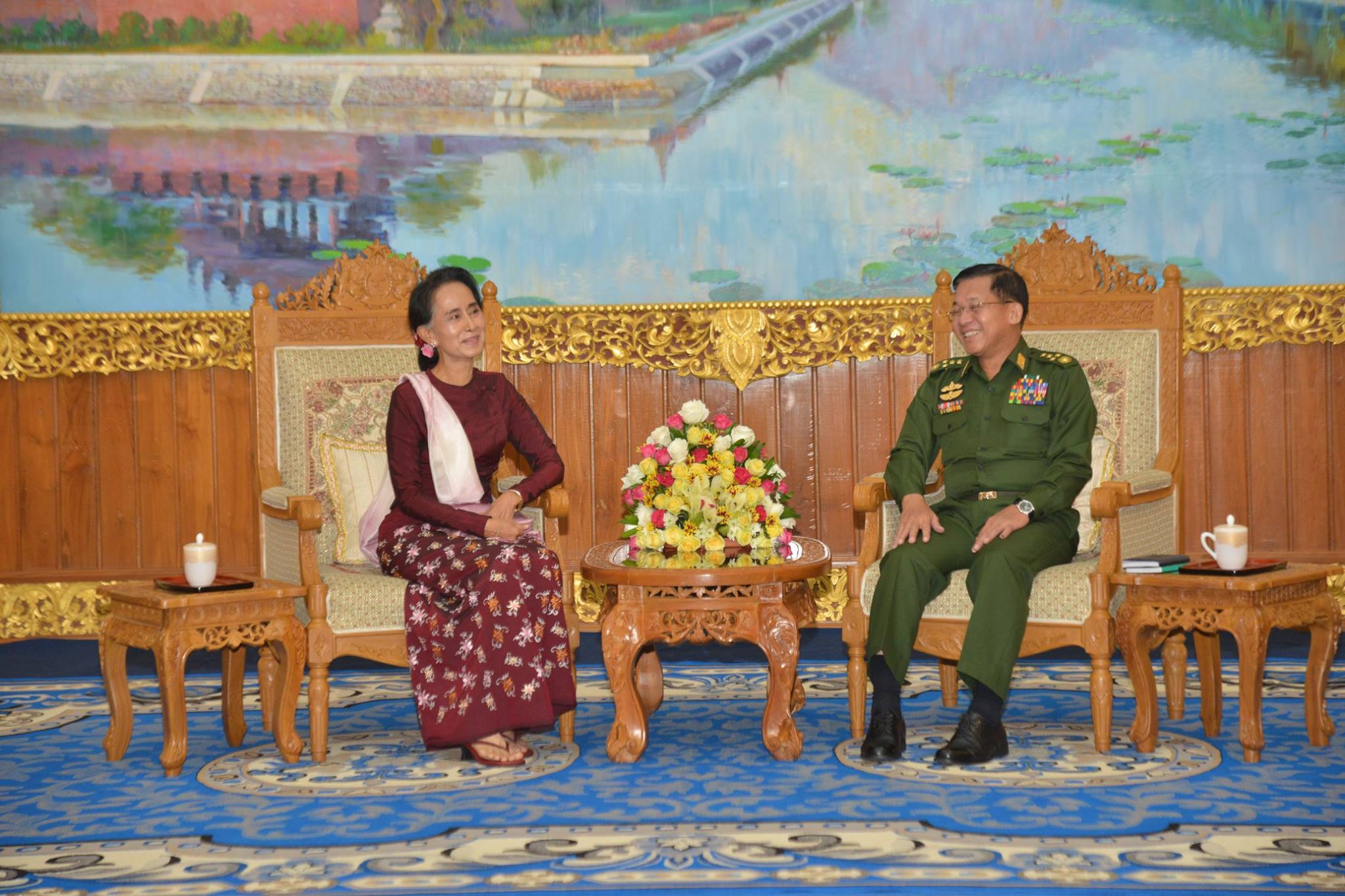 Myanmar's two most powerful personalities have at least one thing in common: They will look back on 2018 as a year when they were under siege.
During this difficult year, the State Counselor, once globally hailed as a "beacon of democracy", saw her international popularity evaporate as the world condemned her for not speaking out against the military on the Rohingya issue. Some organizations in the West tried to shame her by stripping her of the awards they once showered on her, and universities took down her portraits from their halls. On the home front, the changes she promised have yet to have any impact on people's day-to-day lives. Striking a peace deal with major ethnic armed groups continues to prove elusive. International investment has dwindled and the economy is in bad shape. Nonetheless, the majority of Myanmar's people still have faith in her, as they know no one else could manage the challenging situation she finds herself in any better. She insists her government's priorities are shaped not by election cycles, but by what will benefit future generations. To prove that, the National League for Democracy-led government launched the Myanmar Sustainable Development Plan this year.
For Snr-Gen Min Aung Hlaing, 2018 will be similarly remembered as a year of shame and broken dreams. International sanctions over his troops' human rights abuses against the Rohingya shattered his aspirations of creating a standardized, modern army. International rights groups embarrassed the senior general by calling for him to be referred, along with his subordinates, to the International Criminal Court to hold them accountable for the treatment of the Rohingya. Facebook banned him as a measure to prevent the spread of hate speech and misinformation. On the political front, the Army chief recently said the military would retain its role because rule of law and stability have yet to be fully established. But he declared an unprecedented unilateral four-month ceasefire effective in active conflict areas in north and northeast Myanmar to allow negotiations with each ethnic armed group in the region. The move has been hailed as a constructive gesture.
As the most powerful figures in the country, like two sides of the same coin, their collaboration is essential if Myanmar is to move forward. That's what Myanmar's people have been longing for. Sadly, it remains a distant hope.
Myanmar's President — a Tough Taskmaster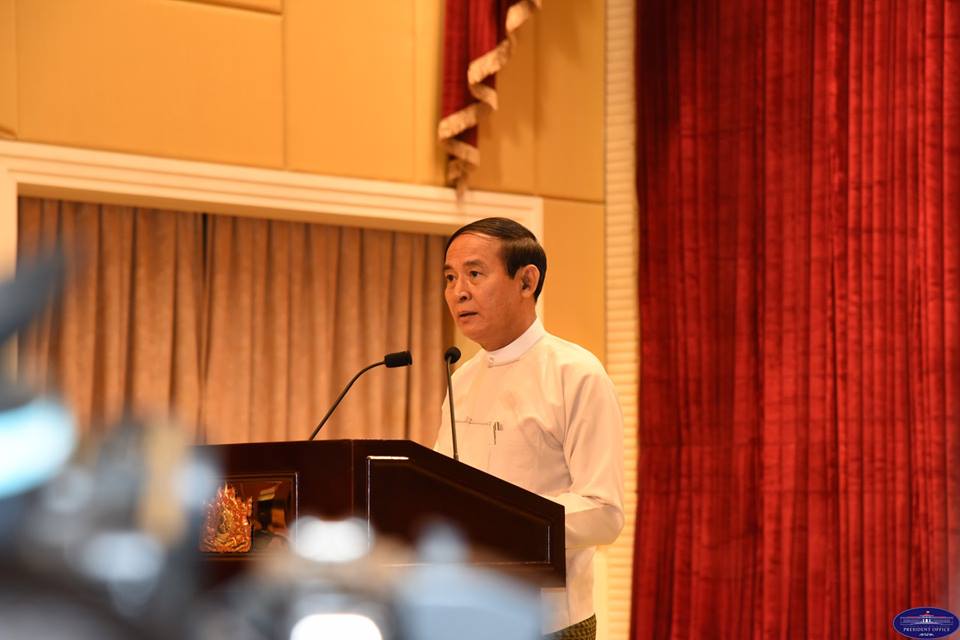 When he took the oath as Myanmar's head of state in March, President U Win Myint, one of State Counselor Daw Aung San Suu Kyi's right-hand men, received a mixed welcome. Some predicted the former House Speaker would play the same merely ceremonial role as his predecessor, for it is widely understood that Daw Aung San Suu Kyi is the de facto chief decision-maker. But U Win Myint has confounded those expectations. Soon after taking office, he launched campaigns against two chronic problems that have plagued Myanmar: corruption and illegal drugs. He gave the country's Anti-Corruption Commission a clear mandate not to be intimidated by intervention from powerful figures. While it has achieved some tangible results, the commission still has much to do. And with many drug lords still at large, it will be some time before he can claim success in the anti-narcotics campaign.
For regional government members, the lawyer-turned-president has proven to be a tough boss. He tours the country holding meetings with them and carefully scrutinizing their reports, issuing stern warnings over poor performances and taking steps to establish a more impartial judicial system for the sake of the country's democratic transition—or, as he puts it, "the survival of the young democracy sapling, which was obtained at a high cost". He transferred the military-controlled General Administration Department (GAD) to the Ministry of the Office of the Union Government, promising that the government's future reforms would begin at the ground level, closest to the people. The GAD has long been central to the functioning of the administrative mechanism across the country, as its officials oversee local governance in both rural and urban areas and come into contact with ordinary citizens' day-to-day needs, from registering births and deaths to resolving disputes.
But the clock is counting down to the general election in 2020. Given the mounting problems the country is facing, it will be interesting to see how successful the president turns out to be in nurturing the "sapling" into a fully grown tree, for the good of the country.
U Aung Kyi — the Graft-Buster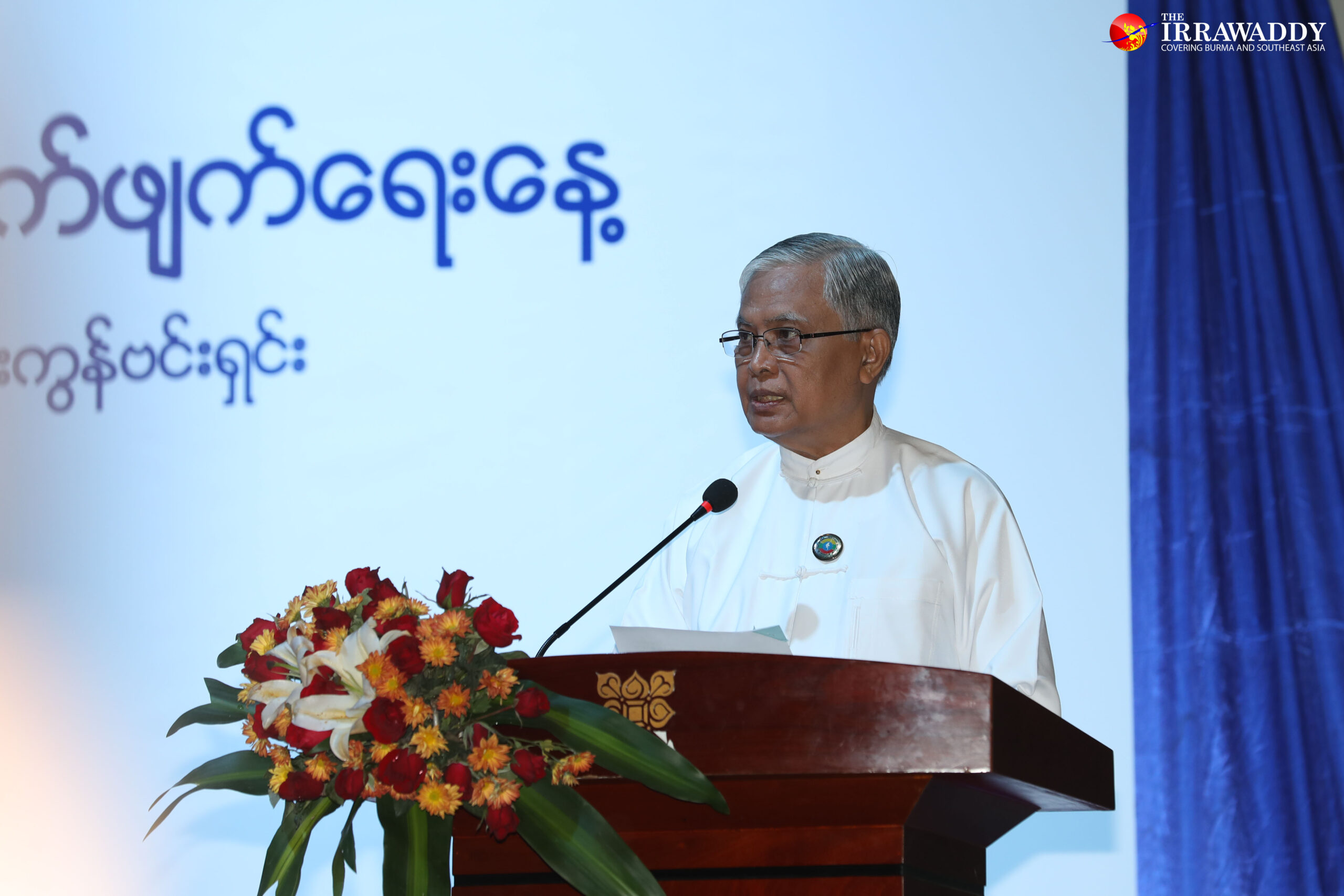 In Myanmar, for more than five decades under the previous regimes, corruption has been rampant, mainly because those regimes barely attempted to fight the problem. With the public facing corruption in their daily lives in every sector of the government, the state's anti-corruption efforts failed to win people's trust.
But 2018 marked a turning point for anti-corruption after President U Win Myint appointed U Aung Kyi, a retired major general and former minister of information in the U Thein Sein government, as chair of a new anti-graft body in November 2017. With the stepped-up efforts in fighting corruption this year, a majority of people have begun to feel that the battle against bribery has actually begun.
Soon after his appointment, U Aung Kyi said his team would catch the "big fish" to stem the tide of corruption. There was little hope that the situation would improve, however, as taking action against corrupt powerful and influential officials is virtually unheard of.
Since then, the commission has investigated and filed bribery charges against the director-general of the Food and Drug Administration, 12 officers — including three directors — of the Customs Department, and a deputy director and clerk of the Rural Road Development Department.
In its most high-profile case, the commission filed charges against the now-dismissed attorney general of Yangon Region and five other officials for taking bribes in exchange for withdrawing a murder case.
The commission's move has received strong public approval. Much to the people's elation, the graft body has been able to catch some "big fish" this time, ensnaring such high-ranking officials as an attorney general, a deputy district judge and a Yangon regional law officer.
While U Aung Kyi has been praised for his commitment to curbing corruption, President U Win Myint has also been applauded for his choice of commission chair.
But the commission must keep doing its job, as corruption is still rampant and there are many, many more big fish out there. It's a big task, indeed.
'Rogue' Chief Ministers Embarrass the Union Government
While some Union ministers like Dr. Myint Htwe at the Health Ministry, and Dr. Win Myat Aye at the Social Welfare, Relief and Resettlement Ministry, deserve praise for extending the outreach of their ministerial services to a majority of the population, some regional and state chief ministers like U Phyo Min Thein of Yangon Region and L Phaung Sho of Karenni State angered voters with their mismanagement, overreactions to media criticism—and even by threatening military action against the public.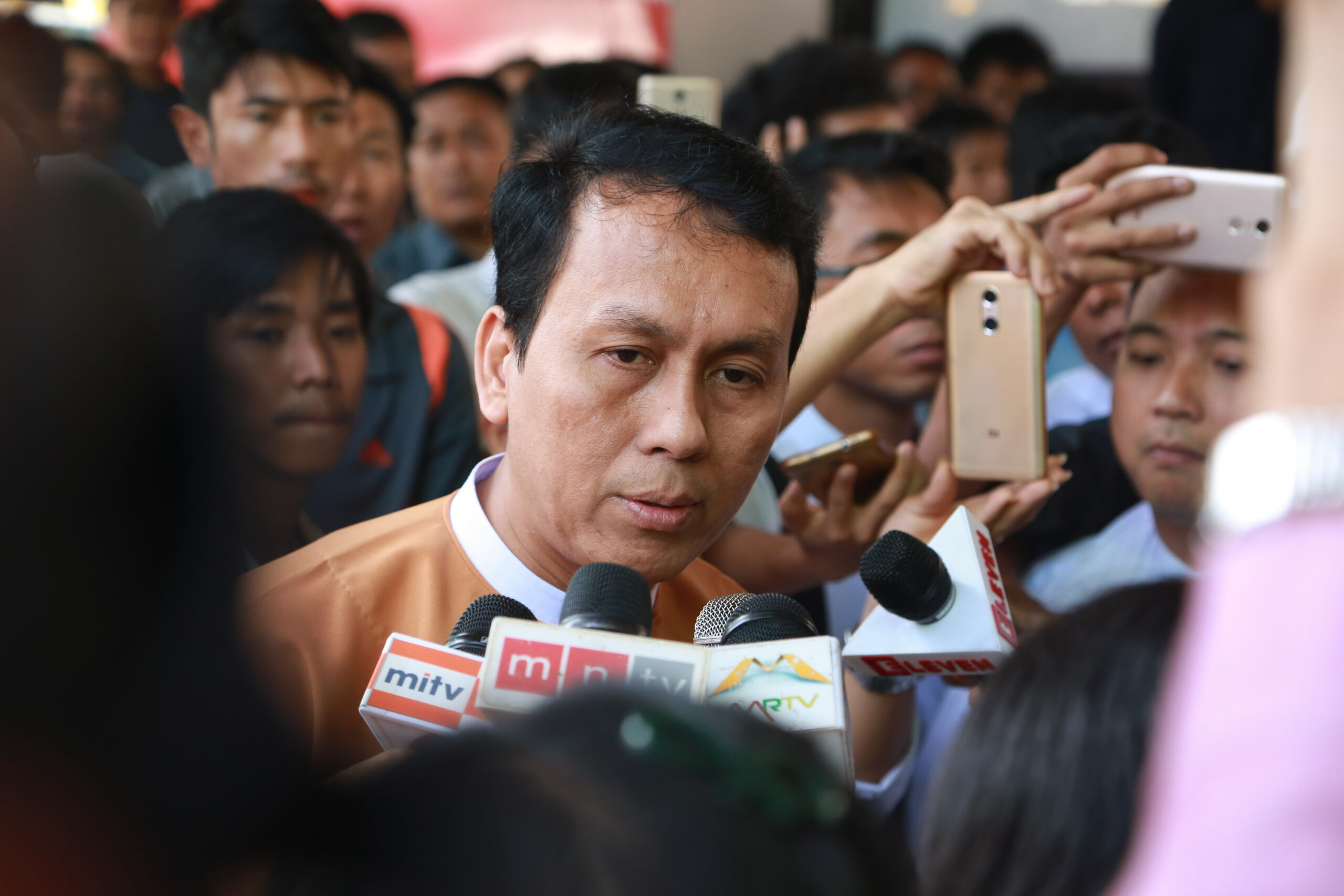 Initially popular, U Phyo Min Thein has seen his support fizzle out this year due to his short-sighted approach and poor management of projects to reform public transport and the school bus system. His government drew the ire of lawmakers by using portions of the budgets for those projects without the Parliament's knowledge. Rather than explaining to Parliament how the funds were used, the chief minister—much to the National League for Democracy (NLD)-led government's embarrassment—filed a lawsuit against local media and arrested a number of journalists for publishing details of lawmakers' discussions on the issue in the legislature. This drastic action even prompted the Union president to intervene by directing U Phyo Min Thein to adhere to the country's Media Law in resolving the dispute. At the same time, a defamation lawsuit between Tanintharyi Region Chief Minister Daw Lei Lei Maw and a local journal over a satirical piece about the chief minister has been dragging on for a year.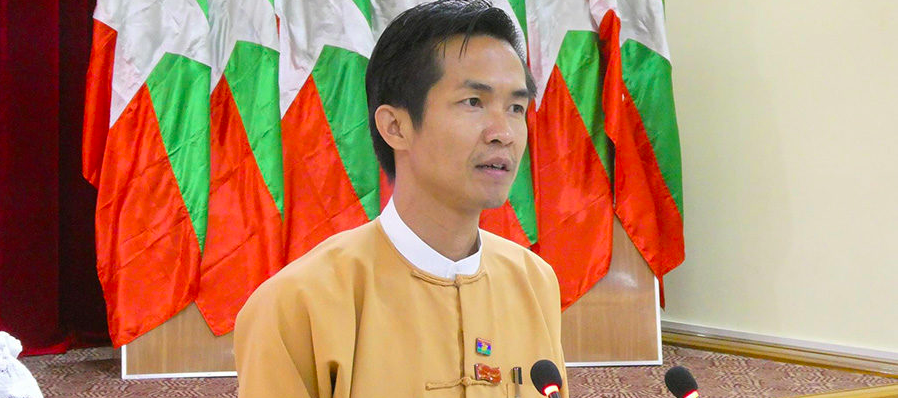 Karenni State Chief Minister L Phaung Sho upset many people in July when his security forces heavy-handedly shut down a protest by Karenni youth who opposed the state government's plan to put up a statue of independence hero General Aung San in the state capital, Loikaw. Rather than seeking a peaceful resolution—and much to the NLD government's dismay—the chief minister threatened demonstrators, warning them that he would personally deploy Army troops to curb the violence, adding that, "It's my duty." To his shame, the military later issued a statement saying that under the country's Constitution, chief ministers of states and regions have no authority to order military intervention in cases of emergency.
So far, these chief ministers' controversial actions have not drawn any serious repercussions from the NLD leadership.
U Thaung Tun — the Investment Tsar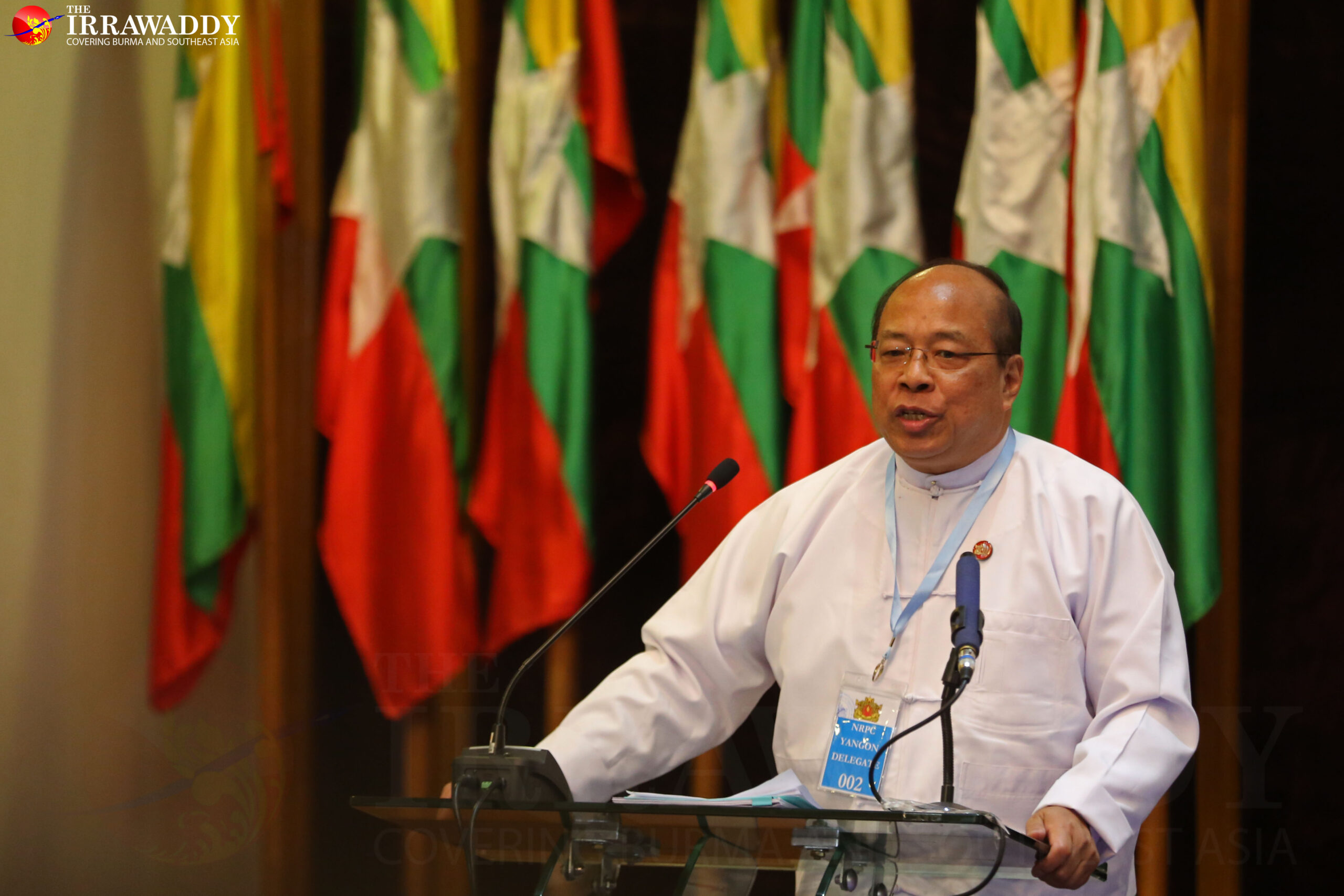 With the economic slowdown aggravated by the stalled peace process, the National League for Democracy (NLD)-led government sought a hero in 2018 to reverse the country's economic fortunes. U Thaung Tun stepped in to play the role of "big gun" for the foreign investment sector. In November, the government created the new Ministry of Investment and Foreign Economic Relations for him, with an agenda to promote local and international investment.
Back in early 2006, while serving as Myanmar's ambassador to the Philippines, he criticized State Counselor Daw Aung San Suu Kyi for her boycott of the military junta's controversial constitutional convention. Despite this, Daw Aung San Suu Kyi handpicked U Thaung Tun for the cabinet, where he has played several roles since January 2017, being appointed as a national security adviser at first and later becoming a government office minister. His appointment as chair of the Myanmar Investment Commission in June put him in the driving seat by making him a decision-maker in the process of selecting investors for projects across the country. U Thaung Tun was the one who revealed Myanmar's intentions to prioritize economic cooperation with China, particularly through the China-Myanmar Economic Corridor Agreement.
Under his supervision, the 20-year Myanmar Investment Promotion Plan was launched with ambitions of attracting more than $200 billion through responsible and quality investments.
Following the government's decision to adopt a Look East policy in mid-2018, U Thaung Tun toured Asia, beating the drum for his country's economy. Despite his best efforts in gunning for foreign investment, a recent European survey said 81 percent of firms had lost confidence in doing business here, blaming the NLD's poor economic management. With the country's international image in ruins and investors running scared over the Rakhine crisis, he faces no small task.
U Set Aung — 'Mr. SEZ'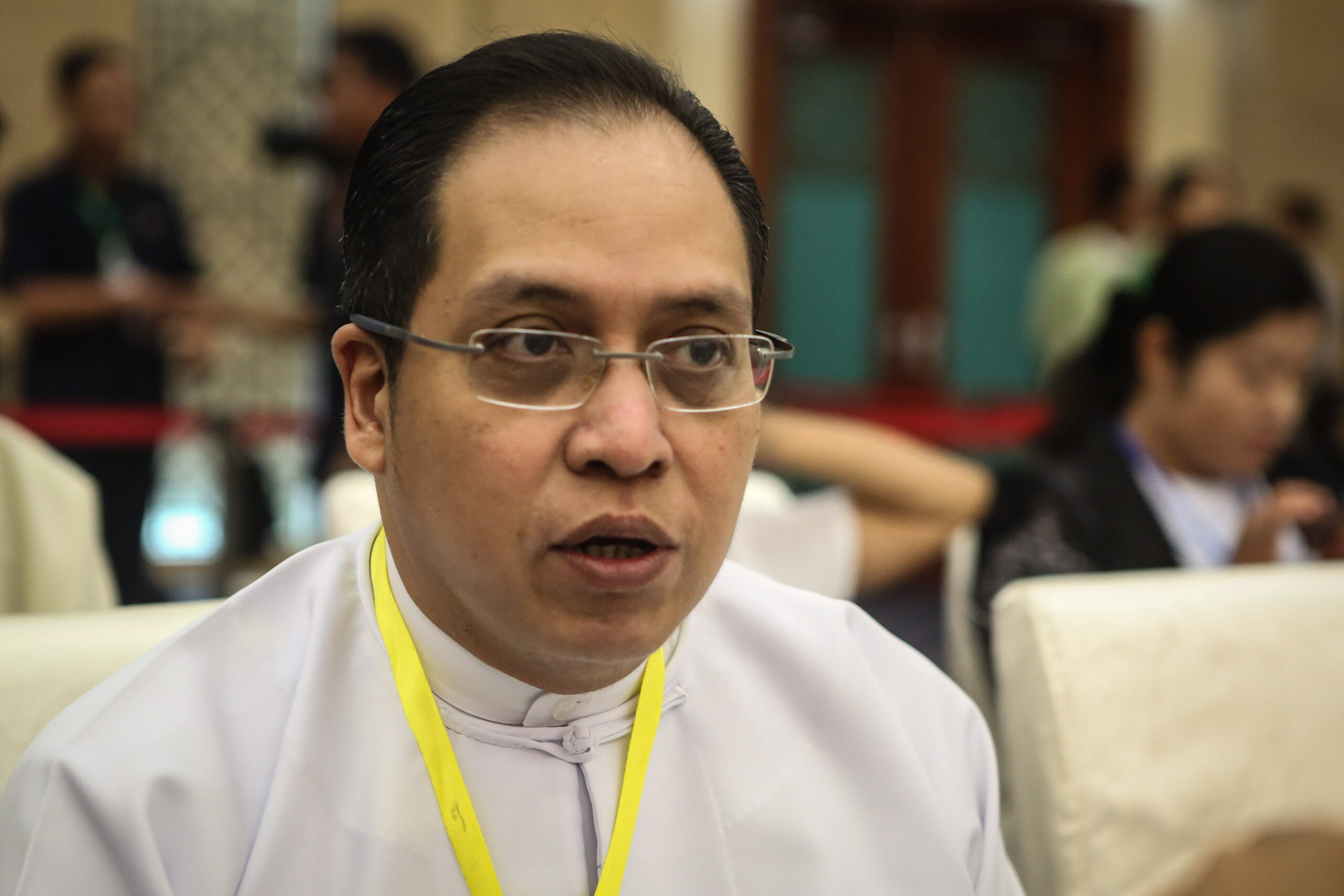 U Set Aung is known as "Mr. SEZ" for his masterful management of Myanmar's first special economic zone, the Thilawa SEZ, which has gained the trust of investors from many countries. State Counselor Daw Aung San Suu Kyi applauded the Thilawa SEZ as his crowning success.
Under his supervision, the Myanmar Sustainable Development Plan (MSDP) was drawn up with an ambition of aligning the country's numerous policies and institutions in order to achieve genuine, inclusive and transformational economic growth. The MSDP also plays a major role in decision-making as mega investment projects across the country are required to align with its national priorities. As an incumbent deputy minister in the Ministry of Planning and Finance, his main responsibility is overseeing the planning departments of the country.
U Set Aung was a deputy governor of the Myanmar Central Bank until July 2017 and served as deputy minister of national planning and economic development and as economic adviser to former president U Thein Sein.
Amid the government's ongoing efforts to renegotiate Myanmar's stake in the Kyaukphyu SEZ, he has been appointed chairperson of the project's management committee. This latest appointment makes him the main man in the country's two largest special economic zones.
After several rounds of discussions with China, U Set Aung successfully renegotiated the Kyaukphyu deal, easing worries that it would become a debt trap for Myanmar. The first phase of the port project, which was to run up a bill of US$7.5 billion, was subsequently revised to cost $1.3 billion. The new deal, which he signed in November, also sees Myanmar holding a larger stake in the project of 30 percent, up from 15 percent, with China holding the remainder.
U Aung Naing Oo — the Reformer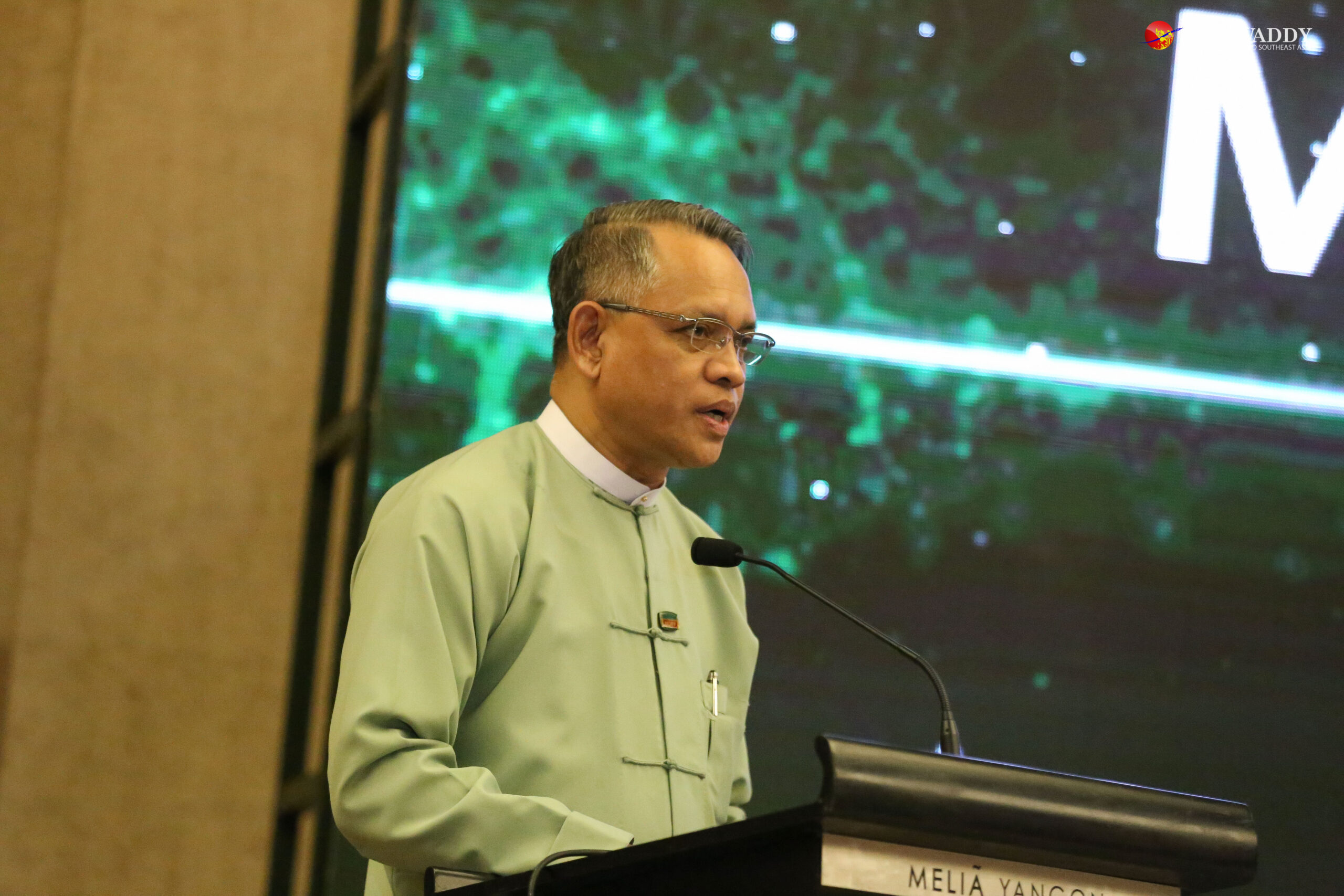 Widely recognized as a reformer, U Aung Naing Oo, director general of the Directorate of Investment and Company Administration (DICA) this year pushed major economic reforms, making investment procedures easier and removing outdated rules and regulations. He played a major role in replacing the 104-year-old Companies Act with the modern Myanmar Companies Law, bringing with it hopes of boosted foreign investment, greater transparency and improved regulations.
Investors praised his team's efficiency and effectiveness in dealing with investment procedures. Corporate data which was kept hidden in the past can now be found on DICA's website, offering more transparency among the business community. A former military officer posted in ethnic areas, he has been serving at DICA since U Thein Sein's government.
Perhaps the biggest move initiated by his department was the formation of an online platform for company registration reducing paper work, cutting out unnecessary procedures and making it the most efficient way to register a company. The department has been publicizing investment data monthly and annual Cost of Doing Business in Myanmar reports which provide investors with readymade data and cost calculations.
With Western foreign investment down, U Aung Naing Oo firmly believes in strengthening ties with East Asian countries and some progress has been made in investment relations. This year, he travelled to Hong Kong, China and Singapore to promote Myanmar's investment potential to eastern investors.
His department continues to push for foreign investment by hosting forums across the country and in January, DICA, along with other business organizations, will host the Myanmar Investment Summit in another push to provide international and local investors with an opportunity to discover the potential for business in Myanmar.
New Business Ideas — Entrepreneurs Shake Things up

2018 was a positive year for new and young businesses in Myanmar with a healthy flow of innovative ideas from enterprising and creative minds.
U Ngwe Tun, the mind behind Genius Shan Coffee, this year got socially responsible Myanmar coffee onto shelves in 12 different countries around the globe. His company also won the prestigious Sustainable Social Enterprise award at the ASEAN Business Awards 2018.
Virya Couture founder Pyone Thet Thet Kyaw continued in her tireless drive to create ethical and beautiful clothing while giving opportunities to underprivileged women. This year she gave one of the most riveting speeches at TEDx Yangon 2018.
Htet Mtet Oo and Isabella Sway-Tin, the couple behind Rangoon Tea House and several other RTH Group dining businesses, this year opened no less than four new outlets in Yangon, including the innovative Pinlon Hawker Center. With talk of a second Rangoon Tea House in 2019, they are the ones to watch in the dining scene.
Shwe Taung Nyo Gyi's organic chicken and natural eggs began flying off shelves and out of market stalls in 2018. The two young fathers behind the business, Zaw Ye Naung and Marn Thu Shein, have one of a few farms in Myanmar to be certified by the Myanmar Organic Agriculture Group. Their young business is a symbol of the growing demand for chemical-free food among increasingly health-conscious eaters in Myanmar.
Shwe Thiri Khit, the female entrepreneur and artist behind clothing brand Amara Khit, went from strength to strength in 2018 combining modern flare and edgy style with hand-woven local fabrics, paving the way for others in the fashion industry with home-grown cotton pride.
Other entrepreneurs deserving a special mention for their fresh ideas and efforts in 2018 to move Myanmar into the modern era include Sandra Min and Nyantha Maw Lin of Khaya Tea, May Thin Kyu of Kreate Food and Connor Smith and So Phay Oo of the tech start-up New Day.
Myanmar's Very Own 'New Wave' — Young Film Directors Shine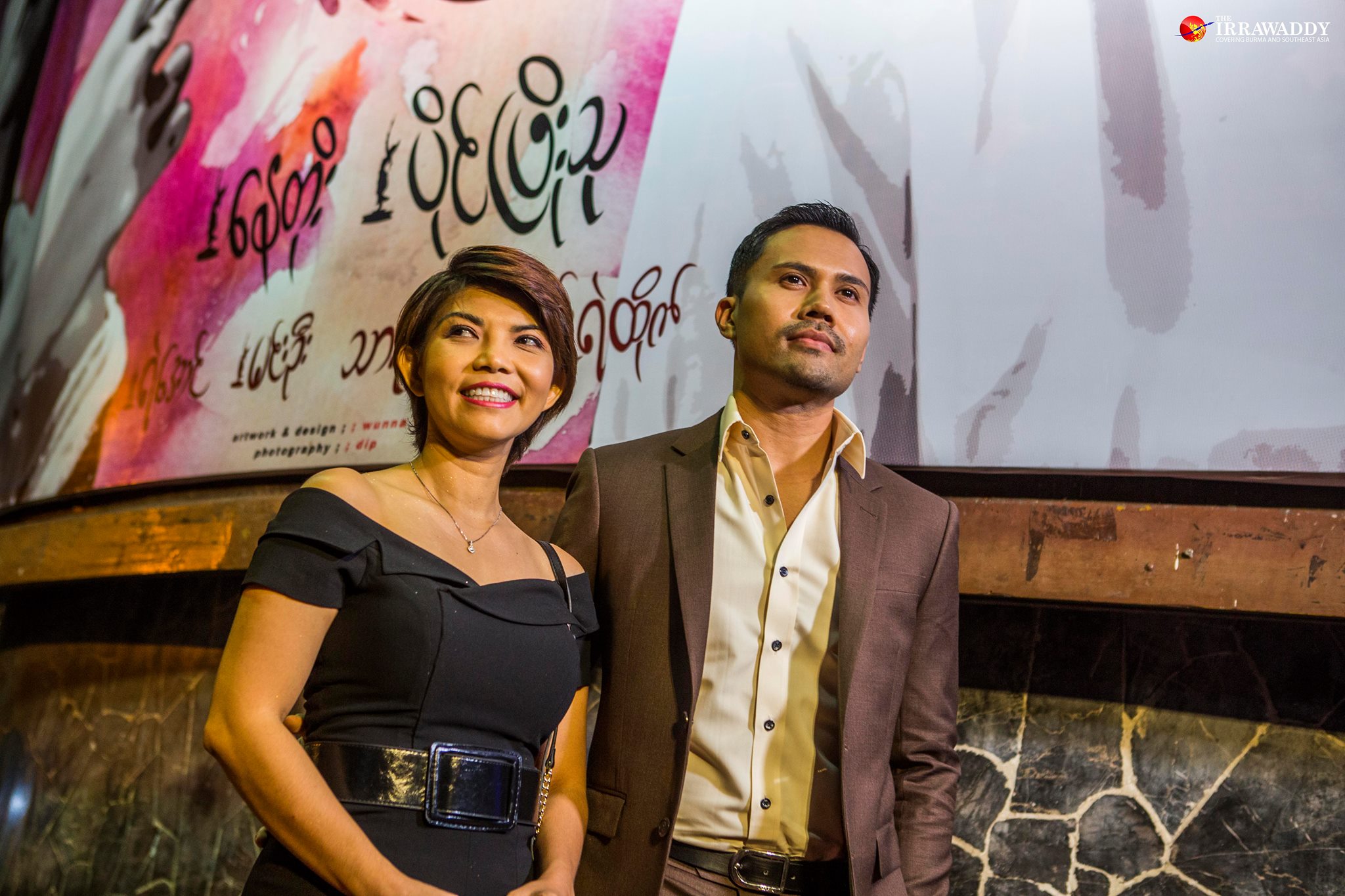 In the most promising development in Myanmar's film industry in decades, a group of young local film directors this year shook up a stagnant scene with a mini-new wave of highly creative—and highly praised—releases.
Taken together, these films represented a drastic departure from the lack of imagination, lackluster storytelling, unrealistic dialogue and strictly commercial ambitions that typify local commercial film fare.
It all started with "Nya" (Night) by director Htoo Paing Zaw Oo, which proved to be a hit not only among local audiences, but even as far away as Singapore.
Another new kid on the block was director Christina Kyi, who thrilled Myanmar moviegoers with her debut "Oo Pel Tan Myin" (Deception) in January. This thriller's cast featured many new faces. Unusually, the cast rehearsed the script together before shooting. Their efforts earned rave reviews and ecstatic praise such as "The best Burmese movie so far". It smashed local box office records with an eight-week-long screening run. It was also shown in Singapore.
Adding to Christina Kyi's strong year, her docudrama "Mudras Calling" was screened at 10 international film festivals before finding success in Myanmar.
Additionally, the action drama "Myat Hnar Pyin Myar" (Dimensions) directed by Nyan Htin, and "The Mystery of Myanmar: Beyond the Dote-Hta-Waddy" by director Ar Kar also contributed to an innovative year for the local industry.
And director Na Gyi's adaptation of a famous Myanmar novel by Kyi Aye received a warm welcome, both from film critics and fellow artists, for its directorial skill, careful preparation, cinematography, costume design, location sets, and meticulous attention to detail, right down to the smallest detail like newspapers and wall décor, which accurately recreated Myanmar society of the 1940s.
Local moviegoers are hoping more young talented directors will emerge in the coming year to continue this creative new trend in film.
Checks and Balances — Lawmakers Keeping Government Honest

While many lawmakers have failed to impress their constituents by just sitting in Parliament without working hard, neglecting to represent their concerns or communicate with them despite being elected to do so, some lawmakers have kept Parliament lively.
These lawmakers have boldly criticized the government's spending, mismanagement, and loss of public funds, and questioned the transparency of state projects. These active lawmakers have also worked hard to fulfill the needs of their constituents, listening to residents' voices on the ground.
In the Yangon Region Parliament, lawmakers' heated debates on the regional government's 2018-19 budget proposals in June and the auditor general's September report on the government's budget for fiscal 2016-17 were widely welcomed as a sign that the checks-and-balances mechanism between Parliament and the government was working.
Moves in the Union Parliament that won public support this year included lawmakers' investigation of an expenses claim for polishing the parliamentary buildings' teak doors; a debate over state enterprises' maintenance of "other accounts"; cuts to expenses and foreign loans; and the protection of public spaces and reinstatement of public land.
Outspoken lawmakers in both the regional and Union parliaments gave chief ministers as well as Union and regional ministers a hard time with questions aimed at improving the lives of their constituents. The Irrawaddy would like to take this opportunity to single out a few of the lawmakers in parliaments across the country who deserve praise for their services to the people.
In the Lower House: Ma Zin Mar Aung from Yangon's Yankin Township; Ma Phyu Phyu Thin from Yangon's Mingalar Taung Nyunt Township; Daw Khin San Hlaing from Sagaing's Pale Township; U Lwin Ko Latt from Yangon's Thanlyin Township; Daw Pyone Kaythi Naing from Shan State's Kalaw Township; Daw Thet Thet Khine from Yangon's Dagon Township, Daw Yin Min Hlaing from Magwe Region's Gangaw Township; Daw Khin Saw Wai from Rakhine's Rathedaung Township; and Daw Wint Wah Tun from Kayah's Shardaw Township.
In the Upper House: Dr. Khun Win Thaung from Kachin State, Naw Susana Hla Hla Soe from Yangon Region, U Aung Kyi Nyunt from Magwe Region and Daw Shwe Shwe Sein Latt from Bago Region.
In the Yangon Region Parliament: Daw Kyi Pyar from Kyauktada Township, U Kyaw Zay Ya from Dagon Township and Daw Sandar Min from Seikgyi Khanaungto Township.
Unfortunately, the number of hardworking lawmakers remains considerably smaller than the number of those who don't work hard. We need more representatives who are willing to work hard to the best of their capacity and stand by the people.
Women's Rights Defenders — Giving a Voice to the Voiceless 
In Myanmar, civil society groups play a key role in the development of social services and promoting the rule of law. Among them, women make an especially important contribution by empowering others, helping vulnerable people including refugees, and defending human rights.

Prominent physician Dr. Cynthia Maung continues to be recognized as a humanitarian leader; this year she received the UNDP's N-Peace award for her work. Her Mae Tao clinic in Mae Sot, Thailand, across the border from Karen State, provides healthcare services to some 100,000 people annually along the border. Young people around her see her as someone who "uses her power to empower others", tirelessly working to boost community awareness of the importance of access to health care, child protection and the education of migrant children.
In Kachin in December, Nang Pu, the director of the Htoi Gender and Development Foundation, was sentenced to six months in Myitkyina Prison together with two other activists for leading a protest in April calling on authorities to help villagers trapped in Tanai by fighting between the Myanmar military and the Kachin Independence Army. The fighting, in an area known for its amber mines, lasted for many months.
Despite widespread demonstrations during the year—in Yangon and elsewhere—calling for an end to the fighting in the north of the country, many internally displaced persons (IDPs) remain unable to return to their homes. Determined to end the Kachin refugees' suffering as well as the widespread discrimination against her ethnic group, Nang Pu has dedicated herself to helping them in whatever way she can, and to promoting justice. She has worked tirelessly to raise awareness about rights and gender equality among IDPs, and spoken out on the need for security for women in refugee and IDP camps. She has also brought attention to the fact that women in conflict zones are known to be particularly vulnerable to sexual violence and human trafficking, while the perpetrators in these areas mostly enjoy impunity.
In May, gender-equality champions Cheery Zahau, a Chin human-rights advocate and the founder of the Women's League of Chinland, and Daw Khin Than Htwe, who chairs the Mon State Women and Children Upgrade Conduct Team, were honored with the EU's Schuman Award, along with prominent journalist Ko Swe Win. They continue to maintain their commitment to promoting women's roles and assisting victims of rape, including children.
#My_Story_Matters — Myanmar Joins Global Women's Rights Push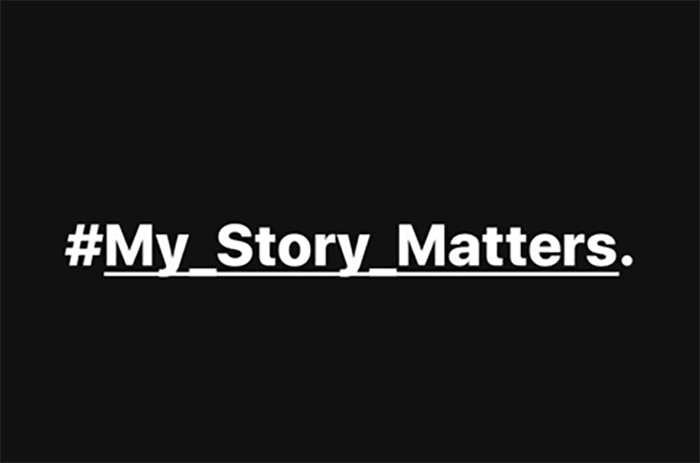 Global movements highlighting sexual misconduct against women, such as the #MeToo campaign, took root in Myanmar in 2018. In an effort to end the culture of silence, in July this year a number of women took to social media to speak out about harassment they faced while working for a local human rights and women's empowerment organization.
On July 12, a woman started sharing accounts of sexual assault that she and her female colleagues had been subjected to at their former office on her Facebook account using the hashtag #My_Story_Matters.
She said they were sexually harassed by the chief executive officer of the organization they worked for. After the first woman shared her story, a second posted about the harassment that she had faced. She later posted about another female employee who had experienced attempted rape.
The movement prompted an investigation of the accused person and put a spotlight on the sexual harassment that women have long faced in the workplace. Later, the abuser was blacklisted by the international donor community.
In the past, it was unimaginable to speak out or hear about a woman's experience of sexual harassment in public, despite the fact that many girls and women face physical and verbal sexual assaults on buses, at work and in many other public places every day.
One of the women told The Irrawaddy that she shared her story on Facebook in order to encourage other victims to speak out.
"If we keep silent, other women might face the same fate that we faced, and no action would be taken against the perpetrator, leaving him to do the same thing to other women and girls," she said.
A lack of clear policies banning sexual harassment at organizations and the absence of a clear complaint procedure continue to discourage survivors from filing complaints, she said, adding that aid services and legal support must be made accessible to all survivors of violence.
Police Captain Moe Yan Naing — the Whistleblower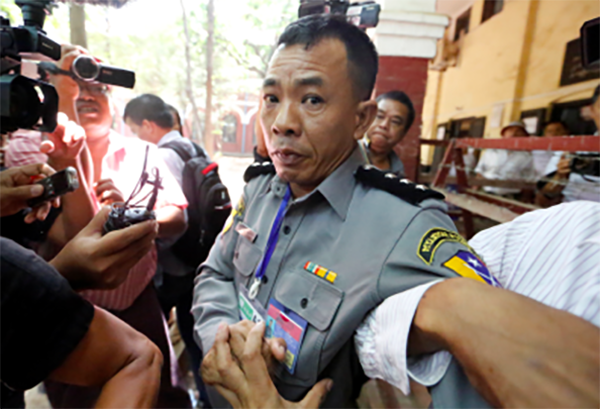 He may be a black sheep to the Myanmar Police Force, but in the eyes of the Myanmar public, Police Captain Moe Yan Naing is a hero and a rare breed for shining the light of truth on the arrests of two local Reuters journalists. He told the court that a senior officer had ordered police to "trap" one of the two reporters arrested in December by meeting with the journalist and giving him "secret documents." The police captain said he chose to tell the truth because policemen had their dignity, whatever their rank. However, his bold attempt to reveal police irregularities did little to advance the cause of justice; he was denounced as a "hostile witness" because "he spoke based on his own feelings", as a police spokesperson put it. The two journalists were sentenced to seven years in prison for violating the Official State Secrets Act. The whistleblower was himself arrested and has been incarcerated for a year for violating Myanmar's Police Disciplinary Act. To add insult to injury, his family was evicted from police housing. Moe Yan Naing said his main fear was not jail, but that his punishment would deter other whistleblowers.
Ethnic Parties Make Gains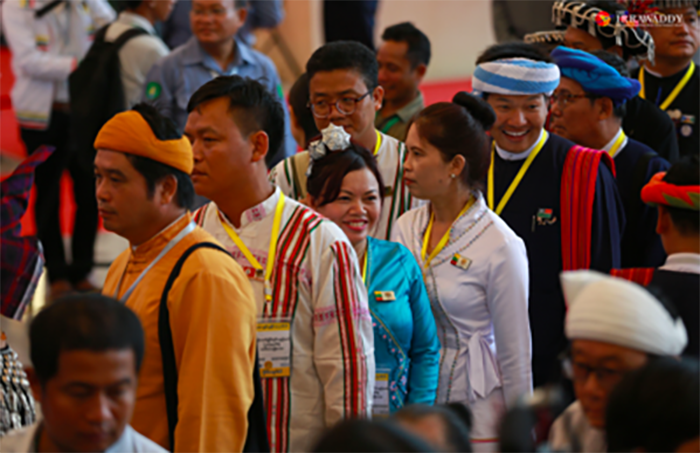 November's by-election was a major blow for the ruling National League for Democracy (NLD) party, which racked up little more than half of the seats up for grabs, exposing a serious loss in confidence in it despite having swept 85 percent of seats in the 2015 general election. It relinquished four out of five seats in the ethnic areas of Kachin, Shan, Chin and Rakhine states.
Ethnic minorities haven't been shy in showing their dissatisfaction with the party once seen as champions of democracy. With little progress to show on the peace process or forming a federal system over its two-and-a-half-year term, homegrown political parties now feel the need to combine forces. Political parties representing five of Myanmar's eight major ethnic groups—the Karen, Kachin, Kayah, Mon and Chin—have officially announced their solidarity for the 2020 elections in a bid to triumph over the NLD, which they believe has failed to live up to expectations, especially in developing their respective ethnic regions.
Meanwhile, Chin, Kachin and other ambitious ethnic parties are toying with the idea of forming a coalition government with the NLD or another ethnic party that promises the formation of a federal state and a lasting peace.
Despite the USDP having won a constituency in Kachin State, the by-election results also exposed the fact that a Kachin party received thousands more votes than the competing NLD candidate. In Chin State, a local party beat the NLD in Matupi—once a victory ground for the NLD—while the most popular Shan party, the Shan National League for Democracy (SLND) were victorious in Shan State.
Though the by-election results didn't change the country's administration, they were an alarm bell for the NLD government, which should question how much support it will be able to garner from the ethnic nationalities in 2020.
The Peace Process — Seemingly, Still 'Mission Impossible'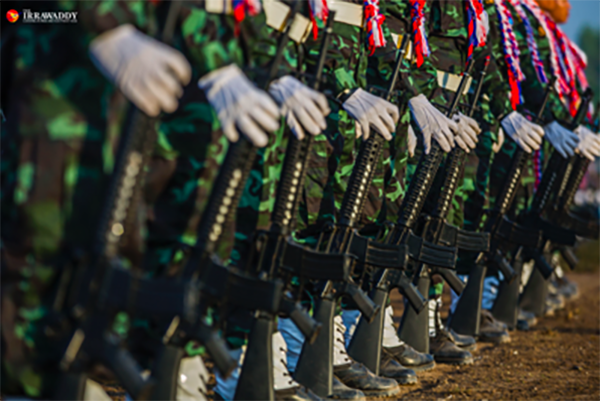 Although peace negotiations continued through 2018, there was frequent fighting in the country's north and west. Toward the end of the year, intense fighting broke out in the northern reaches of Shan and Rakhine states, adding to the many thousands of families displaced by the civil war.
This year also saw frequent fighting among ethnic armed organizations (EAOs) in northern Shan, where the Ta'ang National Liberation Army (TNLA), Restoration Council of Shan State (RCSS), Shan State Progressive Party and Pa-O Nationalities Liberation Organization are competing for territory.
Conceding to the Myanmar military's conditions, however, three of the armed groups comprising the Northern Alliance did offer to suspend armed resistance in December for a chance to join the formal peace negotiations. The TNLA, Arakan Army (AA) and Myanmar National Democratic Alliance Army (MNDAA) had been denied a seat at the talks for the past three years.
The New Mon State Party and the Lahu Democratic Party also signed the Nationwide Ceasefire Agreement (NCA) in February, bringing the total number of EAO signatories since 2015 to 10.
But the peace talks also suffered some setbacks in late 2018.
In November, the Karen National Union (KNU), an NCA signatory, decided to suspend participation in the formal talks and the RCSS said it was reevaluating its participation in the Joint Ceasefire Monitoring Committee. The decisions by these two armed groups—among Myanmar's strongest—to pull back from formal talks and meetings threaten to derail the entire peace process.
The military's commander-in-chief, Senior General Min Aung Hlaing, did little to win them or other EAOs over by repeatedly insisting that they all foreswear any thoughts of secession if they hoped to secure a peace deal.
At the same time, the military continued to reach out to EAOs outside of the NCA for informal talks on joining through ex-generals on the government's Peace Commission, including Secretary U Khin Zaw Oo.
"We don't want anyone to die, neither Tatmadaw [military] soldiers nor rebel soldiers, because we are all citizens of this country. In addition, among the soldiers on the front lines are my sons," U Khin Zaw Oo told reporters in November. He said those around the negotiating table should feel compelled to end the fighting for the sake of their own children and the rest of their generation.
A Fractious Relationship — Government-Media Ties Deteriorate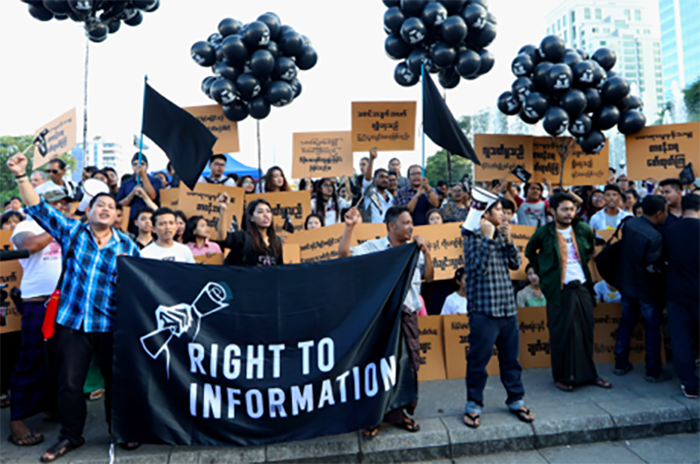 The relationship between the media and the democratically elected government deteriorated dramatically this year. A seven-year prison sentence for two local Reuters reporters and an ongoing legal dispute between Eleven Media and the Yangon government are standout examples of the souring affair. Of the 44 journalists currently facing prosecution here, many of their charges are being pressed by the government and military.
While just 11 cases were filed under the notorious defamation articles 66 (D) and 505 (B) under the previous administration, the number jumped to 150 under the NLD's tenure. Press freedom in Myanmar dropped six places on Reporters Without Borders' press freedom index from 131st to 137th.
The Yangon chief minister's lawsuit against three Eleven journalists over their story on the debate over the city government's budget in Parliament raised further concerns. The chief minister accused them of incitement under Article 505 (b) of the Penal Code for allegedly publishing false information. Upon his word, they were arrested instantly without a complaint having been filed to the Myanmar Press Council, as is required under the country's Media Law.
A conversation between newly elected Press Council members and the country's de facto leader Daw Aung San Suu Kyi grew acrimonious as she questioned the impartiality of media coverage on the Rakhine crisis during an official dinner in late November. The following week, Information Minister Pe Myint reiterated her views at a media forum in Naypyidaw, reaffirming that the purpose of state media is only to inform the people of what the government is doing.
To restore this ailing relationship and earn a higher place on the press freedom index, the NLD government needs to regain the trust of the media. For the foreseeable future however, it looks like tensions between the NLD government and the media will continue into 2019.