From bold investigative journalists to military chiefs, The Irrawaddy highlights individuals who made especially big splashes in headlines this year.
Politics
Daw Aung San Suu Kyi, Burma's State Counselor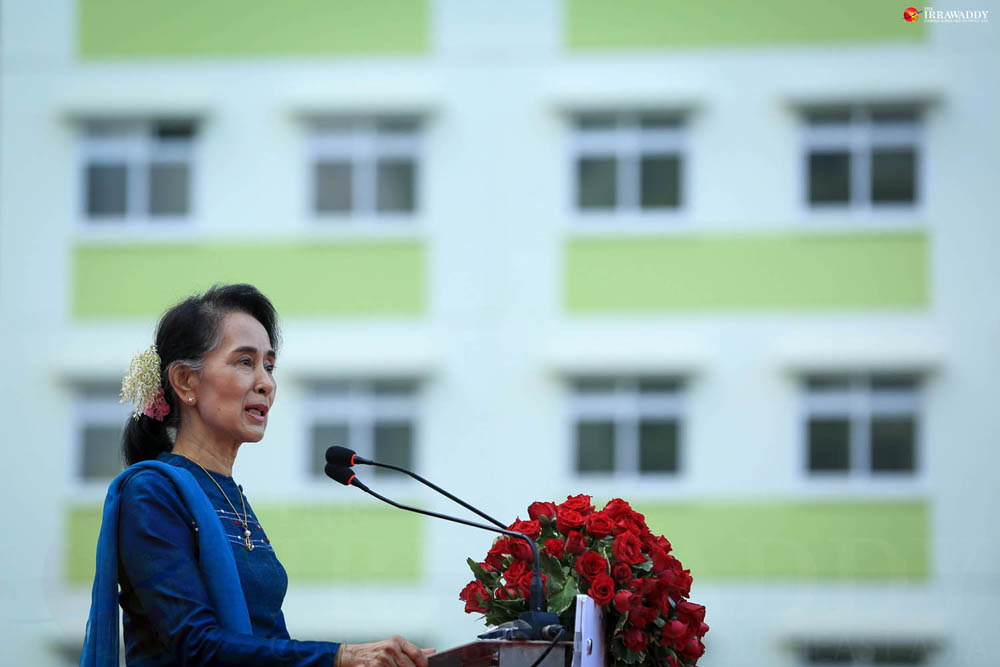 Until the State Counselor position was created a week after the National League for Democracy (NLD) came to power on March 31, no one had any idea what title Daw Aung San Suu Kyi would take to lead Burma. As the country's State Counselor, she manages everything from foreign affairs to the peace process to economy stability to the renewed violence in Arakan State. Many of the issues facing the current administration, which in large part are the legacy of Burma's previous governments, are testing Daw Aung Suu Kyi's political mettle—and the results after nine months in office have been mixed. Although she has succeeded in having sanctions lifted and inking business concessions, the economy remains fragile, and the ongoing conflicts waged against ethnic groups in the north serve as a grim reminder of the limits of her ability to rein in Burma's powerful military institution.
Snr-Gen Min Aung Hlaing, Burma's Military Chief
After Burma's military had been shunned by the international community for decades because of its human rights abuses, Snr-Gen Min Aung Hlaing wanted to make the country's defense services "modern" in every way.  Since he was endorsed by the NLD following last year's historic election, the Snr-Gen has seen tighter schedules with weekly meetings with his counterparts and other military attachés from other counties who offered "cooperation between two militaries." The military-run businesses once under US sanctions are no longer on the sanction list. His officers have been on exchange programs overseas. Snr-Gen Min Aung Hlaing also went on international trips—most recently to Brussels to take part in the European Union Military Committee meeting while his troops at home were shelling ethic armed groups who had been fighting for federalism. The Snr-Gen pledged "cooperation" with the NLD-led government, as he was subordinate to the president. Even Daw Aung San Suu Kyi said they have been cooperating very well. But the ongoing fighting in northern Shan State may not be the results she wanted from this cooperation, given that she vowed to end the country's civil war.
U Win Htein, NLD Secretariat member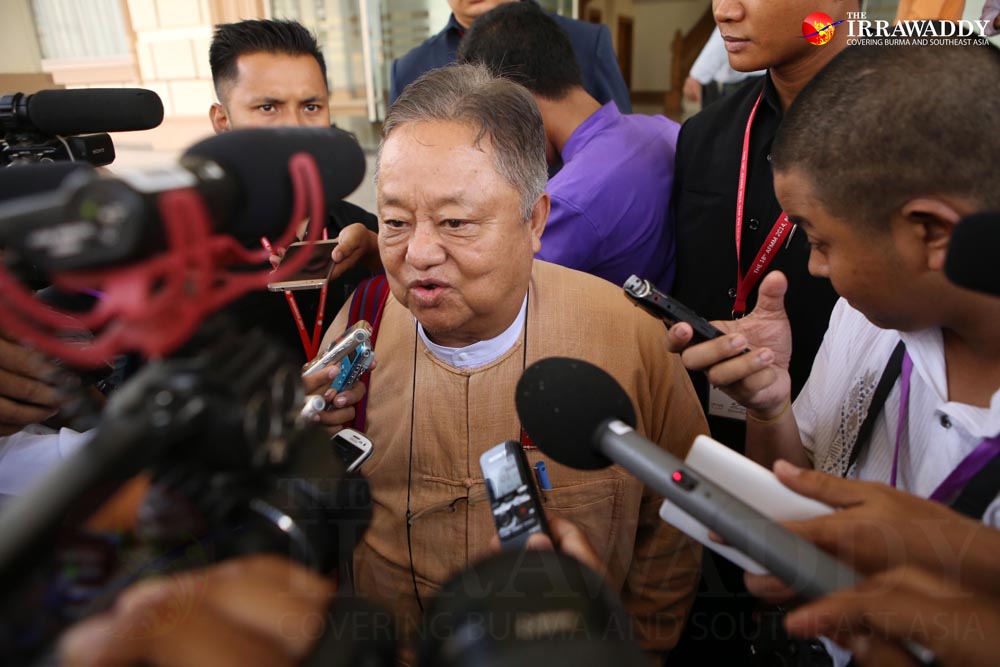 The relationship between U Win Htein and the local media turned sour after the NLD's victory in the November 2015 election. Prior to the electoral contest, the former army captain was a familiar face at the party's campaign office and he rarely refused to talk to journalists. That changed after the NLD started preparing to form a new government after its landslide win. When asked for confirmation, he would retort, "Why should I take your questions?" When he was in a foul mood, anyone who bothered him could expect to hear a barrage of profanity rather than a simple "no comment." He verbally abused reporters, calling them "deranged" or barking for them to "think seriously" before they asked a question. Even so, reporters can't afford to shun him since he is the de facto spokesperson of the ruling party and involved in the decision-making process of the NLD's internal affairs.
U Phyo Min Thein, Rangoon Divisional Chief Minister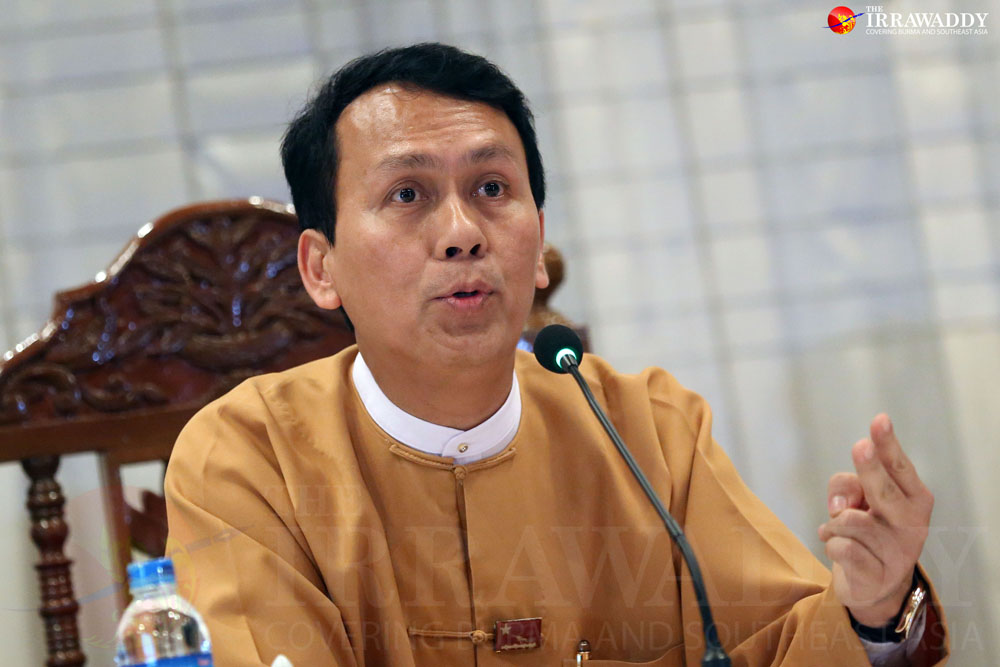 Among Burma's 14 state and divisional chief ministers, U Phyo Min Thein of Rangoon Division is the most controversial. His decision to ban for-profit pavilions to prevent decadence during Burma's traditional New Year water festival drew both criticism and applause. Moreover, in May, he ordered a halt to ongoing high-rise construction in Rangoon, ordering that construction undergo review in order to harness the city's unruly development. This move attracted outcry from developers and construction workers. And when U Phyo Min Thein sued a local newspaper and its CEO for an editorial that accused him of taking a bribe from a businessman, his actions were widely criticized, as Article 66(d) of Burma's Telecommunications Law is mostly used by security forces to punish those critical of them. For all the criticism he has rightly earned, the chief minister should get some credit for spearheading a fight against Ma Ba Tha, a Buddhist nationalist group that came up under U Thein Sein's government and is infamous for its anti-Muslim hate speech. After saying that "Ma Ba Tha is not necessary," the State Cleric Council disowned the hate group led by nationalist Buddhist monks.
Kofi Annan, Chairperson of the Arakan State Advisory Commission & Former UN Secretary-General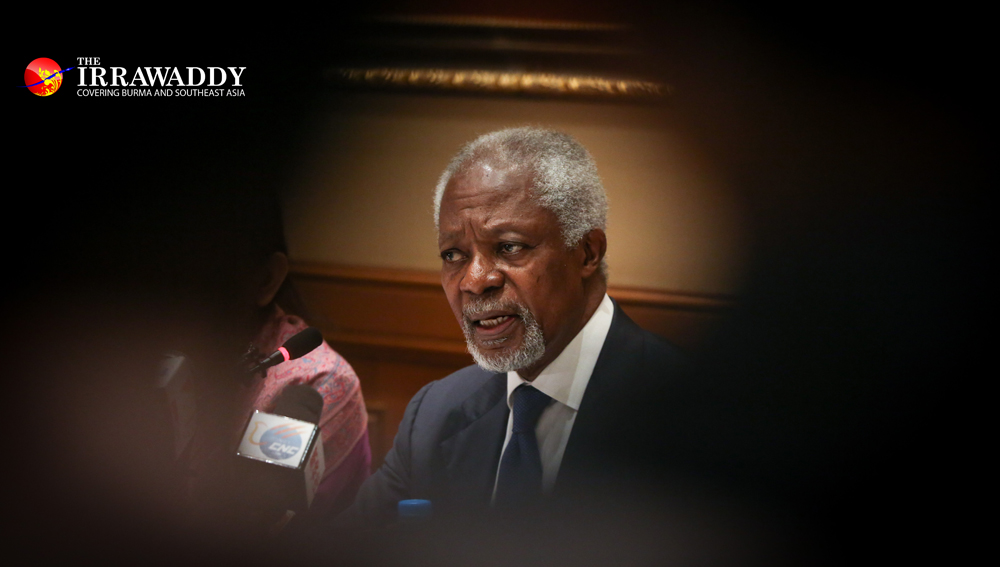 Kofi Annan's job is a tough one. As the chairman of the commission designed to give recommendations for the development of Arakan State, he has faced resistance from local communities, and local political parties have demanded that the commission be cancelled, fearing that the complexity of the issue is too difficult for foreigners on the board to grasp.
Annan was appointed by Daw Aung San Suu Kyi, but not only because he was a former UN Secretary-General or a Nobel laureate. It was most likely because he was an outsider with a good reputation for how he responded to outside (international) pressure on the Rohingya issue, after he witnessed the reality on the ground as the independent commission leader.
After his second tour of Arakan State earlier this month, Annan said that the term "genocide" should be used with caution, becoming the first outsider to make such a remark to international organizations, who consistently point out that the violence inflicted upon Rohingya Muslims in Arakan State amounts to what experts consider the early stages of genocide. The advisory commission will have to submit its recommendations to the government via Daw Aung San Suu Kyi in February. Given the polarization of the issue, no matter how unbiased the recommendations turn out to be, they will surely attract criticism from all sides.
Former Snr-Gen Than Shwe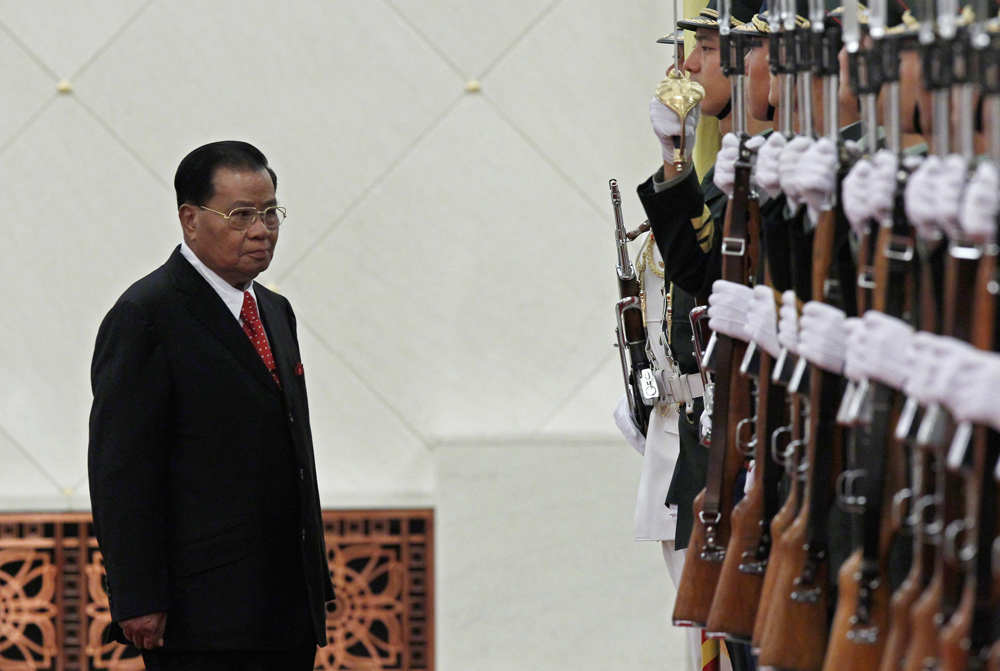 Modern history shows that dictators rarely step down alive. Will Burma's Snr-Gen Than Shwe follow in the footsteps of his international counterparts? People close to him have long suggested that the former Burmese dictator has devoted much of his time to religious matters and reading since his retirement in 2011. However, news reports suggest otherwise. In December of last year, he promised Daw Aung San Suu Kyi that he would support her as best as he could. Three months later, Burma saw an entirely civilian government, led by the Nobel laureate, come to power. In August of this year, the head of the International Liaison Department of the Communist Party of China met with U Than Shwe prior to Daw Aung San Suu Kyi's visit to China. And also last month, ethnic Karen leader Gen Saw Mutu Say Poe paid a visit to the former dictator. His visit coincided with fighting between ethnic armed groups and government troops in northern Shan State. While the reasons behind these meetings were not clear, the timings of the meetings raise questions as to whether the former Snr-Gen is still wielding some political power rather than taking a back seat.
Northern Alliance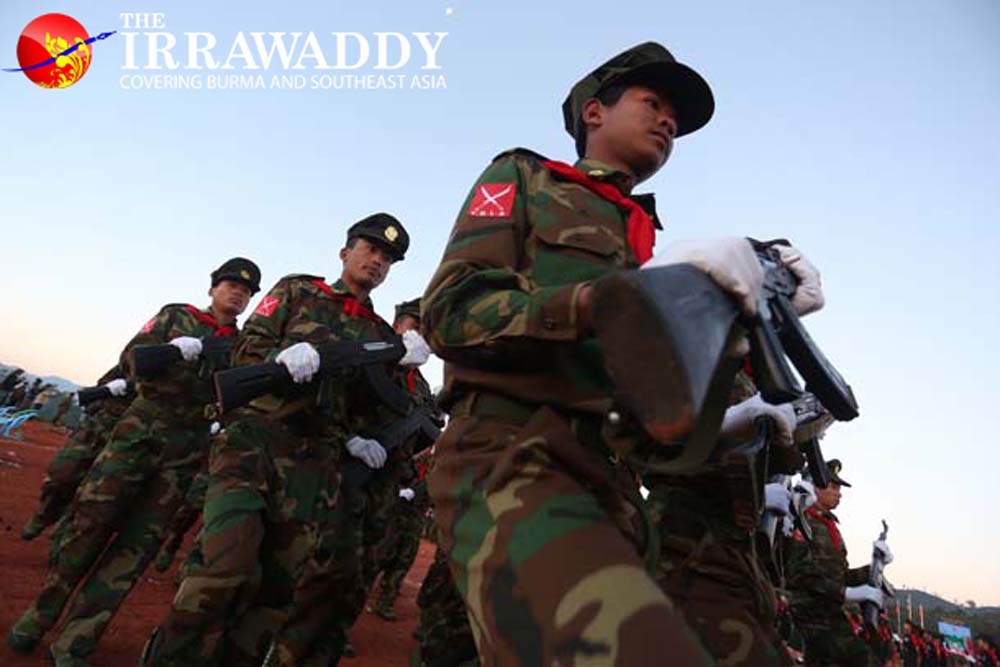 Burma has attempted to have an armed alliance for a long time, but this was the first time that ethnic armed groups have acted as an alliance against the Burma Army in northern Shan State. In particular, the KIA, TNLA, AA, and MNDAA worked together to counter the Burma Army, using the name the Northern Alliance. This fighting has been a huge dilemma for the military. Attacks have affected Muse, Kutkai, and Hseni townships, and ethnic armed groups even seized a town in Mong Ko for two weeks, forcing the Burma Army to use air forces in order to try to regain their base. The attacks forced hundreds of people to flee their homes, ratcheting up the number of internally displaced persons (IDPs) in the area and disrupting trade.
Sports
The Burmese Python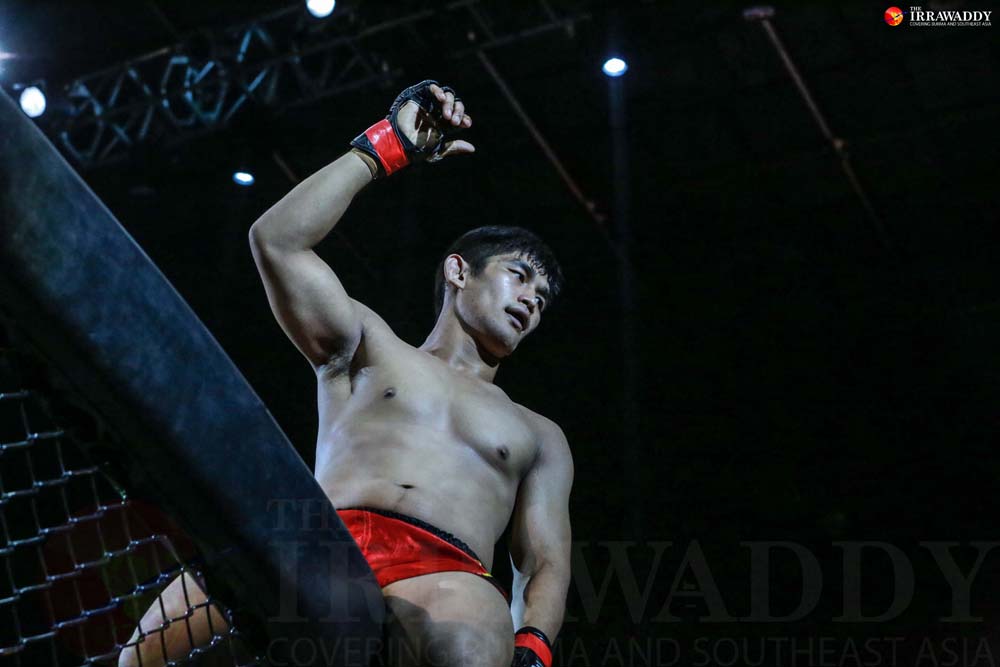 Although his family pegged him as a religious leader because of his softheartedness, Aung La N Sang became a cage fighter. In the mixed martial arts (MMA) world, he is known as the Burmese Python.
Originally from Myitkyina, the capital of Kachin State, Aung La received political asylum in the United States in 2003 and later learned MMA at Maryland's Crazy 88 gym.
Although MMA is one of the world's most violent sports, it is becoming an increasingly popular sport in Burma, partly because of Aung La's two victories at the One Championship in Rangoon this year. He has become one of the most popular faces among Burmese people.
Although a US citizen, Aung La has also said he feels proud to represent Burma in the MMA profession. On his personal website, he wrote that he hopes to open a school in his hometown of Myitkyina one day and that he aims to be the champion of the One Championship.
The Fourth Estate
Esther Htusan, AP reporter and 2016 Pulitzer Prize winner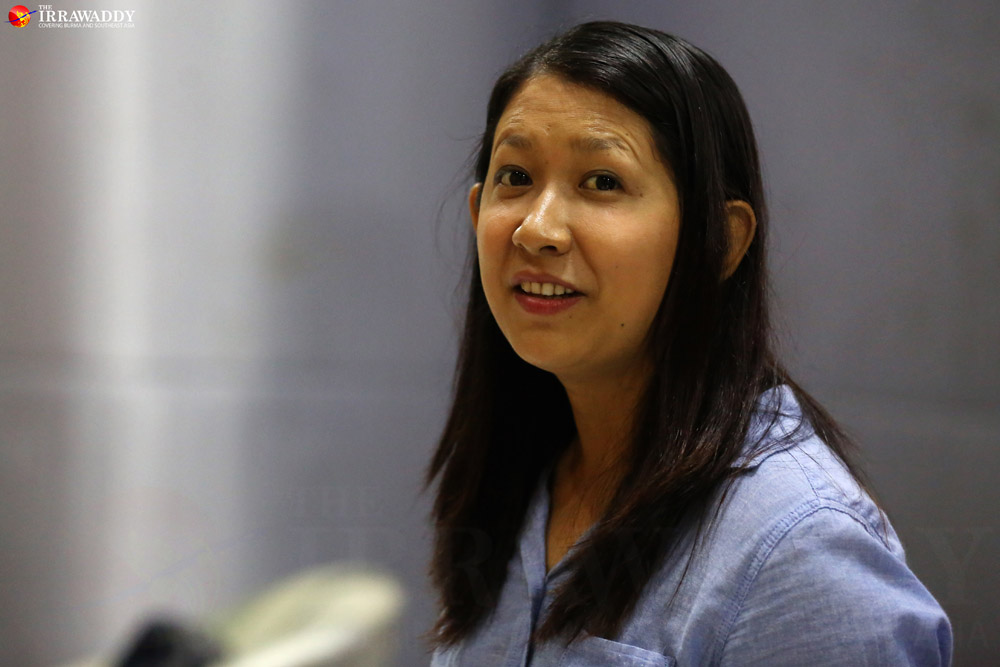 Esther Htusan, an ethnic Kachin, went to Indonesia, where thousands of fishermen from Burma have been forced into slavery and work long hours on fishing boats. They are part of the human trafficking that takes place between Thailand and Indonesia. Esther Htusan spent time socializing with fishermen, only later telling them that she was a reporter looking to cover human trafficking in the area. She traveled by boat between the islands of Indonesia, and also traveled often to Mahachai in Thailand, each time putting her life at risk by doing so. The investigation took up to a year to complete, but Esther Htusan and her team shone a light on a key human rights issue and helped thousands of Burmese fishermen in the process. This group of investigative journalists ultimately earned a Pulitzer Prize for their work.
Swe Win, Chief Correspondent, Myanmar Now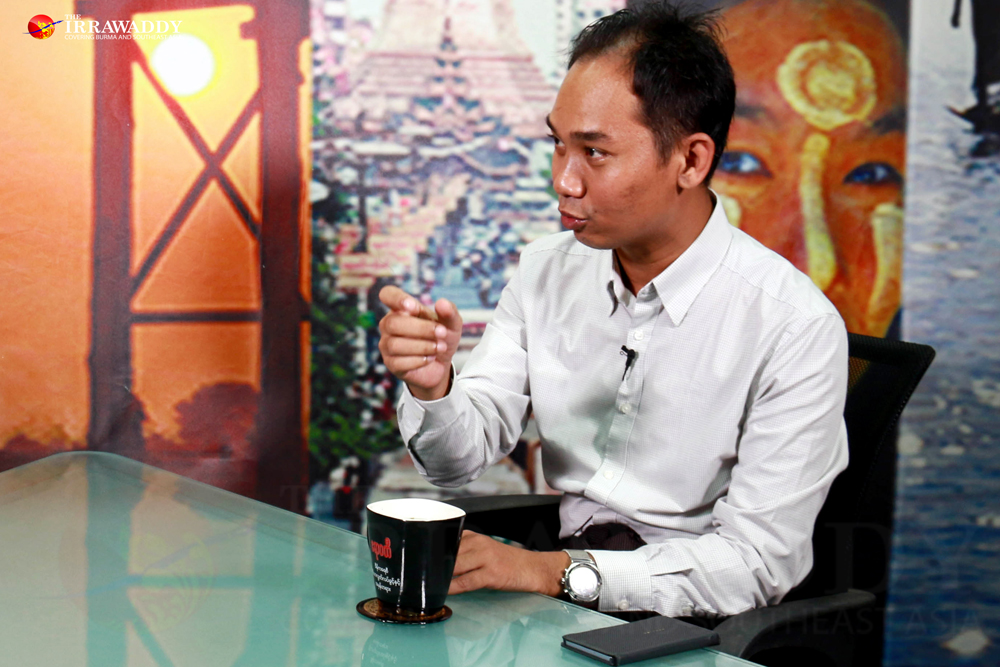 While Swe Win is a journalist, he is also the prosecutor who pressed charges on behalf of two abused underaged housemaids. He saw that two young girls had been physically tortured and told the police that he would not withdraw the charges, even though the family had already paid compensation for the abuse done to the victims. Swe Win persisted because he wanted to bring the perpetrators to court and allow the victims to have justice. Four people were ultimately detained. Parliament discussed this case of human rights abuse and asked some members of the Myanmar Human Rights Commission to resign for poorly handling the case.
Union Cabinet
Before the NLD-led government took office in April, critics questioned the coming administration's capacity to manage national issues. Now, nearly nine months later, the new government has not proved that the critics were entirely wrong.
Many are disappointed with ministers' performance—for instance, Commerce Minister Dr. Than Myint and Planning and Finance Minister U Kyaw Win for the sluggish growth of Burma's economy. Agriculture, Livestock, and Irrigation Minister Dr. Aung Thu has also garnered criticism—on social media this month, he suggested that citizens contribute "tea money," saying, for example, to drink less tea as a means to help the ministry's struggling budget. Nai Thet Lwin, the new ethnic affairs minister, has been labeled one of the least active ministers.
Aside from Daw Aung Suu Kyi as foreign affairs minister, only two of the 19 NLD-controlled ministries have seen little criticism and instead have been praised for their work.
Dr. Win Myat Aye, Minister of Social Welfare, Relief, and Resettlement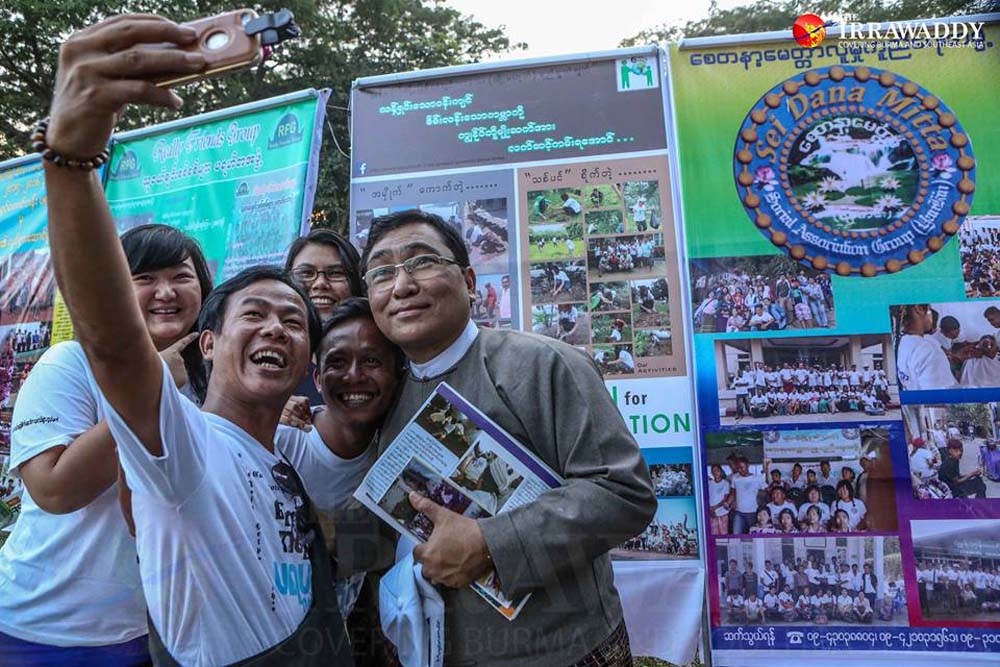 Dr. Win Myat Aye is known for his engagement with civil society and for his quick response to issues facing his ministry. He has a long history in medicine and volunteer work, and he often looks to collaborate with civil society organizations—something rarely done under the previous government—to work together in delivering food and aid to disaster-affected areas. He was key in helping to set up warning, emergency response, and preparation systems.
Dr. Myint Htwe, Minister of Health and Sports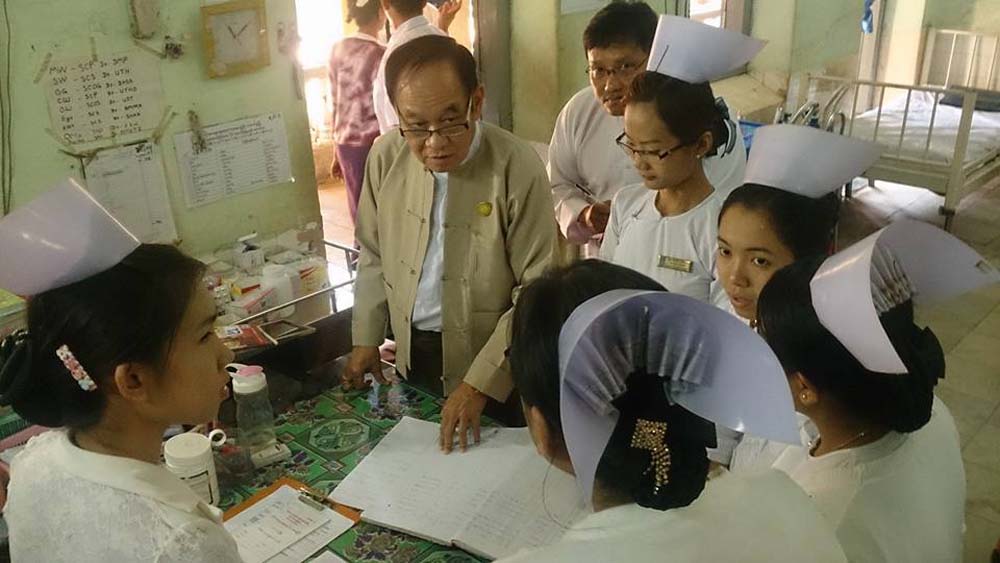 In the medical community, Dr. Myint Htwe is known for his surprise visits to hospitals and clinics, which have resulted in the reinforcement of rules and regulations, including a clampdown on everything from unregistered and illegal pharmaceuticals in local markets to cleanliness.
Sources revealed that the ministry did surprise checks on private hospitals, clinics, and shops even at night and to various regions and divisions, breaking from the tradition of announcing these sorts of visits in advance.
The minister worked in Burma's Ministry of Health for 18 years, joined the World Health Organization (WHO), and obtained a master's and doctorate degree in public health.
Parliament
The Irrawaddy has selected eight outspoken lawmakers from the regional and Union parliaments, highlighting questions, discussions, and proposals from these lawmakers that have gained attention.
U Win Myint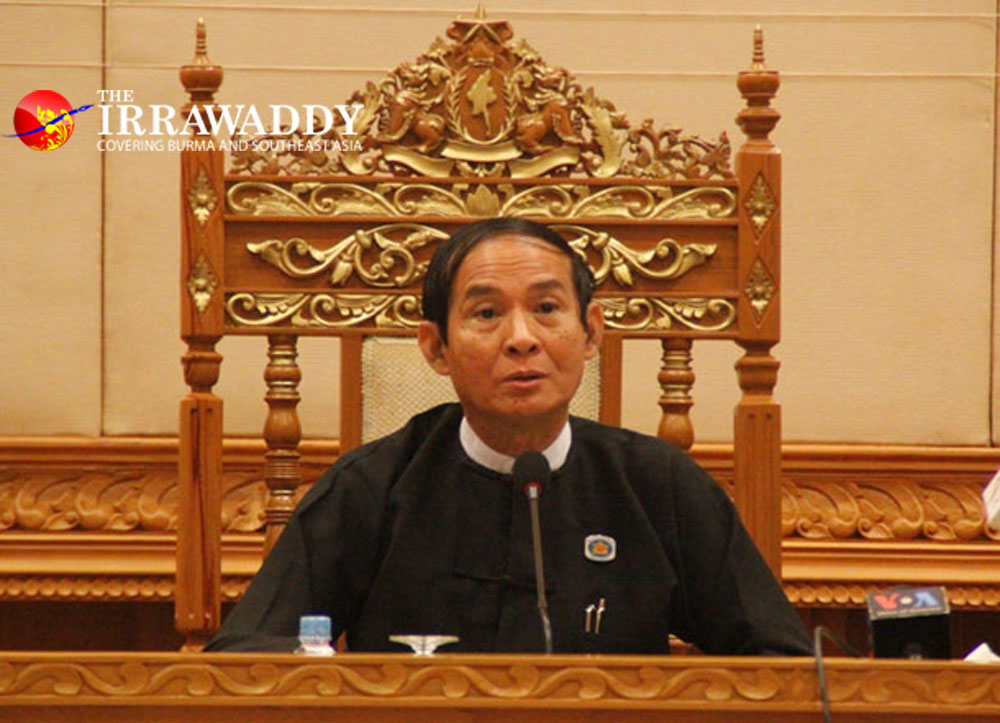 Lower House Speaker and disciplinarian who one time rebuked a lawmaker for wearing a blue mandarin shirt in the house when lawmakers were supposed to wear white. He is very mindful of time, going so far as to cut the microphone if debaters speak excessively.
Htay Win Aung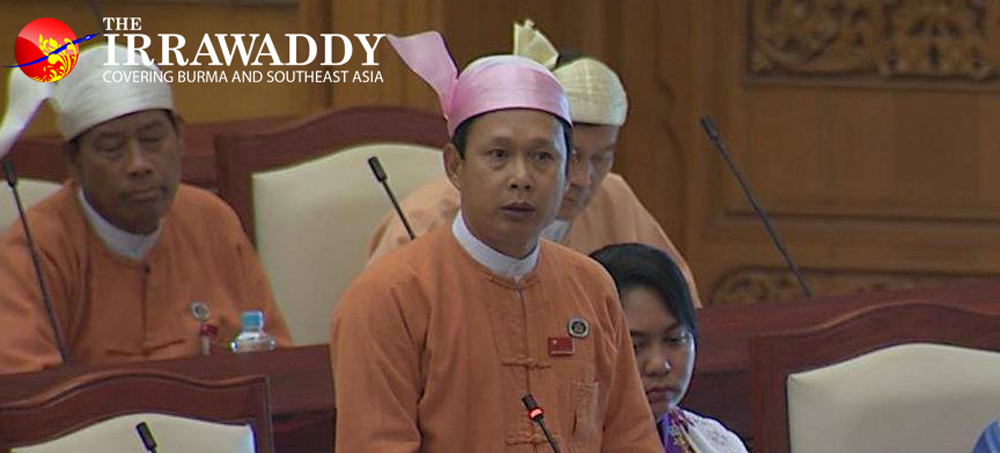 Lower House lawmaker. He submitted a proposal to take action against members of the Myanmar National Human Rights Commission (MNHRC) who acted negligently in the case of the abuse of two underage housemaids in downtown Rangoon. After his proposal, three MNHRC members resigned from the commission.
Daw Pyone Kaythi Naing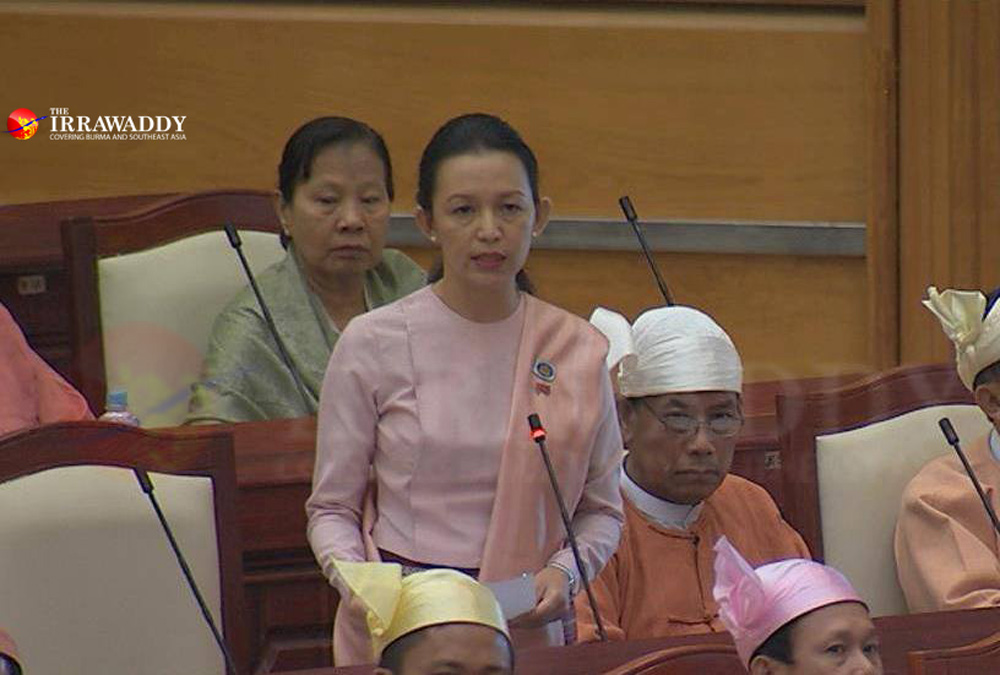 In a Union debate over the urgent proposal of an Arakanese lawmaker—who called for the replacement of three international delegates on the Kofi Annan-led Arakan State Advisory Commission—she gave a comprehensive explanation from the NLD perspective that would include involving credible international representatives in the commission as a way to elicit positive responses from the international community. Her response was considered incredibly sharp among debaters.
Daw Sandar Min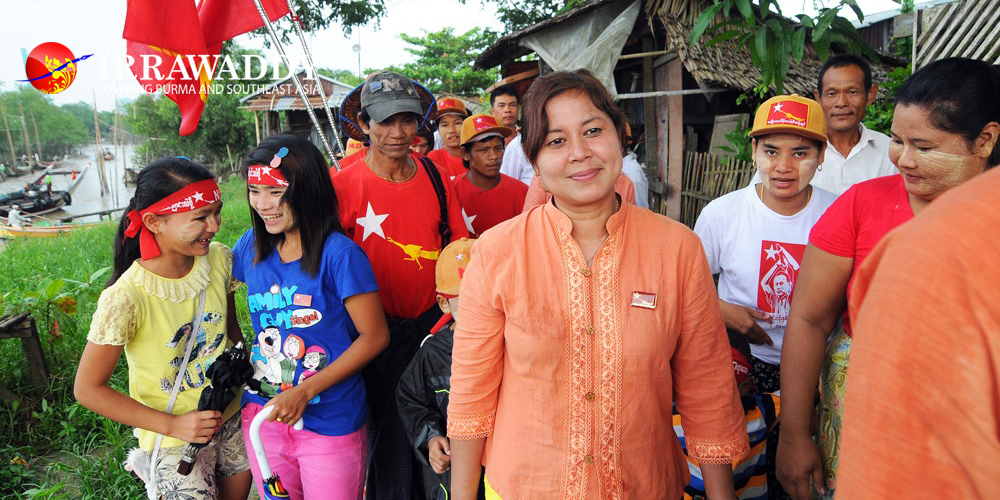 She pointed out the unfairness of the budget allocation of Rangoon cabinet members and criticized the incomplete answers of divisional ministers in Parliament.
U Nay Phone Latt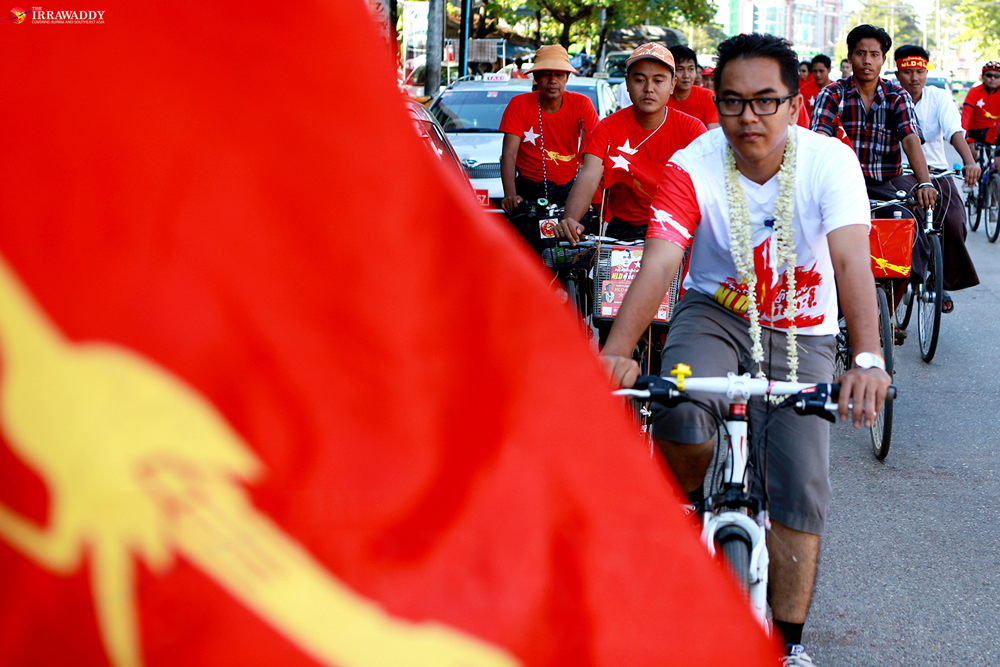 His proposal—the protection of public spaces and the reinstatement of public land to public ownership—was approved in the Rangoon Parliament. Previously, public areas in Rangoon, including parks and football playgrounds, had been leased by authorities to private companies to construct shopping malls, high-rise condominiums, and recreation centers, thereby shrinking public spaces.
Daw Kyi Pyar
A Kyauktada lawmaker who regularly keeps in touch with her constituents, even for minor cases such as renovating roads. She raised awareness among the public regarding an end to recklessly discarding garbage in downtown Rangoon.
U Nyi Nyi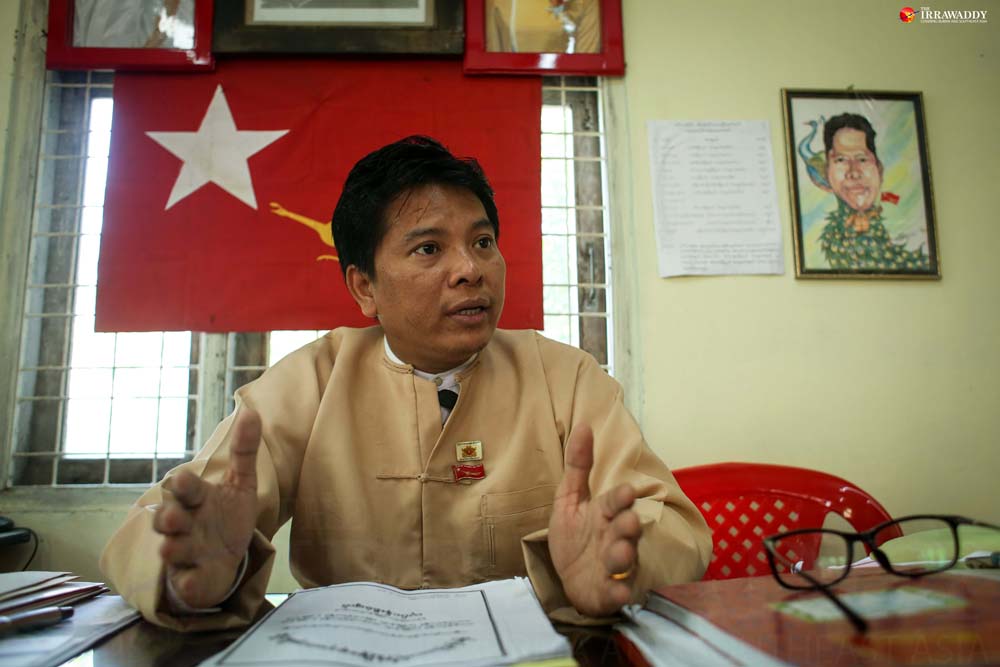 The South Dagon Township regional lawmaker who pushed for justice for Than Than Ei, a young housemaid who had been badly tortured by her employer's family members in North Dagon Township in 2015. The four perpetrators were charged on multiple counts.
Business
Nang Lang Kham,Executive Director, Kanbawza Group of Companies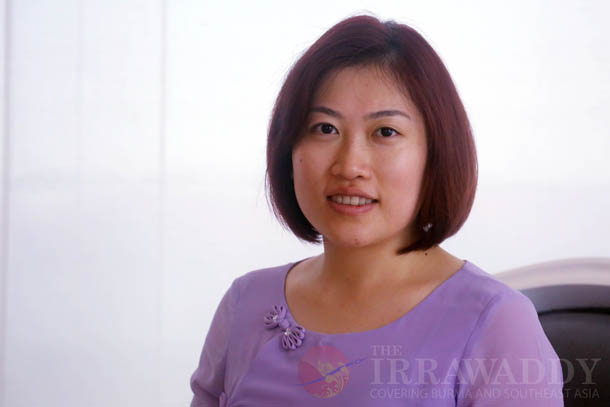 One of the three heiresses of Burma's Kanbawza Conglomerate, Nang Lang Kham may represent an emergence of "new faces" in the country's private business sector leadership. While its peers were struggling to remove their names from the US sanction list, Kanbawza (KBZ) Group of Companies had never been targeted by sanctions. Since 2011, KBZ bank has topped the highest taxpayer list. While her inherited success may not be noteworthy to some critics, Nang Lang Kham, 27, is remarkable for her activism for corporate social responsibility and the work she does through the Brighter Future Myanmar Foundation. The philanthropist branch of KBZ, of which she is the co-founder and chairperson, has been involved in disaster relief, women's empowerment, and community development—engaging in projects like drilling wells in drought-hit villages in the Shan highlands since 2008. In 2016, Nang Lang Kham was named by Forbes Asia as one of a dozen women to watch.
Daw Win Win Tint,Managing Director, City Mart Holdings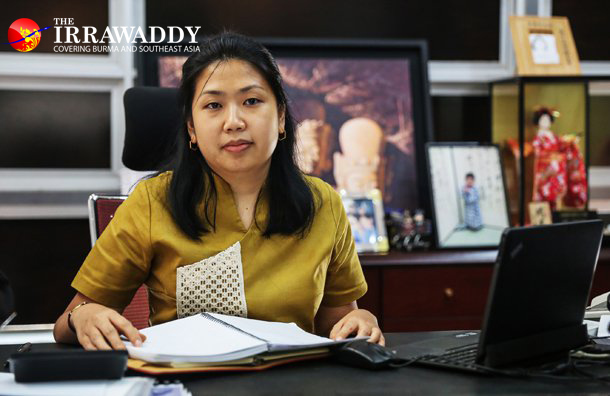 Daw Win Win Tint has managed to expand a family supermarket into one of Burma's leading retail chains with more than a dozen City Mart outlets in major cities across the country since its entry in 1996. Apart from City Mart, she is also behind Ocean Super Center and many other retail stores. In 2015, she was on Forbes Magazine's 50 Power Businesswomen in Asia list, becoming the first Burmese businesswoman to make the cut. City Mart Holdings won an Asean Business Award this year under the young entrepreneur category.
Dr. Khin Maung Lwin,Founder and Managing Director, Fame Pharmaceuticals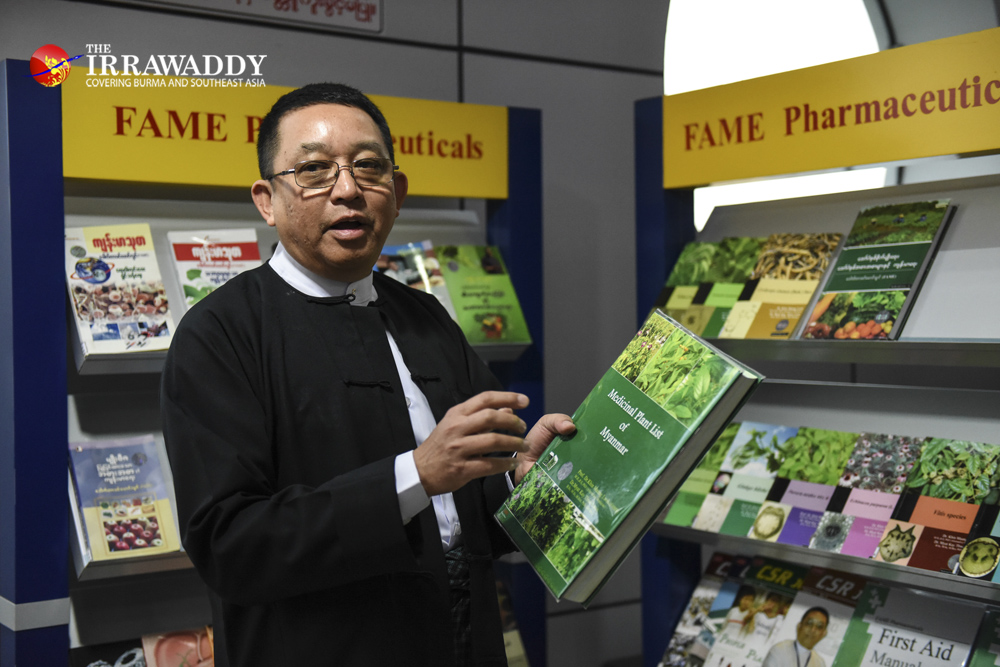 Known for alternative medicine, Dr. Khin Maung Lwin of Fame Pharmaceuticals is a pioneer in the field of organic medicine in Burma, where imported foreign medicine and traditional medicine have long been popular. Founding its own farm in 2003, Fame produces its products mainly from the ingredients on its land, and is the only company producing organic medicine in Burma. The former medical doctor writes books to promote the benefits of organic farms and makes appearances on TV talk shows and at universities. Fame was among the winners of the Asean Business Awards this year for corporate social responsibility.
Popular Public Figure
U Tun Lwin,The People's Weatherman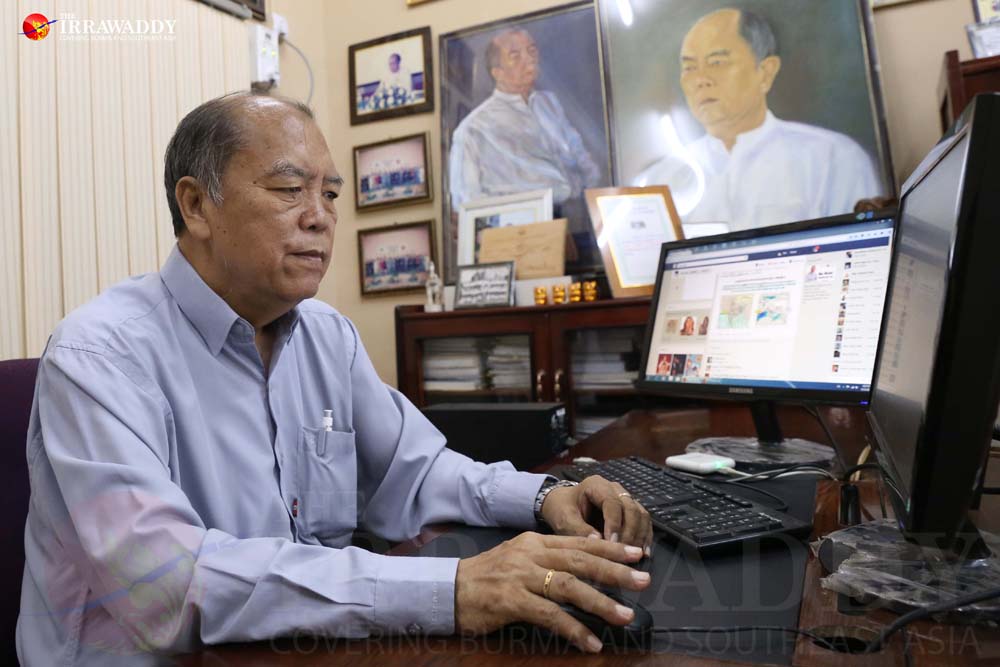 U Tun Lwin, 68, is a dedicated meteorologist and well-respected weatherman who spent more than four decades working at Burma's Department of Meteorology and Hydrology until 2009 when he retired from the position of director-general. After retirement, he began running a private non-profit organization called Myanmar Climate Change Watch and continually updates the public on weather updates via social media.
Because of his outstanding dedication to the public interest throughout his government service and into retirement, his Facebook page has become a go-to place for Burmese netizens and media whenever there are weather and climate-related occurrences. In late October, his information about Cyclone Kyant was more accurate and up to date than reports from official government sources.
Activists
Aung Myo Min, Human Rights Activist and Director of Equality Myanmar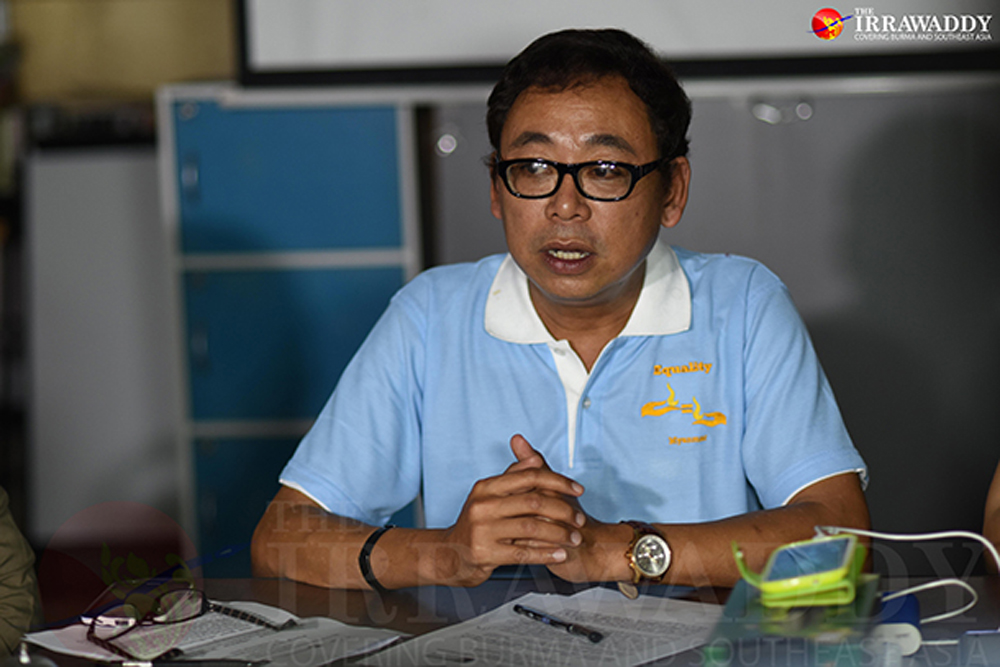 As a dedicated human rights activist, U Aung Myo Min is one of the foremost civil society leaders in Burma.
In 2012, he started Equality Myanmar, advocating for human rights across the country. He led the Human Rights Education Institution Burma (HREIB), which was established in Thailand in 2000. He trained active civil society members in human rights education and promoted international advocacy against the previous military regime's human rights violations.
In 2013, he was able to return to Burma after having lived in exile for 24 years. Working inside the changing country, Aung Myo Min said, "We need to develop trust regarding human rights and work together. It is a necessity," he said, highlighting that the country still needed to develop the mindset that working collectively for the good of society was necessary.
His colleague May Sabe Phyu regarded him as "a king of moderating," who was friendly, responsible, and always there for others. His commitment to human rights development goes above and beyond, she said.
He urged the public to stand up for the human rights of others, and not to wait until those rights were violated. "We have to focus on advocacy on the national level in order to raise awareness and fight against the individual abuses such as child rapes cases," he added.
Aung Myo Min is openly gay—which is seen as taboo in Burmese culture—and urges others to treat LGBT people equally. "LGBTs are human beings like others, who want to be treated with dignity and see their human rights protected."
His work has been captured in the documentary This Kind of Love, which follows him as he returns home from exile. He has received seven international awards recognizing his dedication to human rights and was nominated for the United Nation's N-Peace Award in 2016.
Hla Hla Yee,Co-founder & Director of Legal Clinic Myanmar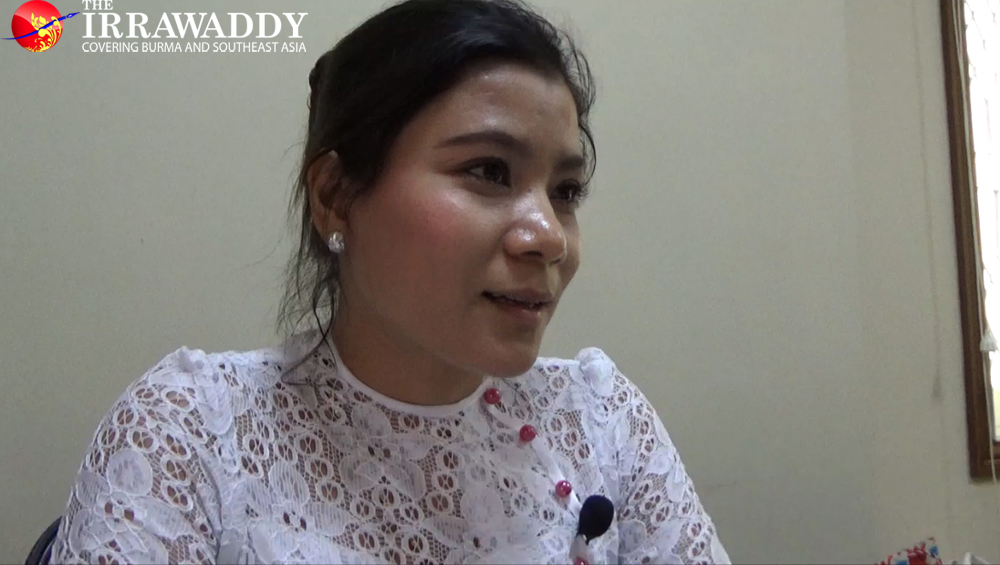 In recent months, Rangoon and many other cities in Burma have encountered a shocking number of rape cases in which many of the victims were under 10 years of age.
There were 461 child rape cases this year as of September according to police records, significantly higher than in previous years. This made up 61 percent of all reported rapes in 2016, while last year it was 46 percent.
Though several high-profile child sex abuse cases have been spotlighted, many of the survivors of rape and their families are in dire need of help to access justice, medical care and social support.
A co-founder and director of Legal Clinic Myanmar Ma Hla Hla Yee said, "Rapists are targeting children more because they are more malleable physically and mentally."
In 2016, the group received nearly 30 rape cases and in all of the cases the victims were minors.
An Arakanese woman lawyer, Ma Hla Hla Yee and her Legal Clinic Myanmar team have lent a hand to vulnerable groups, especially women and children.
The group has provided free legal aid services, counseling, a 24/7 legal consultation hotline and legal awareness training since 2011. The organization has offices in Rangoon, Irrawaddy, Mandalay, Kachin, Arakan and Mon.
It has provided legal advice and negotiated in 454 cases and lodged complaints regarding 186 cases in Rangoon between 2014-16, including sexual abuse and domestic abuse cases.
Ma Hla Hla Yee has also called for harsher penalties against rapists and a law to protect women as soon as possible. She has been involved in drafting a law to prevent violence against women.
Burma has no specific law to prevent violence against women and the long-awaited bill is expected to be brought to Parliament in early 2017.
Dr. Cynthia Maung,Mae Tao Clinic Founder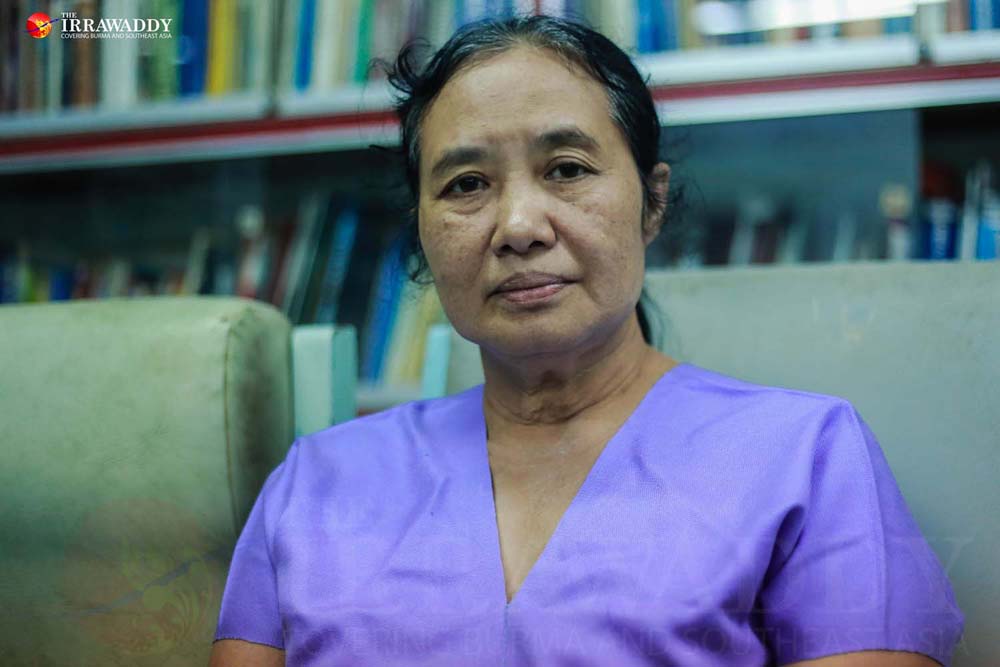 Known as the Mother Teresa of Burma, Dr. Cynthia Maung is an unquestionable tower of strength for the poor on the Burma-Thai border, Burmese migrant workers in Mae Sot, and ethnic minorities displaced by war.
In the aftermath of the 1988 pro-democracy demonstrations, Dr. Cynthia Maung left Karen State and opened her clinic in a dirt-floor building on the Thai-Burma border. Today the Mae Tao Clinic she founded boasts a staff of 700 and sees more than 300 patients each month, with issues ranging from landmine injuries to childbirth to HIV counseling.
Today, Dr. Cynthia, as she is widely known, is a strong advocate for decentralized and community-based healthcare in Burma's ethnic states.
The Karen ethnic woman has also built basic education schools that now provide free schooling to thousands of students—mainly the children of Burmese migrant workers. Some of the students have gone on to study at Thai universities.
For her actions, she was awarded the AidEx Humanitarian Hero of the Year Award in 2016—her 25th award.