Hundreds more Thais working in a casino in Myawaddy, Karen State, are expected to arrive in Thailand, as coronavirus infections among those crossing the border continue to rise.
Late last week, 17 of about 40 Thais returning to Mae Sot, Thailand tested positive for the coronavirus. They were sent to Mae Sot Hospital for treatment. They told Thai officials they worked at the Sky Complex casino, just across the Moei River, which separates Mae Sot and Myawaddy.
Opas Kankawinpong, director-general of Thailand's Disease Control Department, said, "We have estimated hundreds of Thais are stuck there. We don't know how many of them have been infected," according to The Bangkok Post.
There are a number of illegal casinos operating in Myawaddy, some of which are owned by Karen rebels, Chinese investors and Thais.
Thai officials estimate that around 300 local and Thai staff work at the Sky Complex casino. Myawaddy is home to several other casinos, but the latest group of returnees all worked at the Sky Complex, which is owned by Chinese nationals residing in Cambodia, according to Karen sources in Myawaddy.
Last month, Myanmar sent more police and military forces to Myawaddy to shut down the casinos there, but it is believed that many are still operating.
Many Thais and Chinese, and some foreigners from elsewhere, travel to Myawaddy to work and gamble at casinos.
The Myanmar government has imposed a "strict" lockdown in the town, but several casinos there remained open recently, and gamblers continue to flock in through illegal routes.
Earlier, as many as 2,000 Chinese punters were said to reside in Myawaddy Township's new gambling hub, Shwe Kokko, a controversial China-backed project located about 16 km north of Myawaddy and controlled by the Democratic Karen Buddhist Army (DKBA). The Karen armed group is part of the Border Guard Force (BGF), which is under the ultimate control of the Myanmar military.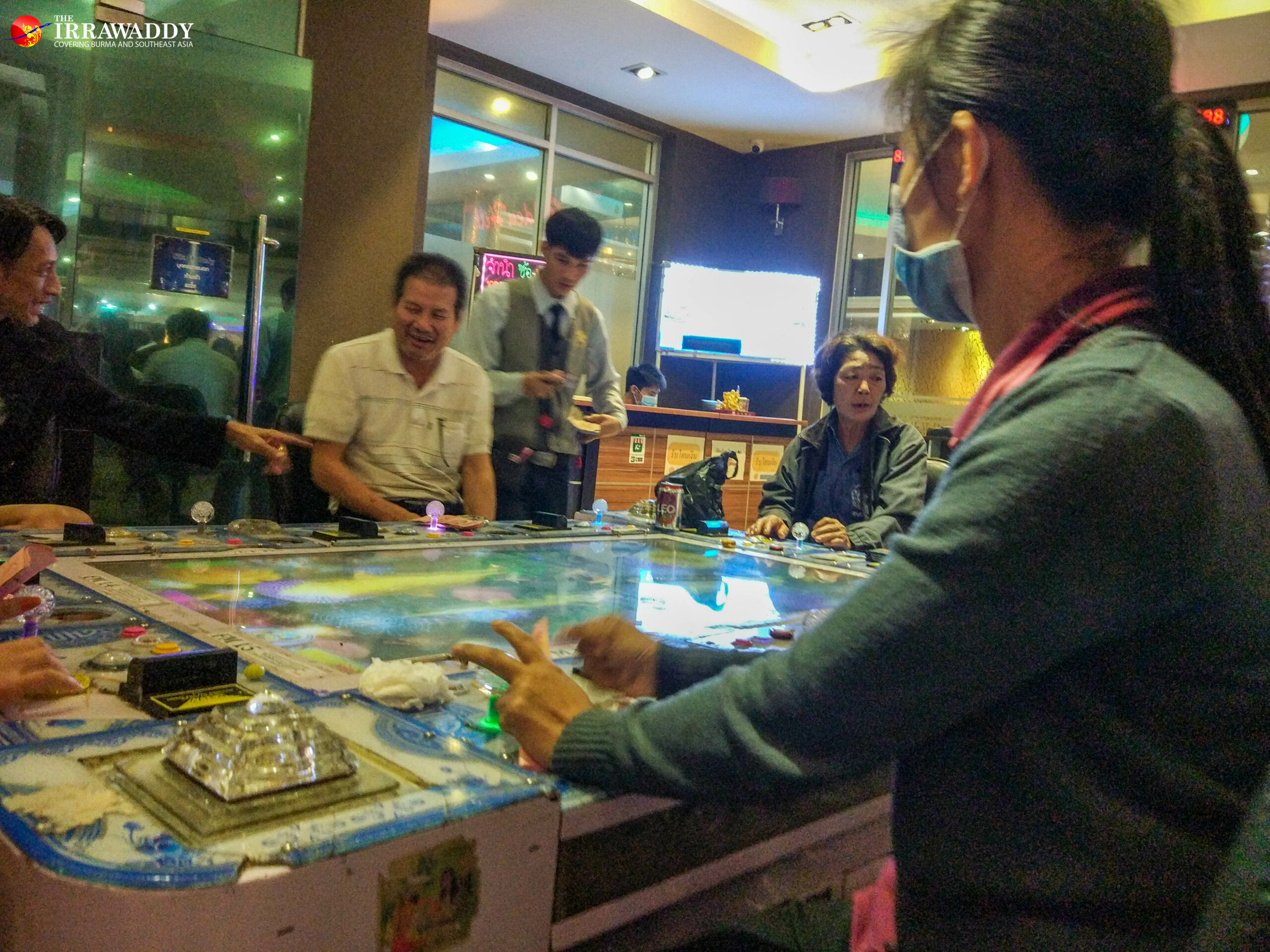 Last week, a Myanmar government spokesman put the number of Chinese remaining in Shwe Kokko at over 1,000.
When Myanmar's COVID-19 situation worsened a few months ago, many Chinese sneaked into Thailand. Some evaded border forces while others paid handsome sums to the Myanmar and Thai officials, as well as Karen insurgents, who control various parts of the border. Some Chinese have even been seen wearing Myanmar or Karen outfits as they sneak into Thailand.
Since December, news of low- and high-end casinos operating in border towns in Myanmar and the spread of the coronavirus in the country have featured prominently in Thai news.
In December in Mae Sai, Thailand's northernmost border town, several Thai returnees from entertainment venues across the border in Tachileik, Shan State, were confirmed to be infected with the coronavirus, prompting the Thai military to beef up security along the frontier.
Many young Thai women illegally enter Myanmar to work in entertainment complexes and bars in Tachileik. One hotel and entertainment complex there, the 1G1-7 Hotel, has been identified as a COVID-19 hotspot, with more than 10 Thai women and tourists testing positive for COVID-19 upon returning home from the venue.
In June last year, a joint task force consisting of Myanmar military and police personnel raided an illegal casino on the border in Myawaddy and arrested four Chinese gamblers and 14 citizens from Myanmar.
In October, Thai police arrested three Chinese who crossed the border illegally after leaving Shwe Kokko. At the time of their arrests, the trio had 8 million Thai baht (over US$255,000 or 328 million kyats) on them.
Myanmar military spokesman Major General Zaw Min Tun told The Irrawaddy that local armed groups are involved in operating the casinos. Shwe Kokko is in a BGF-controlled area.
You may also like these stories:
Myanmar's Migrants Face Discrimination Amid Surging COVID-19 in Thailand
Myanmar Orders 30 Million COVID-19 Vaccine Doses From India
Myanmar Authorities Detain Scores of Rohingya, Human Traffickers in Multiple Raids