YANGON—Myanmar's Kanbawza Bank (KBZ) and its affiliated companies have been at the forefront of the country's fight against COVID-19, contributing a whopping 7.4 billion kyats (US$5.7 million) as of Sunday, with its latest assistance going to build a 500-bed temporary hospital in coronavirus-hit Yangon.
Calling the situation a "national crisis", senior managing director U Nyo Myint vowed that the group would continue its support not only for measures to contain the coronavirus, but also for acquiring vaccines.
"It is a national crisis. At this critical time, facing a life-threatening disease that could devastate the country, we are committed to supporting [Myanmar] to the best of our ability and donating more than we ever have before," he said.
Because Myanmar lacks sufficient health and social welfare resources, donations and assistance from well wishers, either individually or institutionally, across the country have played a major role in efforts at disease prevention, control and treatment.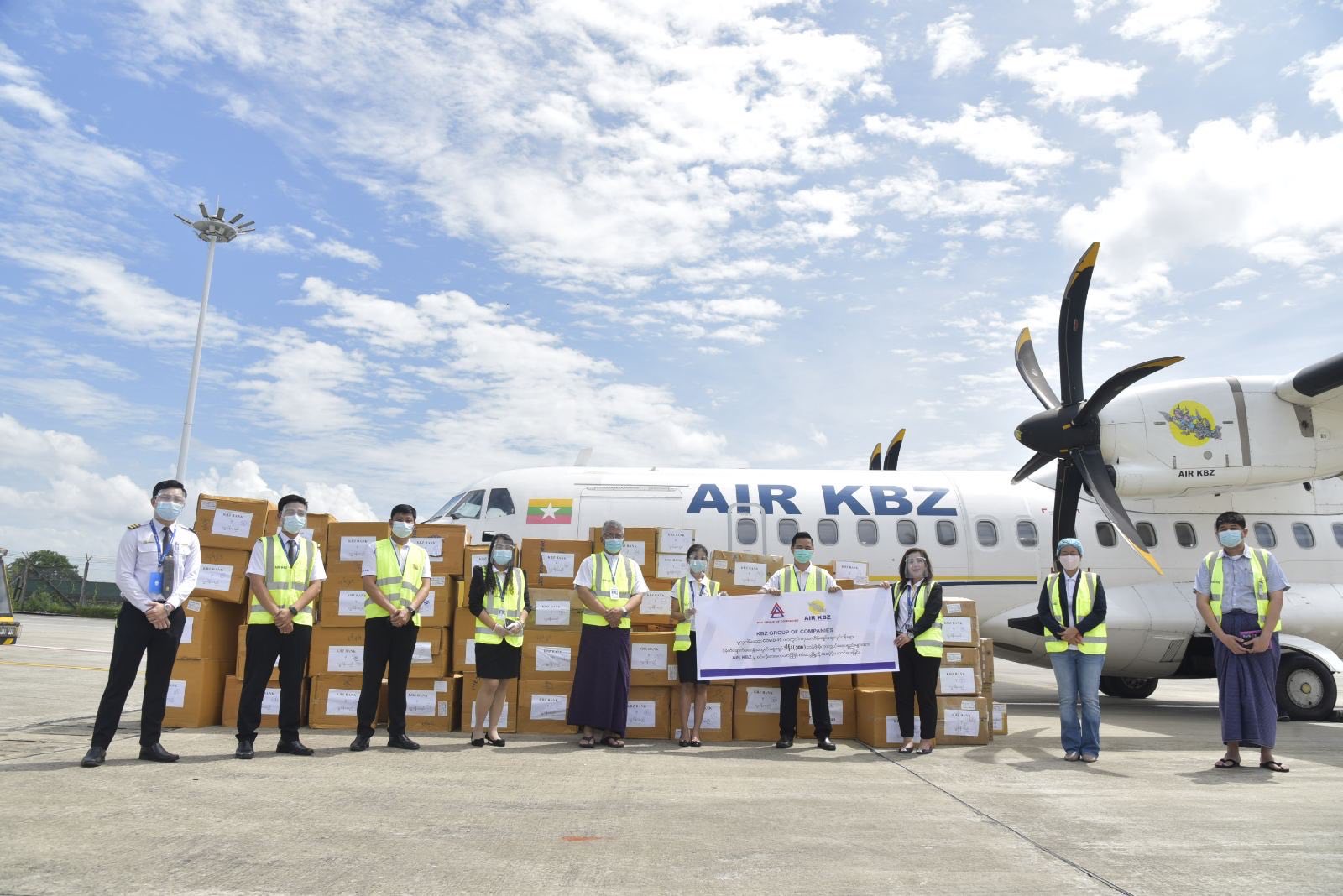 Since COVID-19 hit Myanmar in March, State Counselor Daw Aung San Suu Kyi has urged members of the public to contribute what they can to help tackle the crisis. Following her request, citizens both at home and abroad have poured in cash donations. Many companies in the country have also made contributions by donating cash, food, medical supplies and personal protective gear to the government.
Yet, among business groups in the country, few have contributed as much to the pandemic response as KBZ bank and its affiliated companies, which are active in mining, banking, aviation, hospitality and other areas. Starting even before COVID-19 actually reached Myanmar, they have been in alert mode, raising 100 million kyats so far for pandemic prevention measures.
When health workers voiced concern at the lack of personal protective gear just as the country was reporting its first COVID-19 cases in late March, KBZ airlifted $1 million worth of hospital supplies, including personal protective equipment (PPE), surgical masks and other items from China and handed them over to the government to fulfill the urgent public health need.
It turned out to be the first in a series of contributions to Myanmar's fight against the outbreak, which seems unlikely to end until an internationally approved vaccine is developed.
During the country's first 10-day lockdown in April, they handed out food packages and cash aid to the poor affected by the disease, while contributing 500 million kyats ($384,000) to the government to set up COVID-19 billboards and posters to raise public awareness across the country. It spent 50 million kyats on a stress release program for those under quarantine and to cover phone bills for volunteers, and their Air MAI airlifted more than 700 Myanmar citizens who were stranded overseas and arranged essential cargo deliveries.
Amid the fight against COVID-19, the country's de facto leader Daw Aung San Suu Kyi has held occasional videoconferences via Facebook Live with those working on the frontlines to learn about and discuss the situation on the ground. During a videoconference on April 30, Deputy Director General (Lab) of the National Health Laboratory Dr. Htay Htay Tin told Daw Aung San Suu Kyi that due to the city's frequent power blackouts, the laboratory needed a power generator for its COVID-19 testing machine, and for its freezers, which store test samples. Given the important role of the lab—it was the only one in the country at the time that could test for the coronavirus—KBZ immediately donated a generator worth 125 million kyats ($96,000) to the lab in Yangon.
"We have been able to respond quickly after learning the requirements through the (video)conferences," U Nyo Myint said, adding that information obtained via the conferences led to the group providing cash and food to needy quarantine centers in Rakhine, Chin and Kayah states.
Then came the second wave.
Until mid-August, Myanmar seemed to have COVID-19 under control, with only occasional new cases being reported and no local transmissions at all for a one-month period.
Since Aug. 16, however, the country has been in the grip of a resurgence of COVID-19. Between Aug. 16 and Oct. 4 the number of cases jumped from 374 to 17,794, including 412 deaths.
To fill the need for beds for the rapidly rising number of new patients, and quarantine space for those who have come into contact with them, especially in Yangon—the outbreak's epicenter—temporary hospitals are being prepared in a rush.
One such facility now under construction is the Inya Lake COVID Center at the Yangon Convention Center in Mayangone Township. Alongside contributions from other donors, the largest share of the cost of the center, which will house 500 COVID-19 patients, was covered by KBZ, which put in 700 million kyats ($538,000).
Ko Zaw Ye Naung, a KBZ representative on the center's work-implementing committee, said the facility will offer free meals and medication for patients. He added that accommodation and a 24-hour food court will also be provided for doctors, nurses, health workers and volunteers at the center, which is due to be complete on Friday.
During the second wave of the COVID-19 outbreak, conflict-torn Rakhine State in western Myanmar has also been badly hit, with many townships seeing a surge in locally transmitted cases. The state has the second-largest number of COVID-19 cases after Yangon.
Ko Lu Aye from We Love Rakhine, a charity organization based in the Rakhine State capital, Sittwe, said donations from organizations like KBZ, philanthropic foundations and individuals have played a vital role in meeting the need for food and medical supplies in the state.
"I really grateful for their donations," he told The Irrawaddy, adding that with COVID-19 travel restrictions and stay-at-home orders having been in place for one-and-a-half months in the state, basic food support is badly needed in many townships.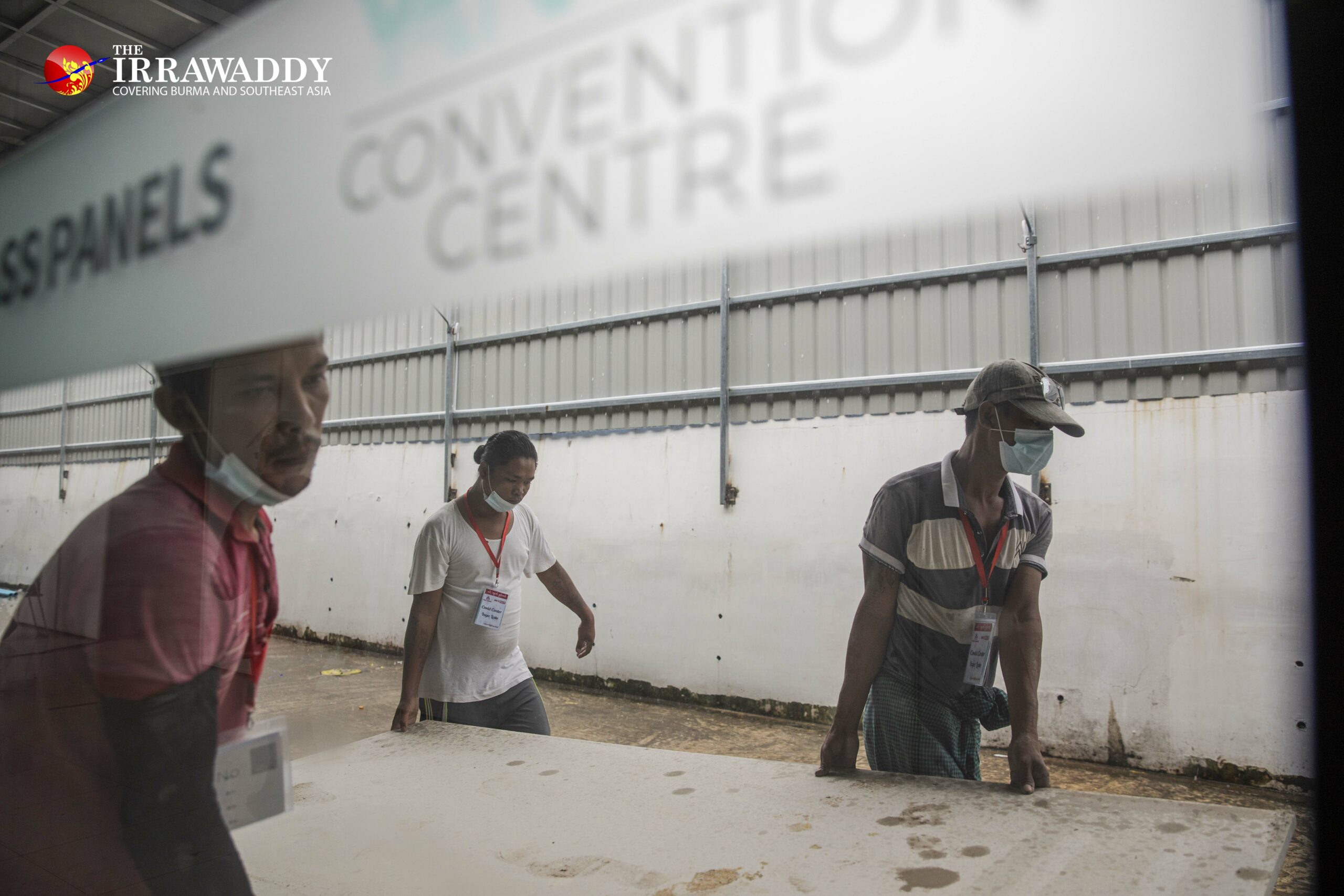 KBZ's U Nyo Myint said the group would donate cash and medical supplies to five more townships in Rakhine State this week, following its donations to the state's five worst-affected townships last week.
While the pandemic has brought with it an economic storm, which continues to impact workers and businesses, it has also brought a chance for business enterprises to show a compassionate side as they help the country fight the disease.
"Now is not the time to worry about the future, whether business will be good or whether we will we get the same benefits and save for [future activities]. We can do business as long as our economy is stable and our people are healthy," U Nyo Myint said.
This is why the group has been on the frontline in making donations to support the battle against COVID-19, he said.
"We don't know how long COVID-19 will last. A vaccine will be pivotal to bring the disease under control," he added.
Daw Aung San Suu Kyi told the public late last month that plans are underway to make a vaccine available to the public as soon as one is developed, and approved by the WHO.
U Nyo Myint said it will be important to get everyone vaccinated as soon as a vaccine becomes available.
"The government will try its best to make it available to all. We at KBZ will support [that effort] as much as we can."
You may also like these stories:
In Myanmar, Concerns That China's Help on COVID-19 Comes With Strings Attached
How Will Candidates Reach Myanmar Voters Amid COVID-19 Restrictions?
Myanmar's Suu Kyi Cancels First Campaign Trip as Health Minister Intervenes Over COVID-19 Concerns