The detection of six COVID-19 cases among people returning illegally to Myanmar's Rakhine State from coronavirus-hit Cox's Bazar in neighboring Bangladesh has raised concerns that the deadly virus could spread unchecked if there are unreported cases among undocumented returnees.
As of Monday morning, Myanmar's coronavirus tally stood at 262 cases with six deaths since the first positive patient was reported in late March.
Five of the six COVID-19 patients—four Rohingya and one Hindu—are returnees from Cox's Bazar, which had 1,301 confirmed COVID-19 cases as of June 13. Only the latest patient, a Rohingya whose positive status was reported on Monday, was not from the camps. The cases were reported in the border townships of Buthidaung and Maungdaw in Myanmar's Rakhine State, which borders Bangladesh, over a 12-day period from June 4-15.
All six patients are now being treated at local hospitals, and are in stable condition, according to a government statement.
Looking beyond the detection of positive cases among returnees, however, a grim possibility emerges.
According to local lawmakers, health officials, district administrators and residents, those who have recently returned from Bangladesh did not undergo mandatory health checks and quarantines, as official repatriation centers on the Myanmar side have been closed since the country's first COVID-19 case was reported in late March.
More than 700,000 Rohingya people and some Hindus fled to neighboring Bangladesh in late 2017 during the Myanmar military's clearance operations in the area following attacks by the Arakan Rohingya Salvation Army (ARSA) on government security outposts in northern Rakhine. Those who fled took shelter in sprawling refugee camps in Cox's Bazar.
In 2018, the Myanmar government, in accordance with an agreement reached with the Bangladeshi government on the repatriation of Rohingya, opened two reception centers—one in Taungpyo Letwei for those returning over the land border, and one in Nga Khura for those returning by boat. However, following the arrival of the coronavirus in the country in March, Myanmar closed its border entry checkpoints and suspended the repatriation process, so any border crossings since then have been illegal.
Despite the border closure, more than 80 people illegally entered Maungdaw from refugee camps in Cox's Bazar from late March to June 5, according to Maungdaw District Administrative Official U Soe Aung.
Adding to the concerns of the government and local people, the returnees went straight back to their villages, and were not quarantined or tested for the coronavirus until other neighbors or village heads noticed their arrival and informed health authorities. By that time, they had already spent at least one or two days in their homes, raising concerns that those who later tested positive had spread the deadly virus.
The potential consequences are even more severe in cases where the arrival of returnees has gone unnoticed or unreported.
The seriousness of the situation became more apparent when the Myanmar government's top committee tasked with controlling the spread of the disease warned on May 10 that there have been cases where people have entered at border crossings that do not have official reception centers. It said this not only hampered efforts to prevent, control and treat COVID-19, but actually contributed to the spread of the disease.
"If anyone enters Myanmar through any unauthorized entry point from a foreign country, and if such person has been accepted with the knowledge that such person has entered the country illegally, it is hereby notified that legal action would be taken in accordance with prevailing laws," reads a statement issued by the COVID-19 Prevention, Control and Treatment Committee.
The warning was echoed by the country's State Counselor, Daw Aung San Suu Kyi, who said in an announcement on her Facebook on Saturday that, "those who come into the country illegally, those who receive them knowingly, and those who cover up will be dealt with strictly and severely according to the law."
Local concerns
Maungdaw District Administrative Official U Soe Aung told The Irrawaddy that all of the more than 80 people who entered Myanmar from Bangladesh between late March and June 5 were quarantined. He said, however, that it was not possible to perform swab tests on all of them, so only those who showed COVID-19 symptoms were tested. All tested negative.
However, according to the administrator, since May 31 swab tests have been conducted on everyone at quarantine centers. Among these, a Rohingya man tested positive on June 4. By that time some returnees had gone home after completing their 21-day quarantines. Over the next two weeks through June 15, five more cases were reported among returnees.
According to Dr. Soe Win Paing, the deputy director of the Rakhine State Public Health Department, the five cases from June 4 to June 11 had a total of 142 close contacts, all of whom tested negative.
"For the latest case on Monday [June 15], 19 contacts so far have been detected, and they are now quarantined," he told The Irrawaddy on the same day.
However, the detection of coronavirus-positive patients in Maungdaw and Buthidaung has locals worried, with some even calling for full lockdowns, because those who tested positive for COVID-19 crossed the border on their own and initially stayed with relatives before being sent to quarantine.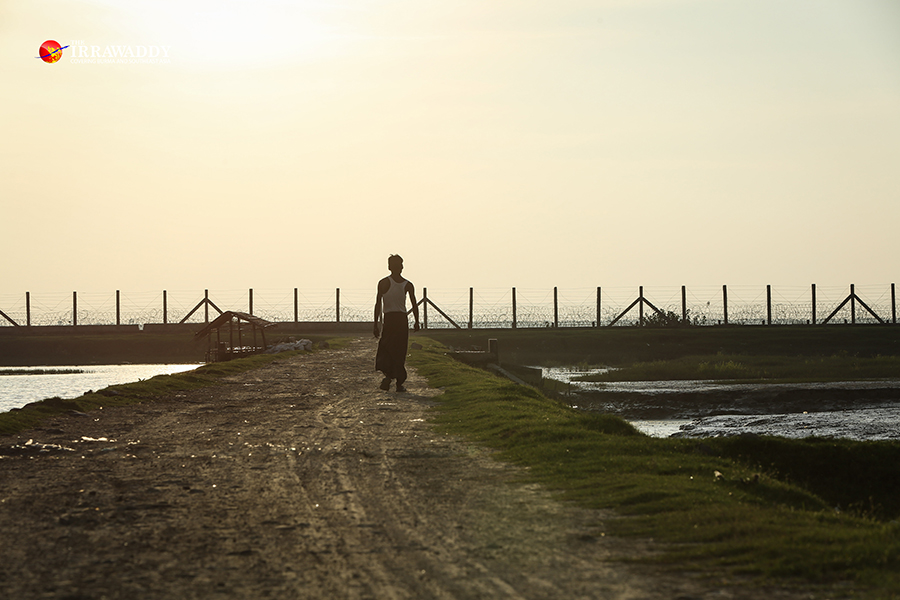 "We are seriously concerned for our towns, as Maungdaw and Buthidaung are very close, and now we have the first COVID-19 case in Buthidaung," said U Oung Thaung Shwe, the Lower House lawmaker for Buthidaung Township.
The government needed to step in and strictly control the situation, he told The Irrawaddy on Friday, adding that "the authorities should have placed a lockdown order on Maungdaw when the first case was reported last week. Preventative measures should be introduced at the earliest."
The lawmaker stressed that the COVID-19 patient in Buthidaung is among eight quarantined, but there could be dozens of others in the community whose arrival has not been reported to health officials.
U Kyaw Thet Naing, a secretary of the Maungdaw Township Karuna social organization, said residents were alarmed by the jump in the number of positive cases last week.
"Some of those who tested positive traveled to various villages before being placed under quarantine. If it becomes widespread, not only one race, but the whole population of the township is in danger," he said.
As a local who frequently visits Muslim communities in Maungdaw, U Tun Myint Oo said public awareness about COVID-19 was lacking in Muslim villages, where many people appeared to be unaware of how dangerous the disease is. He discovered that some Rohingya believed they had been forced into quarantine because they couldn't pay money to the authorities.
"It's a misconception stemming from the fact that they are so used to paying money to the authorities to ensure their survival. That's why the Muslims should be provided with health education through their respective elders or religious leaders," he said.
However, U Mahmud, a resident of Italian Rohingya village in Maungdaw, told The Irrawaddy that information related to COVID-19, such as the importance of frequent handwashing, and the highly infectious nature of the disease, are announced over loudspeakers in his village in three languages: Rakhine, Burmese and Chittagonian, a language spoken by many Rohingya.
"When health officials came to issue announcements, villagers who understand Burmese translated it into our language," he said.
According to the Maungdaw District Administrative Office, local authorities began provided information on the virus and promoting health awareness in late March, on the orders of the government's central COVID-19 committee.
"We have urged residents to follow the public health advice, as the disease can infect anyone, regardless of race or religion," said administrator U Soe Aung.
Harsher punishments
As Maungdaw's 271-kilometer-long border with Bangladesh is marked by waterways as well as land boundaries, deterring illegal entry poses a challenge for authorities.
Many creeks and streams in the area lack any kind of security presence, and are easily crossed. Barbed wire is not always a sufficient deterrent, and in many places the boundary can be easily crossed on foot.
"Even where there are border fences, returnees enter by either destroying or climbing over the fences," said U Soe Aung.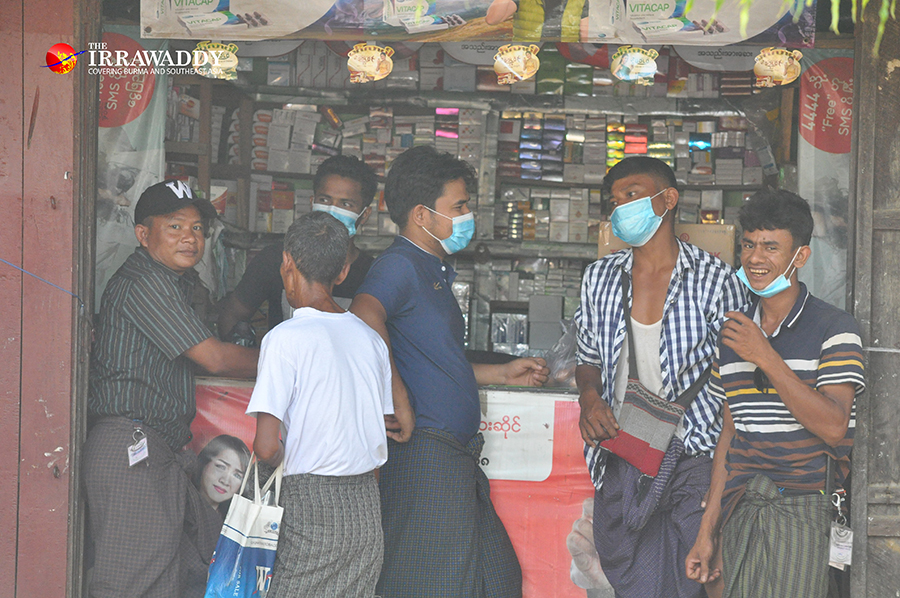 The administrator expressed hope that the recent warnings by the government's National-Level Central Committee for Prevention, Control and Treatment of Coronavirus Disease 2019, which threaten legal action against those who undertake or assist illegal border crossings, would act as a deterrent. The announcement outlaws returning via any unauthorized entry point from a foreign country, and also punishes anyone who welcomes returnees knowing that they entered the country illegally.
"In the past, such action was just aimed at returnees. Now with the inclusion of anyone who accepts them, it is more forceful," he explained.
Asked about legal action against illegal returnees, U Soe Aung said the cases would likely be filed at the court soon, following the government's official warning.
He said the returnees will likely be charged under the country's Prevention and Control of Communicable Diseases Law or the Natural Disaster Management Law, or other laws prohibiting acts affecting public health, such as negligent or malignant acts likely to spread infectious diseases endangering life, as proscribed in articles 269 and 270 of the Penal Code.
"A district-level directive was made public in early April, making it mandatory for anyone who returns from abroad to report to local authorities and health officials. We clearly announced that violators would be charged under those laws."
If found guilty, violators face imprisonment for one month to two years, depending on which law they are charged under.
Meanwhile, in Shwe Zar, a Rohingya village in Maungdaw, the fear is palpable after two people who returned from camps tested positive for COVID-19 last Wednesday.
One of the villagers, Raju, told The Irrawaddy on Monday that all of the patients' contacts had been sent to Hla Phoe Khaung quarantine center. The local health department has disinfected the whole village twice, on Friday and Sunday.
"We are concerned. We hope those who tested positive will get well after being treated," he said.
You may also like these stories:
India Has Low COVID-19 Death Rate But Concerns Rise About Migrants on the Move
Illegal Entry to Myanmar Amid COVID-19 Will Lead to Legal Action: State Counselor Warns
COVID-19 Under Control If Myanmar Keeps Current Measures: Health Minister