Pathein, Ayeyarwady Region — Civil society organizations (CSOs) in Ayeyarwady Region have called for legal action against the organizers of a pro-military demonstration for violating COVID-19 regulations.
"A stay-at-home order is in force in Pathein but over 300 protesters joined the pro-military demonstration and violated COVID-19 regulations. We accept they have rights to freedom of expression. But we can't accept such large gatherings during the pandemic. We ask the authorities to take legal action," said U Sein Hla Aung from the 1988 pro-democracy activist group based in Pathein, capital of Ayeyarwady Region. Tatmadaw (military) sympathizers sought approval from the authorities for a demonstration with 30 people to condemn the Nov. 8 general election results and in support of the armed forces, promising it would follow COVID-19 regulations. However, when the event was held on Monday at the Hittine (Vox Populi) Ground in Pathein, more than 300 people, including demonstrators from Kangyidaunt, Kyaunggon and Pantanaw townships, joined the event.
They held placards saying the election results were illegal and the voting was rigged. They called for an investigation into vote-rigging and demanded the Supreme Court of the Union establish the truth, saying anyone sowing discord between the Tatmadaw and people is an enemy. Demonstration organizers refused to speak to the media.
Pathein Township COVID-19 committee chairman U Yarzar Aye said: "We will report the case to the regional government and ask for guidance."
A stay-at-home order has been in effect in Pathein since Oct. 25 last year due to COVID-19 spikes in the township. Only one person per household is allowed to shop and people are required to wear face masks when outside. Fines are imposed on violators.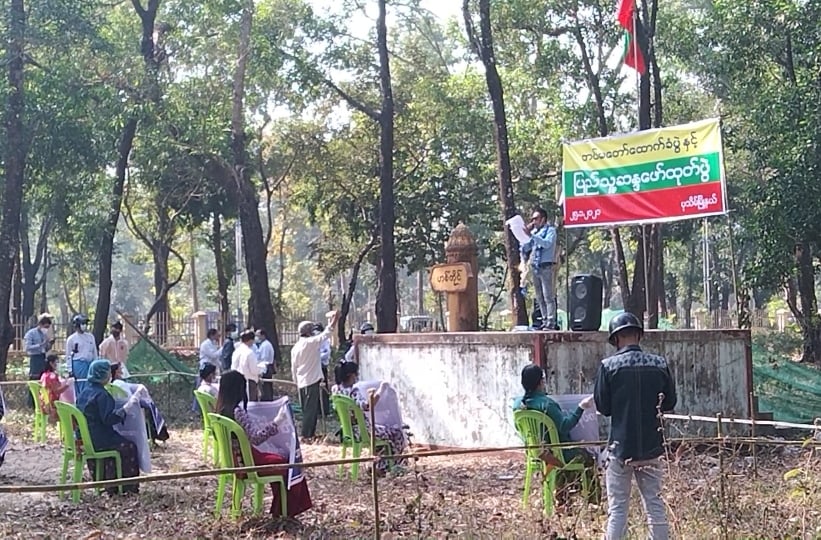 CSOs in Pathein said the numbers at Monday's demonstration far exceeded those permitted and many did not keep 2 meters apart or wear masks. The CSOs called on the regional government to investigate how hundreds of people from other townships could enter Pathein, despite stay-at-home orders.
Ko Lin Lin of the Ayeyarwady Transparency and Accountability Association said: "Every citizen must follow the COVID-19 orders. Even if they applied to hold the demonstration under the Peaceful Assembly and Procession Law, we can't accept that. We have objected. Other people have been punished for breaching COVID-19 regulations. We want legal action to be taken."
Lower House lawmaker U Wai Hline Tun of Pathein Township said: "Stay-at-home orders are still being enforced. We did not campaign ahead of the election for fear it may cause public gatherings. If they are to organize a demonstration, they should have complied with what was permitted. But they overstepped the permission and they must be sued under the Natural Disaster Management Law."
Last month four farmers organized a press conference in Pathein about the alleged confiscation of their land at Chaungtha Beach. The press conference was attended by 15 people. Police opened a case against the four under the Natural Disaster Management Law for holding the press conference without permission. The four farmers are currently in hiding.
"If no action is taken after the event was attended by hundreds of people but a lawsuit was filed after a press conference that followed COVID-19 regulations and was only attended by 15 people, it shows there is no justice or rule of law. There must be equality before the law. Legal action must be taken against the organizers of the event that blatantly violated COVID-19 regulations," said U Sein Hla Aung.
When supporters of the Union Solidarity and Development Party and National League for Democracy held rallies ahead of the Nov. 8 election in Pathein, the township authorities opened cases under the Natural Disaster Management Law.
Translated from Burmese by Thet Ko Ko
You may also like these stories:
Myanmar Due to Begin COVID-19 Vaccinations
Hundreds More Myanmar Migrant Workers Test Positive for COVID-19 in Thailand
Myanmar World Heritage Site Residents Demand Return of Visitors as COVID-19 Hits Economy