Myanmar Govt to Provide Free Basic Food for Poor During COVID-19 Shutdown
The government's COVID-19 response committee has promised to provide free food to those struggling with the coronavirus shut down during the 10-day Thingyan Water Festival holiday.
– By The Irrawaddy
YANGON — Myanmar State Counselor Daw Aung San Suu Kyi-led national level COVID-19 response team announced on Monday afternoon that the government will provide basic food for those struggling across the country during the 10-day New Year holiday from this week amid heavier restrictions on movement to curb the coronavirus spread.
So far Myanmar has reported 22 positive cases with one fatality.
The announcement came after the State Counselor's request for citizens to stay at home during the Thingyan Water Festival, the largest event in Myanmar's calendar, to prevent the spread of the disease.
The April 10 to 19 holiday follows further restrictions on residents' movements, including orders for people to stay at home, shutting down public transport and banning gatherings.
Thingyan normally allows many families to earn money by selling food and beverages to revelers.
In the announcement on Monday, the COVID-19 Prevent, Control, Treatment Committee said from Friday the government would distribute rice, cooking oil, salt, beans and onions to those who lack a regular income during the holiday.
Daw Aung San Suu Kyi previously posted on Facebook that she was aware of people's concerns during the holiday and said the government was planning a solution.
Apart from food distribution, the government has promised to provide 150 free electricity units for domestic use until the end of April to encourage people to stay at home.
---
Myanmar's Mandalay Promises Food Supplies for the Poor
Mandalay Region says it is preparing to deliver food to those struggling to eat during the COVID-19 restrictions.
– By Zarni Mann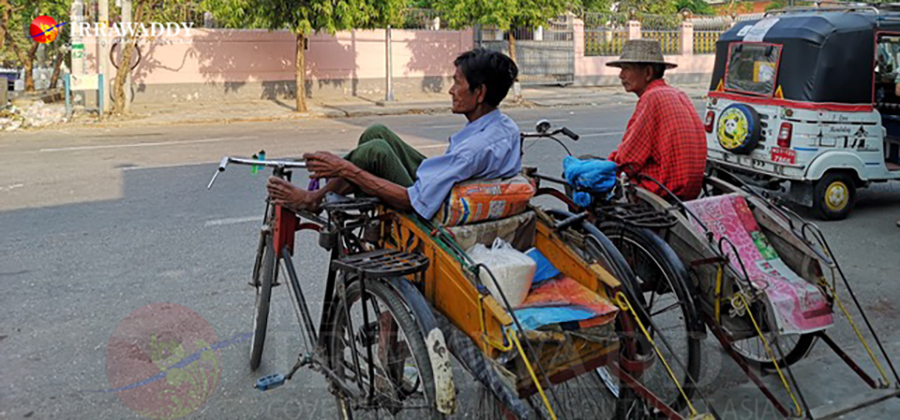 Mandalay – The Mandalay regional government says it will spend 1 billion kyats (US$770,000) feeding struggling families in the region during the COVID 19 pandemic.
Mandalay Region has imposed travel restrictions and close major markets such as Zay Cho, Yadanarpon and Mingalar, leaving the city nearly deserted.
The acting chief minister, U Zarni Aung, said the regional government's fund would provide rice, cooking oil, beans, pulses and other basic commodities for people who had lost earnings due to travel restrictions and the closure of the markets and businesses to prevent the spread of coronavirus.
"The regional government has instructed all administrative offices to collect a list of people who earn very little and are affected by the pandemic. We will support them with essential commodities such as rice and cooking oil," said the acting chief minister.
Porters, taxi drivers and street hawkers working at the markets and bus stations have been made jobless.
The regional government also said it was accepting donations from the private sector to help those struggling with the shutdowns.
Township authorities have been told to list porters, motorcycle taxi drivers, street hawkers, flower sellers and other traders.
"Once we receive the list, we will distribute the commodities to those who are urgently in need, using safety measures to minimize contact. Civil societies organizations and volunteers are also invited to cooperate," U Zarni Aung added.
The Mandalay government has donated rice, cooking oil, bean and pulses, onions and other essentials for over 48,000 Buddhist monks and nuns so they do not need to go out to collect offerings.
"Buddhist monks and nuns are vulnerable to coronavirus as they have to go out every day to collect alms. Since we are urging people to stay home, they need to stay in their monasteries," U Zarni Aung said. "We are thinking of extending the support."
Mandalay Region and in Monywa and Sagaing of Sagaing Region have voluntary groups helping struggling households with commodities, masks, soap, hand sanitizers and medicine.
Yangon has social volunteer teams, including celebrities, donating commodities to the poor.
Other regions and states have been slower to gear up a response to the crisis.
---
Man Killed in Sword Attack After COVID-19 Argument in Myanmar's Bago Region
A man has been killed and two relatives injured in a sword attack on an administrator's home after a heated argument over a COVID-19 suspect in a guesthouse.
– By Kaung Myat Min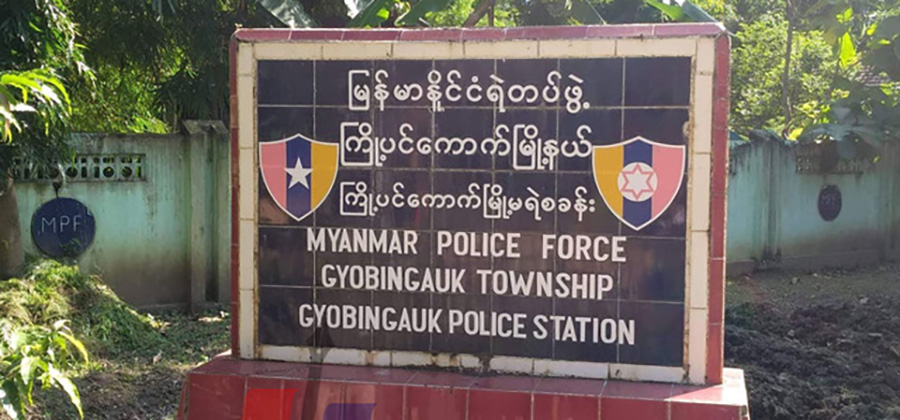 Pyay, Bago Region — One man was killed and two others were injured in a brawl over a suspected COVID-19 case in Gyobingauk Township, Tharrawaddy District in western Bago Region on Sunday.
On Saturday, U Barbu Lay, a 100-household administrator — a community-appointed lower-ranking administrator responsible for around 100 homes in a ward — of Ywama North ward in Gyobingauk led community elders to inspect a guesthouse in the ward after he received reports that a guest was sick and coughing.
The administrator and the guesthouse owner argued. The following day, at around 7 pm, approximately 20 sword-wielding people raided the administrator's house, a Gyobingauk police officer told The Irrawaddy.
According to the police, a 26-year-old man was killed in the incident. A 40-year-old man was seriously injured in his head and neck and remains in critical condition at Yangon General Hospital and a 58-year-old woman was also injured. All three are relatives of the administrator.
"There are three main suspects, including guesthouse owner U Maung Aye. They have run away and the police are after them. The guesthouse has been closed," said the police officer.
A ward resident told The Irrawaddy on condition of anonymity: "Someone saw a sick guest coughing as he bought medicine at a betel nut shop beside the guesthouse and told the ward administrators. They did not ask the guesthouse owner to close, they just asked him to send the sick guest to a quarantine center. The owner was angry and accused the administrator of driving a wedge between him and his neighbors."
U Mang Aye and U Barbu Lay had a heated argument in front of the latter's house before men with swords came, he said.
"Then U Barbu Lay asked his family to flee. Then his nephews arrived and the men attacked them with swords. It is as if there is no rule of law at all," he added.
U Barbu Lay has filed a complaint with the police against the guesthouse owner and his accomplices.
Translated from Burmese by Thet Ko Ko
---
Myanmar Government Bans Staff From New Year Travel to Stop COVID-19 Spread
Myanmar's roughly 1 million civil servants have been banned from traveling to their home towns for the New Year water festival to prevent the spread of coronavirus.
– By San Yamin Aung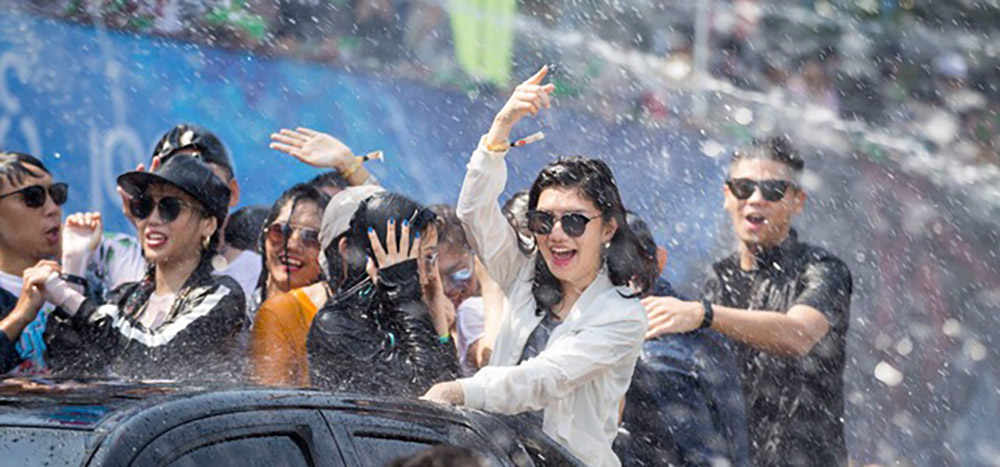 YANGON — In a move to control the spread of COVID-19, Myanmar's government has banned all civil servants from traveling during the Thingyan water festival.
The New Year public holiday normally sees government staff returning to their home towns or planning family trips of five to 10 days.
According to the Union Civil Service Board, Myanmar has around 1 million civil servants.
The President's Office said in a directive issued on Saturday no civil servants would be allowed to travel, except for funerals, from April 10 to 19.
It said the ban would prevent civil servants from transmitting coronavirus to colleagues when they return to work and risk disrupting the operations of government.
The President's Office said alternative holidays would be arranged when the COVID-19 restrictions were lifted.
Following the directive, many express bus lines in Naypyitaw suspended all timetables.
In Naypyitaw, around 100 bus lines are running to 51 cities.
The government has banned large gatherings until the end of April, including Thingyan.
State and regional governments have ordered residents to stay at home from April 10 to 19, except for medical treatment and to buy food.
State Counselor Daw Aung San Suu Kyi on Saturday said the next two to three weeks would be critical as it became apparent how fast COVID-19 was spreading, calling for the public to follow government instructions.
"We'll have to experience a kind of Thingyan that we've never experienced before: a Thingyan where we have to totally avoid crowds. Some will question how many people make a 'crowd'. I would say the fewer the better and the farther apart the better," she wrote.
She encouraged citizens not to be disheartened by the lack of water throwing, loud music and merriment.
"They say that, 'health is the greatest of blessings'. We can all make this great donation with goodwill whereby we can all give the greatest of health blessings not only to ourselves but to others as well… In this very special Thingyan, we can perform very good deeds. We can do this at home, without moving."
Myanmar confirmed 21 COVID-19 cases by Sunday night. One 69-year-old patient, who had been undergoing treatment for stage-four cancer and tested positive for COVID-19, died on Tuesday.
---
Myanmar Govt Cracks Down on Fake COVID-19 News
The Myanmar government is following through on its threats to punish anyone who spreads fake news about COVID-19 as authorities arrested a man on Saturday for a Facebook post.
– By Zarni Mann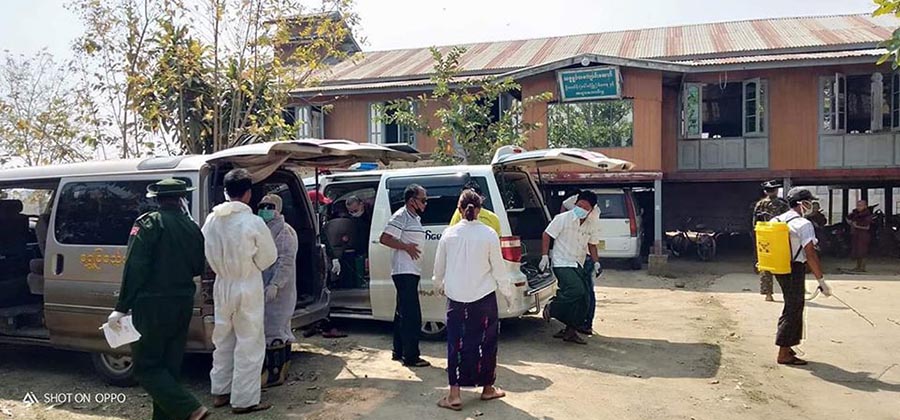 MANDALAY—The Myanmar government has begun to take legal action against people who spread "fake news" and rumors related to the coronavirus as authorities arrested and charged a man from Bago Region's Yaytarshay Township on Saturday.
According to the Ministry of Home Affairs, Bone Myint Moe was arrested for posting a message saying "Ba Ring Gone is positive" in the Facebook group for Yaytarshay on Saturday evening.
"He wrote that there was a COVID-19 positive patient in Ba Ring Gone Village who was sent to Taungoo and warned people to be careful," said a police officer from Yaytarshay police station. "An official from the township administration office filed a lawsuit under the Natural Disaster Management Law's Article 27."
The article says that anyone who spreads misinformation about a disaster with the aim of sparking dread among the public shall be punished with a maximum of one year in prison and a fine.
Since the World Health Organization declared COVID-19 a global pandemic, the Myanmar government has told people in the country not to spread the rumors and to beware of fake news.
As soon as the country's first COVID-19 case was reported, the government issued repeated warnings that anyone who spreads rumors or fake news will be punished according to the law.
The government also warned that those who refuse to follow rules and regulations imposed to combat the coronavirus could face lawsuits under the 2013 Natural Disaster Management Law
A groom who held a wedding celebration in Tamu, Sagaing Division, in violation of local authorities' instructions to postpone the event was sentenced to six months in prison and ordered to pay a one million kyat fine (US$700) on Friday, under the Natural Disaster Management Law.
The groom, Htan Lin Shein, arrived from the United States and did not home quarantine for 14 days, instead choosing to hold his wedding reception on March 28, despite authorities' instructions that he must postpone the event to avoid drawing a crowd. Another groom from the same township is facing the same lawsuit under the same law for also holding his wedding.
In Sagaing Division's Khin Oo Township, a man is facing a lawsuit under the same law for holding a Buddhist ritual ceremony to celebrate the ordination of local young monks.
A man in Sagaing's Ye Oo Township was arrested for running away from a government COVID-19 quarantine facility and is also facing a lawsuit under the Natural Disaster Management Law.
Two men from Sagaing's Ayadaw Township and Mandalay's Tada-U Township were arrested and sued for attacking local authorities who were conducting patrols and education programs on coronavirus prevention.
---
Myanmar's KBZ Bank Donates Nearly $1M to Coronavirus Efforts
Kanbawza Bank has donated nearly US$1 million worth of medical supplies to Myanmar's health ministry to support efforts to prevent and treat COVID-19.
– By The Irrawaddy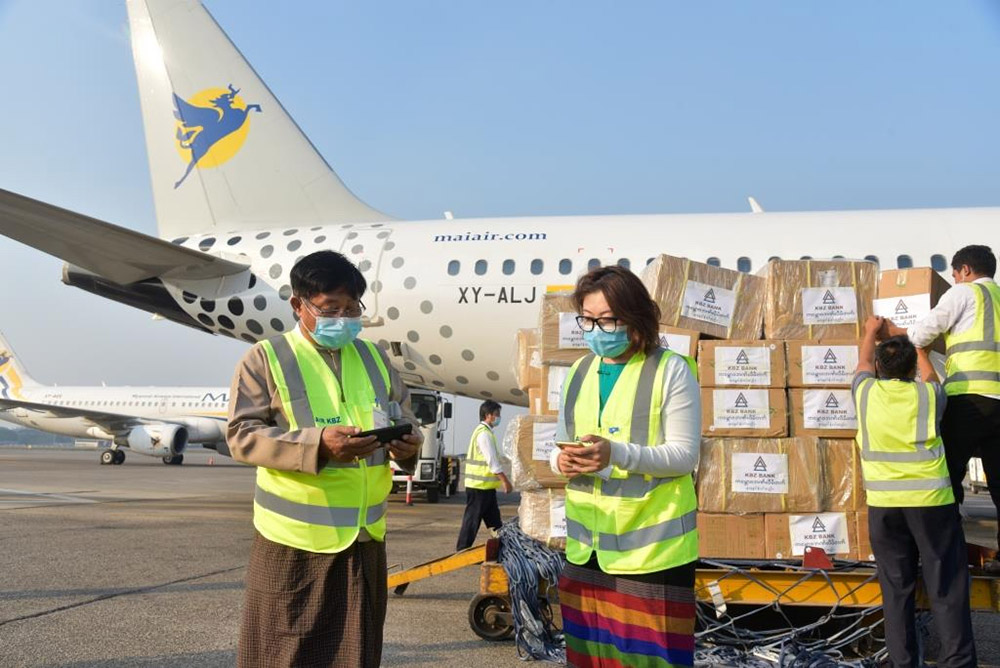 Myanmar's largest private bank, Kanbawza (KBZ) Bank, airlifted in hospital supplies from China as part of a 1.4 billion-kyat (nearly US$1 million) donation to Myanmar's health ministry for use in combatting COVID-19.
Some conglomerates in Myanmar are supporting the government in the fight against the coronavirus by donating medical supplies such as masks and personal protective equipment (PPE) as well as money.
KBZ Bank Deputy Chief Executive Director Nang Lang Kham gave the supplies to Ministry of Health and Sports (MOHS) Deputy Director-General Dr. Tun Myint at the Yangon International Airport last Friday.
The supplies included 23,000 sets of PPE and 700,000 surgical masks, as well as hand gel, thermometers, N-95 masks, safety googles, foot covers and gloves.
KBZ Bank transported some supplies across the China-Myanmar border in the last week of March, but to fulfill the urgent need in Myanmar, the bank also chartered a Myanmar Airways International plane to airlift supplies from Guangzhou, China.
The bank also donated 600,000 surgical masks and 3,000 sets of PPE that it imported from China through the Muse border checkpoint in Shan State between March 27 and Friday.
On March 18, KBZ bank and its counterpart, KBZ MS General Insurance, donated 100 million kyats (over US$71,000) to MOHS for COVID-19 treatment.
Myanmar so far has 21 confirmed COVID-19 cases as of Sunday, including one patient with nasal cancer who died last week.
MOHS spokesman Dr. Tha Tun Kyaw told The Irrawaddy that the government is doing its best to prepare hospitals to treat COVID-19 patients, in case Myanmar has more confirmed cases in the near future.
"Whether these donated supplies will be enough for treatment is hard to tell, as we don't know yet how many more patients we will have," he said on Monday.
---
Myanmar's State Counselor Vows 'Zero Tolerance' for Price Gougers of COVID-19 Protective Items
Those who jack up prices of essential items needed in the fight against COVID-19 will face prosecution, Daw Aung San Suu Kyi has warned.
– By The Irrawaddy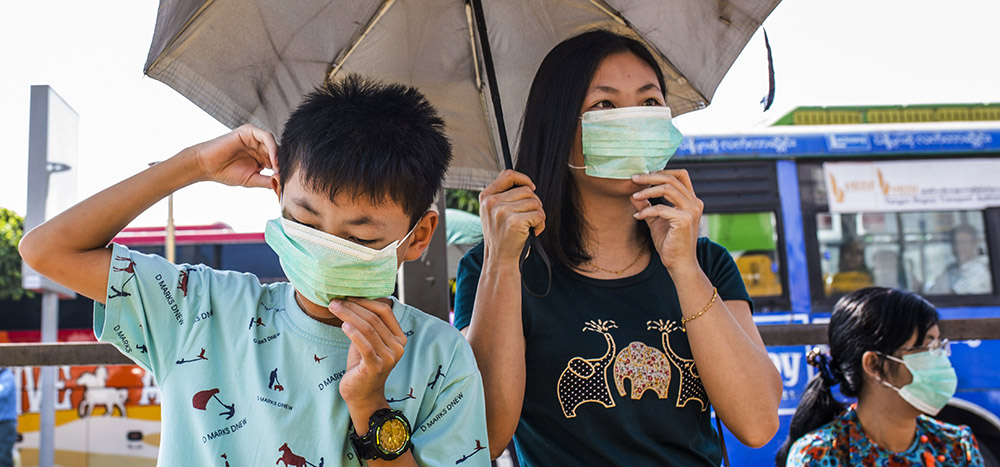 YANGON—Myanmar State Counselor Daw Aung San Suu Kyi has issued a stern warning to anyone who would engage in price gouging on surgical masks amid a steady rise in COVID-19 cases in the country, saying she had a "zero tolerance" policy toward those who jack up prices of essential goods.
As of Sunday, 21 people had tested positive for COVID-19 in Myanmar, with one fatality related to the disease
Even before the first positive case was detected in the country in late March, prices for ordinary surgical masks were beginning to skyrocket, partly due to hoarding by retailers.
Amid panic buying and shortages at pharmacies, the face coverings, which cost just 50 kyats (about 3.5 US cents) in normal times, are now fetching 10 times that amount.
At the same time, in some hospitals doctors and nurses are publicly complaining that they have been working without proper Personal Protective Equipment like facial coverings. Though the advisability of wearing masks is still being debated globally, growing numbers of people in Myanmar can be seen wearing them when venturing outdoors.
On Sunday, Daw Aung San Suu Kyi assured Myanmar people through her Facebook page that Myanmar's Ministry of Health and Sports had 6.3 million masks to be distributed this month, and that many more are in the pipeline.
However, the mask issue was raised with Myanmar's de facto leader during her live videoconference on Monday with officials who are on the frontline in the fight against the disease in Bago Region, where three COVID-19 cases, including two children, were detected last week.
When Dr. Aye Nyein, a regional medical official, complained about shortages and price gouging on masks, Daw Aung San Suu Kyi sternly said that raising the price when people were suffering was totally unethical.
"It's unlawful. We have a law against [gouging and hoarding]. If there is a complaint, we will take action," she said.
"They are playing with people's lives for their personal interests. I have zero tolerance for it," she added.
On March 30, Myanmar's Ministry of Commerce imposed a ban on price gouging on food, medicines and equipment related to the prevention and treatment of COVID-19, as well as on hoarding such items, which have been declared "essential goods".
Violators face imprisonment for six months to three years under the Special Supplies and Services Law, the ministry said.
So far, there have been no reports of anyone being prosecuted under the law.
---
You may also like these stories:
Latest COVID-19 Developments in Myanmar: April 1, 2020
Latest COVID-19 Developments in Myanmar: April 2, 2020
Latest COVID-19 Developments in Myanmar: April 3, 2020