A humanitarian gift from a bunch of killers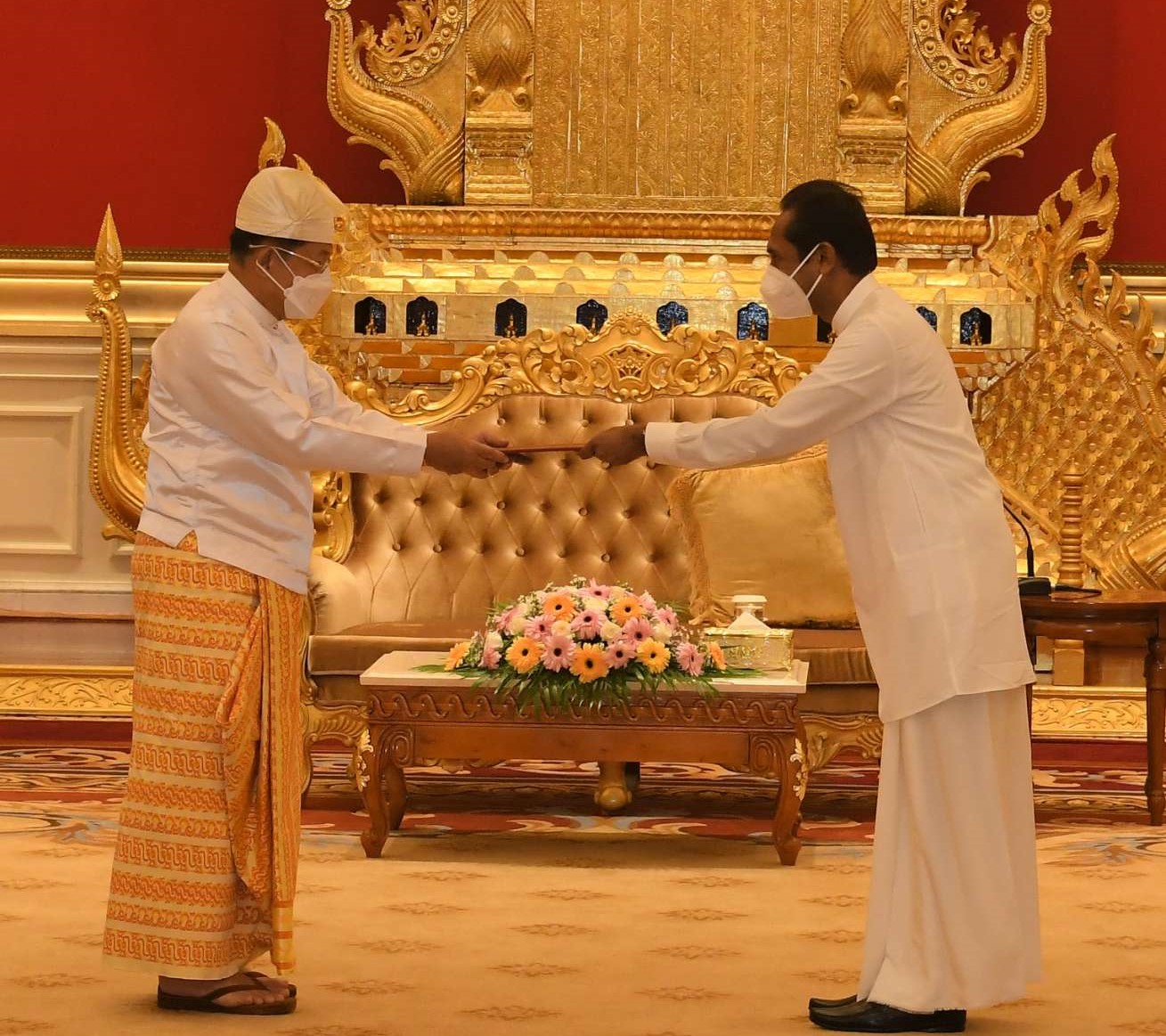 As the economic crisis in Sri Lanka deepens, Myanmar's military regime has spotted an opportunity to bolster its poor image. On Thursday, the regime's Commerce Ministry held a meeting to discuss buying 1,000 tonnes of rice with public funds and delivering it to the Sri Lankan people as humanitarian aid.
Without being cynical, the regime's record of committing terrible atrocities against its own civilians and deliberately blocking humanitarian supplies to them makes it hard to view its largesse toward Sri Lanka an act of humanity or sympathy for its people.
Needless to say, Min Aung Hlaing's regime, which has been globally shunned, is clearly attempting to exploit Sri Lanka's crisis in the hope of obtaining recognition on the international stage. It must be all too aware that since the coup it has received only condemnation, and no invitations from international leaders, with the glaring exception of Russia.
Meanwhile, Myanmar's economy is spiraling downward at such a rate that the United Nations Development Program projects 25 million people—nearly half of the country's population—will live below the poverty line in 2023.
After creating a massive humanitarian crisis in Myanmar that has so far resulted in the deaths of thousands and the displacement of millions, Min Aung Hlaing must be deceiving himself if he still thinks he can salvage his name by sending some "humanitarian" supplies to a country.    
Junta defense minister visits resistance stronghold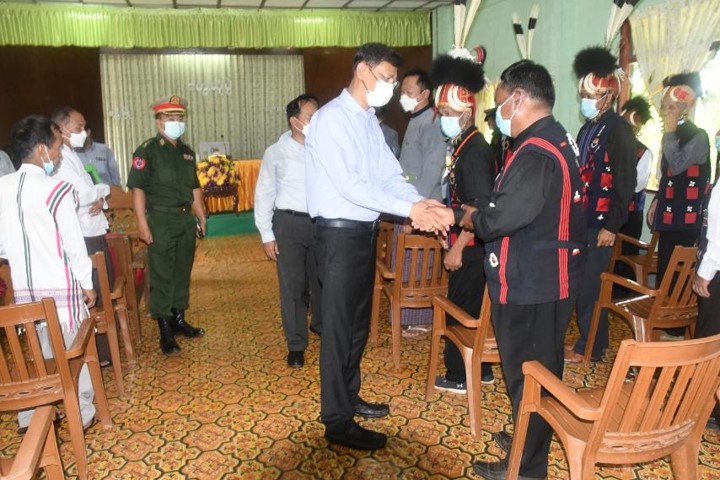 On Wednesday, junta Defense Minister General Mya Tun Oo arrived in Sagaing Region, a resistance stronghold in central Myanmar. His visit came two days after local People's Defense Force (PDF) groups warned junta-appointed administrators to leave their offices within 10 days.
In Sagaing, PDFs have taken control of many of the rural areas, with the parallel National Unity Government (NUG) replacing the junta's administrative mechanism with its own in dozens of townships.
At a press conference in June, the NUG claimed that PDFs now control more than 90 percent of the main roads in Sagaing and northern Magwe and over 80 percent of rural areas.
During his Sagaing visit, Mya Tun Oo met junta administrative officials and military personnel from local battalions in Hkamti, and also visited local monasteries in a bid to mobilize support for the regime. It could be seen as a perverse choice of venue to drum up support; a number of monasteries have been damaged due to junta troops' tactic of torching villages in Sagaing.
Recently, feasts were held at the order of Min Aung Hlaing at military units in Sagaing, in what the junta chief referred to as a display of fatherly spirit by commanders toward their soldiers. 
Killing unarmed people and looting their belongings—surely not something any normal father would teach his sons?
 
Finally, Min Aung Hlaing finds a host to welcome him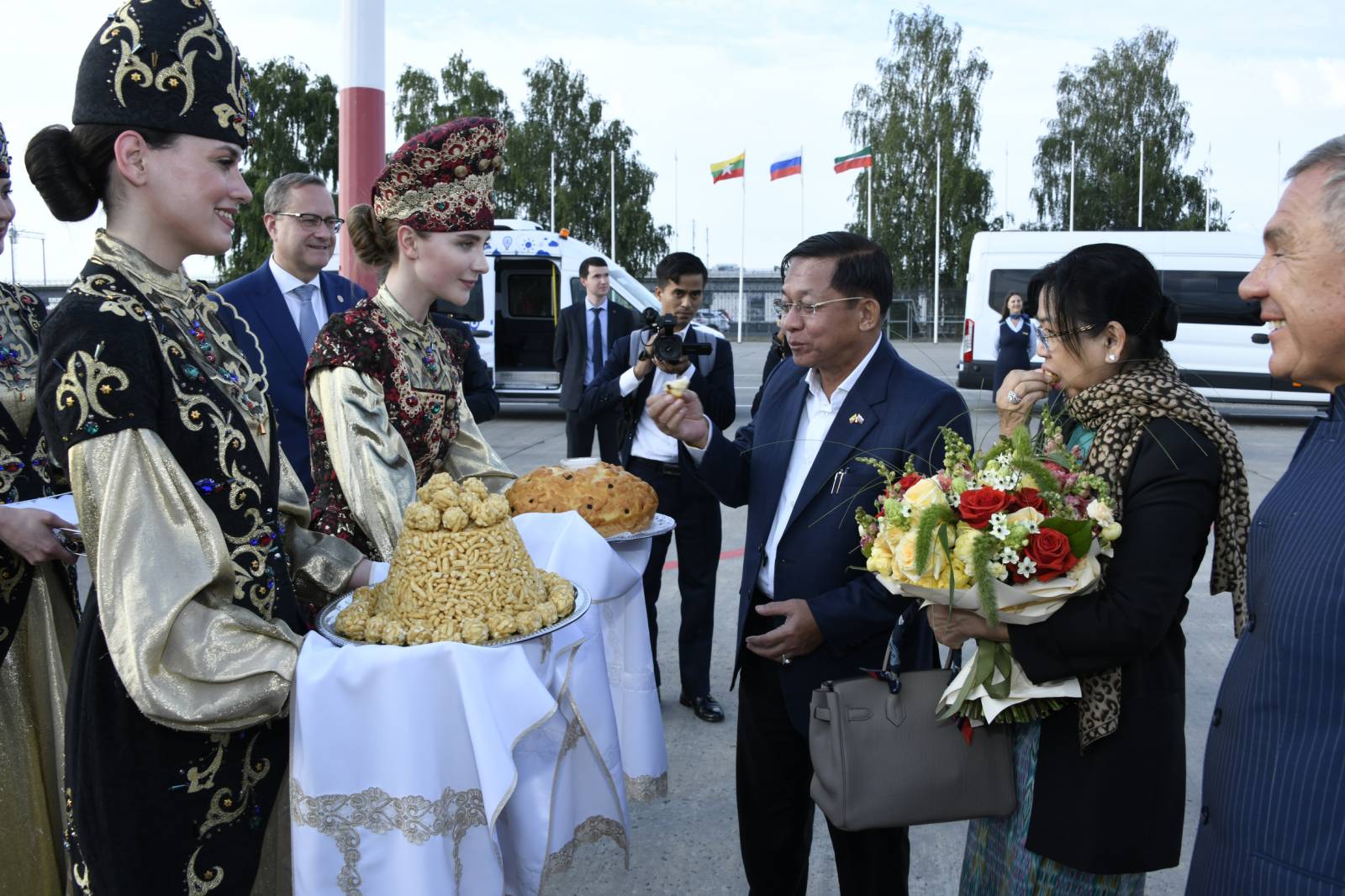 They say a picture is worth a thousand words. And junta chief Min Aung Hlaing was the very picture of joy as he was welcomed by Tatarstan "President" Rustam Minnikhanov during the coup leader's "personal" visit to Russia on Wednesday.
The fact that he was not received by the Russian defense minister, let alone Russian President Vladimir Putin, on his second visit to Russia—the only country he has been able to visit since the coup—likely explained the broad smile on his face.
Min Aung Hlaing and his wife Daw Kyu Kyu Hla were welcomed with a traditional Russian bread and salt welcoming ceremony as they stepped off the plane.
Later, Min Aung Hlaing exuded confidence as he was received by Minnikhanov at the latter's office. At a subsequent meeting with representatives of the energy company PJSC Tatneft, followed by a traditional music concert and dinner, Min Aung Hlaing could not help acting like a child visiting a zoo, unable to contain his pride as being a guest of the head of state.
Meanwhile, his wife Daw Kyu Kyu Hla was given a tour of Kazan, the capital of Tatarstan, by some military officers' wives and a couple of guards. She was given the same treatment in Moscow.
Last year, Russian president Putin signed a law prohibiting the heads of autonomous Russian regions from using the title of president. Minnikhanov was the last one in Russia to use the title. On Tuesday, a day before Min Aung Hlaing met Minnikhanov, Putin referred to the Tatar leader without the title in an official communication. Perhaps Min Aung Hlaing was not aware or pretended not to notice it. But, the junta's media were only too happy to oblige, repeatedly referring to Minnikhanov as "president of Tatarstan"—an area with fewer than 4 million people—in their reports and newscasts to save face for their boss.
Britain's top diplomat in Myanmar forced out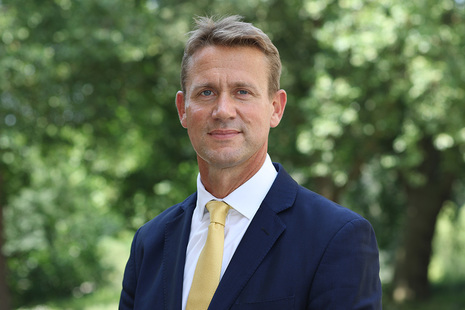 The Myanmar regime has deepened its diplomatic isolation from the West by expelling the head of the British Embassy in Yangon "for not presenting his credentials to the junta." Pete Vowles, who has become the first international envoy to be forced to leave the country, was named Britain's ambassador and took up his appointment in Myanmar in August 2021 but London decided to downgrade Vowles' title from ambassador to chargé d'affaires ad interim due to the  coup and the regime's atrocities against its own people. After traveling to Thailand, the envoy was denied a visa to re-enter Myanmar and stranded in the neighboring country for months, before being allowed back in late last month. 
Vowles tweeted on Wednesday that his time in the country had come to an abrupt end, saying "Sad & sorry to have been forced by the junta to leave but glad we didn't cave to pressure to legitimize their brutal coup." The regime's Ministry of Foreign Affairs responded on Thursday that Vowles had only been allowed back into the country to "collect personal belongings" from June 21 to July 15, and left as his visa was about to expire. The ministry said the envoy had to leave the country as the Myanmar "government" (as the military regime refers to itself) had acted in accordance with diplomatic practices as a sovereign state.