Singing a new tune on ASEAN Consensus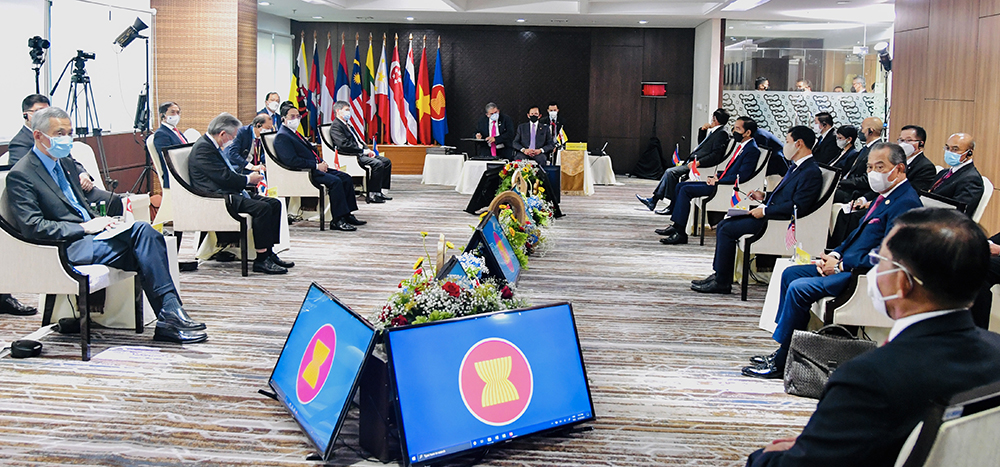 In an interview with Russian state-owned news agency RIA Novosti during his recent visit to the country, junta chief Min Aung Hlaing distanced himself from the Association of Southeast Asian Nations (ASEAN)'s "Five-Point Consensus" on the Myanmar crisis. At a regional summit last year, he agreed to implement the pact.
In April 2021, two months after the military coup, the leaders of the nine other ASEAN countries and junta chief Min Aung Hlaing agreed to five points, including the need for an immediate end to violence in the country; facilitating humanitarian assistance by ASEAN; and allowing the ASEAN special envoy to visit Myanmar and meet with all parties.
Since then the junta chief has defied each point as he oversees a brutal nationwide crackdown aimed at suppressing millions of people opposed to military rule.
In a televised address on Aug. 1 to mark 18 months since the putsch, Min Aung Hlaing blamed COVID-19 and political instability for his failure to implement the consensus.
But during his recent trip, he changed his tune, telling RIA the agreement was put together in a one-sided manner by ASEAN leaders, according to a report published in junta-controlled Burmese-language newspapers. In the interview, he even said ASEAN must accept his regime because it was formed in line with the military-drafted 2008 Constitution, while accusing certain countries of interfering in the internal affairs of Myanmar.
This year's ASEAN chair, Cambodian Prime Minister Hun Sen, has suggested rethinking the consensus, while bloc member Malaysia has refused to recognize the junta, saying it would engage with the parallel National Unity Government.
Endless lies—this time it's COVID
Just a few days after Min Aung Hlaing told Russia's RIA news agency that COVID-19 was under control in Myanmar, a surge in cases was reported with fatalities.
According to the junta-controlled Ministry of Health, 384 cases were reported in the first half of September with six fatalities. Quarantine centers have been reopened in Naypyitaw, the administrative capital. And due to large clusters of infections among the staff of the Transport and Communications Ministry, staff were on Sept. 12 ordered to work from home for two weeks in shifts.
Amid the new wave, large crowds of military supporters led by deputy junta chief Soe Win—including traditional dance troupes and those bearing banners—welcomed Min Aung Hlaing home on his return from Russia on Sept. 12
Contrary to what Min Aung Hlaing told the Russian news agency, the junta's Health Ministry called for active cooperation to prepare for a possible health crisis.
Accommodating a new 'friend'
With the Myanmar military regime growing increasingly reliant on Russia, including militarily, regime leader Min Aung Hlaing said there are opportunities and prospects for cooperation when asked by the Russian RIA news agency about the possibility of Russian troop deployments in Myanmar.
Faced with a leading question from RIA about whether he would welcome Russian Defense Ministry delegations and accept Russian military bases on Myanmar's territory, for the sake of "geopolitical balancing", Min Aung Hlaing replied that while the Myanmar constitution does not allow deployment of foreign troops on Myanmar's soil, ways could be sought to find out how to best cooperate within the framework of the 2008 charter.
Myanmar has no tradition of allowing foreign troops being deployed on its soil, and Section 42 (b) of the military-drafted 2008 Constitution also bars deployment of foreign troops in the territory of the Union.
Isolated by Western sanctions, Russia might be considering cementing its ties with the regime, one of its major arms buyers, to engage in trade in various sectors and to use Myanmar to expand its influence in the Asia-Pacific region including Southeast Asia.
Russian President Vladimir Putin has called Myanmar a long-standing and reliable partner in Southeast Asia. And it appears Min Aung Hlaing will ignore Myanmar's traditional "active and non-aligned" foreign policy and dance according to Putin's tune.
Playing with Daw Aung San Suu Kyi's fate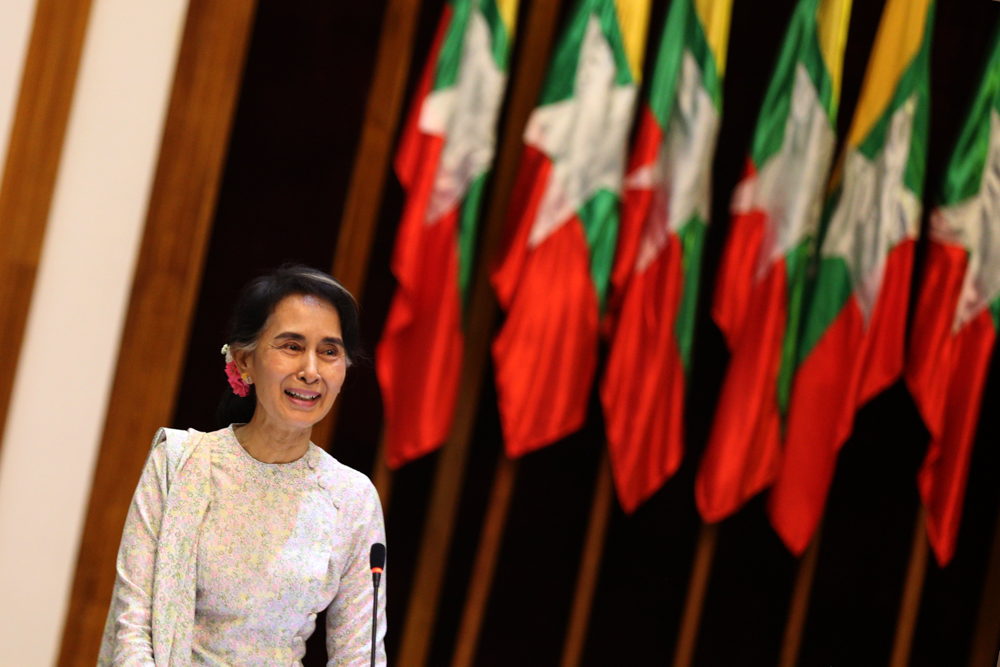 In his latest comments on his arrest of Myanmar democracy leader Daw Aung San Suu Kyi, regime leader Min Aung Hlaing told Russian news agency RIA that no further decisions will be taken regarding the detained State Counselor until all her legal trials are complete.
In August, he told UN Special Envoy Noeleen Heyzer: "We will consider how to proceed depending on the response our actions receive after the completion of the judiciary process."
His comments simply reveal that he will continue to hold Daw Aung San Suu Kyi hostage in order to further his political interests. He will use her depending on the extent to which there is local and international pressure against his regime in the coming months. Sending her back to house arrest from solitary confinement in Naypyitaw Prison, where she has been since June, after all the trials against her are done may be one possible option for him to manipulate international opinion. For the vast majority of Myanmar people, who want to get rid of him, such a hidden agenda would not impress them.
So far, Daw Aung San Suu Kyi has been sentenced to 20 years in prison in 11 cases filed against her by the regime. Many believe the cases are politically motivated by the regime to keep her out of Myanmar politics forever. She still faces another eight cases.