YANGON—Major infrastructure projects slated for Yangon featured heavily at the second Invest Myanmar Summit held in January, wooing foreign direct investment to the city which some 8.2 million people call home. The Yangon regional government showcased a total of 80 projects in the Yangon Project Bank, saying they would enhance the living standards of lower-income citizens, and raise the level of income of middle- and high-income citizens.
According to the Yangon government, the project bank is in line with the Myanmar Sustainable Development Plan (MSDP) drawn up the National League for Democracy (NLD) government with the aim of achieving "genuine, inclusive and transformational" economic growth.
Among the 80 projects, 16 are to be managed by the Yangon Region government: Dala City Centre Development, San Gyi Wa Transportation Hub, Hmawbi Agriculture Vocational Training School, a farm service center project, a fish/prawn pond project, New Yangon City Project Phase 1 Stage 1 and Stage 2, the East Dagon Modern Industrial Zone and Housing Project Zone 1 and 2, Yangon Special Economic Zone, an affordable and government staff rental housing project, Gyo Gone Housing redevelopment, Mayangone Villa project, Ngwe Pin Le Logistics Park, an inland water transport jetty and Pyi Taw Thit Housing.
A further 31 projects are to be implemented under the Yangon City Development Committee (YCDC), relating to the upgrade of markets and parks across the city and a water supply project on the Toe River. Another 11 industrial projects managed by the Ministry of Municipal Affairs focus on undeveloped areas on the outskirts of Yangon.
The Ministry of Construction is managing 11 major projects including three expressway projects, Eco-Green City, Smart & Eco City, the Korean-Myanmar Industrial Complex and five housing development projects.
Another 11 projects are managed by the Ministry of Transport and Communications: nine railway station developments including that at Yangon Central Railway Station and two Yangon Urban Mass Rapid Transit projects.
The Yangon regional government signed 19 MOU agreements at the investment forum. They involved the implementation of the Yangon Financial Project, a cross border e-commerce project, a new light industrial park and the Hanthawaddy Industrial park, a housing project and a hotel project. However, only one of the projects is included in the project bank.
According to information released with the project bank, among the 33 major infrastructure projects, only eight projects are geared up to move forward this year, while nine are undergoing feasibility checks and four are currently inviting expressions of interest. The status of a further 12 projects is still unknown.
Here, The Irrawaddy compiles clear visualizations of the 80 projects listed in the Yangon Project Bank, including a master list and details of those already making headway.
Project Types in Numbers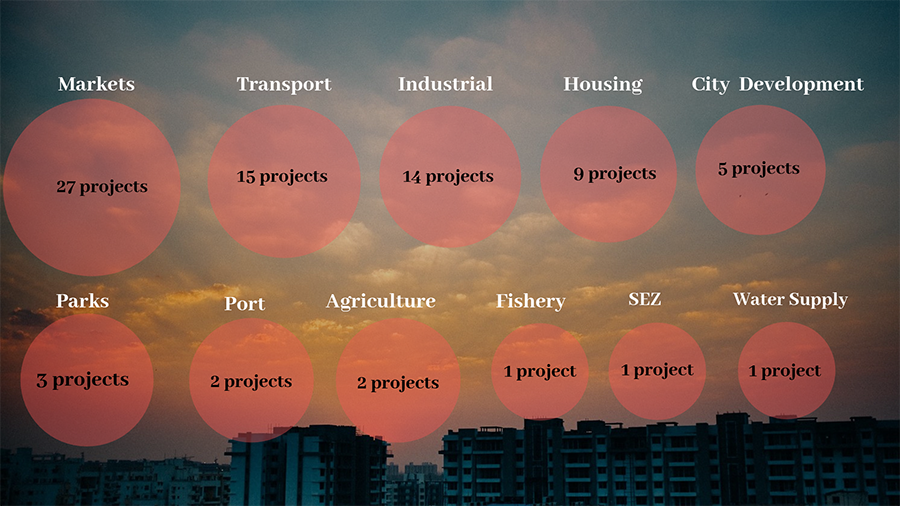 Scroll your mouse over the visual for more.
Scroll left and right for more.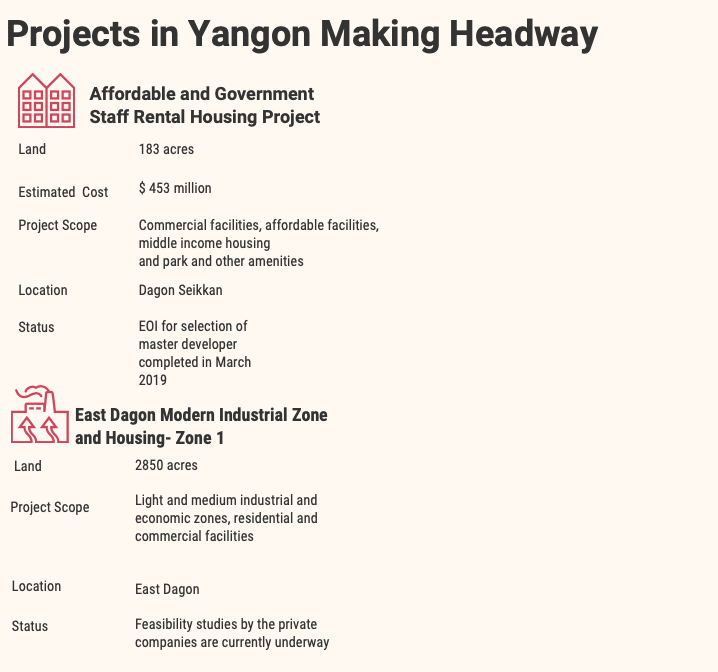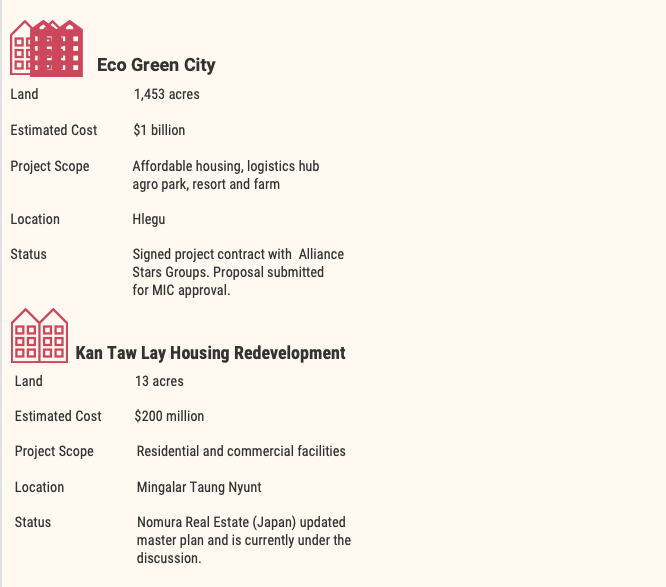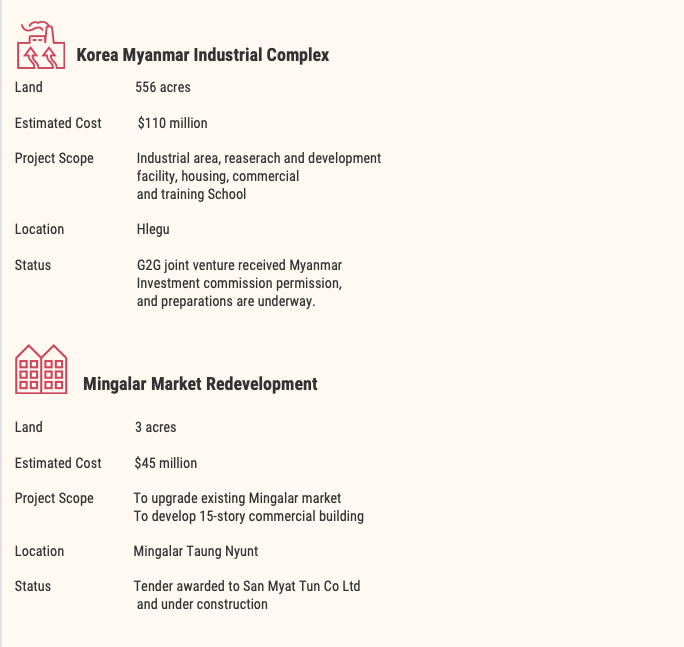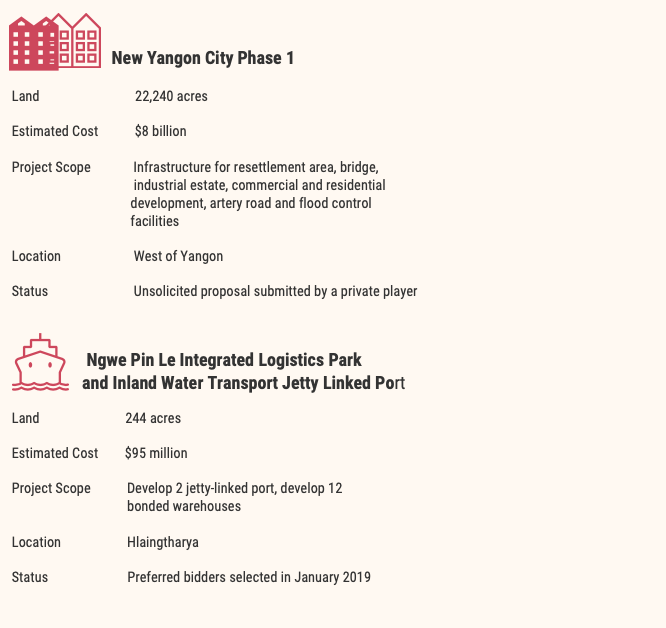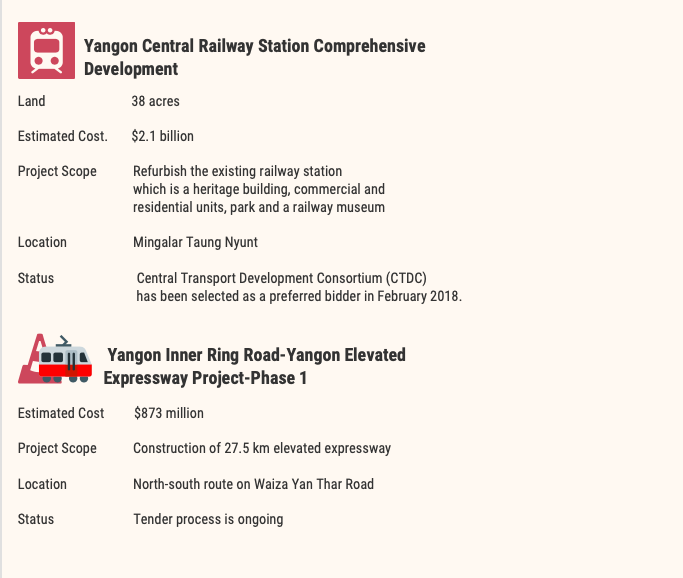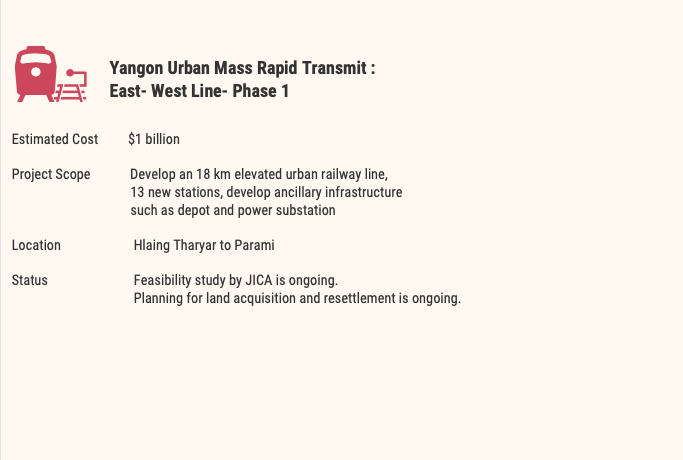 International-Standard Industrial Zone in 11 Townships 
Click the arrows for more.
Visualizations by Nan Lwin.