TANINTHARYI, Tanintharyi Region—In the forests surrounding the Karen villages lying between the towns of Myeik and Tanintharyi in Myanmar's deep south Tanintharyi Region, Pangolins aren't as lucky as they were 15 years ago.
In the past, encounters with these shy creatures that roll into a ball when spotted by humans were common for villagers during visits to nearby jungle areas under the shadow of Tanintharyi National Park. While they were for the most part ignored by village dwellers, they were sometimes poached and destined for the dinner table.
"If we were not feeling well, we ate porridge with pangolin meat because it helps with a speedy recovery" recalled a villager.
Apart from that occasional threat to their lives, the scale-covered animals were largely safe in the lush Tanintharyi Hills, known for their biodiversity. That's no longer the case, however.
Villagers who traditionally made a living by growing betel and oil palm have come to realize that pangolins can fetch large sums through illegal trading, which has pushed the creature to the brink of extinction worldwide.
According to National Geographic magazine, the creature is believed to be the world's most trafficked animal.
Tens of thousands of pangolins are poached every year, killed for their scales, which are used in traditional Chinese medicine, and for their meat, a delicacy among some of the ultra-wealthy in China and Vietnam. The phenomenon poses an existential threat to pangolins in Myanmar—including the ones in Tanintharyi Region—now being heavily hunted for dining tables and traditional pharmacies in China, which borders Myanmar to the north, and Vietnam.
In Myanmar, Sunda Pangolin and Chinese Pangolin are prevalent. Because they are regarded as endangered species, the government has categorized them as "Completely Protected Wild Animals." Anyone who kills, hunts, sells or collects the creatures faces three to 10 years' imprisonment under the Protection of Biodiversity and Protected Area Law enacted in 2018.
Is that legal protection working?
During a visit by The Irrawaddy last month to nine villages in Myanmar's deep south, protection of pangolins was found to be questionable at best.
In a visit to the remote villages, The Irrawaddy found that Sunda Pangolins in the area are still hunted; most of these animals are smuggled to Thailand through the Singkhon border pass. From there, the creatures are reportedly shipped to other countries.
When asked about the law, most of the villagers were only vaguely aware that selling or collecting the animals was illegal and had no idea about the punishment. Fearing retribution from the government, they asked that The Irrawaddy not disclose the name of their village.
"Until around 15 years ago, we had no idea that we could make money out of them," said a villager who asked not to be named. He added that a pangolin weighing a viss (around 1.6 kg) could earn him between 80,000 and 90,000 kyats (about US$60-67), a relatively large amount of money for those who live hand to mouth.
According to the villager, there are unofficial buying centers in Mawdaung, a border town on the Myanmar side near Singkhon Pass, four or five hours' drive from Tanintharyi Town, where you can sell live pangolins or their scales. The centers keep the creatures in captivity until their combined weight totals 100 kg. Then, with a phone call, a buyer from Thailand arrives to fetch them.
Normally, the hunters keep the animals at their homes until they have 10 of them. Then they simply put the creatures in polywoven bags on a motorbike and send them to Mawdaung.
During the visits to the villages, The Irrawaddy saw some captured pangolins that were simply kept in plastic buckets in people's homes, while others were allowed to roam in gardens, as some buying centers were reportedly on hiatus due to a lack of buyers from Thailand amid COVID-19. However, the unlucky pangolins were destined for other buying centers elsewhere.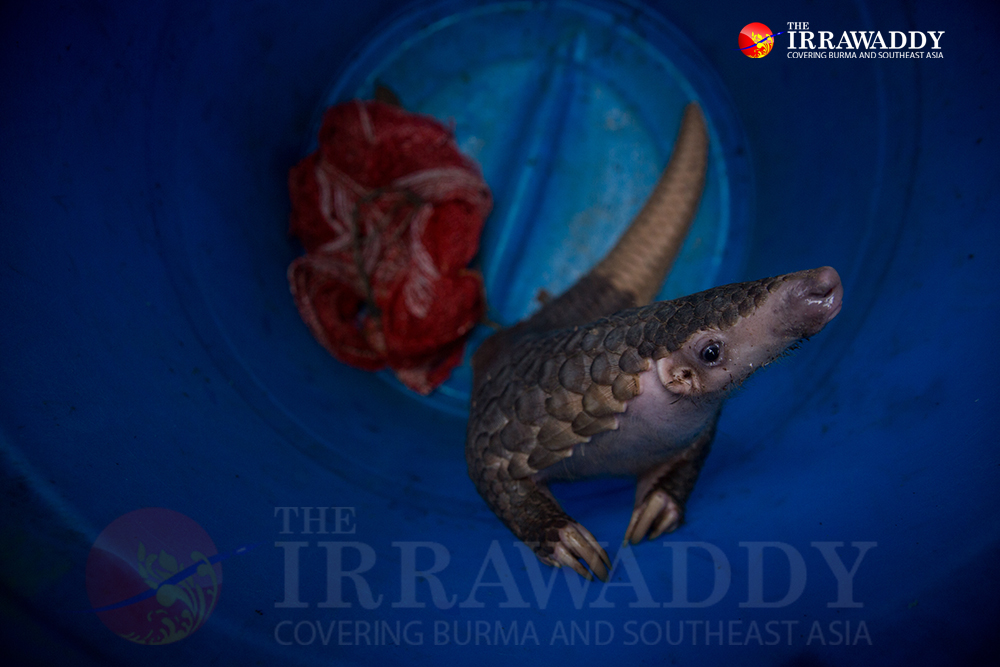 One of the villagers told The Irrawaddy that he could normally get around 10 during his hunts throughout the year.
"The biggest one I have ever got weighed about 3 or 4 viss [around 6.4 kg]," he recalled.
Pangolins are mostly active at night and are normally hunted with the help of dogs.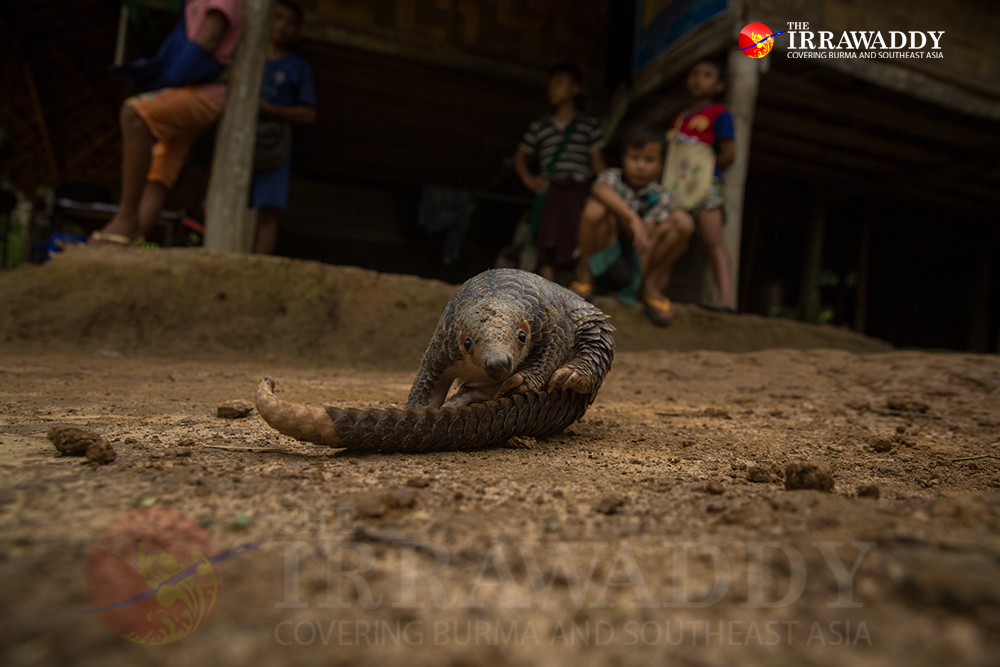 One villager explained that pangolins hide in the daytime. But dogs can smell them. They bark at the place where the animal is hiding.
"All you have to do is to comb through the spot," he said.