After nearly 20 years, the last US troops have left Afghanistan, concluding America's longest war and the largest non-combatant evacuation operation in US military history. The footage and images of Western forces and diplomats hastily pulling out amid the chaos and deadly bombings at Kabul's Hamid Karzai International Airport will supply anti-American propagandists with enough material to keep them busy for years.
In Myanmar, hardliners associated with the military and its leaders, who staged an illegitimate coup against the country's elected government in February, have been unable to hide their glee. They mock the Americans' failure and revel in the sight of the most vocal cheerleader for the Western human rights and democracy agenda extracting itself from yet another quagmire. The message seems clear: foreign intervention aimed at imposing democracy from abroad is doomed to fail.
It is music to Beijing's ears, too.
China, which shares an 80-km border with Afghanistan at the eastern end of the Wakhan Corridor, all but congratulated the incoming Taliban government within days of Kabul's fall to the Islamist group.
Chinese Foreign Ministry spokesman Hua Chunying expressed Beijing's apparent endorsement of the Taliban's victory, stating, "We respect the will and choice of the Afghan people."
In late July, Mullah Abdul Ghani Baradar, the head of the Afghan Taliban political committee, met Chinese Foreign Minister and State Councilor Wang Yi in Tianjin.
At the meeting, the Taliban stressed its willingness to "grow sound relations with China" while promising not to pose any threat to its powerful neighbor.
Beijing expressed its explicit support for the Taliban, describing it as "an important military and political force in Afghanistan," one that it is "expected to play an important role in the country's peace, reconciliation and reconstruction process".
Throughout the conflict in Afghanistan, Beijing played a waiting game, basically prepared to support whoever emerged in control of the country. China now essentially recognizes that power lies with the Taliban, which Wang described as "an important military and political force in Afghanistan."
In Myanmar, the sight of Beijing extending a neighborly welcome to the Taliban has made for painful viewing for all those who oppose the Feb. 1 coup and the military regime it installed.
In August, China began using the word "government" in reference to the Myanmar junta, to which it provides aid and assistance and whose illegal power seizure and atrocities against civilians it has yet to condemn.
During the first week of June, Chinese Ambassador Chen Hai met coup maker Senior General Min Aung Hlaing in Naypyitaw, Myanmar's capital, becoming the first foreign envoy to do so. In a statement released soon after the meeting, the Chinese Embassy in Yangon referred to the junta chief as the "leader of Myanmar."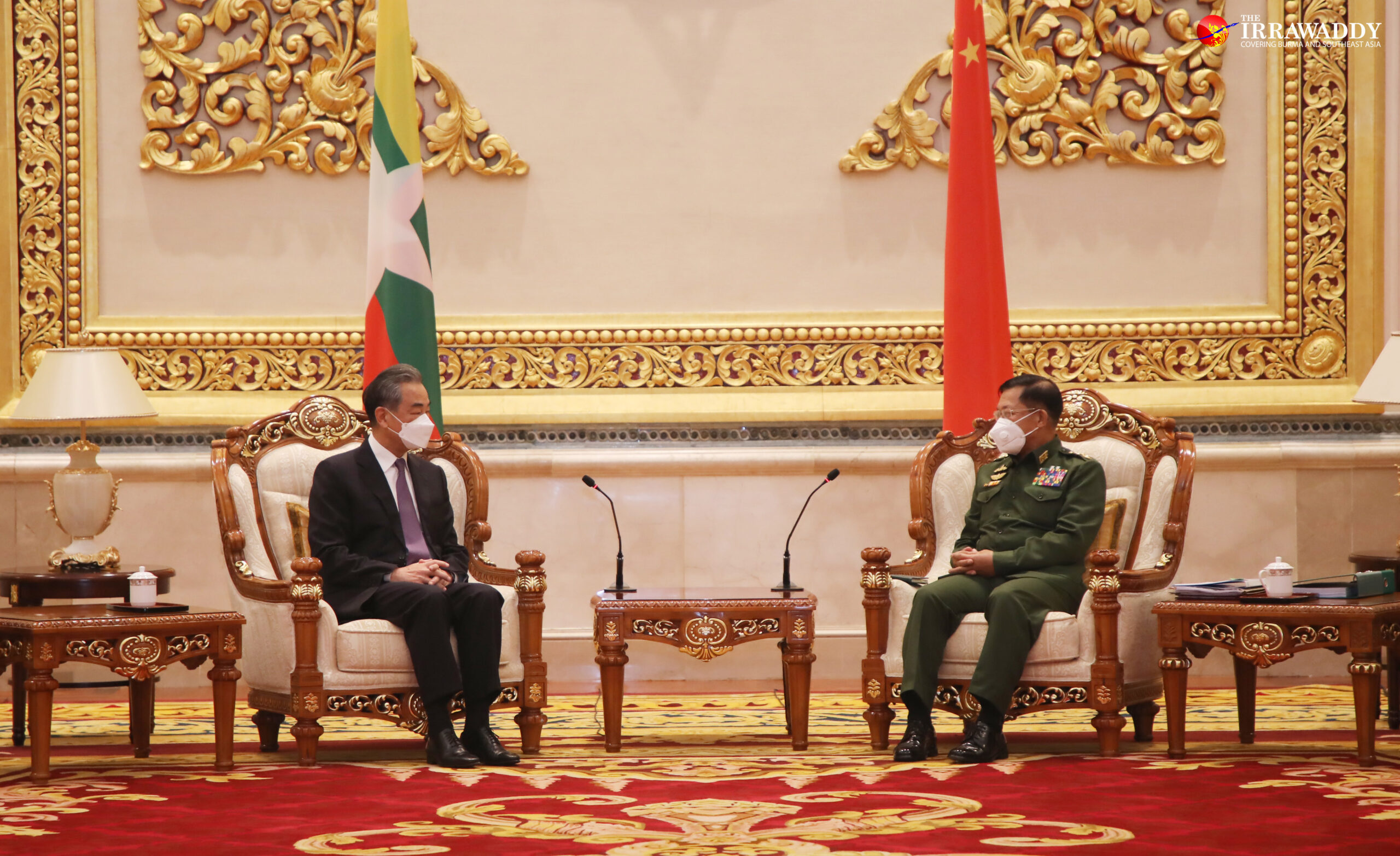 In the eyes of Myanmar citizens and analysts, China is the only country that has publicly made explicit its support for the junta. But it should come as no surprise; China has long interfered in Myanmar's affairs, betting on those who appear to be in the ascendancy in terms of power. This time China recognizes a regime despised by a majority of Myanmar people.
The fact is, if Beijing decides to lend full official recognition to the military regime, it will do longstanding damage to the image of China among Myanmar citizens, and it will only face negative consequences.
The Taliban and the junta's ruling organ, the State Administration Council (SAC), share a desire for legitimacy. In the eyes of their respective citizens, both are terrorist organizations.
As in Myanmar, China's self-interest in Afghanistan is obvious. The Belt and Road Initiative (BRI), Chinese President Xi Jinping's vast planned infrastructure network spanning much of Asia and beyond, was launched in Kazakhstan in 2013 and it seems Afghanistan is a key missing link. China covets Afghanistan's mineral resources; a Chinese state-owned company has a US$2.83-billion contract signed in 2007 to operate a copper mine at Mes Aynak southeast of Kabul. Of course, the Taliban is likely to approve China's infrastructure projects and investment in mineral extraction in the country.
In exchange, the Taliban will have to acknowledge China's security concerns, in particular by denying sanctuary to Uyghur separatists in Xinjiang. In this regard, Beijing would do well to learn from the US and its 20 years' of experience in Afghanistan: any expectations, however modest, must be tempered.
In Myanmar, China has made a similar calculation and seeks to protect its interests, but the stakes are even higher. China needs a stable border with Myanmar to advance its strategic economic corridor linking its southern provinces to the Indian Ocean, to ward off Western influence in its backyard and to prevent the internationalization of Myanmar's conflicts.
These strategic interests were underscored on Aug. 25 by the opening on the Chinese side of the border of a new rail line that will eventually provide China with access to the Indian Ocean via Myanmar. The railway stretches from Chengdu, the capital of Sichuan Province, to Lincang, a prefecture-level city in China's Yunnan Province opposite Chin Shwe Haw, a border trade town in Myanmar's northeastern Shan State.
Meanwhile, China continues to provide arms to ethnic insurgents from Myanmar based along the border while exploiting its neighbor's natural resources.
In fact, the Myanmar military's coup dealt a significant setback to China's plans in the country.
Following the coup, thousands of Myanmar citizens held protests outside the Chinese Embassy in Yangon, demanding that it withdraw support from the junta. Subsequently, dozens of Chinese textile factories around Yangon suffered serious damage in coordinated attacks that caused losses of about $37 million, for which no one has claimed responsibility. On social media, China has become a favorite target of Myanmar netizens, who mock it and make threats against its projects in the country, including its oil and gas pipelines.
Witnessing the chaos in Afghanistan, America's humiliation and the outrage of its allies, the ill-concealed satisfaction of China and the Myanmar junta is understandable. Naypyitaw and Beijing no doubt see eye-to-eye on the departure of Western forces there.
Ironies abound, however.
In Myanmar, China claims to exercise the "Five Principles of Peaceful Coexistence: mutual respect for sovereignty and territorial integrity; mutual non-aggression; non-interference in each other's internal affairs; equality and mutual benefit; and, peaceful coexistence." But no country has interfered in Myanmar's politics and internal conflicts to the degree that China has.
In the past, China heavily supported Communist Party of Burma insurgents in Myanmar, allowing them to base themselves on Chinese soil and use it to stage attacks against Myanmar forces. Today, arms and supplies from China continue to flow to ethnic insurgents along the northern border; they are known to be China's proxies. In recent years, military leaders in Naypyitaw have displayed for Chinese officials visiting from Beijing arms seized from insurgents—all made in China.
Now, China staunchly supports the regime at the UN.
China may well decide to interfere in the upcoming credentials challenge at the UN, which is set to decide on who will represent Myanmar at the world body: the military's representative or the representative of the ousted democratically elected government.
It has been learned that Beijing is quietly lobbying to sideline U Kyaw Moe Tun, Myanmar's ambassador to the UN, since he is associated with the ousted government and continues to use his global stage to challenge the regime and the coup.
We will see how the Taliban leverages China's support to legitimize its status in Afghanistan and beyond. At the same time, we will be looking to see how Beijing "manages" the Taliban; just as Gen Z and all Myanmar citizens who oppose the attempted coup continue to observe China's management of the boys in uniform in Naypyitaw.

You may also like these stories:
Rohingya Without Myanmar ID Not Being Given COVID-19 Jab: Junta
How Many Mass Killings Are Enough Before the World Helps Myanmar?
Thai Arms Manufacturer Denies Involvement in Murder Plot Against UN Myanmar Envoy