Apart from physically fighting the resistance forces, the Myanmar military regime, which seized power from a democratically elected government in a coup last year, is also waging psychological warfare against the people in its bid to maintain its grip on power.
To the junta's dismay, one of its schemes to drive a wedge between people was foiled recently.
A few months ago, the regime announced that it would form "people's security groups comprising people who want to serve the interests of their region" in order, it said, to protect civilians against the People's Defense Force.
Such a group was reportedly formed in Hinthada, Ayeyarwady Region in June. A list of members of the Hinthada people's security supervisory group was leaked on social media on June 26, causing a commotion among locals.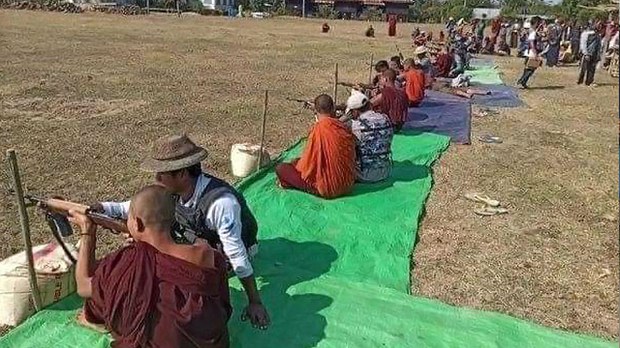 One of the familiar names on the list was U Win Zaw, a prominent businessman in the town who runs hotels and gold shops. U Win Zaw and his family members came under fire after local media outlets reported about his new role.
The following day, U Win Zaw said he did not know he was included in the group, and that he had resigned from it.
"My father was abroad to receive treatment for his eyes when the group was formed. We did not know about it at all, and we have sent a notification of resignation to the district general administration office," wrote U Win Zaw's son on social media. He also posted medical records of his father and the resignation letter.
The social media post exposed the lie the regime has told at its press briefings in Naypyitaw about the so-called public security groups, which the regime claims are formed at the request of local people, by local people and for local people.
"It is their scheme to make people kill each other. The regime has spread propaganda that the groups are formed by the people themselves. It will be very dangerous if simple rural folk take it at face value. People are fortunate that the lie was exposed publicly," said a Hinthada resident.
Nefarious scheme
At a press conference on April 27 in Naypyitaw, junta spokesman Major General Zaw Min Tun announced the regime's plan to form public security groups.
He said the State Administration Council, the governing body of the regime, was implementing a public security system that involves civilians, adding that the system would help end violence swiftly and vowing to provide necessities for the groups.
The regime had long prepared secretly to form such groups, said a district-level administrative official who asked for anonymity.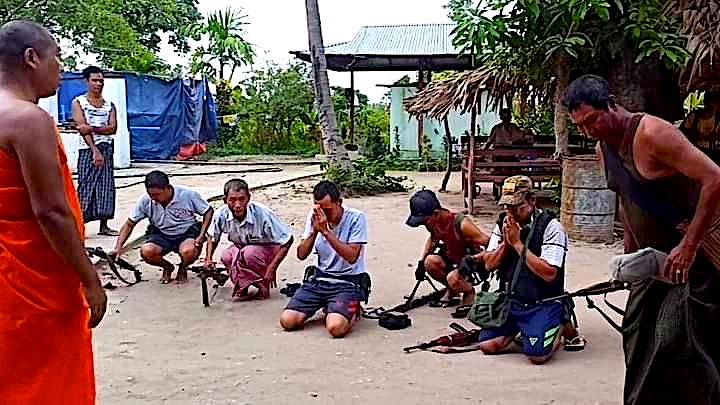 The regime started recruiting group members at the ward and township levels in March. According to leaked documents, a junta security meeting on March 3 issued a secret instruction to form 20-member groups on a trial basis in every ward and village by recruiting police, war veterans, militias, Red Cross members, firefighters, those wishing to serve the interests of their regions, and pro-military members of the Young Men's Buddhist Association.
The regime then rushed to activate public security groups at the township level. But the case in Hinthada showed that the groups are only intended to sow discord among local people. People from other parts of the country also reported that their names were included in lists of group members without their knowledge and consent.
Pyu Saw Htee
Pyu Saw Htee is a term used to refer to pro-military supporters trained and armed by the regime to fight the resistance groups that have mushroomed across the country since May last year, collectively known as the People's Defense Force (PDF).
Other junta-affiliated institutions such as police, Border Guard forces, Border Guard Police and ethnic militia groups are also fighting alongside the regime. But the Pyu Saw Htee are the strongest among these forces, the PDFs say.
Apart from fighting, Pyu Saw Htee have been involved in torching and looting villages in central Myanmar, the resistance stronghold, as pro-military locals know the terrain.
There have been cases, however, in which residents were included without their knowledge in Pyu Saw Htee and public security groups. Some have officially explained the situation to local people, as in the case of U Win Zaw. But others have fled, fearing pressure from the regime.
"I was forced to join a Pyu Saw Htee as an auxiliary. Then I was chosen by lot to go to the front line," said a man who deserted and surrendered to a PDF group in Sagaing. The Defense Ministry of the parallel National Unity Government (NUG) has provided shelter for him.
Three villages between Magwe's Gangaw and Sagaing's Kale—Kyauk Pyote, Taung U Pyintha and Hanthawaddy—are notorious in Myanmar as Pyu Saw Htee villages. Despite this reputation, however, some who fled the area said that in fact only a small percentage of the local population are real Pyu Saw Htee.
"Our village has as many as a thousand of people, but there are only 44 Pyu Saw Htee. The rest are intimidated [by them]," said a resident of Hanthawaddy Village.
While locals fear Pyu Saw Htee leaders because of their arms, Pyu Saw Htee leaders are also concerned that villagers might rise up against them.
"Pyu Saw Htee leaders are afraid now. They force villagers to keep watch overnight for their security. Young men who fall asleep while keeping watch are beaten," said a resident of Taung U Pyinthar Village.
Locals said Pyu Saw Htee are refusing to go to battlefields in Kale, despite the fact that the regime is offering 200,000 kyats (US$95) each to those who fight.
The regime is not providing medical treatment for Pyu Saw Htee members injured in battle. Meanwhile, some Pyu Saw Htee have hurt themselves to avoid going to the frontline, said a resident of Kyauk Pyote who fled his village.
As it can't rely much on Pyu Saw Htee, the regime is attempting to form public security groups under the cover of the military-drafted constitution, said legal experts.
"Public security groups will become the stooges of the regime, like the Pyu Saw Htee of the Anti-Fascist People's Freedom League [AFPFL] government. The regime will make people kill each other. Those groups are very dangerous," said a lawyer who is in hiding after the regime opened a case against him.
He was referring to the Pyu Saw Htee vigilante group formed in the 1950s. Amid instability and insurgency during the rule of the AFPFL government, the idea of forming a vigilante group to help restore law and order was presented at a conference held by the Myanmar military on Sept. 14, 1955.
The idea led to the Pyu Saw Htee scheme, named after a semi-legendary king of the Bagan period, and launched with the approval of the National Defense Council chaired by then Prime Minister U Nu.
Widely viewed as stooges of the AFPFL, the group committed every crime in the book, from kidnapping and robbery to rape and murder, not to mention assassinating politicians of opposition parties in broad daylight. It was later disbanded.
Though the groups of today bear the same name, there is no direct link between them and the group formed in the 1950s.
The regime denied any link with Pyu Saw Htee groups at its press conference on July 26. At the same time, it repeated its idea of forming public security groups.
Like Pyu Saw Htee, the public security groups will be mainly made up of members of the military's proxy Union Solidarity and Development Party and supporters of ultranationalist group Ma Ba Tha, said veteran lawyer U Kyee Myint.
"Never was a group formed by authorities—particularly the military—formed because of faith. Those that join those groups only join for benefits. They are just a bunch of 5,000-kyat earners [paid a daily wage of 5,000 kyats by the military], nothing more than that," U Kyee Myint remarked.
NUG's response
The NUG is taking action to thwart the threat posed by the public security groups being formed by the regime.
In May, it warned that it would treat those involved in public security groups as enemy targets. The NUG's Defense Ministry said it had acquired lists of people involved in public security groups and evidence of their involvement.
The NUG also urged people to report to local PDFs if they are pressured into joining public security groups.
With the regime finding itself in a tight corner and having trouble finding new recruits, it will definitely deploy tactics to make the people fight each other, said Shein Htang, the commander of the Chinland Defense Force (Kanpetlet).
"It will make people fight each other. It is the last bullet of the enemy. And we must be extremely cautious about it," Shein Htang warned.