At least 79 Myanmar junta forces and four resistance members were killed in the last four days as People's Defense Forces (PDFs) escalated their attacks on regime targets across the country.
In one case, several PDF groups attempted to occupy a junta police outpost in Magwe Region.
Incidents were reported in Magwe, Sagaing and Bago regions and Chin and Karen states.
The Irrawaddy has collected the following reports of significant attacks from PDFs.
Some military casualties could not be independently verified.
Police outpost raided in Magwe

Resistance members conduct drone strikes during their raid on a junta police outpost in Kan Village in Gangaw Township last Thursday. / Hyper UAV Force
At least 45 regime soldiers were killed and 10 injured in Gangaw Township, Magwe Region last Thursday when several local PDF groups and the All Burma Student's Democratic Front (ABSDF) raided a police outpost in Kan Village, claimed Hyper UAV Force, which joined the attack.
In the fierce clash, two PDF fighters were killed and another lost a leg due to a junta land mine. The junta also used military helicopter gunships to defend its police outpost.
However, Hyper UAV Force claimed the combined PDF forces managed to burn down nearly the whole police base.
Military column clashes with local resistance groups in Magwe
Yaw Defense Force (YDF) claimed to have killed 10 junta soldiers and injured many others last Thursday as it coordinated with Kyaukhtu-PDF and Chin Defense Force-Mindat from neighboring Chin State to attack a junta column of 130 troops traveling on a mountain in Kyaukhtu Township, Magwe Region.
The heavy clash lasted over two hours. Junta forces used a Russian-made Mi-35 helicopter gunship to attack the resistance forces in the clash.
After the clash, junta troops burned the dead bodies of their troops along with makeshift camps set up by internally displaced persons (IDPs) who fled junta raids.
Regime forces bombed in Magwe
At least five regime soldiers were killed in Yesagyo town, Magwe Region on Saturday when Yesagyo-PDF used land mines to attack regime forces stationed at a monastery, the PDF group claimed.
A PDF video shows heavy blasts occurring in a monastery compound.
On Sunday, the PDF group used land mines to attack regime forces in a vehicle in Yesagyo town. However, military casualties are unknown.
Military convoy ambushed in Chin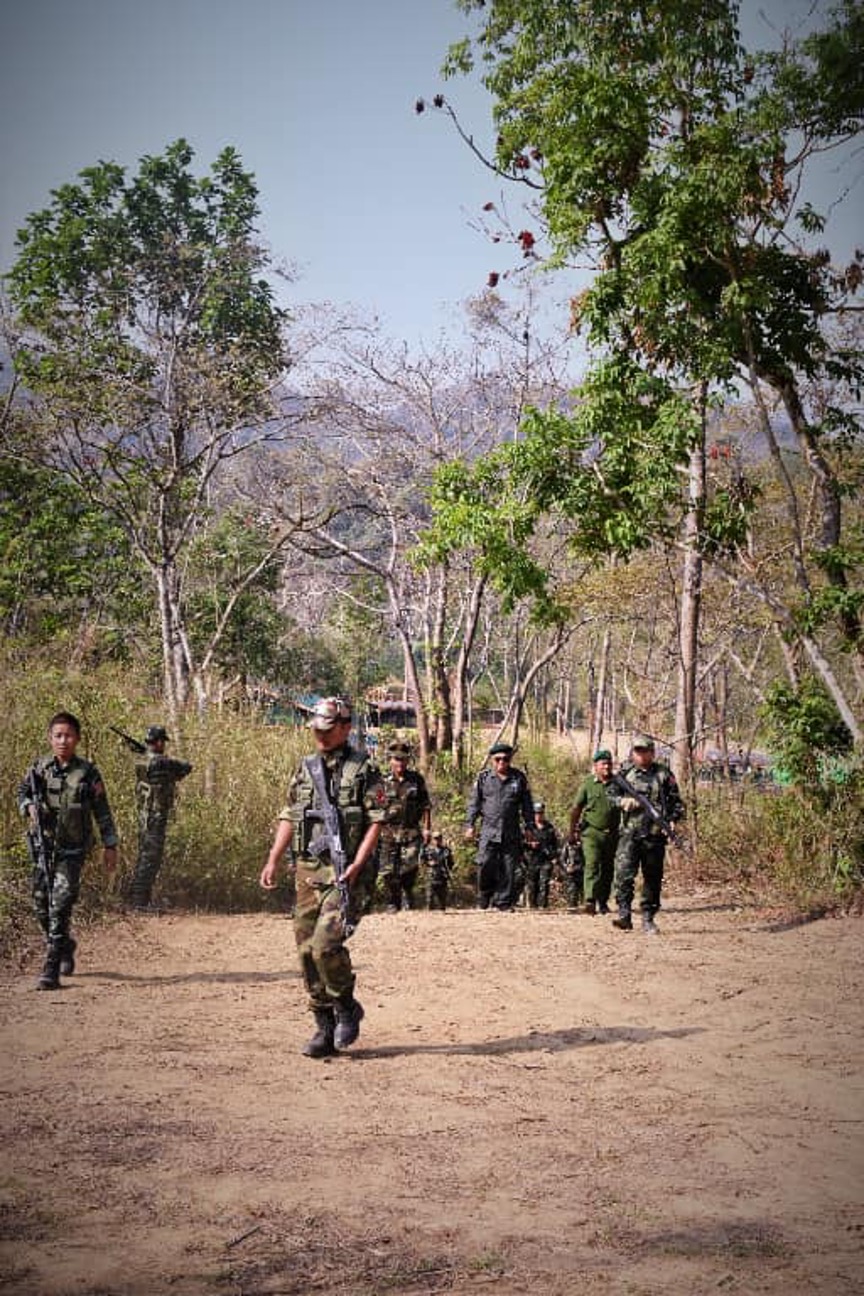 At least seven regime forces were killed in Hakha Township, Chin State on Sunday morning when the Chin National Army (CNA), the armed wing of the Chin National Front (CNF), ambushed 30 military vehicles including two armored cars on the Hakha-Falam road, CNF spokesman Salai Htet Ni told The Irrawaddy.
The convoy was transporting rations and ammunition to military bases in Hakha.
Three junta troops killed in Chin resistance attack in Matupi
Chinland Defense Force-Matupi claimed to have killed three junta soldiers as it clashed with regime forces in Kalar Village in Matupi Township, Chin State last Friday.
After the clash, regime forces burned down nine civilian houses in the village.
Regime forces ambushed by PDF snipers in Karen
Resistance force Cobra Column claimed to have killed a soldier and injured another as its snipers ambushed a military unit indiscriminately firing mortar rounds in Karen State on Sunday.
On Saturday night, junta fighter jets bombed civilian targets in the area, destroying two houses.
Regime base attacked in Bago
A junta soldier and two resistance fighters were killed during a clash in Nattalin Township, Bago Region on Saturday when PDF battalions from Tharyarwaddy and Pyay districts raided regime forces stationed in Kyat Ma Nat Village, said Bago Region PDF.
In the clash, a military weapon and ammunition were seized.
Three regime forces killed in Sagaing
Three junta troops were killed and two others injured in the town of Yinmabin, Sagaing Region on Saturday when local resistance group Daung Net Without Borders used land mines to ambush 11 soldiers patrolling near a Bogyoke Aung San Statue, the PDF group said.
Two junta policemen killed in Sagaing
Monywa Commando Force (MCF) claimed its forces shot dead two junta policeman near the junta's newly built prison in Monywa Township, Sagaing Region last Friday.
At the same time, other MCF forces shelled the prison using 60mm improvised mortar rounds.
Junta forces bombed by PDF drones in Sagaing
PDF drones drop bombs on regime forces in Shwebo Township on Saturday. / BWA
Local PDF group Black Wolf Army said it and another PDF group, Who Am I, used drones to drop bombs on a military detachment of 40 troops in Shwebo Township, Sagaing Region on Saturday.
Two soldiers were confirmed killed in the drone strikes.
The combined group continued to conduct drone strikes on regime forces attempting to move their truck, which was stranded on the Shwebo-Kyauk Myaung road after being damaged in land mine attacks by resistance groups.
However, military casualties were unknown. A PDF video shows a drone dropping bombs on regime targets.