At least 41 Myanmar regime forces were killed in a single day on Saturday when People's Defense Forces (PDFs) and ethnic armed organizations (EAOs) stepped up their attacks against junta targets across the country.
The incidents were reported in Sagaing and Mandalay regions and Chin, Mon and Karen states.
The Irrawaddy has collected the following reports of significant attacks by PDFs and EAOs. Some military casualties could not be verified independently.
Military bases raided in Sagaing

Resistance forces clash with regime troops on Saturday in Monywa Town, Sagaing Region.  /Chindwin Attack Force
At least five regime forces were killed on Saturday evening and many others injured in Monywa Town, Sagaing Region when ten PDFs jointly raided Myanmar military units stationed at the junta-controlled offices of the Road and Transport Department and Agriculture Department, said Chindwin Attack Force which coordinated the attacks.
Four PDF fighters were wounded in the raid.
Drone strikes on junta base in Sagaing

PDF drones bombing regime targets in Sagaing Township, Sagaing Region on Saturday.   /Unicorn Guerrilla Force
Unicorn Guerrilla Force PDF said that it coordinated with 13 other resistance groups to launch drone strikes on Saturday afternoon on 6005 Military Artillery Battalion stationed at Ohn Taw Village in Sagaing Township, Sagaing Region.
The PDF drones dropped bombs on the sentry post at the entrance to the military base, as well as on a building housing armored vehicles.
On Saturday evening, further drone strikes were carried out against the pro-regime village of Mar Lal Taw, where military regime soldiers and pro-junta Pyu Saw Htee militia are stationed.
Casualties and damage from Saturday evening's drone strikes are unknown.
Military truck repeatedly ambushed in Mandalay
Tagaung PDF claimed that it and another PDF killed at least 15 regime forces on Saturday in the Tagaung area of Thabeikkyin Township, Mandalay Region after repeatedly ambushing a truck carrying 50 soldiers.
Some 14 landmines were used in the attack, which left the truck badly damaged.
Regime checkpoint raided in Mandalay

Resistance forces attack a military checkpoint in Myingyan Town, Mandalay Region on early Saturday.   / MGN District Army
At least 12 regime forces including three policemen and three Pyu Saw Htee militia were killed early Saturday morning and many others injured in Myingyan Town, Mandalay Region when two PDFs raided the No. 6 military checkpoint, according to resistance group Myingyan District Army, which coordinated the raid.
A video shot by the resistance group shows a firefight in the dark.
Army major among five killed in Karen clash
At least five regime soldiers including a major were killed on Saturday and six other injured in a clash with resistance group Cobra Column in Myawaddy Township, Karen State, said Cobra Column.
Fighting erupted when junta troops attempted to raid the area controlled by the resistance group. Regime forces fired around 100 rounds from artillery and a multiple launch rocket system, as well as calling in a Y130 fighter jet to launch airstrikes.
Ammunition, equipment and an anti-drone jammer were seized from the regime forces, said Cobra Column.
Two junta soldiers killed by drone strikes in Mon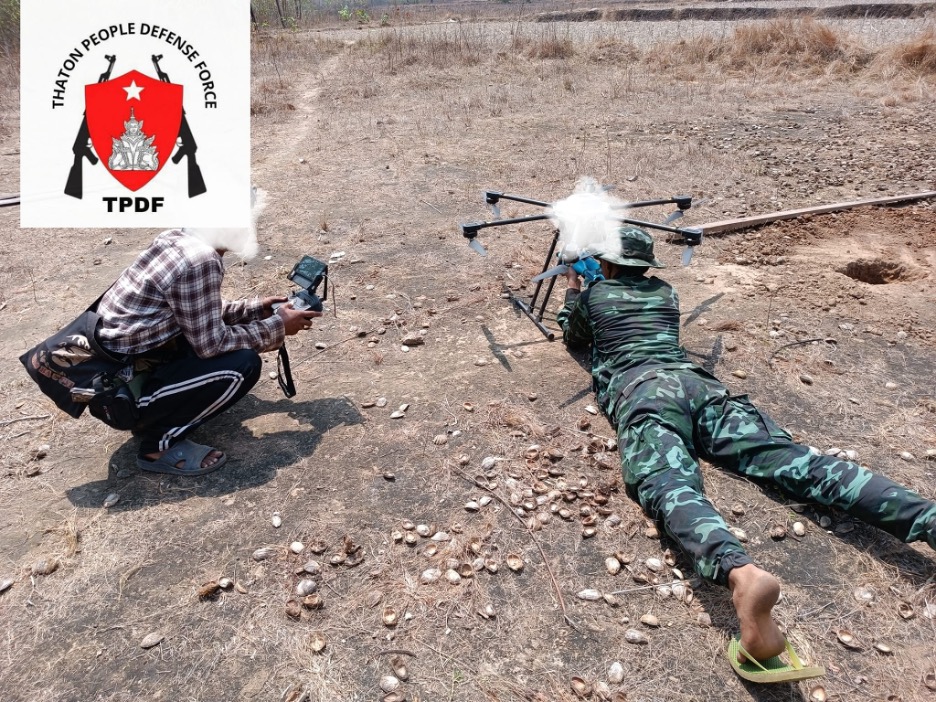 Two regime troops were killed and two others injured on Saturday evening in Bilin Township, Mon State when seven PDFs and EAOs including the Karen National Liberation Army, the armed wing of the Karen National Union, jointly conducted drone strikes on a junta sentry post on a bridge, said Thaton PDF, which took part in the attack.
Some five bombs were dropped on the sentry post.
Junta troops clash with Chin resistance in Kanpetlet
Chin Defense Force (CDF) Kanpetlet claimed to have killed two regime soldiers on Saturday in fighting with junta troops stationed in Kyin Dway Town in Kanpetlet Township.
The firefight broke out between Kyin Dway and Ngar Aww Kyinn Village after regime forces entered an area controlled by the resistance group, said CDF Kanpetlet.