At least 121 Myanmar junta troops were reportedly killed in the last five days as People's Defense Forces (PDFs) and ethnic armed organizations (EAOs) stepped up attacks on regime targets nationwide.
Incidents were reported in Karen, Kayah and Chin states and Sagaing and Magwe regions.
The Irrawaddy has collected the following reports of significant attacks from PDFs and EAOs.
Some military casualties could not be independently verified.
40 soldiers killed in resistance attack in Karen
Regime forces come under drone strikes and surveillance by Karen resistance forces in Kyainseikgyi Township last Wednesday. / Lion Commando Battalion
At least 40 junta soldiers were killed and 30 others injured in Kyainseikgyi Township, Karen State on Wednesday when several resistance groups including the Karen National Liberation Army (KNLA) attacked 200 regime troops from three military battalions invading resistance-held territory, claimed resistance group Lion Battalion Commando Special Force, which coordinated the attack.
There were no resistance casualties, the revolutionary group said. A drone video shows regime troops fleeing.
48 junta forces, PDF fighter killed in clash in Magwe
Regime forces are bombed in Tilin Township, Magwe Region last week. / YRA-Tilin
At least 48 regime soldiers were killed in a series of attacks and land-mine ambushes by PDF groups against a military detachment escorting a military convoy of 32 vehicles carrying ammunition in Tilin Township, Magwe Region from last Wednesday to Saturday, said Yaw Revolution Army-Tilin  (YRA-Tilin), which was involved in the attacks.
At 4 p.m. on Friday, regime forces from the advance unit of the convoy were blown up while searching for PDF land mines on a road. In the attack, four soldiers were killed.
On the next day, the PDF groups ambushed junta patrols traveling behind the military convoy. Four more soldiers and a resistance leader were killed in the raid.
On March 15 and 16, the PDF groups conducted five attacks including mine ambushes against the military detachments, killing at least 40 soldiers, according to YRA-Tilin.
A PDF video shows foot soldiers being ambushed on a road. Another video shows regime forces being blown up while defusing land mines planted by the PDF groups.
PDF base raided by junta troops in Magwe
At least six junta troops were killed during three days of firefights from last Friday to Sunday in Yesagyo Township, Magwe Region, said local PDF group Myingyan Black Tiger.
Resistance fighters of Myingyan Black Tigers engage in a clash with regime forces in Yesagyo Township last week. / MBT-PDF
Clashes broke out when a military detachment attacked the base of the PDF group in the Yay Lal Kyun area in the township.
On Saturday, the PDF group lost the base to junta forces and two resistance fighters were injured, the group said.
At the same time, the PDF group used improvised rocket-propelled grenades to attack regime forces stationed at the junta-run township General Administration Department office in the town of Yesagyo on Saturday night. Many regime forces are believed to have been killed or injured, it said.
Junta base occupied in Kayah
 A commando unit of Karenni resistance groups managed to occupy a junta base of Military Infantry Battalion 135 in the east of Kayah State last Thursday, said the Karenni Military Information Center, the media unit of the Karenni Army (KA).
In the raid, resistance forces found the bodies of three dead soldiers and seized six weapons and some ammunition. The surviving regime forces escaped after abandoning their base.
Karenni resistance forces clash with military detachment in Kayah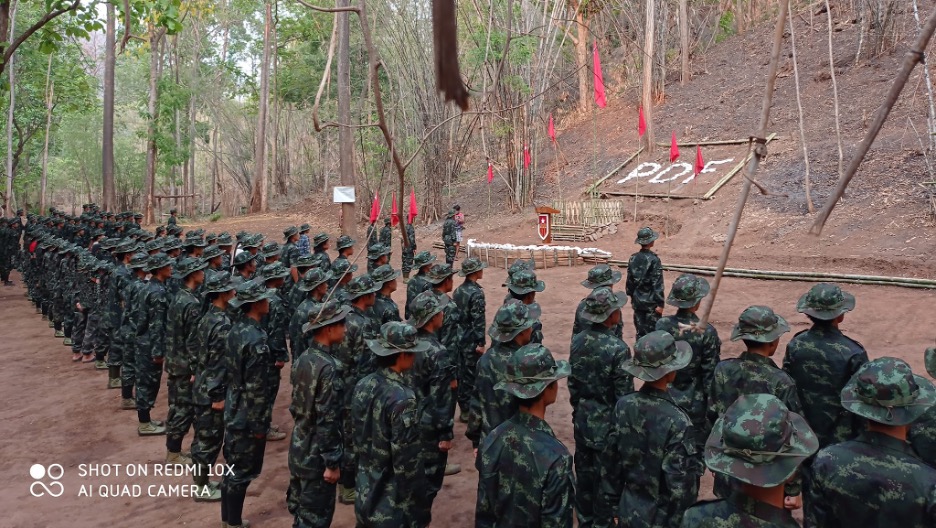 Bawlakhe PDF said it and several other resistance groups attacked a military detachment of 120 junta troops near Yay Ni Pauk Village in Bawlakhe Township, Kayah State last Thursday.
In an hourlong firefight, three regime forces were killed and 10 injured. There were no resistance casualties.
Four civilians also suffered injuries as regime forces randomly shelled nearby villages during the clash. Junta troops also arrested seven civilians in the area.
Regime troops ambushed with land mines in Sagaing
Local resistance group Myaung Special PDF (MSPDF) claimed to have killed five regime forces as it used two land mines to ambush 30 regime forces from the Kyauk Yit police outpost in Myaung Township, Sagaing Region on Saturday.
PDF groups uses drones and improvised rocket-launched explosives to attack a military detachment in Myaung Township on Saturday.  / MSPDF
The junta forces were ambushed while they were traveling near Koe Pin Village.
On the same day, MSPDF and five other PDF groups used drones and improvised rocket-launched explosives to attack a junta special task force between two villages in the township.
The commandos of the junta task forces killed and beheaded around 36 resistance forces and civilians during their raid on resistance strongholds in Ayadaw, Sagaing, and Myinmu townships between Feb. 23 and March 6.
Nine junta troops killed by PDF land mines in Sagaing
At least nine regime forces were killed and 12 injured in Shwebo Township, Sagaing Region on Saturday morning when two PDF groups used land mines to attack 40 regime forces traveling on the Shwebo-Kyauk Myaung road, said Nay La Satkyar-Shwebo PDF group, which joined the attack.
Prior to their ambush, the regime forces also faced land-mine attacks from other PDF groups on the same highway.
After the ambushes, the regime forces torched houses in Tal Pin Village nearby. The PDF groups used rocket-launched explosives and mortar shells to strike the regime forces who were torching houses. Military casualties were unknown.
Regime forces bombed in Sagaing
 The resistance group Freedom Revolution Force (FRF) claimed to have killed six soldiers as they used 40-mm improvised mortar rounds to attack regime forces arriving in the town of Depayin in Sagaing Region last Friday evening.
After facing casualties, the regime forces torched 13 houses in the town.
Soldier patrols ambushed in Sagaing
A soldier was killed in Myaung Township, Sagaing Region last Thursday when combined PDF forces ambushed regime forces from Kyauk Yit Police Station, said Myaung Bo Tauk Tun Special Force, which coordinated the ambush.
The regime forces were attacked while patrolling.
Military convoy ambushed by resistance in Chin
Chin Defense Force-Mindat said it used a cluster of 20 land mines to attack a military convoy of 85 vehicles on the Kyaukhtu-Mindat road as it was traveling to the town of Mindat, Chin State last Thursday. Vehicles were damaged but the number of military casualties was unknown.
After facing the land-mine ambush, 35 vehicles from the convoy returned to Kyaukhtu in Magwe Region. The military forces retrieved the damaged vehicles on Saturday, said CDF-Mindat.