At least 56 Myanmar junta forces were killed in the last four days of clashes as People's Defense Forces (PDFs) and ethnic armed organizations (EAOs) escalated attacks on regime targets across the country.
Five resistance forces were also killed in clashes and junta air strikes.
The incidents were reported in Karen and Kayah states and Sagaing, Mandalay, Magwe, Bago and Tanintharyi regions.
The Irrawaddy has collected the following reports of significant attacks from PDFs and EAOs.
Some military casualty figures could not be independently verified.
24 junta troops killed in two days of resistance attacks in Karen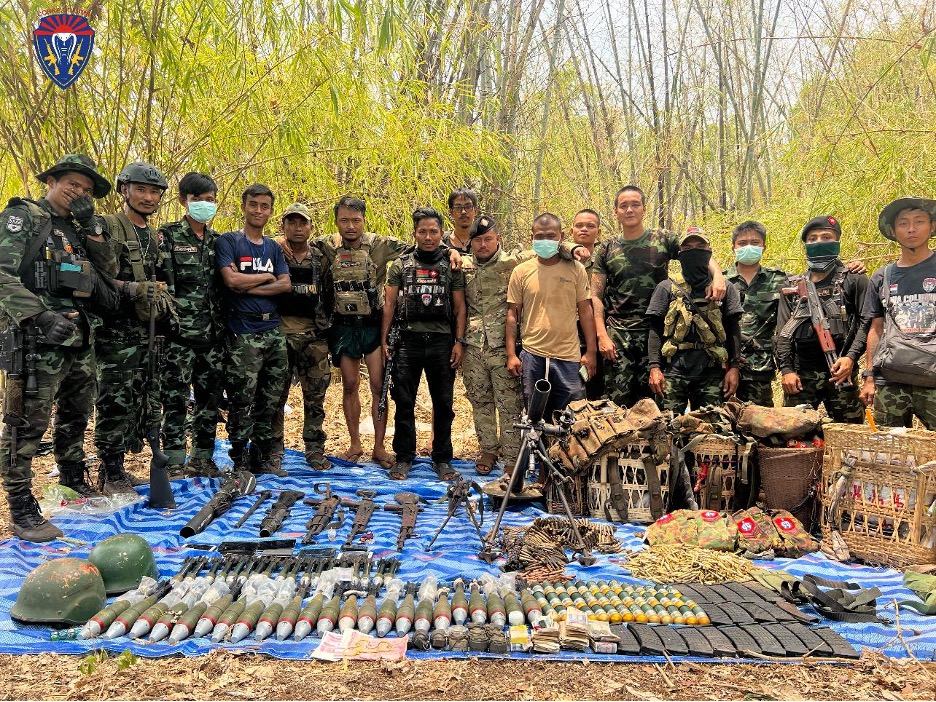 At least 24 regime forces were killed and over 20 injured in two days of clashes with combined resistance groups in Myawaddy Township, Karen State on Tuesday and Wednesday, said the resistance group Cobra Column, which took part in the clashes.
Five resistance groups including Brigade 6 of the Karen National Liberation Army (KNLA), the armed wing of the Karen National Union (KNU), had to defend against regime forces from six military battalions including junta-allied Border Guard Forces attempting to raid the Kyauk Mine area near Mae Ka Nal Village.
After suffering losses, the junta used aircraft to attack resistance forces on Wednesday. In the clashes, several weapons and some ammunition were seized from the junta forces.
Also, two resistance members were killed and some injured in the incidents, the Cobra Column said.
Junta suffers losses in clashes with Karenni resistance forces in Kayah
At least eight regime troops were killed and one was detained in Demoso Township, Kayah State on Wednesday when the Karenni Army (KA), the armed wing of the Karenni National Progressive Party (KNPP), and the Karen Nationalities Defense Force (KNDF) clashed with a military detachment near Daw Nye Hku Village, said the Karenni Information Center, the media unit of the KNPP.
During the clash, the resistance group managed to destroy a military vehicle while seizing six weapons and ammunition from the regime forces.
Regime forces raiding forests ambushed in Bago
Bago Region PDF said its Pyay District PDF Battalions used two land mines to ambush a military column of 27 troops near Thayetchin Chaung Village in Paungde Township, Bago Region on Thursday.
The regime forces were raiding forests in the Bago Yoma mountain range.
In the ambush, at least three junta troops suffered serious injuries, Bago Region PDF said.
Police officer, junta-appointed administrator killed in Bago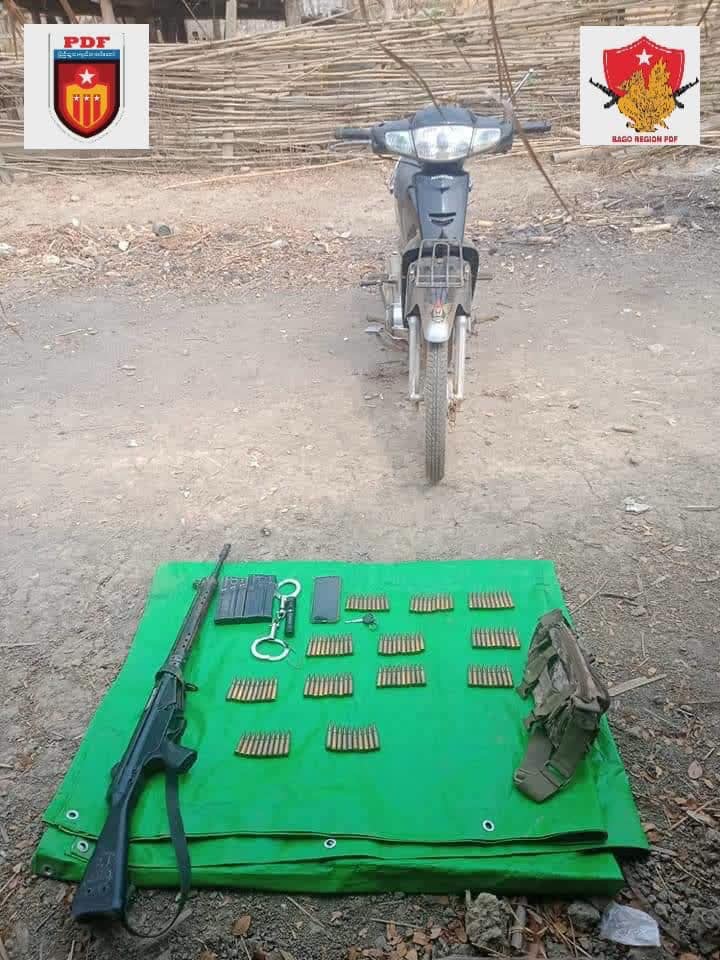 Bago Region PDF said its Thae Gone Urban Guerrilla Force killed junta police officer Zayar Aung in Thae Gone Township, Bago Region on Wednesday.
The police officer was shot dead at he attempted to attack the resistance forces.
A G3 firearm and several rounds of ammunition were seized from the police officer along with a phone and a motorbike, the resistance group said.
On the same day, Pyay District PDF Battalion 3601 shot dead U Aye Naing, a junta-appointed administrator of Thaphan Kaing Village in Pauk Khaung Township, Bago Region.
The administrator, who was the father of an army captain, was notorious for oppressing residents, Bago Region PDF said.
Regime forces ambushed in Mandalay
Two regime soldiers including a captain were killed in Pathein Gyi Township, Mandalay Region on Thursday when the resistance group Natsoe Underground Revolutionary Force attacked three regime forces shopping at a bazaar, the PDF group told the media.
A video shot by the resistance group shows PDF fighters pretending to be Buddhist monks in a vehicle attacking regime troops from close range.
Regime bases bombed in Mandalay

Drones drop bombs on regime bases in Madaya town, Mandalay Region on Tuesday. / Unicorn Guerrilla Force 
Resistance group Unicorn Guerrilla Forces said it conducted drone strikes on regime targets in a military intelligence office and the junta-controlled Ministry Of Construction in the town of Madaya in Mandalay Region on Tuesday.
However, military casualties were unknown. After the attack, regime forces stopped and checked civilians on the road in front of the offices.
The resistance group urged people to avoid regime bases in the town due to potential attacks.
Regime forces ambushed with land mines in Mandalay
At least 10 regime forces were killed in Thabeikkyin Township, Mandalay Region on Tuesday when Tagaung PDF group used land mines to attack regime forces traveling in two vehicles, claimed the PDF group.
Regime forces used two civilian vehicles to transfer wounded soldiers between hospitals. The soldiers were injured in three days of recent clashes with local PDFs.
In the mine ambush, one of the vehicles carrying injured soldiers was destroyed, said Tagaung PDF.
Police outpost bombed by PDF drones in Sagaing
PDF forces jointly conduct drone strikes on a police outpost in Salingyi Township on Tuesday. / Eagle Brigade
At least seven regime forces were killed in Salingyi Township, Sagaing Region on Tuesday when four PDF groups used drones to drop bombs on Kyar Tat police outpost, said the resistance group Eagle Brigade, which joined the drone strikes.
On Monday, another three local PDF groups also conducted drones strikes on regime forces stationed in the town of Salingyi amid the deployment of anti-drone jammers, said Salingyi Special Task Force, which was involved in the attack.
The PDF groups lost an improvised drone when the regime forces responded with firearms.
Resistance base bombed by junta fighter jets in Magwe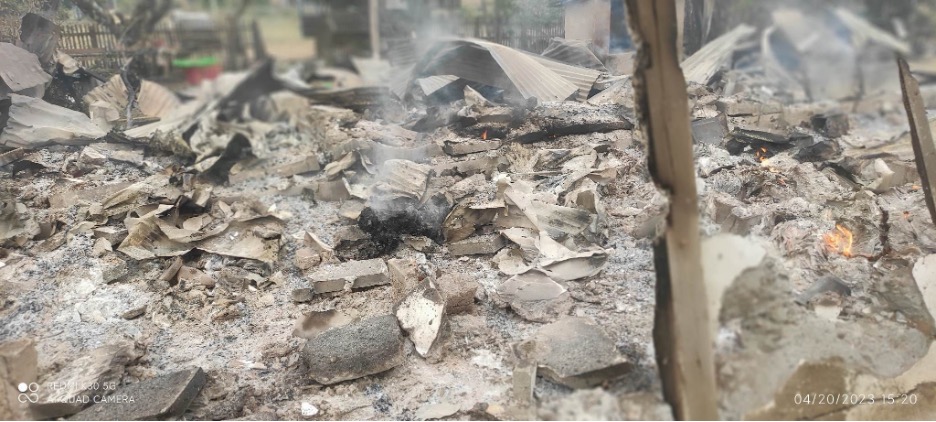 Three office staff including a woman from the resistance group Yaw Revolution Army were killed in Tilin Township, Magwe Region on Thursday when junta aircraft bombed the headquarters of the PDF group and a refugee base in a village, according to media reports citing resistance officials.
Twelve more people were injured in the junta air strikes as the headquarters building burned down, said local news site Yaw Alindan, a media wing of local PDF groups.
Regime forces ambushed in Magwe
Yesagyo People's Defense Force said it used a cluster of six land mines to ambush regime forces in a 12-wheeled vehicle from a military battalion in Yesagyo town, Magwe Region on Thursday.
The military vehicle was ambushed near the exit of the town and at least three regime forces were injured, the PDF group said.
Police outpost bombed in Tanintharyi's Dawei Special Economic Zone

Resistance fighters of Yephyu PDF fire mortar rounds at a police outpost in Dawei port in Yephyu Township on Tuesday. / Tanintharyi Times
At least three regime forces were killed and four others injured in Yephyu Township, Tanintharyi Region on Tuesday when Yephyu PDF used improvised mortar rounds to attack a police outpost in the port of the Dawei Special Economic Zone, according to local media reports.
The PDF group told the media it used seven mortar rounds to attack the police base and three buildings were burned there.
A video shot by the PDF group shows resistance fighters firing mortar rounds.