YANGON—A traveling exhibition promoting the virtues of "upcycling" is making a two-week stop in Yangon.
As opposed to recycling, which takes paper, plastic, glass and other material and breaks them down into components from which to make new—often low-quality or similarly disposable—consumer products, upcycling takes discarded items and attempts to fashion them into something enduringly useful or beautiful.
Aiming to raise ecological awareness, the local version of the exhibition, "Pure Gold Myanmar", showcases a collection of upcycled objects created by international and Myanmar designers.
The exhibition opens Saturday at the iconic Secretariat Yangon.
"The major purpose is…to raise this ecological awareness. At the same time, I want to give a platform to local artists and for the local NGOs who are dealing with this topic—upcycling, [or] transforming waste into something valuable and beautiful," said Franz Xaver Augustin, the organizer of the exhibition and director of Goethe Institut Myanmar.
The exhibit features 76 upcycled objects by 53 designers from all over the world, alongside works by Myanmar artists, artisans and designers.
"Upcycling finds a natural home in Myanmar, where many people are already transforming trash into useful, beautiful objects. We've seen a children's playground built entirely out of old tires, deco-lamps from beer bottles, shopping baskets from candy wrappers, and many more remarkable creations that show the ingenuity of the local people," said lead curator Volker Albus at a press event on Friday.
What sets this exhibit apart is that the designers' objects are all made from items that would ordinarily be thrown away.
"Upcycling is different from recycling. Upcycling means transforming waste. Things we can recycle—objects of glass, plastic, paper, etc.—[are transformed] into [something] more precious, which is beautiful and functional at the same time," Augustin said.
Brought to Myanmar from Germany by the Goethe Institut, the exhibition is a major undertaking featuring 76 pieces, which were transported on a container ship. Yangon is the fourth city to host the exhibition following Hamburg, London and Bangkok.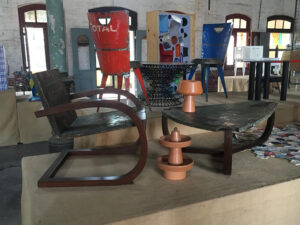 "I have the impression that people are quite aware of the problem of garbage, too much garbage. Consumerism has reached [Myanmar] in the past five, six years," Augustin said.
"Supermarkets are full of things and goods, usually packed in plastic or in glass," he said, adding that the event's organizers aim to "create awareness about the problem of garbage … that will be thrown away. That is one intention of this exhibition."
From decorative sculptures made out of discarded industrial materials to a shelf made of old water heaters, "Pure Gold" showcases the diverse culture and creativity of designers using everyday waste products.
"The objects exhibited at this exhibition are on the way between art and design. Some things are pure art, some things are pure design, and useable objects which could be used anywhere," Augustin said.
Well-known Myanmar artists Ko Htein Lin and Arker Kyaw will join the exhibition, supported by local colleagues Yadanar Win, Aung Myat Htay, Zun Ei, Ma Ei, Ko Latt, Ko Ye, Nge Nge, Kaung Myat Thu, Thiri Wai Maung, Pau San, Sen Sen, Suan Huai, Aye Lwin, Nang Hseng Noon and Sai Puen Kur.
"When I first saw the exhibits, all I can say is, it's so awesome. Every piece is useful and beautiful," said Arker Kyaw.
Arker Kyaw created one of the highlights of "Pure Gold Myanmar," a giant "nagar" installation made of bamboo sticks, reused rice sacks and plastic sheeting.
"In our Myanmar folklore, the nagar is a snake- or dragon-like being with super powers. With this public art, we want to capture the imagination of the people and inspire them to upcycle rubbish," he said.
Upcycling workshops will be held on Dec. 16-19 under the guidance of Prof. Axel Kufus from the Berlin University of the Arts, with support from the artisans and designers of Chu Chu and Hla Day.
The exhibition will held daily from Dec. 15 to Jan. 6, from 10:30 a.m. to 4.30 p.m. daily. The exhibition is open to the public, free-of-charge.