CHIANG MAI, Thailand — "One of the growing difficulties these days is intolerance and hostility toward different races and nationalities being cultivated as a political weapon—a very potent as well as very dangerous political weapon I would say," said Ko Swe Win, the editor-in-chief of Myanmar Now.
He is one of three human rights defenders along with Cheery Zahau and Daw Khin Than Htwe who received this year's Schuman Award for Human Rights from The European Union in Myanmar on Thursday.
Ko Swe Win said [in his speech], "Only the promotion of human rights can help us contain this deplorable trend. It's also quite important that we should not get too obsessed with different identities we grow up within our different geographical locations. Whether we identify ourselves as European or Indian or Christian or Buddhist, we should not forget that we all belong to the same human family."
The EU's Schuman Award—named after former French Foreign Minister and one of the founding fathers of the European Union Robert Schuman—was established last year to recognize Myanmar citizens who are agents of change in their community. Last year's recipients were U Aung Myo Min of Equality Myanmar, Janan Lahtaw of the Nyein (Shalom) Foundation and U Ko Ni, the slain lawyer of the National League for Democracy.
EU ambassador Kristian Schmidt said in his opening remarks at the award ceremony on Thursday night: "This year, we are proud to honor three Myanmar activists with the Schuman Award. They are the winners, but to all the activists, let me say this, activists and journalists fighting for human rights and freedom of expression are the backbone of democracy."
He added, "We need that courage, your courage, to hold government accountable."
Ambassadors from Germany, France and Denmark presented the medals to the recipients.
Civil society groups and the press in Myanmar have been active agents of change in Myanmar's democratization process, which started under the former President U Thein Sein eight years ago. However, freedom of expression, the right to information and the right to be protected still remained challenged in the country.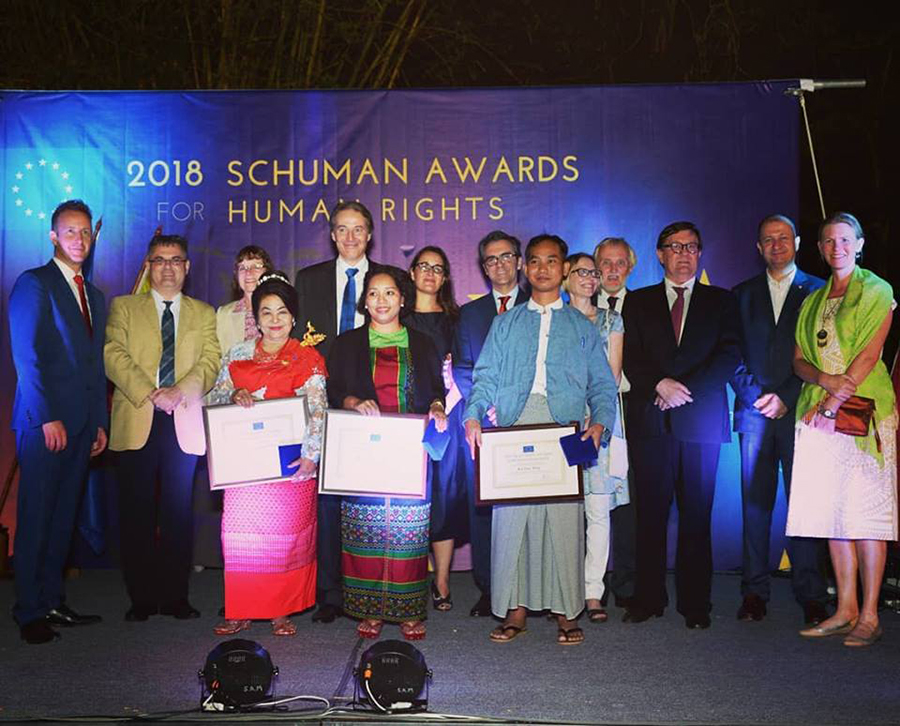 The awardees emphasized that widespread human rights violations and safety for human rights defenders are still issues in the country, and highlighted that various difficulties faced by Myanmar and other countries stem from an absence of genuine democracy and human rights values.
A former political prisoner who spent seven years in prison under the military regime, Ko Swe Win fights for press freedom and challenges wrongdoing in society.
"We are still unprotected under the law, as Myanmar does not have a healthy political system which hinders the improvement of the judiciary," Ko Swe Win told The Irrawaddy.
His work revealing the abuse of domestic workers at the Ava tailor shop in 2016 raised public attention and brought justice to the victims.
But because of his fight to defend human rights, he has been sued by a follower of the banned nationalist group Ma Ba Tha over an article posted on Facebook that criticized ultranationalist monk U Wirathu.
Cheery Zahau, who has been a human rights advocate for 20 years, is the founder of the Women's League of Chinland and promotes gender equality and the empowerment of women through trainings that challenge patriarchal stereotypes. The ethnic Chin woman is also the recipient of the UNDP N'Peace award for 2017.
"We are in a very squeezed political environment and there are fewer and fewer of us," Cheery Zahau said in her speech regarding the work of the human rights activists, adding, "We need encouragement from all of you."
The human rights defender added, "I still strongly believe when human rights norms and standards are institutionalized in our political institutions, in our economic policies and programs, and in our social affairs; democracy will foster, prosperity will come and peace will be sustained."
Another woman honored for her commitment to the advancement of women was Daw Khin Than Htwe. She is the chair of local civil society organization (CSO) Mon State Women and Children Upgrade Conduct Team in Moulmein, Mon State.
She helps trafficking victims, women facing domestic violence, and child victims of rape. She also empowers women through human rights and rule of law trainings in the communities and advocated for legal protections for women.
Daw Khin Than Htwe said that the award proved that if CSOs worked for their communities, the world would recognize their efforts, adding that the recognition gave her the confidence and strength to continue her mission.