NAYPYITAW — Women account for 17 percent of the delegates at the ongoing third session of the 21st Century Panglong Union Peace Conference, according to figures the government released Saturday, 2 percent more than the proportion of female delegates at the previous session last year.
Of the 700 delegates at the conference, the 120 women are all in decision-making roles, more than the 105 women in similar roles in 2017.
The 700 delegates include lawmakers and government officials, politicians, military personnel and members of ethnic armed groups, who were all allotted 150 seats each, and other civilians including experts in specific fields, who were allotted 100.
Of the 75 lawmakers and 75 government officials, 18 and 22 were women, respectively, the same as last year in total.
Of the 150 military personnel, the government reported that eight were women. However, some of the women told The Irrawaddy that there were actually 10 of them, which would be equal to 2017.
Of the 150 politicians, 28 were women — two more than last year — from 23 parties.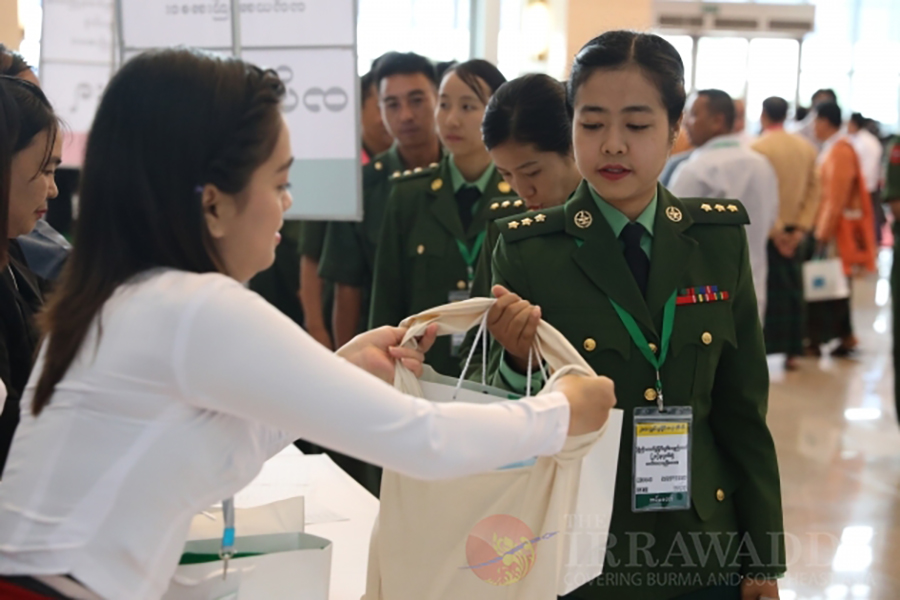 There were also 31 women among the 150 delegates at the conference from the 10 ethnic armed groups that have signed the Nationwide Ceasefire Agreement, up from 19 in 2017.
And of the other 100 civilian delegates, 13 were women, three more than last year.
Also, of the total 1,112 people at the conference as delegates, facilitators or technical assistants, 243 of them, or 22 percent, are women. That's an increase of 5 percent as a proportion of total participants in 2017.
There are also more female observers this year. Of the 204 observers at the conference, 66 are women. That's compared to the 40 women among the 185 observers last year, an increase of some 10 percent.
Most of the numbers are still far from the 30 percent female participation rates women's rights groups are aiming for.
But while issues of autonomy, state constitutions and secession rights were abruptly dropped from the agenda ahead of this year's peace conference, gender issues remain on the table, including discussion of the 30-percent target, discrimination, legislation to combat gender-based violence and women's empowerment. Some of the delegates said the 30-percent target was likely to be agreed to by the end of the event.
The data "show that more women are becoming interested in the peace process and that women have the capacity to do so," Mi Kun Chan Non, co-founder of the Mon Women's Organization and chairwoman of the Alliance for Gender Inclusion in the Peace Process, told The Irrawaddy.
She is attending the conference as an observer and supports the proposed 30-percent quote for female participation in the peace process.
"What's more, the female delegates actively and effectively participated in the discussions," she said.