At the funeral of highly revered Buddhist monk Bhamo Sayadaw Bhaddanta Kumara Bhivamsa on June 6, a solemn-faced Min Aung Hlaing was among those carrying the coffin, continuing the junta boss's efforts to portray himself as the protector of the religion in Buddhist-majority Myanmar.
Together with his deputy Soe Win, Min Aung Hlaing earlier carried the coffin of senior monk Zaygon Sayadaw from Naypyitaw's Pyinmana at the monk's funeral after he died in a military plane crash in June 2021.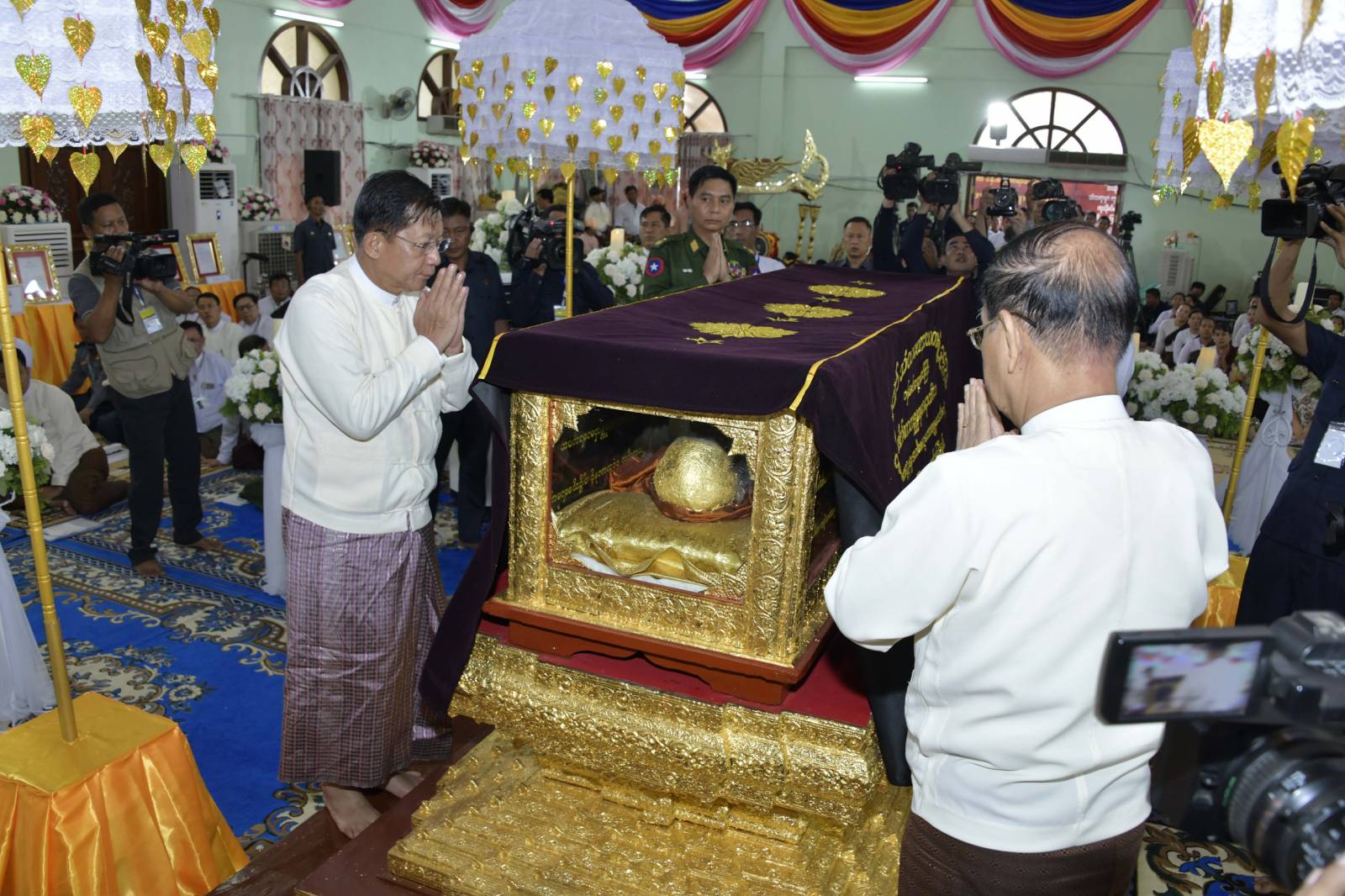 Bhamo Sayadaw passed away on May 25 at the age of 94. He served as the ninth chairman of the State Sangha Maha Nayaka Committee, known as Ma Ha Na, Myanmar's highest Buddhist authority. Known as a guru of Buddhist teachings in Myanmar, the monk earned many religious titles during his life.
In 2017, under the now ousted National League for Democracy government, Bhamo Sayadaw, in his capacity as the Ma Ha Na chairman, decided to outlaw Ma Ba Tha, a nationalist association whose members were notorious for spreading hate speech against non-Buddhists. The monk also reclaimed 7 acres (about 3 hectares) of land grabbed by the Myanmar military on a religious site in Yangon's Kabar Aye. "Should someone use the land donated for the sake of religion for any other purpose, he may suffer negative consequences in his current and next existences," the monk said in a letter addressed to military chief Min Aung Hlaing.
A few days before the military seized power in February 2021, the authority on Pali also called on the Myanmar military not to stage a coup.
Despite turning a deaf ear to Bhamo Sayadaw's request, Min Aung Hlaing continued to portray himself as a devoted disciple in order to exploit the monk's image for the general's personal political gain.
Min Aung Hlaing did not stop exploiting the image of Bhamo Sayadaw even after his death. He He had the late monk's head covered in gold leaf, in what he described as a gesture of respect in acknowledgement of the monk's extensive knowledge of Buddhist teachings.
Also carrying the coffin were military intelligence chief and joint secretary of the junta's State Administration Council Ye Win Oo—the man in charge of the junta's torture chambers, in which civilians and monks are being tortured and killed. Another pallbearer was Air Force chief Tun Aung, who has overseen deadly air strikes on civilian targets including schools, displacement camps and healthcare facilities.
Though Myanmar's successive military leaders have been equally megalomaniacal, Min Aung Hlaing is the most hypocritical of them all. Setting aside Saw Maung, who ruled for just a few years after the pro-democracy uprising in 1988, Min Aung Hlaing's predecessors as dictator, Ne Win and Than Shwe, did not bother to carry coffins.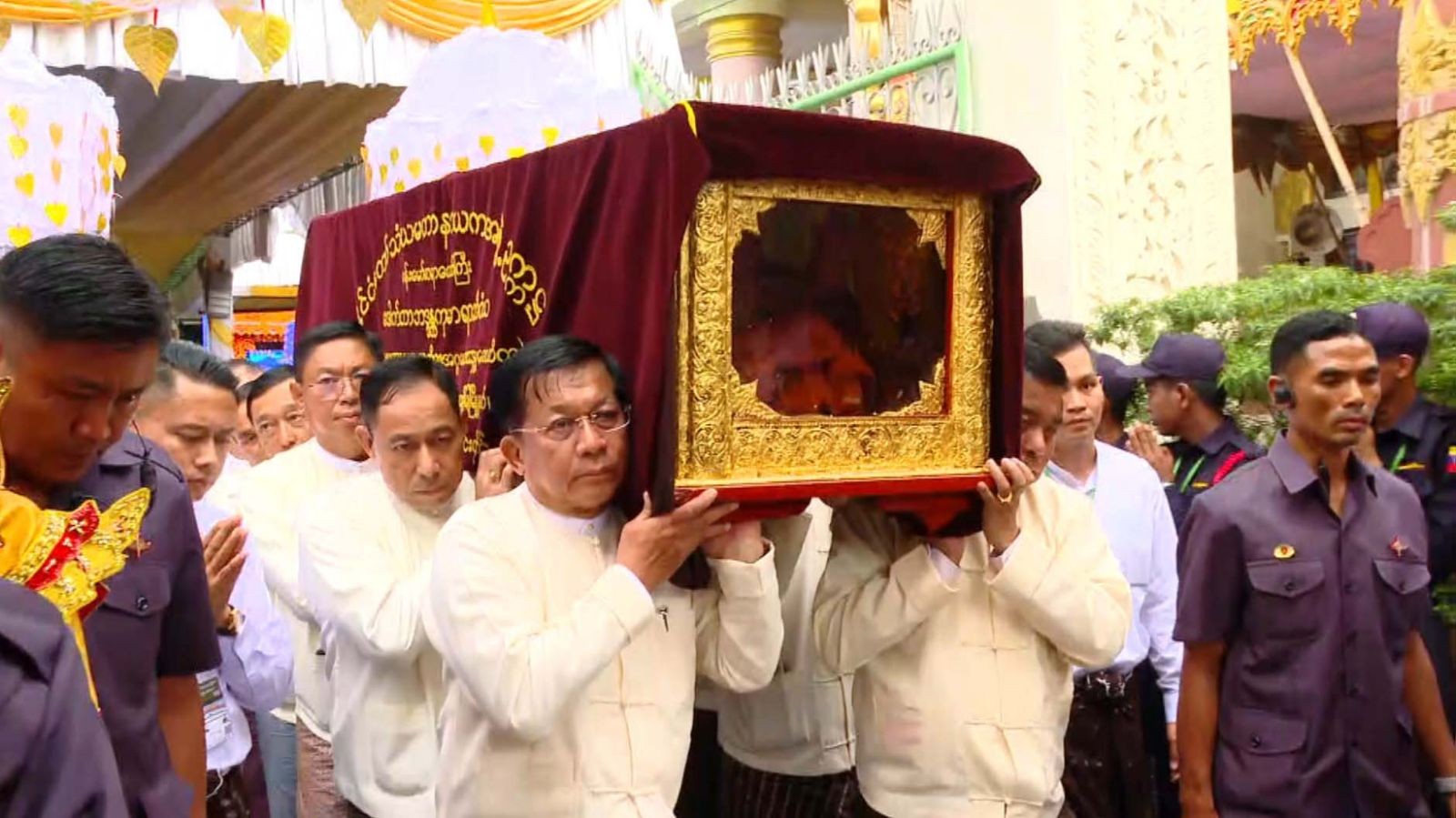 Over the past two years, Min Aung Hlaing has had the world's biggest sitting Buddha statue built in Naypyitaw, consecrated a number of pagodas—including in the Russian capital, Moscow—and has often presented offerings to senior monks. At the same time, he has ordered his forces to arrest and kill civilians and monks who oppose him, echoing Than Shwe's bloody crackdowns on Buddhist monks during the 2007 Saffron Revolution.
Myanmar people are well aware that Min Aung Hlaing's acts of piety are in fact yadaya—rituals based in a belief in magic, performed in the hope of conquering his enemies and ensuring that his rule will be a long one. Following in the footsteps of his predecessors, Min Aung Hlaing has also used rubies and white elephants to spread propaganda about his rule. Military generals tend to see the discovery of large rubies and albino elephants, among other rare things, as nature's confirmation of their own greatness, and use them to justify their rule.
In early 2020, several months before the planned election in November of that year, Min Aung Hlaing placed a Hti umbrella atop Bagan's ancient Htilominlo Temple, under the guidance of his astrological adviser Vasipeik Sayadaw. The name of the pagoda can be translated from Burmese as "asking for Hti [one of the important symbols of the Burmese monarchy] and asking for kingship."
Over the past two years, Min Aung Hlaing has continued to consecrate pagodas, even flying to Moscow to consecrate one there, as he seeks divine blessings in the face of a nationwide armed resistance.
At the consecration ceremonies, he shouts three times "Aung Pyi!"—a common phrase used to mark the successful conclusion of a religious ceremony. But in the mouth of Min Aung Hlaing, Myanmar people are all too aware that the exclamation is intended as a yadaya invocation, shouted in the hope of conquering his enemies.
On May 13, one day before Cyclone Mocha devastated western Myanmar's Rakhine State, Min Aung Hlaing spent the day consecrating a pagoda built by Vasipeik Sayadaw in eastern Shan State, instead of reviewing rescue and relief plans. People understand that he was performing yadaya for his own good while neglecting the lives of millions who were about to face the strongest storm to hit the country in decades.