MAWLAMYINE, Mon State—A group of people sitting inside a one-story brick building burst into laughter as they recounted their experiences of clashes, some 30 years ago.
Recalling an incident in a village in Kyainseikgyi Township during the period from 1989 to 1995 when the fighting was serious, 59-year-old U Min Aung Zay told a group of his former colleagues and some new young teachers: "One day, we had to flee while cooking and a teacher ran carrying the pot of pork on her head." He made the comments as he was visiting a Mon national lower-secondary school in Taung Pa Village in Mudon Township, Mon State in November.
"She fell and the pork spilled out of the pot, but she put the pork back in the pot," said U Min Aung Zay, laughing as he recounted one of his firsthand experiences of clashes while serving as a teacher in Wingaba Mon School in Kyainseikgyi.
The area saw frequent clashes between the New Mon State Party (NMSP) and the military regime in the 1990s, before the two sides had signed the current ceasefire.
Daw Khaing Khaing Htin, a 50-year-old teacher who worked together with U Min Aung Zay, said that at the time she asked her students to keep a handful of rice in their bags so that they could cook and eat it anywhere if they had to flee the clashes.
"Once we had to flee at around 10 p.m. When we ate in the forest, we put rice and curry into pot lids and each group of six students ate from a pot lid. But when you put soup into a pot lid, it leans and those sitting at that side could eat more," she said, laughing.
Though they could joke about these experiences today, back then they were fleeing for their lives in fear, said U Min Aung Zay. But to the children of today, those experiences are much like stories, he said.
"We had to flee frequently. We cooked and ate wherever we arrived with the children. And we also taught them on mountains and in caves," said U Min Aung Zay.
At the time, around 12 teachers taught over 70 students and also looked out for their safety. Today, only four or five of that group of teachers are still engaged in the Mon national education sector, providing education for Mon children.
U Min Aung Zay happened to teach at Wingaba School in 1993 and said he continued to work there for many years out of pity for the children there. He has been engaged in Mon national education for more than three decades now.
"It was quite a chaotic time. But if we didn't [teach], no one else would do it. No one went out there because of the situation then," he said.
He has now retired as a school teacher but still serves as a research manager for the Mon National Education Committee (MNEC) and participates in designing the mother tongue-based curriculum and local curriculum for the Mon State government.
Daw Khaing Khaing Htin, a native of Mon State's Mudon Township, was just 19 years old when she chose to become a teacher. She joined the teaching profession despite opposition from her parents. At the time, she only earned 1,000 kyats per month as a teacher (US$0.67 today).
She served as a teacher for 18 years at Wingaba School before she left to run her own business for around 10 years. But when the abbot of Taung Pa Village invited her to teach at the newly-opened Mon national lower secondary school some three years ago, she decided to become a teacher again.
Established in 1972, Mon national schools have struggled through political twists and turns over the past 40 years, providing mother tongue-based education to prevent Mon language and literature from going extinct.
There are now 133 Mon national schools managed by the MNEC, including three upper secondary schools. Most of the schools are located in Mon State with a few in Karen State and Tanintharyi Region. There are currently 12,000 students taught by 686 teachers.
The MNEC was formed in 1992 and assigned to formulate education policies for Mon national education, and to network with international agencies to promote Mon national education.
Greater opportunities for the Mon national education sector came after the NMSP and the government signed a truce in 1995, according to U Min Aung Zay.
"Previously, the government considered those schools to be rebel schools. They are not. They are community-based schools, but the NMSP provides support—that's all. Those schools belong to village communities. They were not built by the NMSP. The government understands this now," said U Min Aung Zay.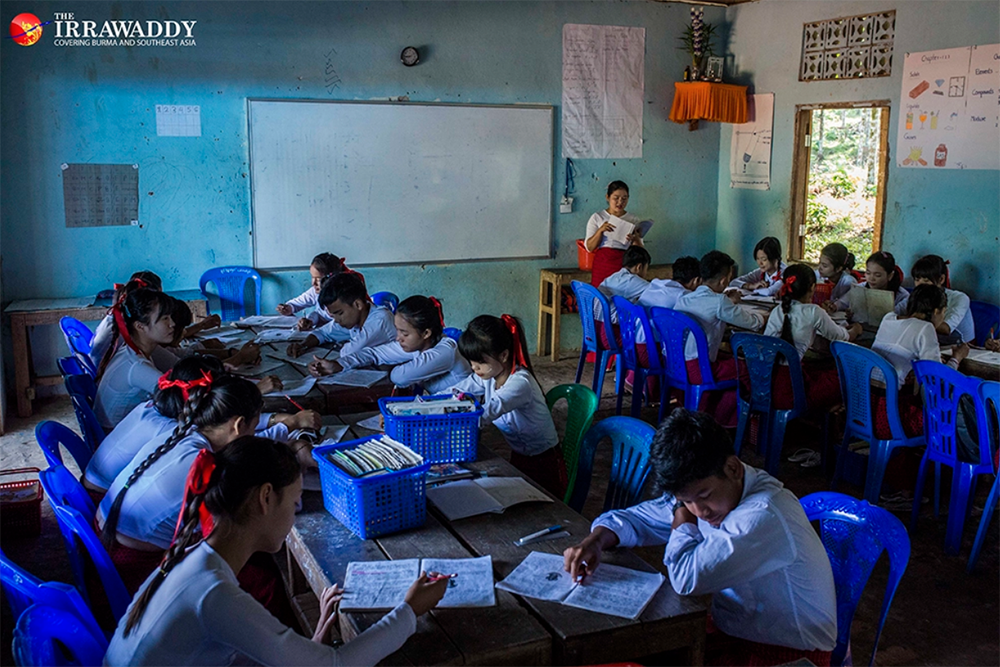 Mon national education system
At the primary level, the education system focuses on mother tongue-based multilingual education. The mother tongue of Mon, along with Burmese and English, are all compulsory subjects.
At the lower and upper secondary levels, teaching is based on the Union government curriculum but explained in Mon and Burmese languages to students. The schools differ from other government-run schools in that children can learn in their home language at Mon national schools, said U Min Aung Zay.
As the Mon system is linked to the Union government's education system, children can transfer to government schools and vice-versa. Though the language is different, the school and class structures are the same, he added.
Teachers who light up the darkness
The teachers who taught while fleeing from clashes in NMSP areas in the 1970s never had salaries, but their so-called mobile schools paved the way for today's Mon national schools. The teachers would only receive some rice, contributed by local communities.
Currently, the MNEC gives a monthly salary of 96,000 kyats (US$64.11) to each teacher. Local communities give an additional 30,000 kyats and also supply food and accommodation, but the compensation is still far from enough.
Non Del Davi, from Mudon Township, says she was looked down on by her friends when she chose to be a teacher at a Mon national primary school.
"I received little recognition for my job at first. Some people asked me why I didn't get a better job as a university graduate," she said.
She is currently working at a post-primary school, a simple wooden structure in Naing Lone Village, and is also serving as the chairwoman of the Mudon Township Mon National School Teachers Association.
She believes Mon national schools help preserve Mon language, literature and culture, and make it easier for children to learn in their own mother tongue.
"No matter what others say, I am truly interested in my job and I am happy," she said.
Teachers from Mon national schools can today attend training courses together with teachers from government schools, she said. Teachers from government schools have shown greater respect to her and her colleagues after they found that teachers from Mon national schools are as skilled as those at government schools.
"The cost of schooling is higher in government schools, including tuition and other fees. In our Mon national schools, we don't collect any fee [from students who can't afford to pay]. Most of the students are poor and the salary is not enough. I am doing this job because I love my Mon people," said principal Mi Htaw Zin of a Mon national lower-secondary school in Taung Pa Village.
For those with the means to afford it, the annual schooling fee is just 35,000 kyats per student at Mon national schools, and upper secondary students who board have to pay an additional boarding fee of 30,000 kyats per month.
"Though the job is tiring, I have to do it," said principal Mi Layi Chan Mon of Wel Yet post-primary school in Thanbyuzayat Township. "Many do not want to work at these schools because the pay is low. Teachers frequently quit and join the school. But I will continue working here. If I don't, who will teach them?"
Mon national schools face challenges
The Irrawaddy conducted interviews at Mon national schools in Mawlamyine, Mudon, Thanbyuzayat, Kyaikmayaw and Ye townships in Mon State and found that the low salary for teachers is the biggest challenge facing the schools.
Financial constraints are a long-term obstacle for the operation of the schools, as teachers are paid out of contributions from donors, according to officials of the MNEC. The committee is concerned that it will create a burden for local communities if this financial support is ever cut.
The low pay also discourages university graduates from working at Mon national schools, said officials with the MNEC.
The Irrawaddy also found that very few male teachers work at Mon national schools. According to statistics from the MNEC, only 10 percent of the 686 teachers working at Mon national schools are male.
"There are only a few male teachers, mainly because of the salary. Though it is not the sole reason [that this is a bigger deterrent for men], they have to support their families," said Mi Htaw Zin.
"Our male teachers dare not date girls. They dare not marry because the pay is low," said U Min Aung Zay. "Some parents threaten their wayward daughters by saying they will marry them off to male schoolteachers. Then the daughters behave themselves," he said, jokingly.
Mi Sar Dar, from the central committee of the MNEC, said the overall shortage of teachers will make it difficult for the MNEC to realize its objective of promoting high-quality, mother tongue-based education.
"We still can't hire the numbers we need and some schools are very short of teachers," she said.
But the situation is not as bad as it sounds. Most of the teachers working at Mon national schools have no plan to quit and many of them are dedicated to improving the educational standards for Mon children.
For many teachers, Mon monasteries were the only places where they could learn the Mon language, and only during summer holidays. As a result, they want to nurture younger generations and support the interests of their ethnic group as Mon national schools emerge.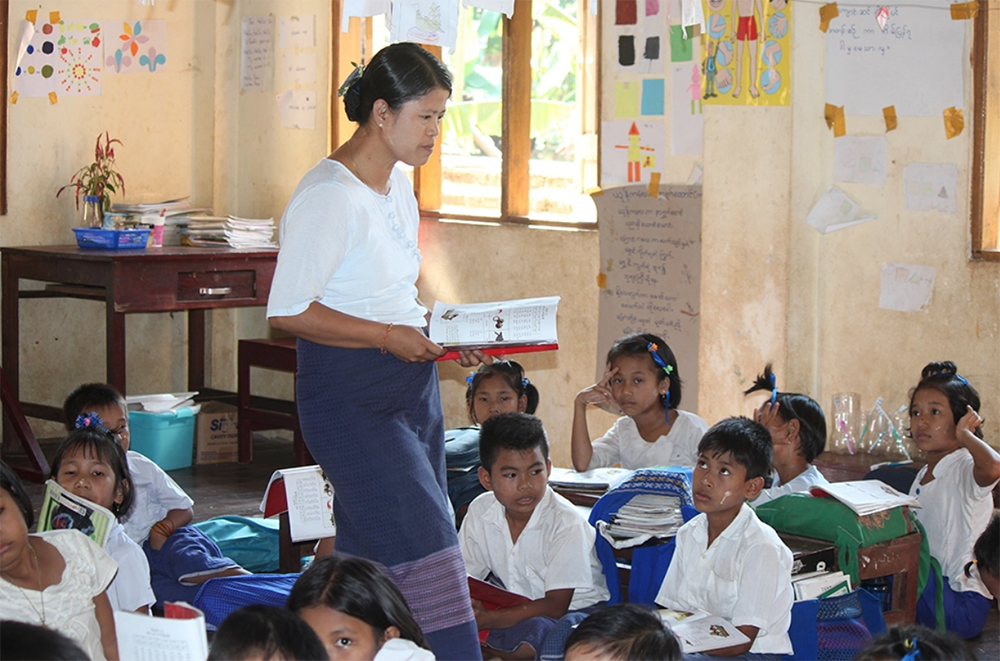 Prospects for Mon national schools
Mon national schools today are operating on a self-reliant basis but they're struggling to do so.
For the 2016-17 and 2017-18 academic years, the schools received grants from UNICEF, but the schools have not received any grants since then, said U Min Aung Zay.
The MNEC has formed community-based fundraising committees to support the sustainability of Mon national schools. Mon communities in foreign countries send money for the schools and the MNEC stores the money in savings accounts and withdraws it as necessary.
The MNEC is also planning to seek assistance from Mon monasteries to recruit teachers for the schools, and says it will also seek assistance from the government. Currently, the government only provides free textbooks for over 10,000 students at Mon national schools.
According to statistics from the MNEC, only 5 percent of their school buildings are in good condition, 40 percent need some repairs, and 35 percent need to be demolished. Around 17 percent of classrooms are based in religious buildings.
Community elder U Myint Swe of Pa Nga Village, in Thanbyuzayat Township, said he wants the government to provide support for Mon national schools, as they are critical for preserving the literature and culture of Mon people.
"We have to struggle hard for the sustainability of the schools. They can only ask for funds from Mon people. What we want is for the government to recognize these schools and give salaries to the teachers. Then it will be better," said U Myint Swe.
Translated from Burmese by Thet Ko Ko