Naypyitaw — A battalion belonging to Myanmar's military and a people's militia office in Shan State was shelled by the Ta'ang National Liberation Army (TNLA) on Saturday, but no one was injured, military spokesman Major General Zaw Min Tun told The Irrawaddy.
The battalion was hit twice and the people's militia office was attacked with an RPG, said the Tatmadaw (military) spokesman.
"It has been long since they attacked the battalion and outposts. But they are carrying out attacks these days. We confirm that the attacks were carried out by the TNLA," he said.
The TNLA shelled a military battalion from near Namkhaing village around 2km west of Kutkai at 4pm on Saturday. Around 11pm the TNLA and Myanmar National Democratic Alliance Army (MNDAA) jointly hit the people's militia office in Tarmoenye with an RPG.
"No one was injured in the attack," said Maj-Gen Zaw Min Tun.
TNLA spokesman Captain Mai Aik Kyaw said the armed group carried out the attacks in retaliation for Tatmadaw attacks on them in the Manbon mountains from Oct. 2-4.
"They attacked our outposts for three days. There have been around eight clashes this month. It is because they carried out assaults, we have to return fire at the Tarmoenye outpost and Kutkai Battalion 45 with heavy guns. It was done as a warning for military purposes," said Capt. Mai Aik Kyaw.
According to the TNLA, Myanmar's military attacked the armed group in the Manbon mountains in Kutkai Township and its outpost in Howeik village in Mogoke Township. And there were four separate clashes near Manbon village.
"There were five clashes in September. In October, after the military declared a [unilateral] ceasefire, there have been clashes for two consecutive days around that area," said Capt. Mai Aik Kyaw.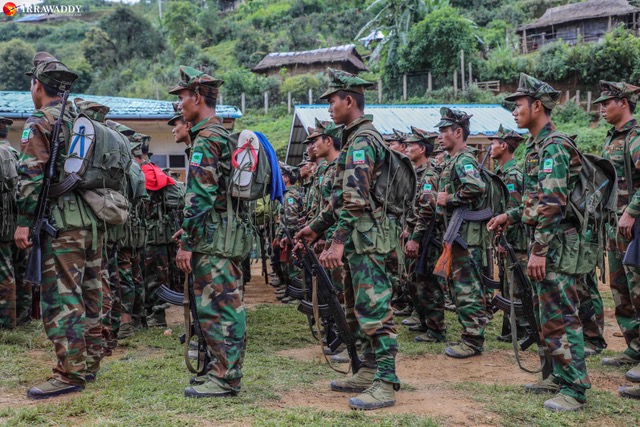 Pastor Sai Tu, who is helping internally displaced people (IDPs) from Kutkai, said he heard gunfire in Kutkai on Saturday and the military returned fire at around 3.30pm the same day.
"IDPs have not been able to return to their homes in this area. There are two IDP camps opened by the Kachin Baptist Convention in Kutkai. IPDs have been there since 2012," he said.
The TNLA, MNDAA and Arakan Army are in the so-called Brotherhood Alliance which has organized several attacks on government troops. In August last year, they attacked the Defense Services Technological Academy and three other locations in Mandalay Region's Pyin Oo Lwin Township, including a tollgate installed with an X-ray machine to prevent drug trafficking.
They also blew up a bridge on the main highway carrying goods to the Chinese border.
China has so far unsuccessfully attempted to mediate between Myanmar's military and the Brotherhood Alliance. The TNLA has demanded that Myanmar's military stop operations and war crimes in Rakhine, Kokang and Palaung ethnic areas before it joins peace talks.
Translated from Burmese by Thet Ko Ko
You may also like these stories:
Rakhine State IDPs Exceed 36,000 Since August: Myanmar NGO
Myanmar's Military Blames Karen National Union for Soldier Deaths
Bangladesh Deploys Troops on Myanmar's Border